2022: A Walk on the Schlei Side
Germany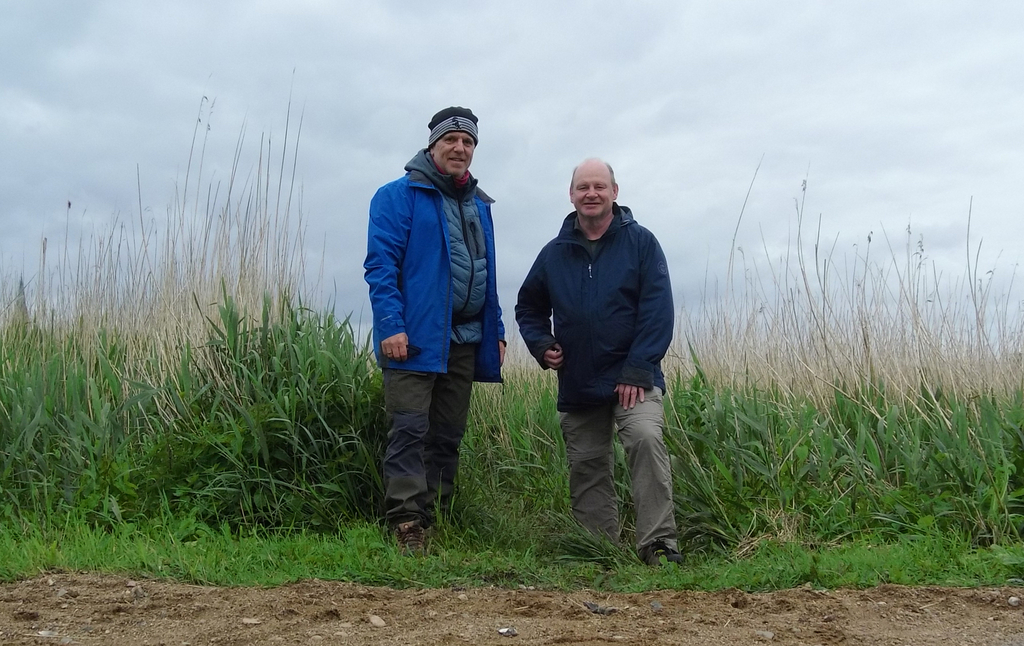 This year's trick: click on a picture to see it in, well, more detail than you really want to, I suspect!
Thursday
For the second year in a row we resolve to meet roughly half way between our homes, so we both have long rail journeys with many tight connections. That's what you get after sitting down for so long. This year we are walking on the Schlei side,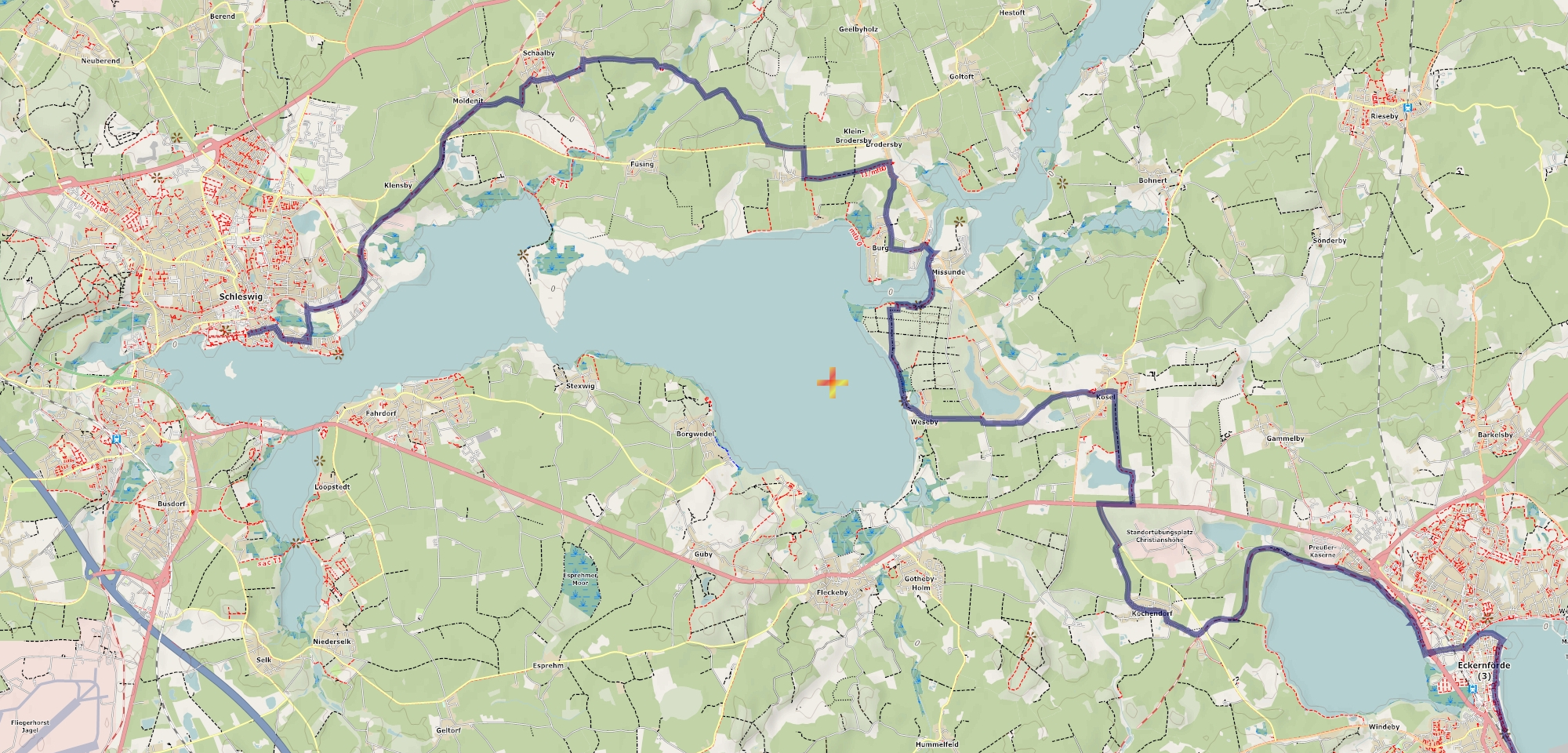 from Eckernförde to Schleswig, around the Schlei Noor,
which is what North Germans call a pool of water round here.
| | |
| --- | --- |
| | Both journeys go according to plan, every connection is made. Pete even has time to enjoy a wonderful Flensburg gold on the station platform. Where else? The Strides have begun for another year. |
| | |
| --- | --- |
| Adrian arrives first and takes a quick shufty around breezy Eckernförde, which we have renamed Wee Eck for the purposes of our visit. We bang our heads over the name of the rather fit second daughter of the Broon family. Each of us blushingly admits that we were once in love with Maggie, the svelte blonde bombshell frae Dundee. We are now två gamla gubbar, as they say in Luleå, while she remains ever young and stunning, goggled at by new generations of teenagers, in the centrefold of the Sunday Post. | |
| | |
| --- | --- |
| | We are adding another wonderful accommodation to our long list of weird lodgings, which already includes lighthouses, castles, old-folk's homes and river boats. Our hotel in Eck is a converted former wharf and is just dandy, or is it beano? |
| | |
| --- | --- |
| We meet out on the deck for a nautical pint. It's a bit cool amidships, after the sweltering weather of recent weeks. It appears the weather gods have spotted us sneakily moving our walk schedule to May, and are giving us March rain and wind anyway. | |
We wend our wandering way around Wee Eck.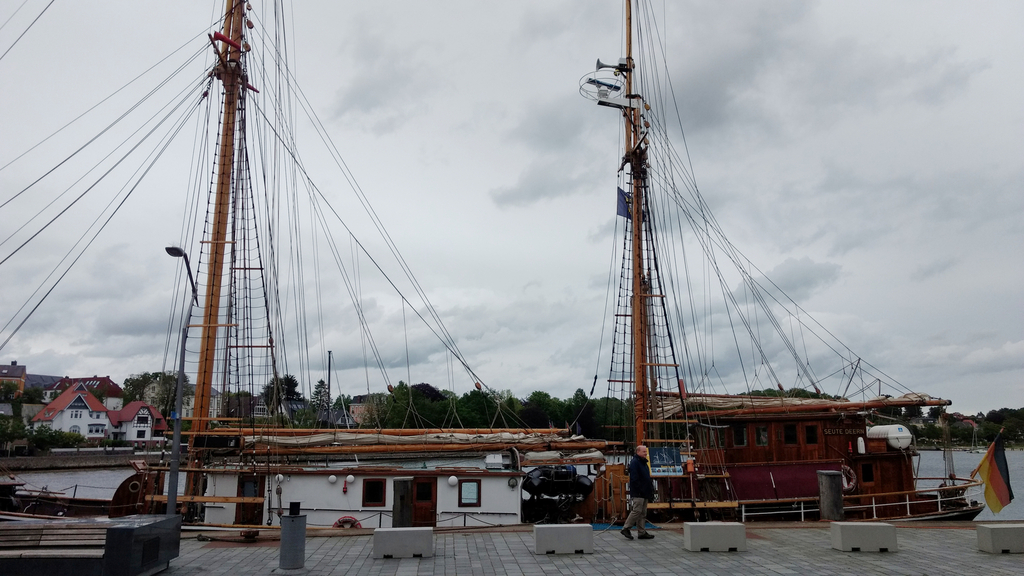 Many private yachts and stylish schooners are tied up at this bonny Baltic port.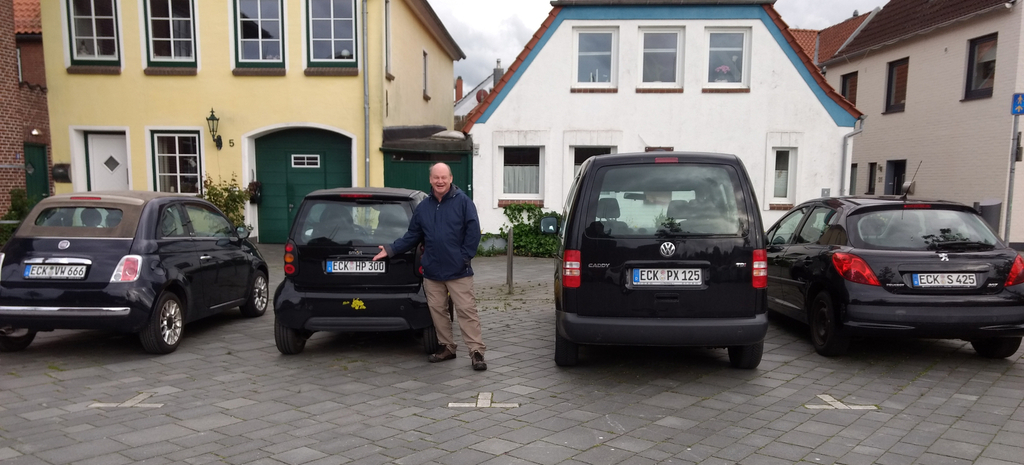 We like the car registrations. Flippin' eck!
The beach is too much like hard work, so we stick to the streets of the old town. Many similarities noted to Scandinavian places we have visited in the past.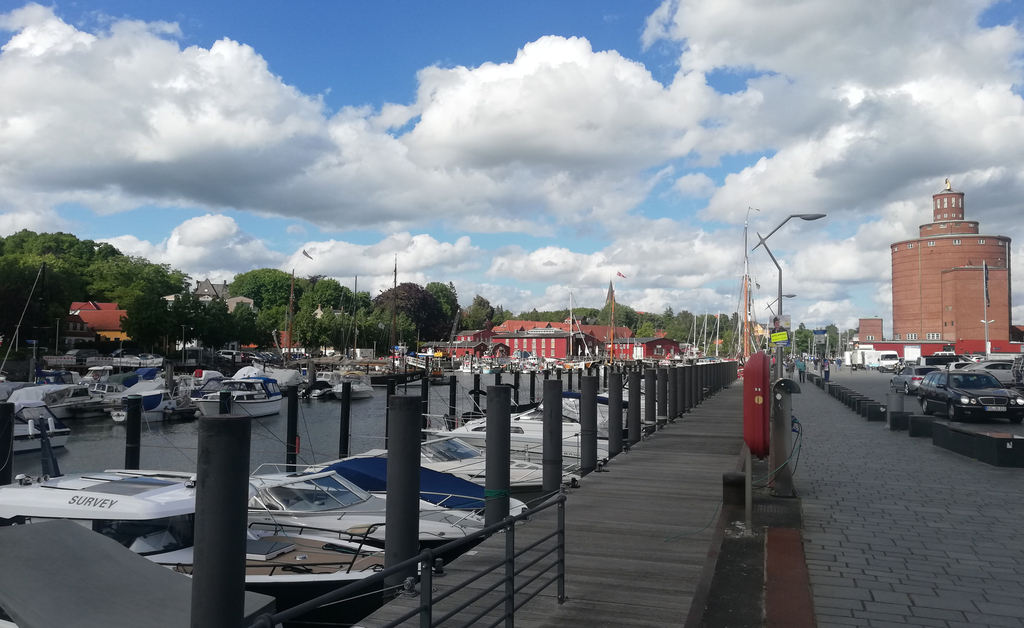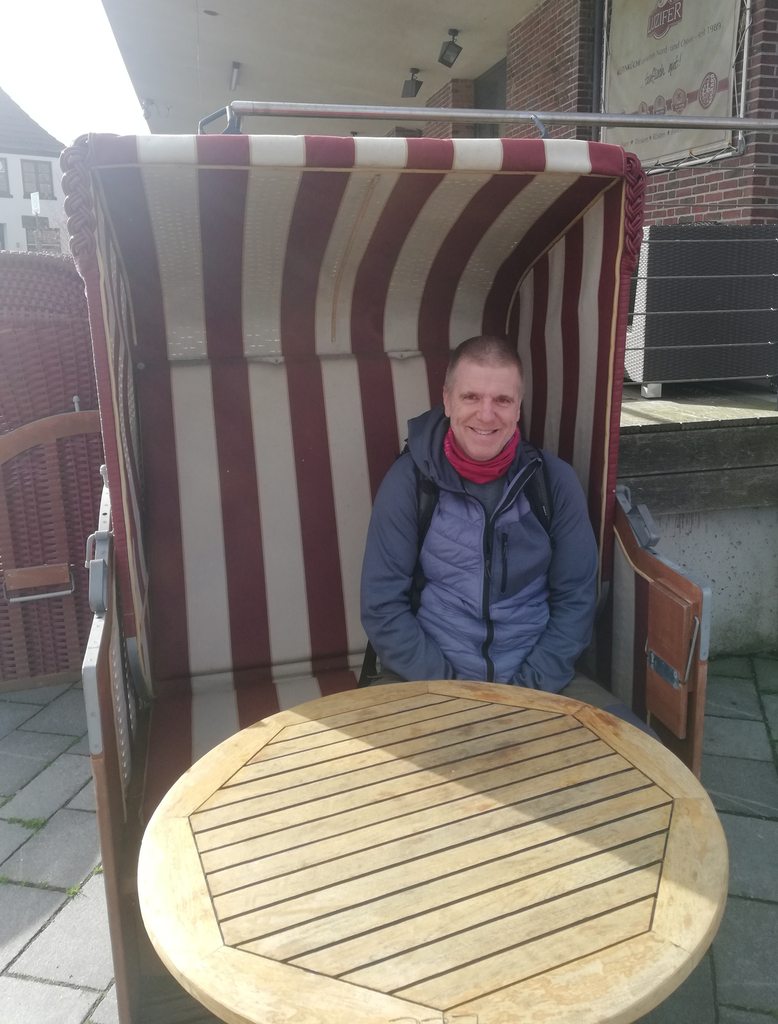 Pete looks just a bit too toasty, in his snug hidey-hole.
Back to the dock of the bay, or is that the wrong song? This small town's restaurants are all packed, so we eat in the hotel. Pete plumps for a simple schnitzel and fried potatoes and is not disappointed. Adrian asks them to plaice a place at his plaice. When it arrives he remembers that he much prefers filleted fish, but pretends to enjoy separating tiny bits of fish and bone anyway. Where's the Ashvale Whale when you need it? More Flensburg beer is needed to scoosh down all the wee bits sticking between the teeth. Have we found our beer of the trip already?
Forecast for tomorrow is: full of weather.
Friday
We are up bright and early, at the table as the coffee arrives. The breakfast lassie is Maggie Broon's doppelganger, in our fevered imaginations at least. Hopes of porridge and jeely pieces for breakfast are dashed, though, it's fresh fruit salad, ham and cheese instead. Das Speigel rather than Sunday Post, Toto.
Windy, blowsy, call it what you will, flags are nearly coming off the poles. Newly purchased hybrids quickly come into their own. Adrian has pulled off a miracle to get all his clothes and spare trousers and spare shoes into a rucksack about the size of a coat pocket. However, we are not 50 ålnar from home and he's already pulling out the contents from his bag and putting them all on. It's blummin Baltic here. Before long, we manage to find a way out of Eck and are finally on our way.
We have left the Great Eastern Sea behind us and now find ourselves facing another large stretch of water: the Windebyer Noor.
Fit's a Noor, we hear you saying. Well, it's 60 minutes, far we come fae, but in north Germany it's a loch. Our one is nearly circular and choppily tidal, or perhaps tidally choppy, such is the strength of the wind whipping up waves at our feet. Walking round a circular noor seems an easy enough prospect at first, but the view literally never changes, and so we start to panic that we might miss the sneaky cut-through that Pete has already cunningly pencilled in as a way of shortening today's stupidly long walk.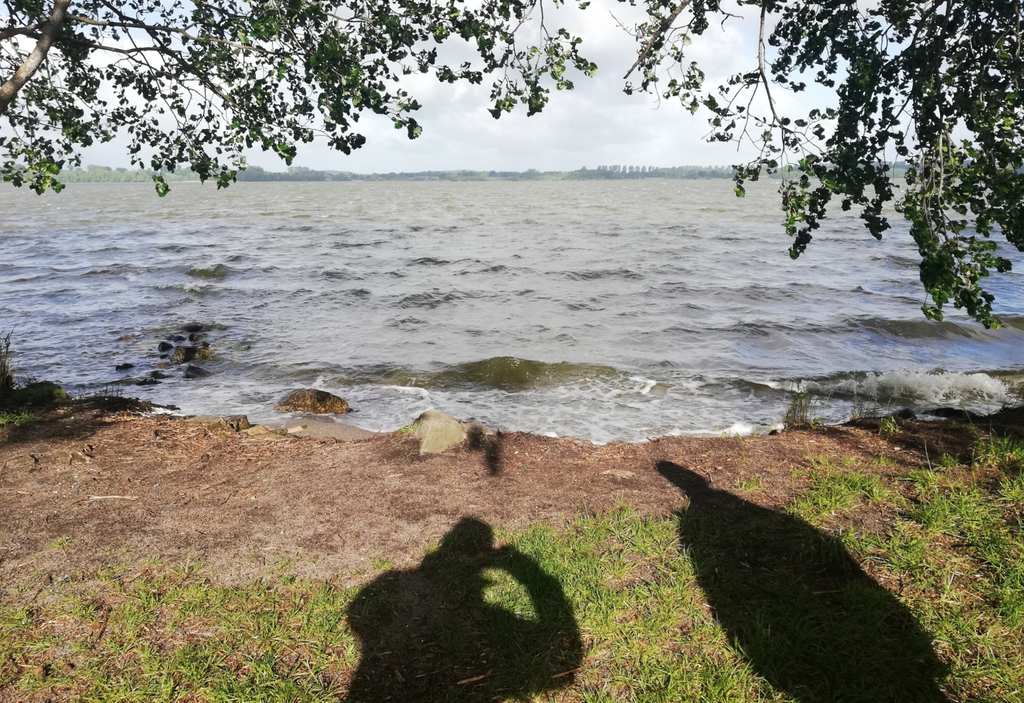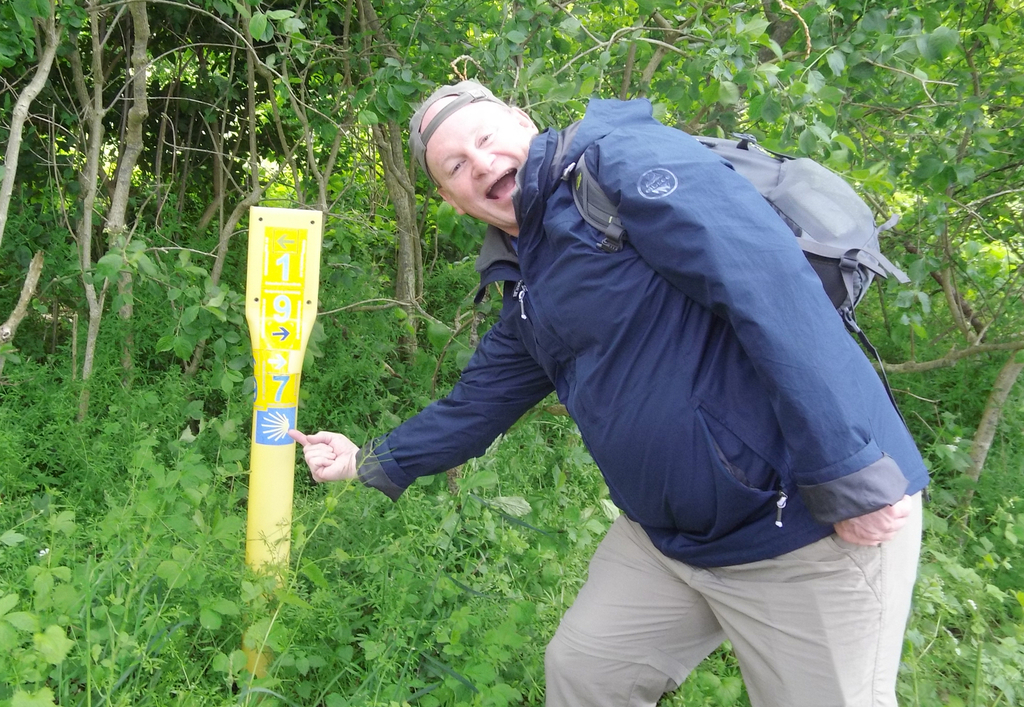 Will we never leave that Camino behind us?
But before all that, we have our morning gymnastics routine to complete. A well-equipped playpark has us going through our various disciplines, all under the keen gaze of an impressive Totem pole topped off by an enormous owl. We hope he's the only one watching.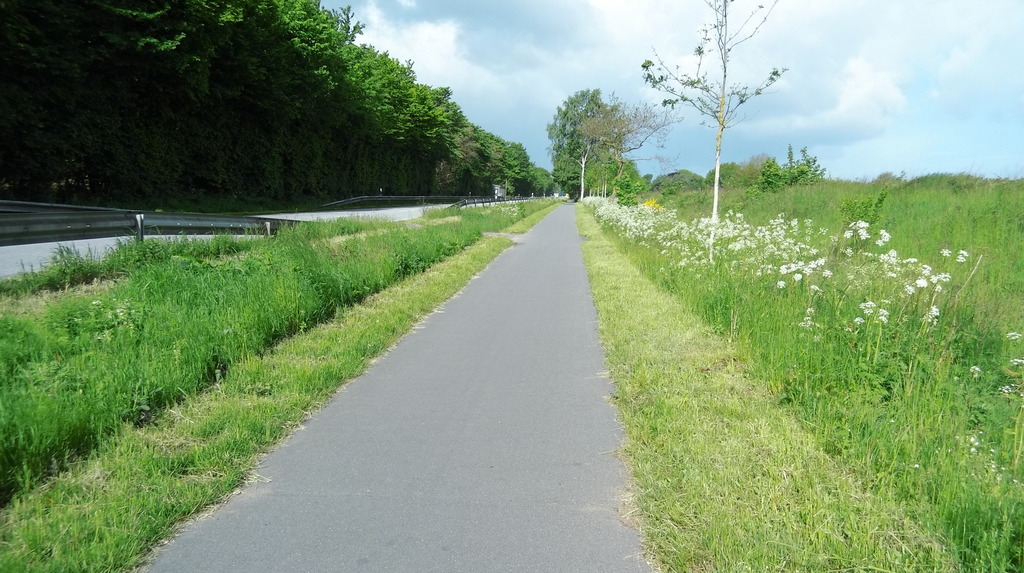 We are on a real straight road now,
but the Schleswig-Holsteiners are ever thoughful and have provided us with our very own hiking path, running alongside. We follow this for a while, failing to escape the looming dark clouds. With no signposts around, Pete invokes the gods of GPS and declares that we must cross a field to get back on our route. Adrian, many times bitten, is initially shy, but we negotiate some gates and do indeed find ourselves back on a northbound path of sorts in a rather open stretch of countryside, just as we pass the Bültsee noor,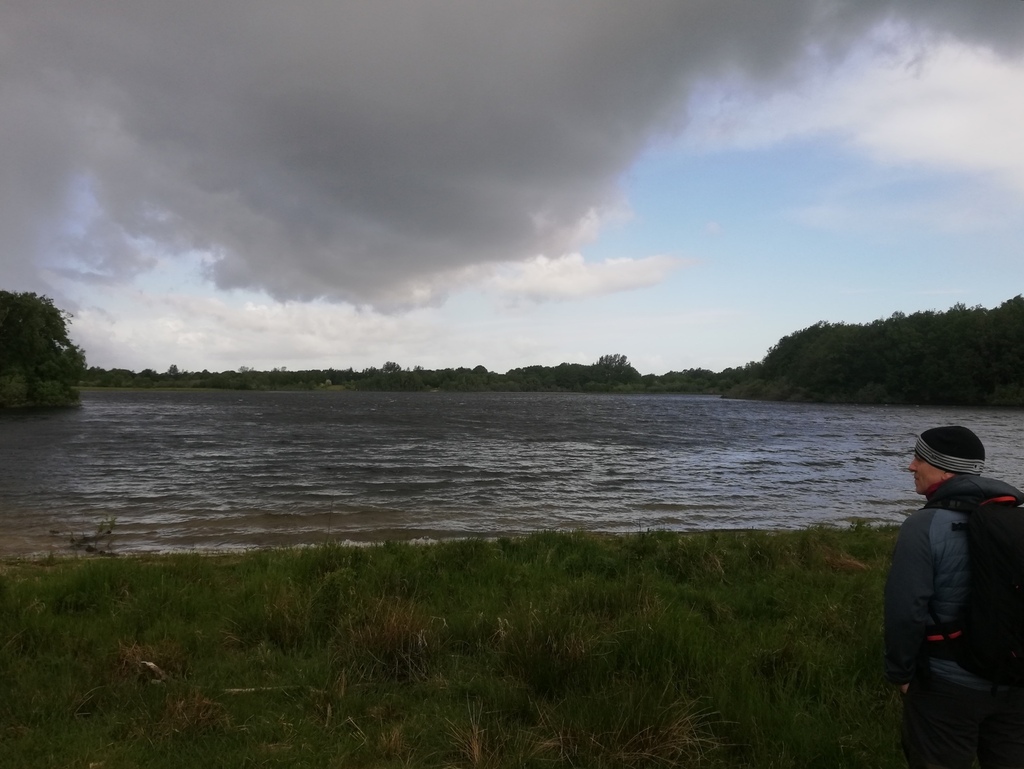 apparently excellent for bathing in the summer.
Here we meet our first massive North Sea squall. We huddle into rainwear as muckle great drops suddenly bombard us and then suddenly stop. Immediately sunny again.
Morning coffee stop is planned for Kosel. We have already broken the back of the morning's walking and take some moments to marvel at the large and beautiful thatchwork on view in this charming wee village. We learn from a mannie working in his garden that in the middle of the village there is a "Kaufmannsladen", a German word which has connotations of something that kiddies at the nursery school play with. It happily has Danish croissants and coffee and beer, however, and so we find ourselves sitting happily outside at a wooden bench, scoffing our elevenses, although we do scurry inside when the rain comes back again.
| | |
| --- | --- |
| | |
Bit more road, bit of path, lovely forest. We are making decent time, still dry after dodging that first weather of the day! Soon we get our first view of the Große Belt, the wide end of the Schlei fjord, the heart of this year's walk. Threatening black clouds race in from the southeast. The gale-force wind and driving rain are comically strong here. It sure feels like the coast, but is in fact an expanse of inland water, waving all the way to Schleswig.
We stop to watch twa windsurfing lasses doing all sorts of tricks, as they skit across the Schlei at a tremendous pace in their skin-tight wetsuits. One of them looks just like Maggie Broon, the other one might be Daphne. Who knows what lurks within all that neoprene.
| | |
| --- | --- |
| Completely wind-buffeted and slightly soggy-socked, we escape into the forest again, whereupon the storm immediately ceases. Cover is barely 50 ålnar away and now all is quiet. Weird! | |
| | |
| --- | --- |
| | The day's intermediate goal is the Missunde Ferry. We catch sight of it through the trees and so naturally burst into a medley of songs: Ferry Cross the Mersey, We Wish you a Ferry Christmas and, of course, Slave to Love. We are there and on the vessel and crossing the waves without time to set up the camera or even stop walking, really. It's all over in about 90 seconds. |
Lunch at the rather fancy, unimaginatively-named Fährhaus Hotel. Spinach pasta for Pete, with mushrooms and (so he discovered when peeing the next day) asparagus. Adrian is looking forward to a big slice of cow, following yesterday's fishy disaster, but what arrives is a big slice of plant-matter. The hostess is a blabbermouth who prefers her guests taciturn but maybe, just once, it would be a good idea to listen to the customer instead of aye giving the gab yourself. We have more Flensburger to wash down our assorted vegetables as we rest contentedly, looking out across the sound, where the rain is now fairly belting down. Beer of trip deal is done. Feeling a bit stiff and footsore already.
| | |
| --- | --- |
| These little beauties score quite high in the cuteness stakes here, but not as high as on the video, available now at your local hiking store. That's the media that made the girls go, "ooooh," over and above anything featuring your correspondents directly. | |
This afternoon we plan to avoid the north loop and stick to the path alongside the road, should be easy. But then a predatory gardener hijacks this plan with his own idea for us to follow the stretch of Anglian countryside which conveniently goes past his house and for which he even insists we take the map he oh-so-conveniently has to hand. Yep, we are now in Angeln whence - on hearing that the Romans had left a hob on back home and had to leave suddenly - the original Angles teamed up with their pals the Saxons to conquer southern Britannia. We find ourselves on just the kind of hill we strive to avoid, huffing and puffing to the top, before descending to a marina and a dead end. Nothing for it: we retrace our steps, huffily and puffily, as the rain resumes.
We take a detour up onto a path through a field and hit the most unlikely of coffee stops in a two-horse village called Geel. There is a sign outside a house advertising coffee and many cycles are parked outside, normally a good sign, but no seats outside and no obvious entrance. We are almost ready to hit the road again, but desperation gives us courage to try the side door, which looks scarily like a door to a private residence. Inside, letters and newspapers lie on the mat. We are loathe to intrude but, on hearing voices further in, we open another door to meet an entire Tour De Schleswig Bicycle Crew of golden oldie pedallers supping and drinking merrily. They roar a welcome and we sit down. Sure enough, the place is a public house and a lovely wee wifie comes out and offers us a wide range of home-made cakes and beverages. Heaven. We choose beer and coffee and a divine rhubarb cake. Outside, the skies have opened up again and we enjoy a rather extended break watching the rain bounce off her beautiful little garden. We have been fortunate in dodging the worst of the weather so far, but the intervals between heavy showers are getting shorter.
| | |
| --- | --- |
| | Adrian clearly enjoyed his beer stop, judging by this one. |
Back on the road again, it pours, relentlessly, wetly. We are soaked through to the underpants, which is our definition of a rainstorm. Pete's only trousers of the trip are streaming with water. Every so often, the Sun comes out and dries us all up. Isn't nature wonderful? We go through the pouring-rain-and-sun-which-dries-up-all-the-rain cycle several times. Feeling very much like two Itsy Bitsy Spiders wandering along a spout by this point. Also starting to feel very tired indeed. We keep swearing off (and swearing at) 30 km days, for good reason. Unfortunately, some tours stubbornly refuse to divide themselves to suit our needs.
| | | |
| --- | --- | --- |
| Entering the town of Schleswig, | we wander past the cathedral | and past gardens |
as we wend our way towards our hotel. Very tired, very foot-weary. When, oh when will it end? Oh look, there it is.
| | |
| --- | --- |
| The Domhotel is usual Strides quality (i.e. 1-star). Two single berths with a student dorm ambience await. Pete's room has an ensuite toilet, sink and shower, but no frippery, such as a wall or door to separate these from the bed. It's basics only. He knows his family would complain, but it works for him. Adrian's room is equally spartan and very cold. It's late May, but there's no heating and the frequent soakings and dryings during the day seem to have taken their toll on his fragile constitution. A long, scalding-hot shower fails to get the ague out of his bones and he spends an hour or so shaking fitfully under a thin duvet. | |
When it comes to washing hands there is no soap, so Pete uses shampoo. Adrian goes one step further and uses toothpaste, but at least his fingers now smell minty fresh.
That night we only make it only as far as the local brewpub. Adrian's tiredness follows him into the inn and he feebly orders only soup and a small beer, both of which he fails to finish, which is most unusual. Pete plumps for the diablo burger and two large beers, which is a little more up to par.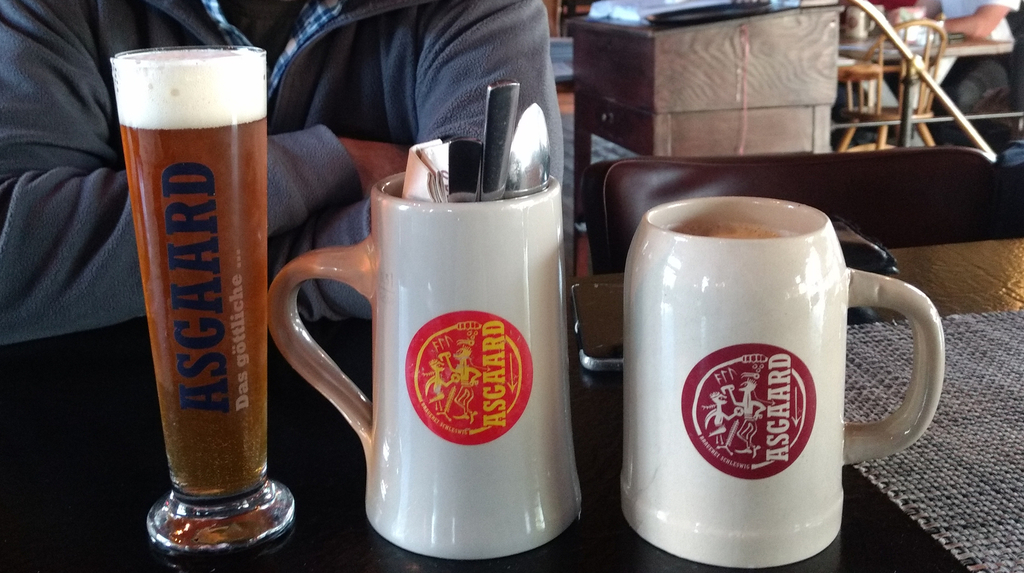 The marketing of the home brew Asgaard is fantastic,
far better than the product itself, which is flat and unmemorable. At least, I think it was. Can't really remember.
Home early and immediately we hit the sack. Both sleep like a log.
Saturday
Amazing what a night's sleep can do. Both of us feel much refreshed, if still pretty sore in the legs and feet department. Breakfast is fine, a real old-fashioned slap-up by Ma Broon for her twa orra loons, Hen and Joe.
Off we head through the town down to the Schlei-side path and onward, today's destination being the UNESCO world heritage Wiking place on the other side of the fjord, Haithabu. Apparently it was all a nooropolis and buzzing trade centre back in the day. Pete initially plumps for wearing just his hybrid jacket, then changes that for just his waterproof. Then he ducks back to the hotel and takes both. Weather has been kind of like that for the whole trip. Cold in the wind, but sunny in the sun, wet in the rain. We walk round the top of the Schlei fjord, having some innocent fun with a waterside sculpture on the way.
There should be a law banning anyone from filming statues unless they join in. Wouldn't that make the world a better place.
We pass the fairly interesting looking Schloss Gottorf city museum on its island and head out of town towards the Haithabu museum, mainly on the road. Morning coffee is partaken of at a pleasant and busy wee hostelry just short of the museum complex. Still not trusting the weather forecast, we decide to first bypass the museum and visit the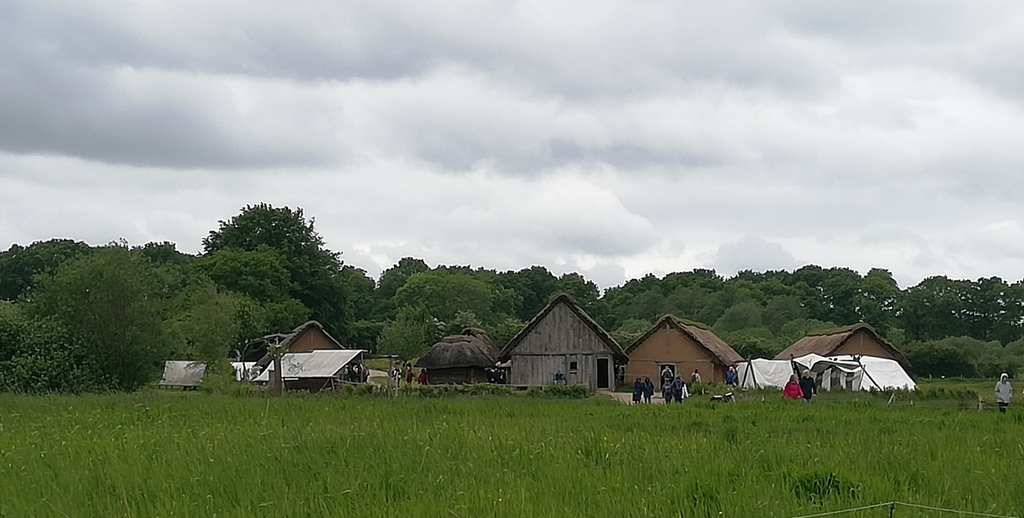 ancient (reconstructed) Viking village,
instead. It's all a bit touristy and popular and crap. We kind of resent the existence of other folk in general. Misanthropy alive and well on the Strides. We don't hang around. Pete wants to see rune stones, so that's what we do. There are heaps of them rune here.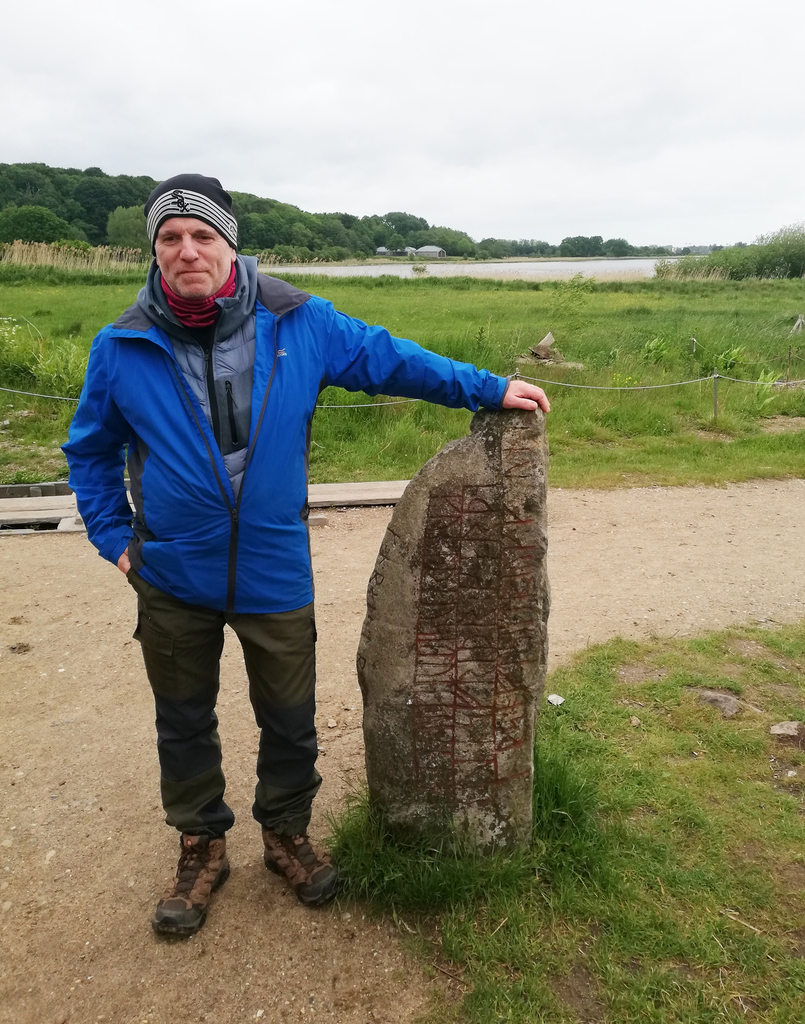 You should take pride in exhibiting ...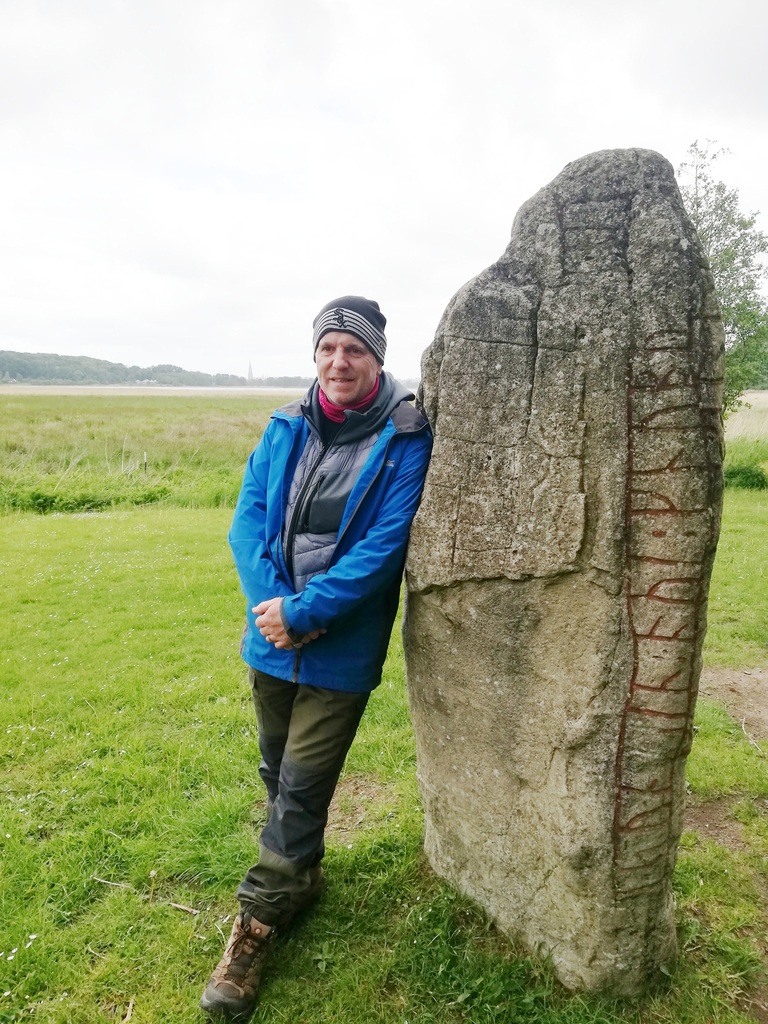 ... the stones you pass.
We push on to the Noor bridge at the joining of two Noors, the Haddeby Noor and the Selk Noor, or is it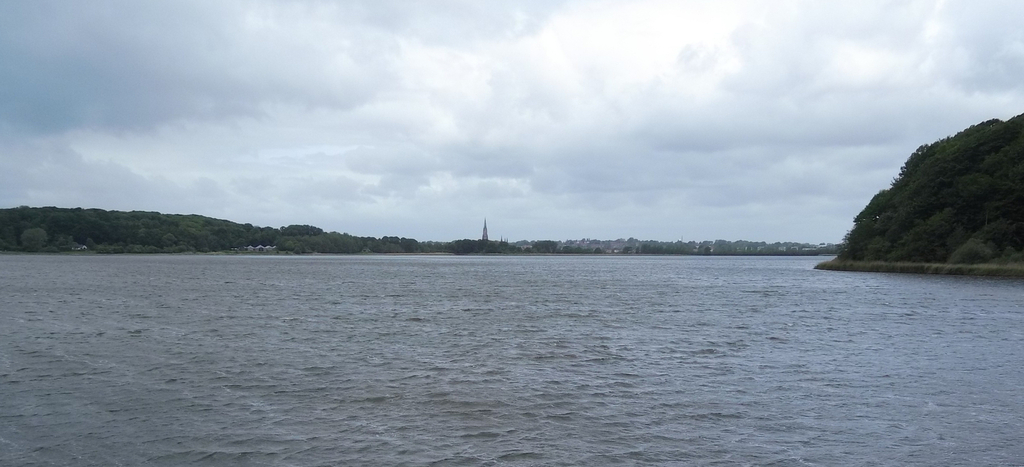 the Soor Ploom?
When we finally return to the museum, it is with the satisfaction of having most of the day's walking under our belt already.
| | |
| --- | --- |
| The museum cafe has only a short queue, but the world's most inefficient serving staff. It might be a UNESCO world heritage site, but we weren't aware that antiquity is a requisite part of the service, too. They take a millennium to serve us. There is something intensely stressful about watching a person fail to do a simple job in even double the time it needs. Teeth grating still. Hours after entering the building we finally get our Viking beer and slice of pizza, which we drink and eat outside. | |
After all this, the museum itself is a major disappointment. Haithabu's pride and joy is 1970s throwback, full of flint and pottery in glass cases. The place is mobbed; the one-way system and Darth Vader mask mandate don't help our rapidly worsening mood. We race through the museum in less time than it took to get served in the café.
| | |
| --- | --- |
| | We much prefer our own local longboat, parked conveniently outside the hotel. |
We quite fancy a beer before heading home, but neither of us can bear the thought of waiting in that queue again.
| | |
| --- | --- |
| | We can't decide what this row of steel structures is for. Are you supposed to tie up your original hybrid VW1 here, or what? Adrian thinks they may be ancient, err, dentist chairs and is just about to demonstrate the mounting thereof, when he gets a dirty look from a visiting family with two young children, and demurs. |
The walk home is pretty uneventful, but at least the weather is much improved.
| | |
| --- | --- |
| We find a quieter path back to Schleswig, nearer the waterside, but still have difficulty getting peace to set up our traditional double self-portrait, since this is the moment that fellow wanderers decide to suddenly jump out of the rushes-oh, and we get embarrassed, pretending we're not Jocky and Jimmy Nae-Pals fae Aiberdeen. I don't know why we didn't just ask them to take the photo. | |
| | |
| --- | --- |
| | From afar, we see the sign on the skyscraper and rather fancy a high pint, but somehow, we lose sight of the building as we draw closer, and we suddenly find ourselves spewed out on the other side of the fjord, with no way back. Hard to imagine that was possible. |
Back at base again, we have our greedy little eyes on an Italian trattoria adjacent to the hotel, but they clearly saw us coming and allege it is booked out for the evening. We sniff in disdain and take our leave, pass an Irish pub and plump for an empty Indian restaurant. It was an international evening. The food is fantastic and the waiter so friendly, despite his initially comic question as to whether we had phoned ahead to reserve a table in his establishment devoid of any other customers. A real treat and probably the best meal of the trip.
Having passed it once, we can't resist the Irish pub on the way home. T'was ever thus. We are asked to pay a contribution to the electro pop which surround us, but claim ancient wanderers' rights, according to which we are allowed just one beer if we promise not to appreciate any music while drinking it. Not a difficult challenge tonight. The barman has never heard of Magners cider in this Magners cider pub, with its huge Magners cider sign outside the window. He gives us instead two flat pints of Guinness, decanted in about 6 seconds. Maybe it's his first day being Irish? We don't overstay our welcome, drinking up in not much longer than that. Time for home, sleep, dreams of the impossible:
| | | |
| --- | --- | --- |
| of calm waters, | heavenly nectar, | and acts of god. |
Sunday
We have a massive breakfast already tucked away before Ma brings out an iron pan filled with bacon and omelette to our table. Oh well, can't let it go to waste.
The railway station is, rather absurdly, almost 3 km from the centre of this tiny wee place. At least the walk gives us a chance to snap the garden of the trip, which crept in just at the very end.
The station itself is but a gutted shell, devoid of furnishings, comfort, or even walls or floor. But at the end of a Strides trip we bat nary an eyelid. Nothing is impossible. The trains are absurdly full on the journey back. Pete somehow blags seats for each leg, mostly through brazen luck. Adrian has less good fortune and finds himself performing a little loop of northern Germany just to find any platform empty enough for him to board the train to Hamburg.
Hame.