2021: Lillebæltsstien, Middelfart
Denmark
Autumn arrived early that year, brush strokes of orange and yellow smeared across the canvas. Hunkered down in their separate corners of Foreign Fields, Adrian and Pete both sighed. As if losing one March Strides to the bloody pandemic was not bad enough, now another had gone the same way. One more year without its priceless retreat pilfered away from daily duty, both of us aware that the Great Cosmic Abacus has only a finite number of beads. Coming winter seemed particularly bleak.
Barely two weeks later, here we are merging notes from our 2021 adventure. Never was a decision for a walk made more quickly and on a more whimsical basis than this: random emails, long train treks through the night, many changes at local stations, replacement bus services. It all ended up in a little village somewhere on the main rail line between Hamburg and Copenhagen, a trek, a hotel which is just right for us, the thrill of new trousers and marsvin in the wild. Not March but October, and the late, late strides are upon us once again. Feck corona.
Saturday
We meet in Middelfart, conveniently bridging Jutland and the large Baltic island of Funen. It is appropriately named: partly because it is almost exactly the middle point between our two homes, but more obviously because it appeals to our juvenile sense of humour. Both had adventures getting here: Adrian preferred to travel through the night as he doesn't care for fields in daylight; Pete opted for changing at many local stations as he likes the smell of diesel mixed with urine and replacement bus services. All matters not. Here we are, with firm plans for tomorrow and only vague whimsies for this afternoon and monday morning.
The village is on the Lillebælt, or Little Belt, one of the first Danish straits to be bridged. The Old Bridge is just over a kilometre long, spanning the inlet from Middelfart to Snoghøj, proud site of our hotel. This was later supplemented by (you guessed it) the New Bridge, ten km to the north.
Our walking holiday begins with improvisation. Last-minute ideas involving a ferry crossing to the tiny island of Fænø are abandoned upon learning from a local sage that the entire shebang has been turned into an exclusive residence for wealthy paying guests. Stuff them all. Instead we elect to take the train to Fredericia, conveniently close to neither where we are now nor the hotel.
Back at the station we revert to character as Scottish gadgies, get ourselves a couple of cans of Tuborg at the station kiosk and neck them on the platform. Funnily enough, I haven't sat on a cold railway platform necking lager from the can since, let me see, Oh! I remember, the last strides.

Pete decides to photo the number from the side of the taxi. That will be useful later, perhaps.
The train ride is barely a few minutes long, hardly an appetiser for such conoisseurs as ourselves. The station is a wee bitty out of town, so naturally we head for the castle and city walls, joining various family groups doing the same thing on a sunny weekend. It's all very pastoral.
After climbing down to street level we see that Fredericia has much to offer in the way of ...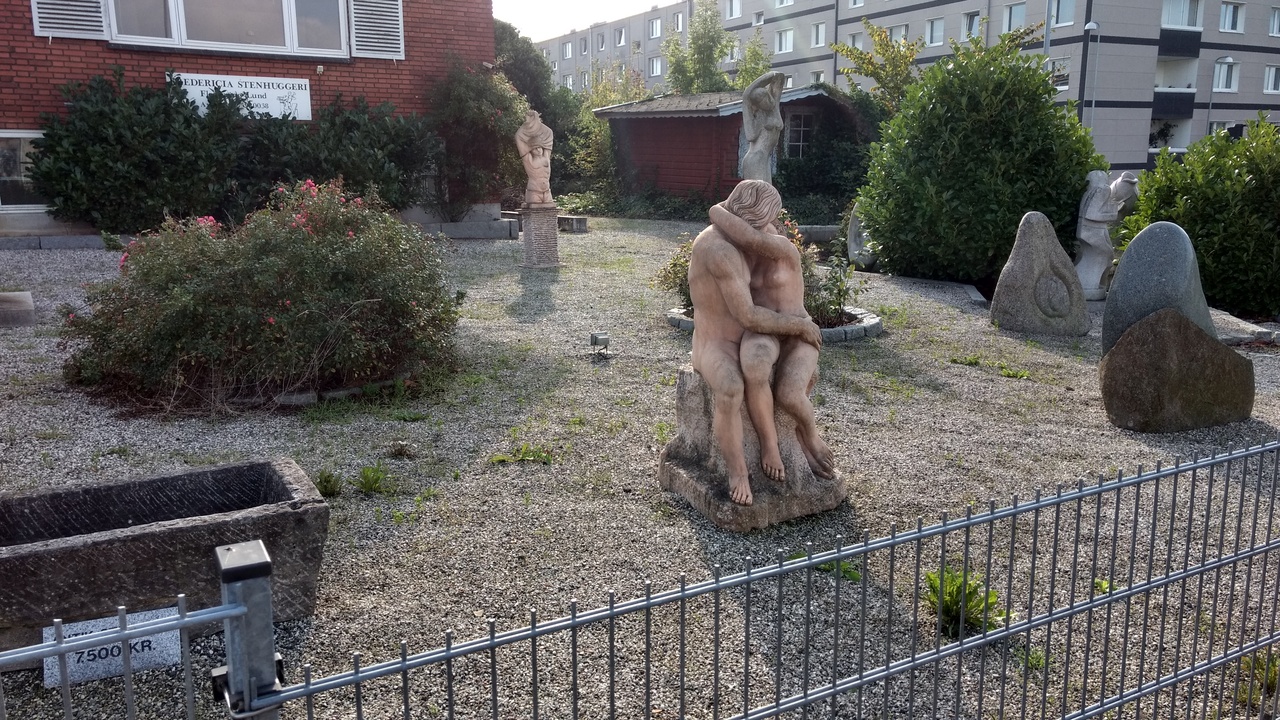 ... kinky-themed concrete gardens ...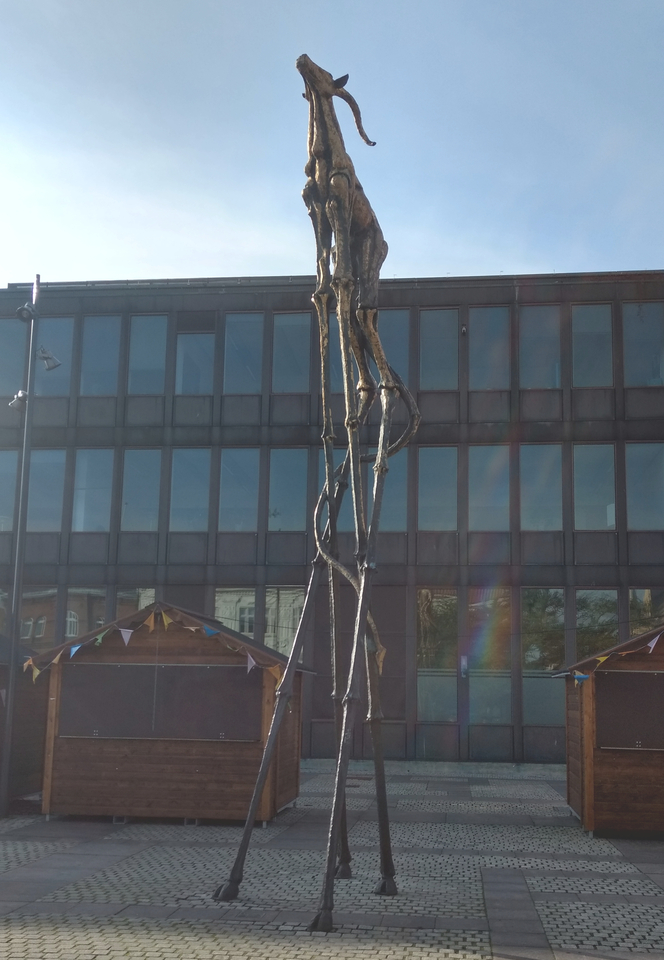 ... and even weirder urban sculptures.
| | |
| --- | --- |
| We find a burger joint where the owner speaks Turkish, English, Danish and German. This ought to be sufficient, indeed, some might call it an extravagence. We order food and two gallons of something dark, cold, and alcoholic, decanted into a pair of large flower vases, probably only recently deprived of their tulips. | |
| | | |
| --- | --- | --- |
| | This keeps us going to the brew pub just down the road which has lots of choice. We drink something fantastically tasty and strong from somewhere very local, and take photos of their walls of beer. Our kind of place. | |
| | |
| --- | --- |
| | Before settling down to a proper sesh, we mosey on down to the town's harbour where we come across a father and son angling photogenically against the setting sun. Nice of them to hang on for the photo. Across the strait, Middelfart awaits. |
One vase and two strong ales has gone straight to our heads, we are as tight as marsvin. Getting drunk becomes much cheaper as you get older, this counts as a full, all-night bender in contrast to either of our lifestyles. We can't find a kebab shop, so instead ask a lady taxi driver to take us home. Adrian can't extricate himself from his rucksack, so must cuddle it on his lap during the short taxi ride over the old Little Belt bridge. Not the last time we make this journey over the next couple of days.
We arrive at the Hotel Medio (-cre) in Snoghøj, a firm favourite of long-distance lorry drivers and indiscriminating walkers. Just because we have already eaten in Fredericia, we see no reason not to do the same here. Dish of the day they call Danish Beef, but we know better as meatloaf and tatties. All goes down well enough with another pint of draught ale.
Sunday
Following a good night's sleep and a huge breakfast buffet, we are ready to set off. Our hotel is inconveniently miles away from everywhere, so we need a taxi to reach the start of the walk. In our best dans-svens-tysk we announce that we want to go to the church in Gamborg, and the manny's sat-nav translates that as a return to Hamburg. Confusion all round, but only momentary and soon we are on the way.
Our plan is to walk the Lillebæltstein, a beautiful coastal walk which circumnavigates the finger of land pointing at Jutland. It is an excellent choice: scenery, length, height, bridges all perfect.

Well, when I say "plan" in fact we had no idea such a walk existed when we chose this destination just because the name made us giggle. With an outrageous lump of brazen luck we just stumbled into the most ideal of walks. Whoop de do, as they say in Denmark.
It is a crisp, beautiful autumn morning. Accompanied by the appealing peals of the church bells, we stride out across fields which are initially quite soggy underfoot. Before long, however, we find ourselves in deeper waters.

A young bull has escaped from its enclosure and is eying us up, rather like a Springbok wing forward goggling an uncapped Lions fly-half. We decide not to separate the wing-forward from its pack, but leave the path and divert across the field. All goes well, and we breathe out again.
We quickly reach the head of the Gamborg Fjord and follow the trail around the south-western part of the island. Everything is going ominously well: weather is nicely overcast; the sea laps happily to our left; we look fondly at the wildlife within, both ...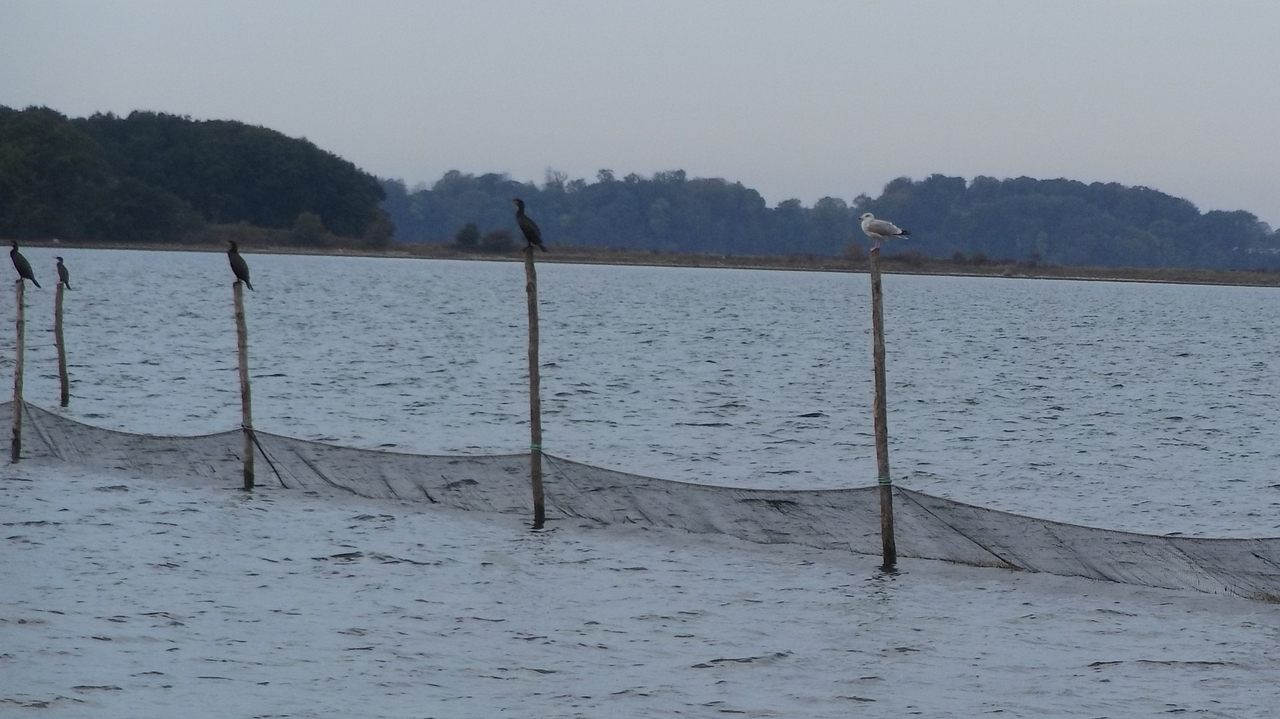 ... avian ...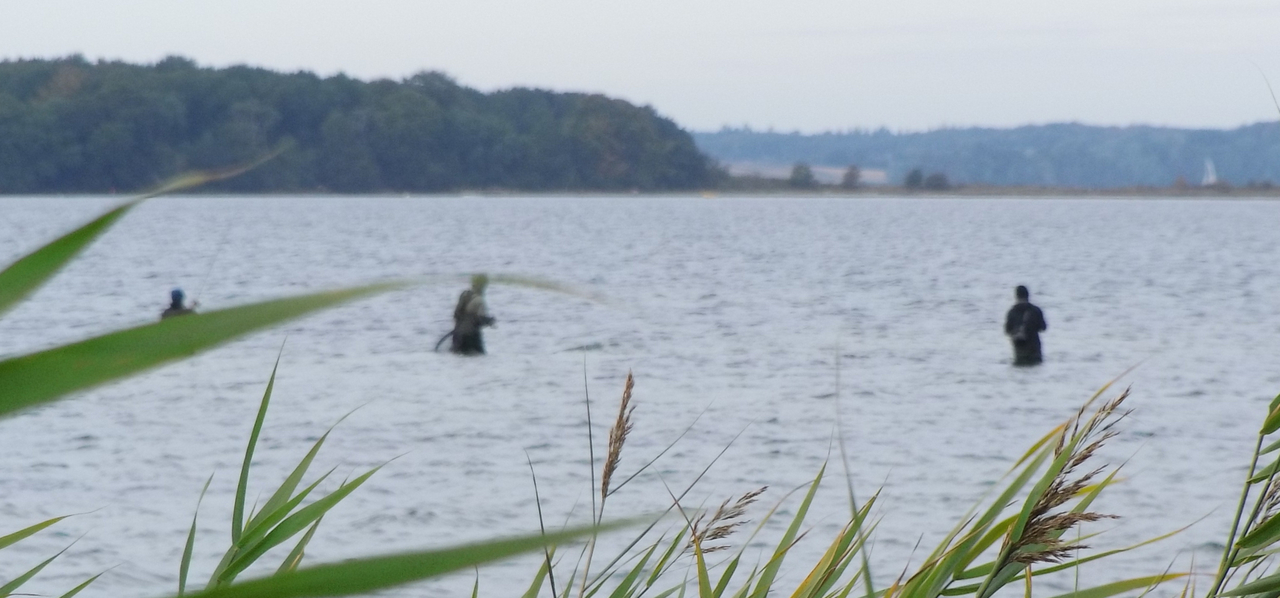 ... and homosapien;
no-one else is about; we are fed and ahead of schedule; we pass ...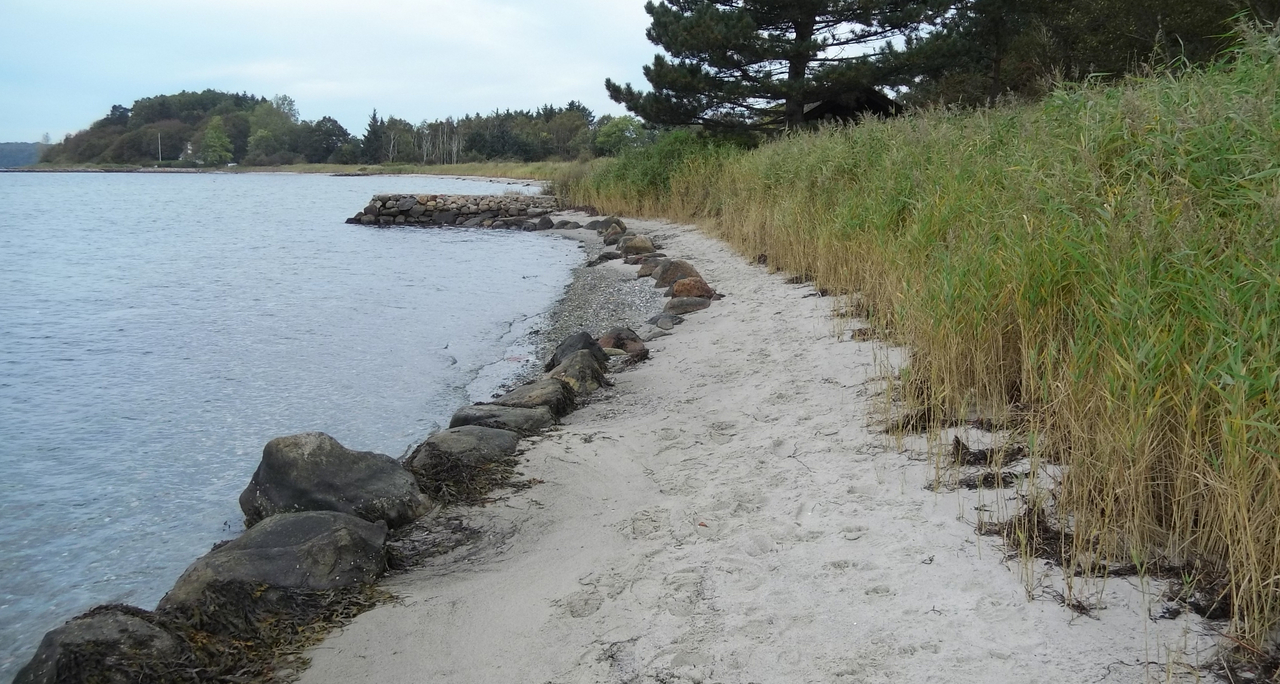 ... beaches ...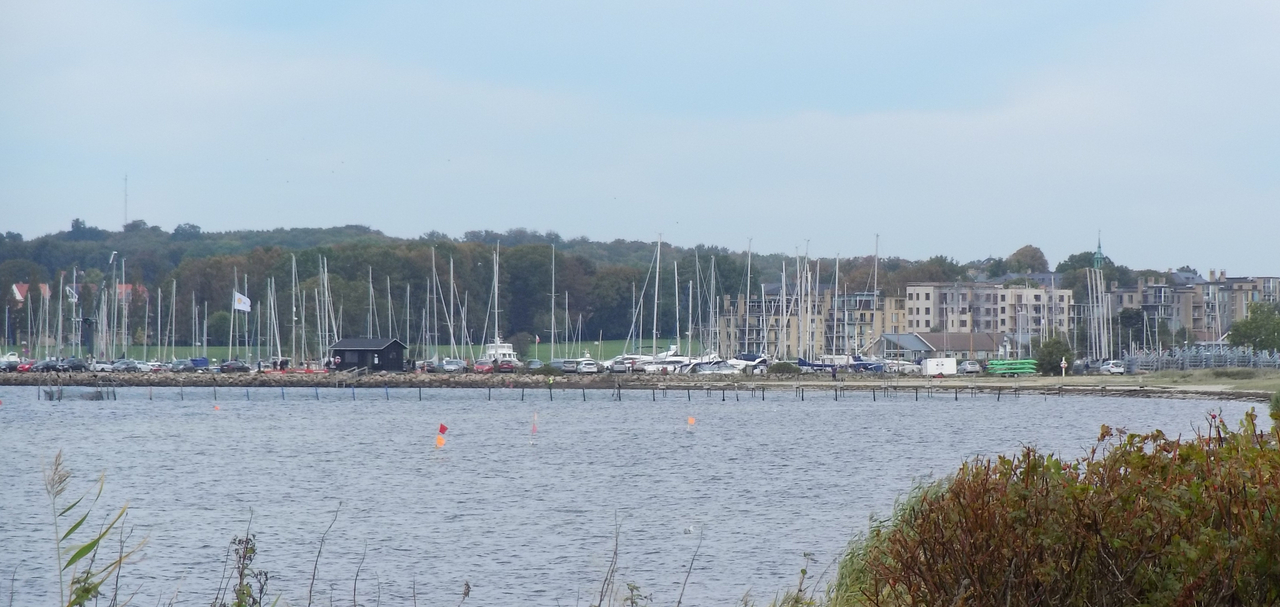 ... and harbours.
Not long to go now until the first restaurant. What a great plan this was. Time now for the first lump of gristle in the Danish Beef. Our progress has been so rapid that our planned mid-morning coffee stop at the ...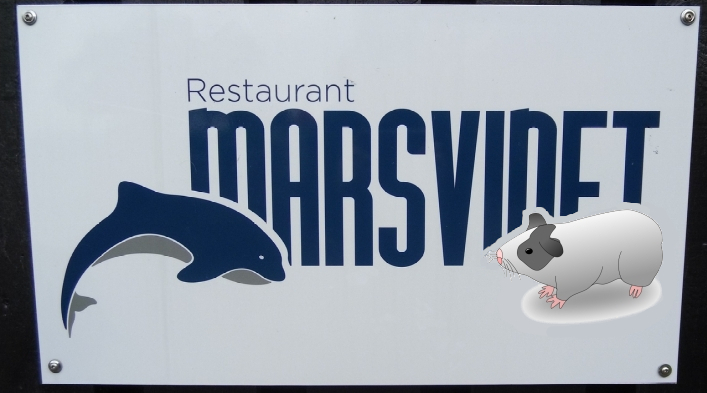 ... by the Yachting Marina fails to percolate as expected. We are there a full hour before it opens. Breakfast, apparently, starts at 11.30 here on the Lillebæltstein. Nothing else to do but march on.
The southern path meanders along the shore, wanders into forest, roams up hill and potters down dale. We are treated to a lovely variety of mid Denmark in all its various variagated variety.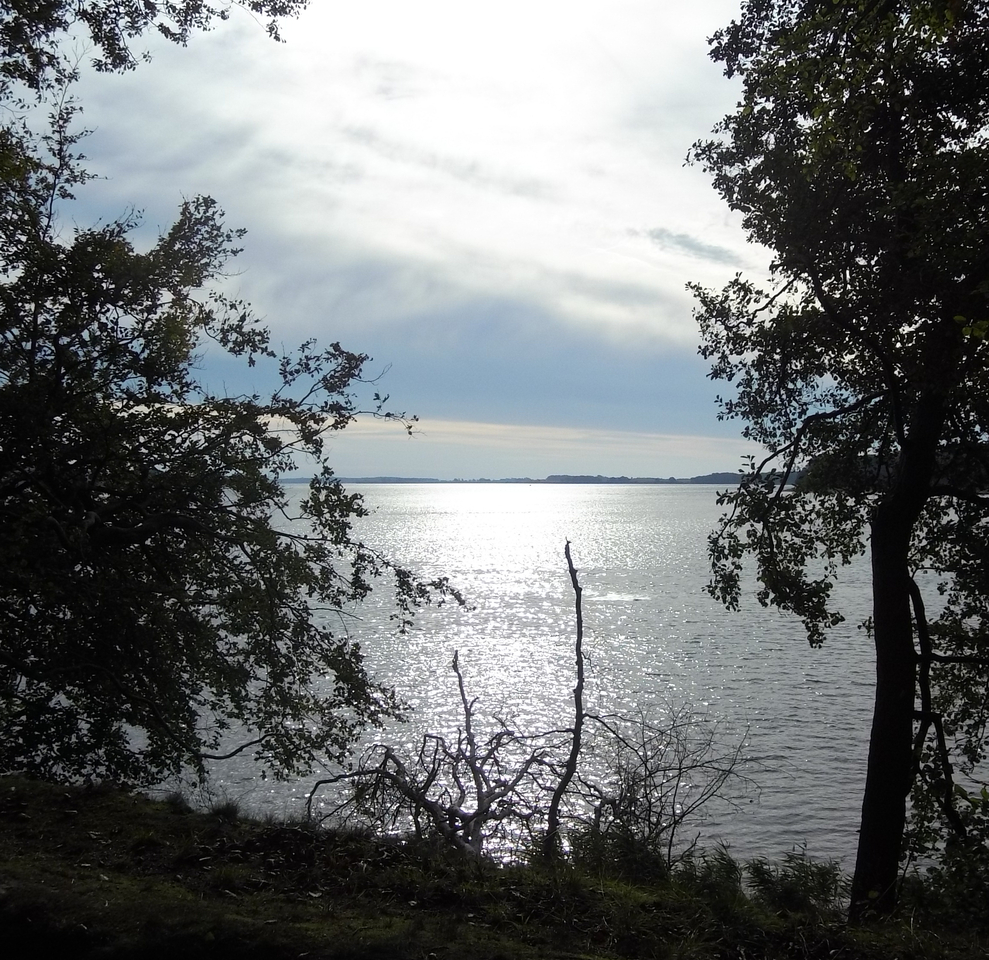 Sun dapples across the water ...
... and through the trees.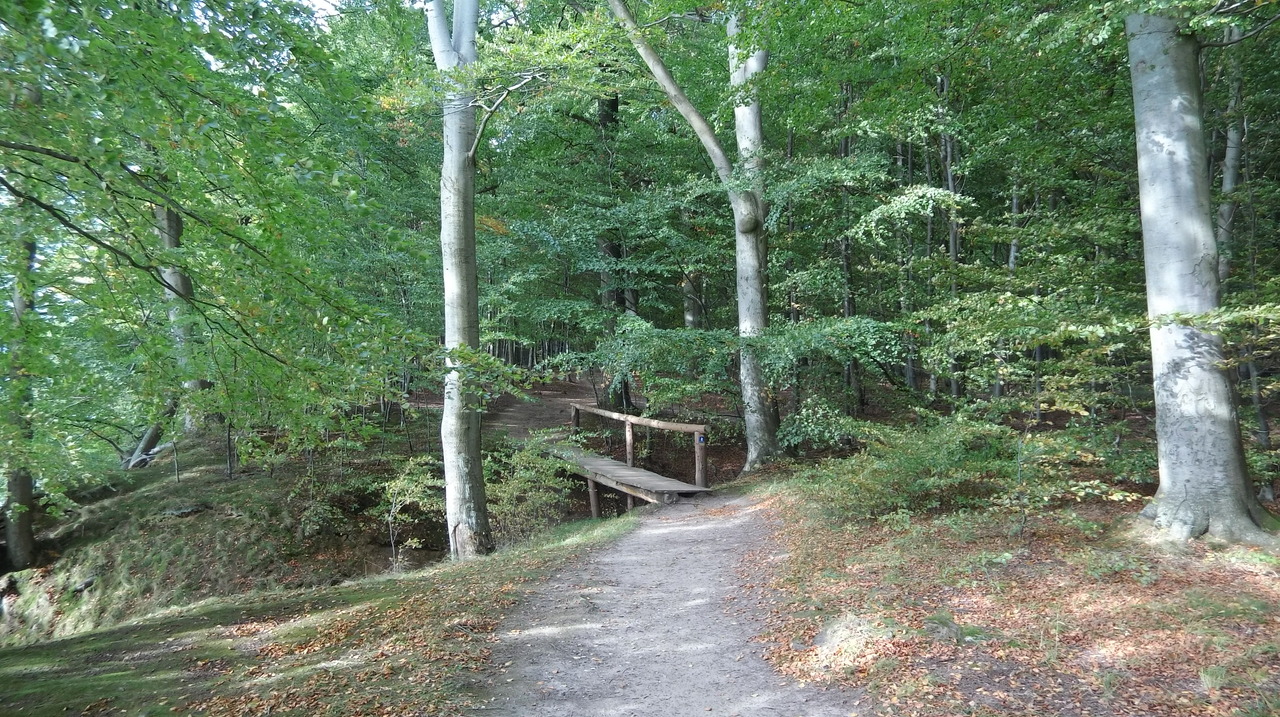 We pass troll-guarded bridges ...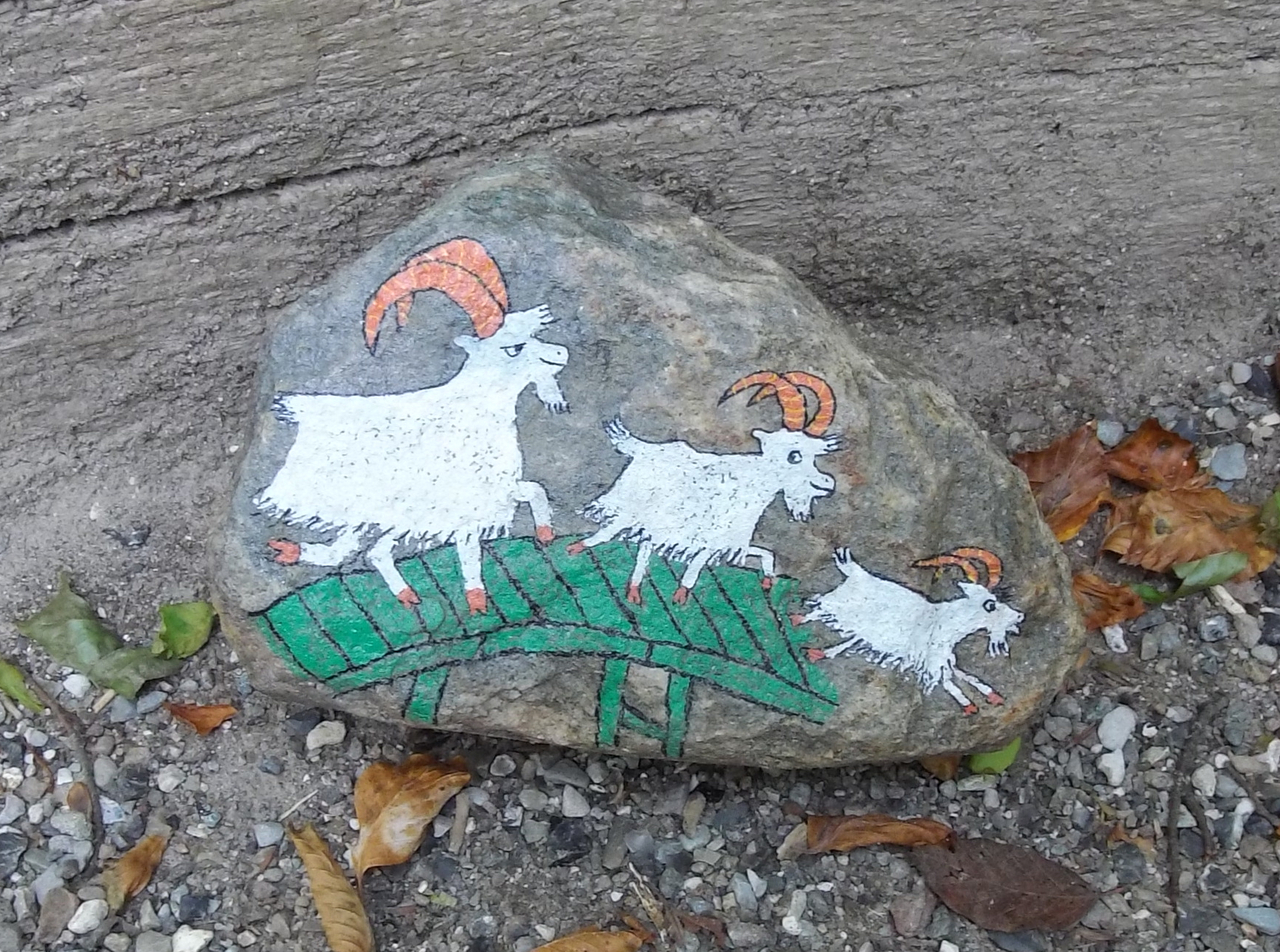 ... like others before us.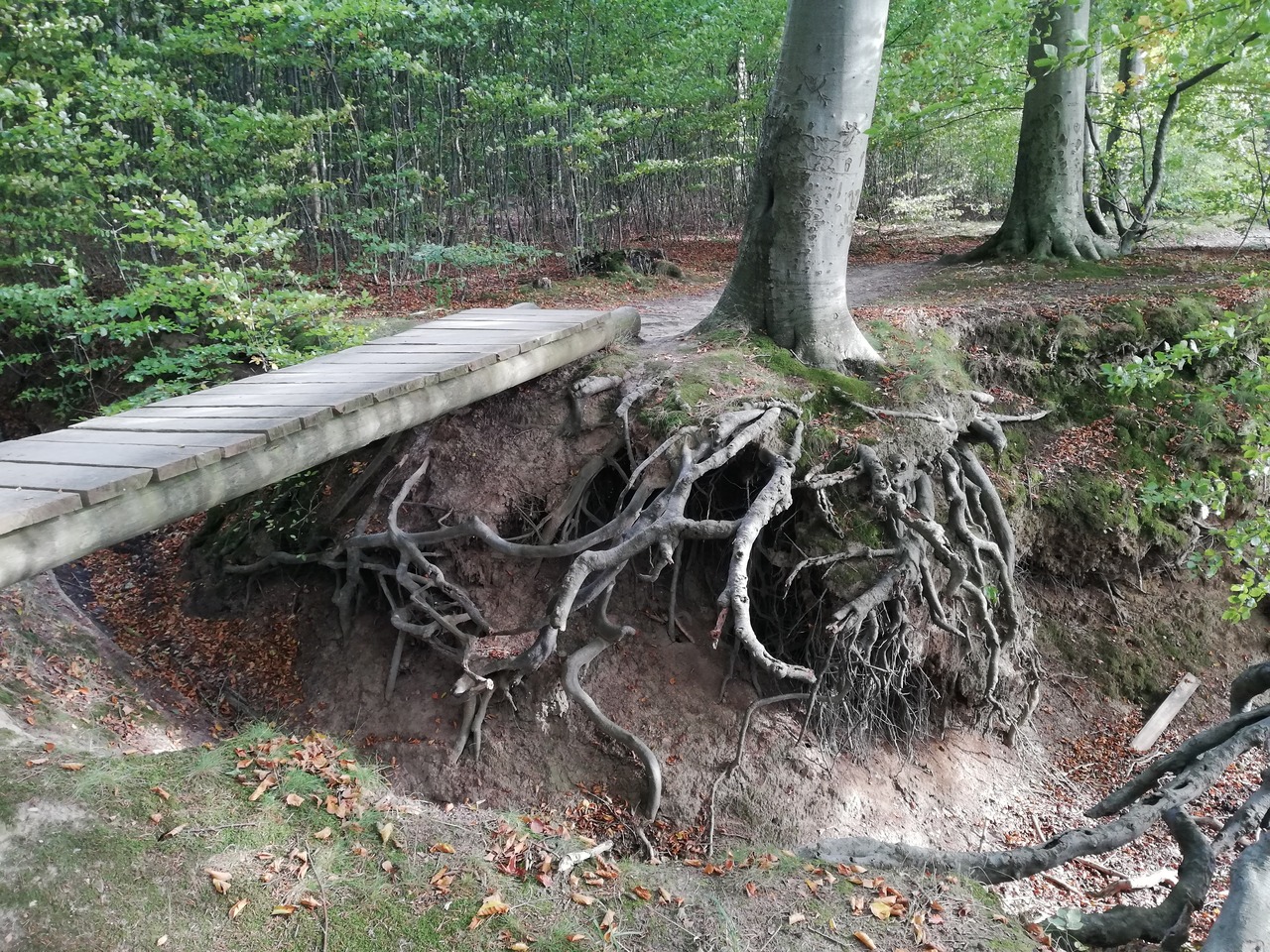 Even tree roots are mythical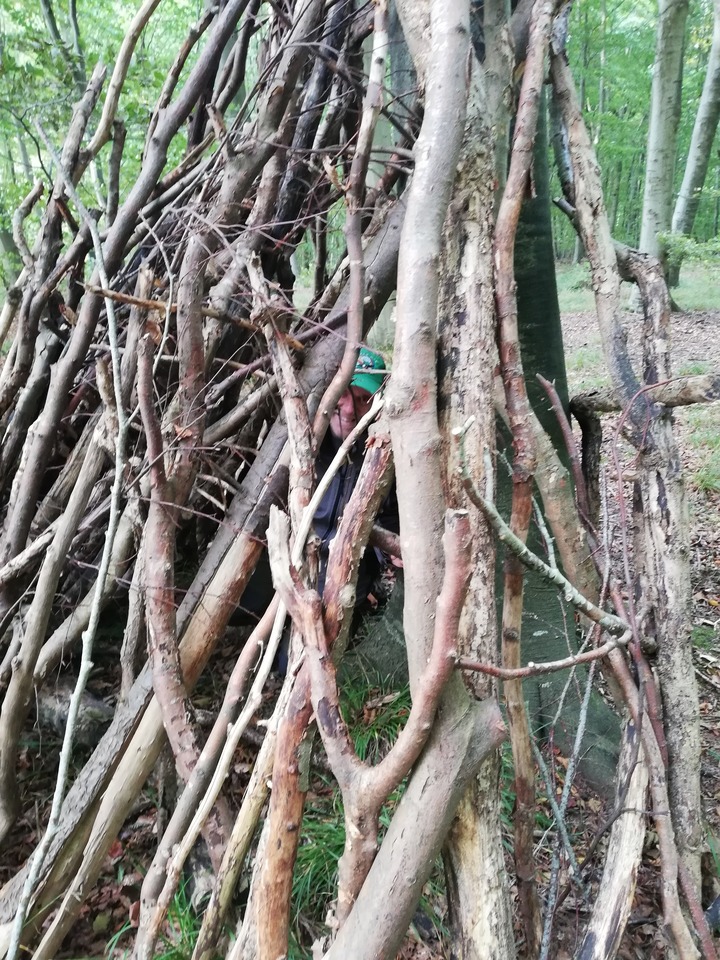 It's all too easy to get caught up in it all.
| | |
| --- | --- |
| | Brief paws for reflection at the exact place where Marsviner were once pulled ashore, back in the golden age of hunting. The Danes, a proud but contrary people, incredibly have just one word doubling up for both porpoise and guinea pig. This is an oversight which has led to a number of tragic consequences over the years, never more so than here on the great hunt, where fur, fins, flippers and feet flew furiously. |
Another place unwilling to serve us is the Slot at Hindsgavl. This is a proper stately home, set in richt bonny grounds, begging for a camera. The door is open, so in we go. Some kind of function appears to be going on, posh folk are starting to arrive as we watch the sweating cook and his minions get to work. The young waitress is sweet and apologetic. She suggests we try our luck at some "ice hole" place, out the back, near the carpark, more suitable for the likes of us. Needless to say, it is nowhere to be found. Perhaps "ice hole" was a misheard reference to us, Danish accents have much to answer for.
| | |
| --- | --- |
| | Nothing else to do but march on again. |
Much of the Lillebæltstien is coastal and low-level (one bit alarmingly described as -1m), but there are a few strategic obstacles which would seem to have been placed in our way.
| | |
| --- | --- |
| The trail has a maximum elevation of 20 metres. It climbs up to this height and down to sea level not just once, but over and over again, an arboreal rollercoaster designed to tire out even the most seasoned of legs. Each little peak offers up pleasing views across the Fænøsund and also some intriguing little gullies, hillocks and bridged valleys, making for a varied but not so easy walk. | |
Another formidable obstacle is the remains of the medieval castle of Sudden, complete with an intact moat. We climb up and down its earthen bulwarks and exclaim, well, that was Sudden.
We also pause for a while at the private ferry terminal to Fænø, imagining what life might be like on the forbidden and orthographically challenging island. The water is serene but still no sign of guinea pigs. Hey-ho.
Eventually, we turn the corner and find ourselves on the western coast of Funen. Into view comes the welcome sight of the Old Bridge. As we approach, our ears are alarmed by a strange clanking coming from above. Our eyes are no less confounded. At least a dozen pairs of tackety boots are clumping along a glass walkway directly above our heads.
We had read about Tolkein-like Bridgewalkers, but had rejected joining them on the grounds of it being nae wise. Surely there's nothing wrong with the simple pavement, which we would later use. But observing the eedgits from below was pretty cool, nonetheless.
At last, we find a watering hole that is actually open, the Konegbro restaurant, just beyond the Bridge. They are also entertaining a coach party, and there is an awkward pause before the wifie eventually decides that we are welcome to join them in the dining room. They have an eat-all-you-can buffet and we have walked all morning, missing out on two coffee stops. For a while conversation slows, only happy munching can be heard.
Suitably refreshed, we skirt the northern flank of Middelfart itself. Sticking to the coastal path means going past the old working harbour, which offers up many pleasing photographic motifs.
Those lucky enough to live along the shoreline clearly do have pennies to rub together. They invest in some gorgeous houses, both ...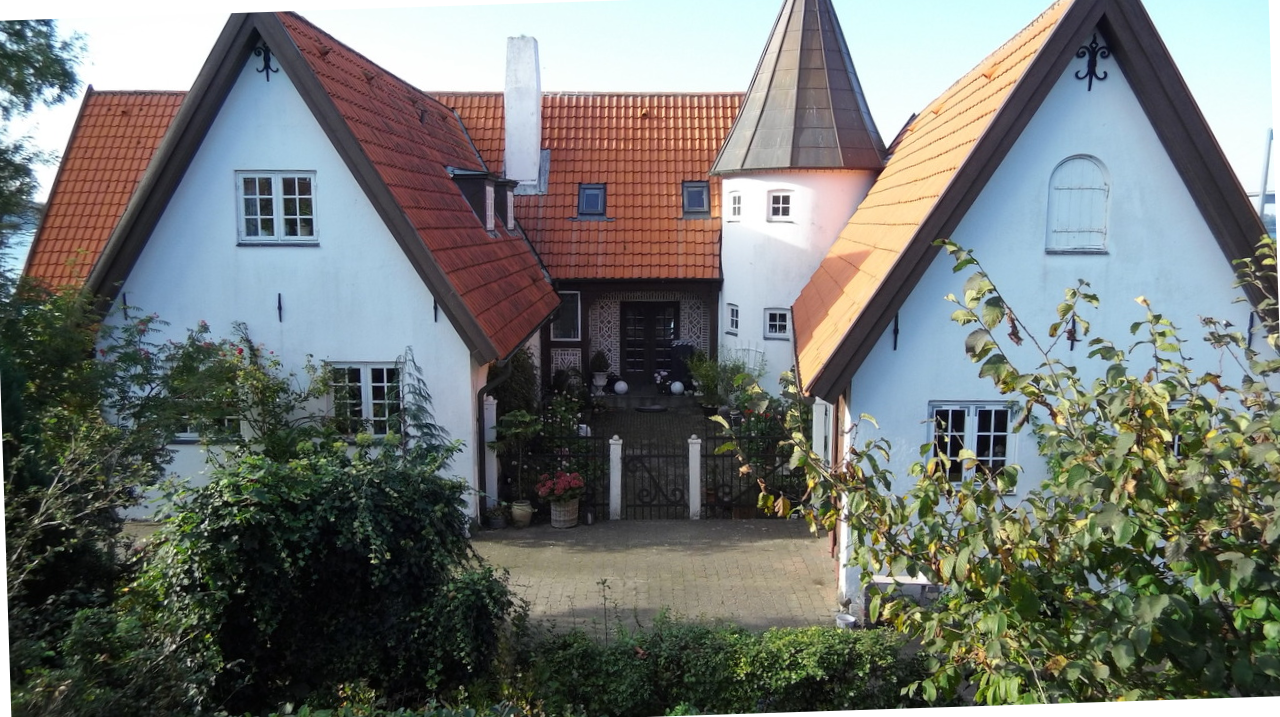 ... classic ...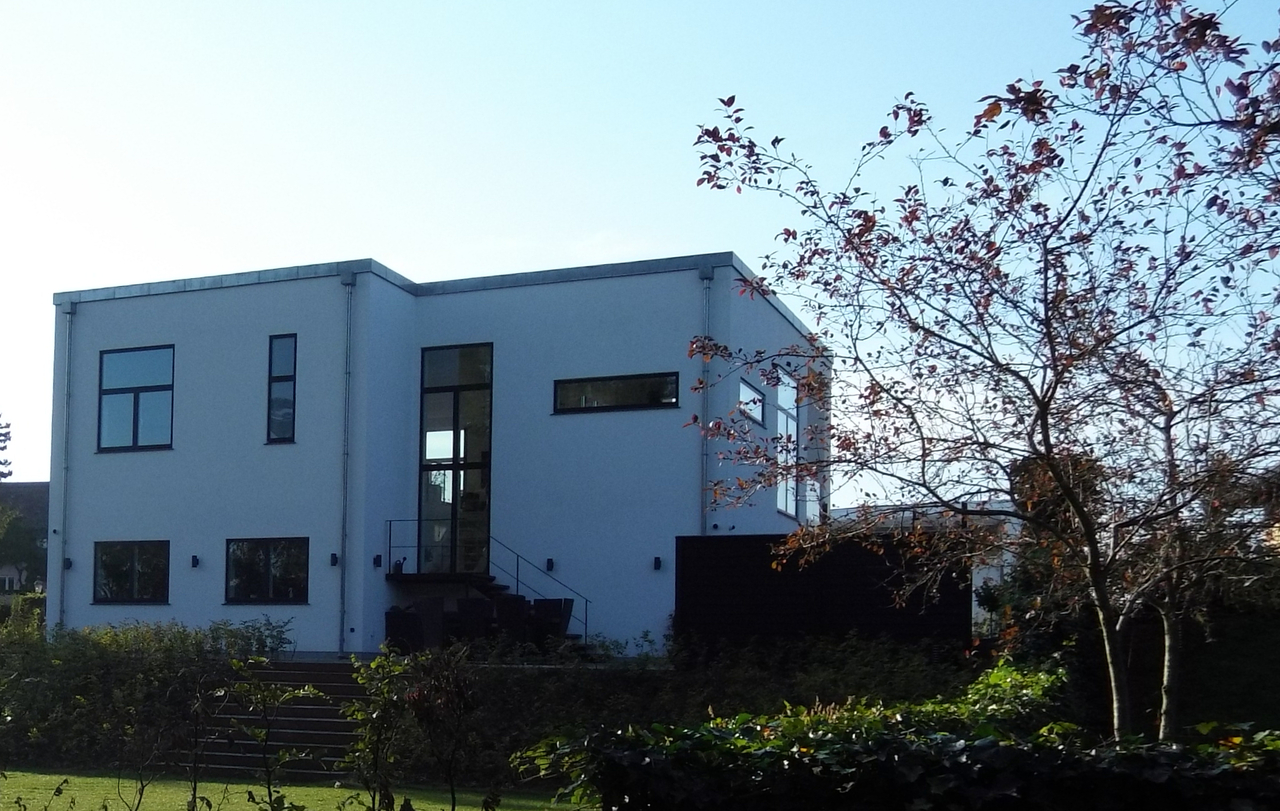 ... and modern.
We pass the New Bridge, another wonder of modern architecture which casts a spectacular silhouette across the ancient bay. We leave it to the sensibilities of the reader as to whether it looks better ...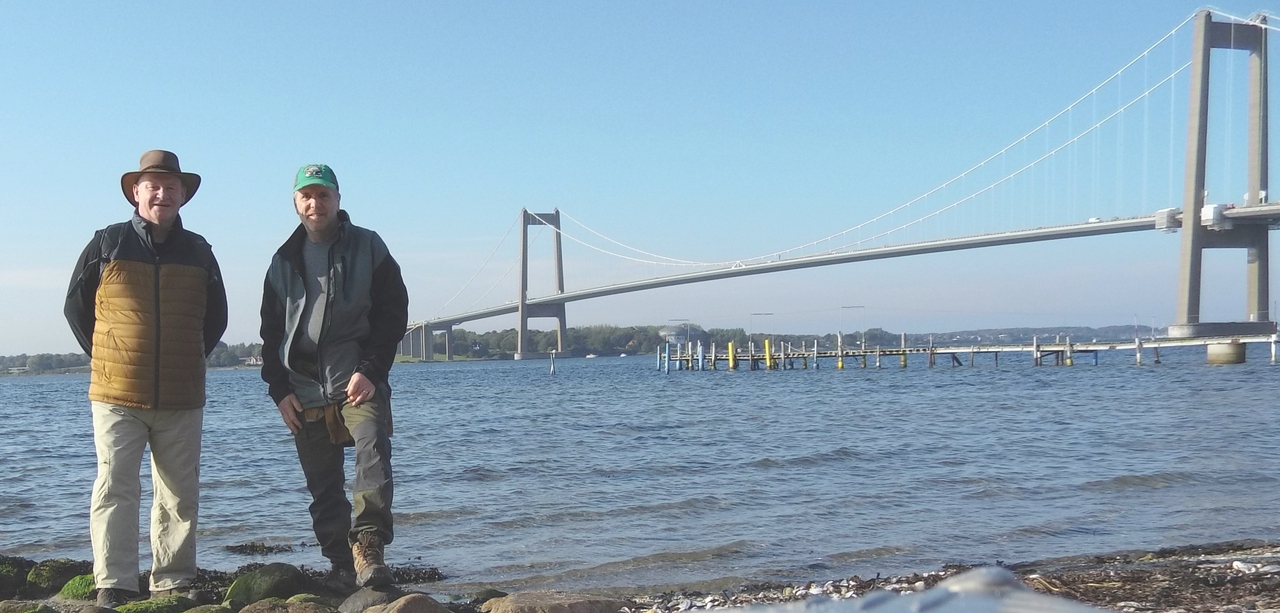 ... with ...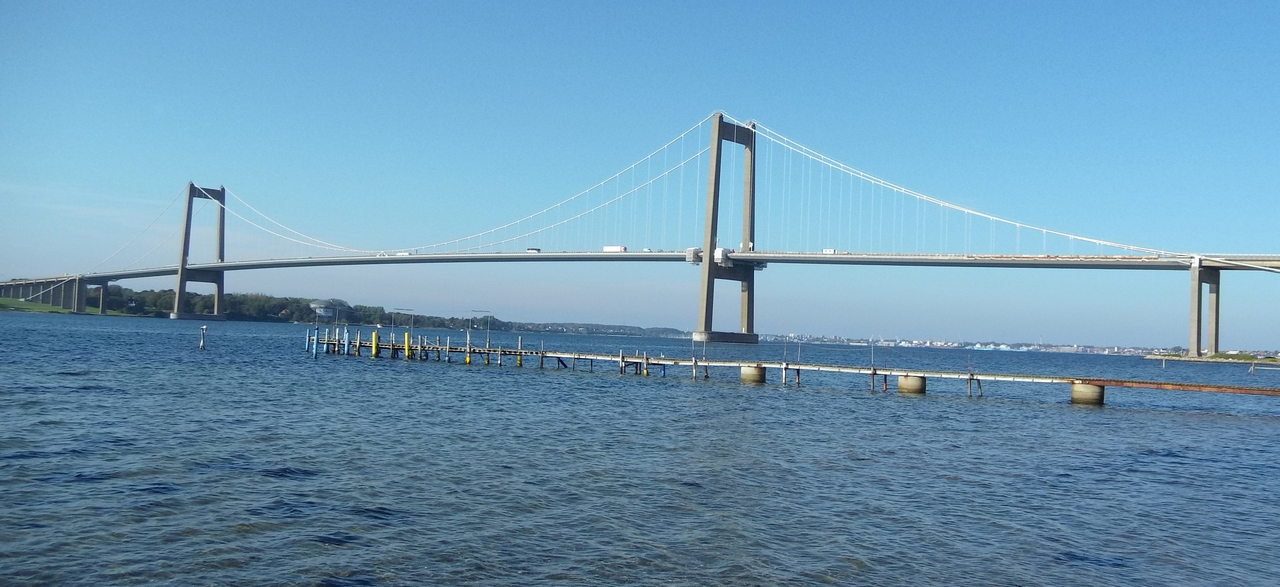 ... or without ...
twa richt eedjets standing in front.
Scottish wanderers are not the only immigrants from distant climes to be found along the shoreline, and we admire more natural beauties.
We push on. As always the last couple of km seem super long, but the advantage of making the arbitrary decision to finish at a lighthouse means that it comes into view just when we need a boost. Quick march now to the finishing line at Strib, the village on the northern shore of the island.
| | |
| --- | --- |
| We reach the northern shoreline feeling every one of the 27 km behind us. Adrian needs no invitation to take off boots and socks and bathe his aching tootsies in the freezing water of the Little Belt, later using a spare Corona mask (his own one) to dry off his mucky feet. | |
We need another taxi to get back, so we head to Strib's only amenity, a pizzeria, to order one. Not really hungry after the huge, late lunch we beg only chips (Adrian) and something that looks nice in Danish (Pete). Unfortunately, the Danish pastry turns out to be garlic bread, about the one thing Pete doesn't eat. Old friends can swap, but no one is really hungry.
Pete remembers his secret weapon, that photo of the taxi number from the top of the page. The company is kind and willing to help, but it turns out it was an advert for an estate agents and we can't afford to buy anything. Blast their eyes. Fortunately the pizza guys are willing to garnish the food with the right number.
The taxi is ordered once, twice, three times, but the lady's not coming. It appears that "the only restaurant in the village" is too confusing an address for her. When we bemoan our lot to the restaurant they bat nary an eyelid, but simply box us up and deliver us to the hotel themselves, in their delivery car. Armenian pizza guys in Strib are all absolutely brilliant.
Adrian insists on taking the garlic bread. Pete is sure that it will end up uneaten and discarded, but little does he know.
We've had a brilliant day walking and are happy to be back home at our wonderfully mediocre lodgings. Today's special is Danish Pork, a generous round of pork fat with all superfluous meat, flavour and nutrition carefully trimmed off, but it's inclusive so we eat it. It's about 9 o'clock, already time for bed, no matter how much our younger, more raucous selves clamour for the bar.
Monday
Last day already and, since we are both leaving around midday and everything is shut on a Monday, we resolve to have a lazy start, followed by a leisurely 5km stroll into town. This still involves crossing the Old Bridge on foot, the first time a Strides walk has crossed from the European continent onto an island.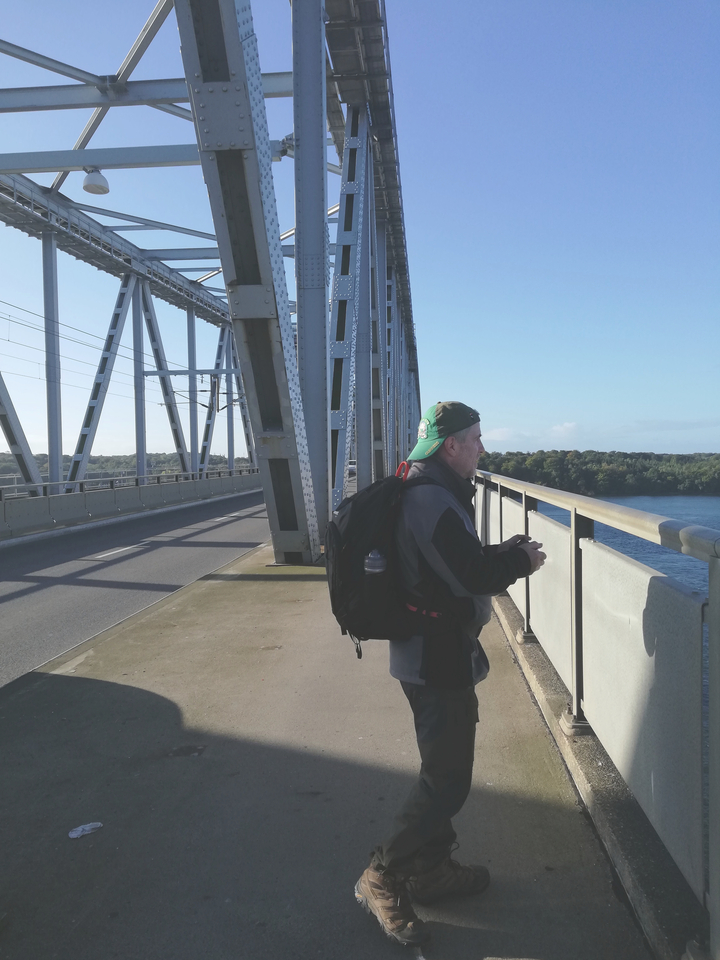 Hats akimbo to hold off the stiff breeze;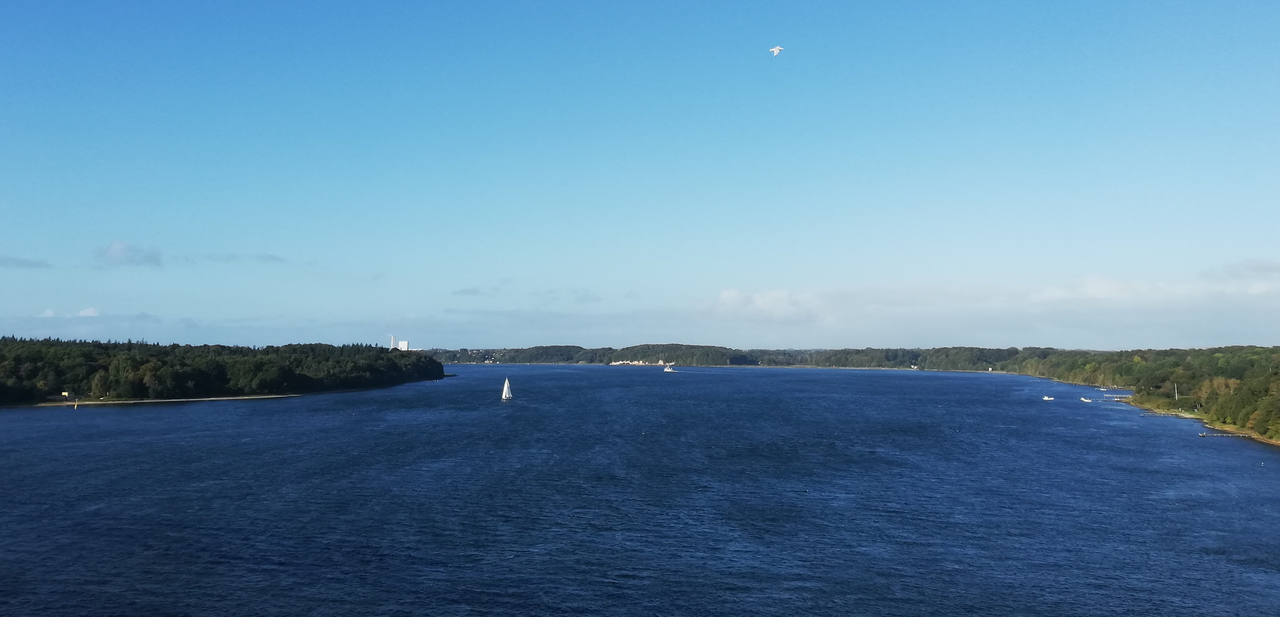 the views are predictably superb;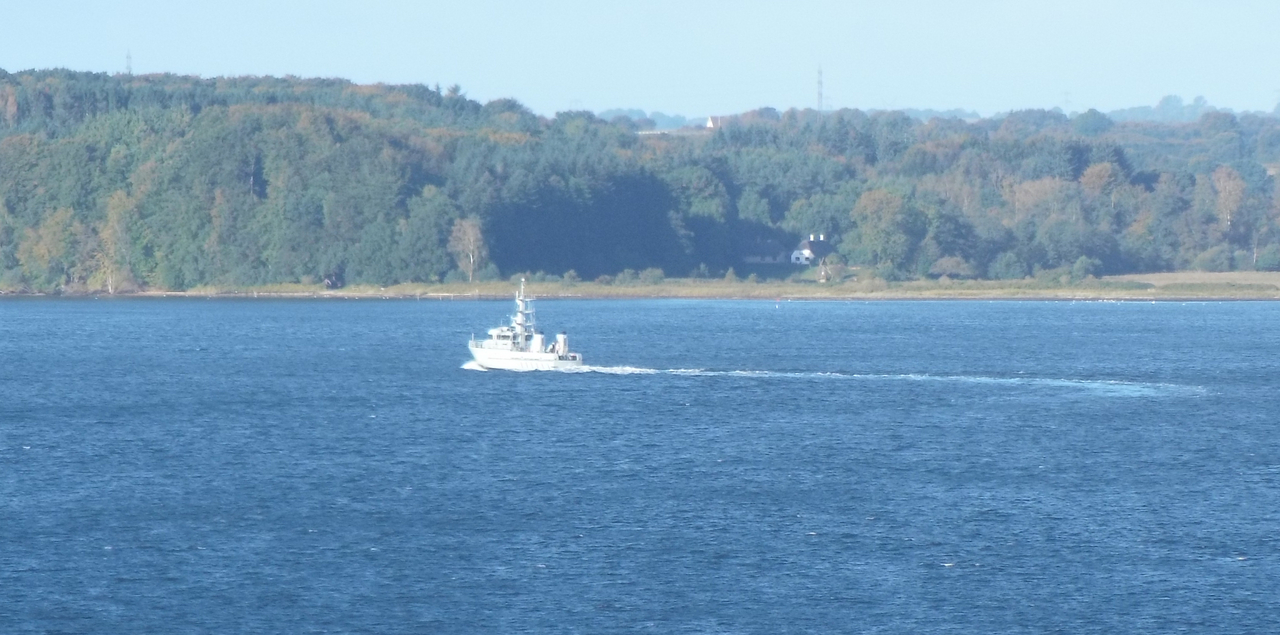 we watch a military ship pass by;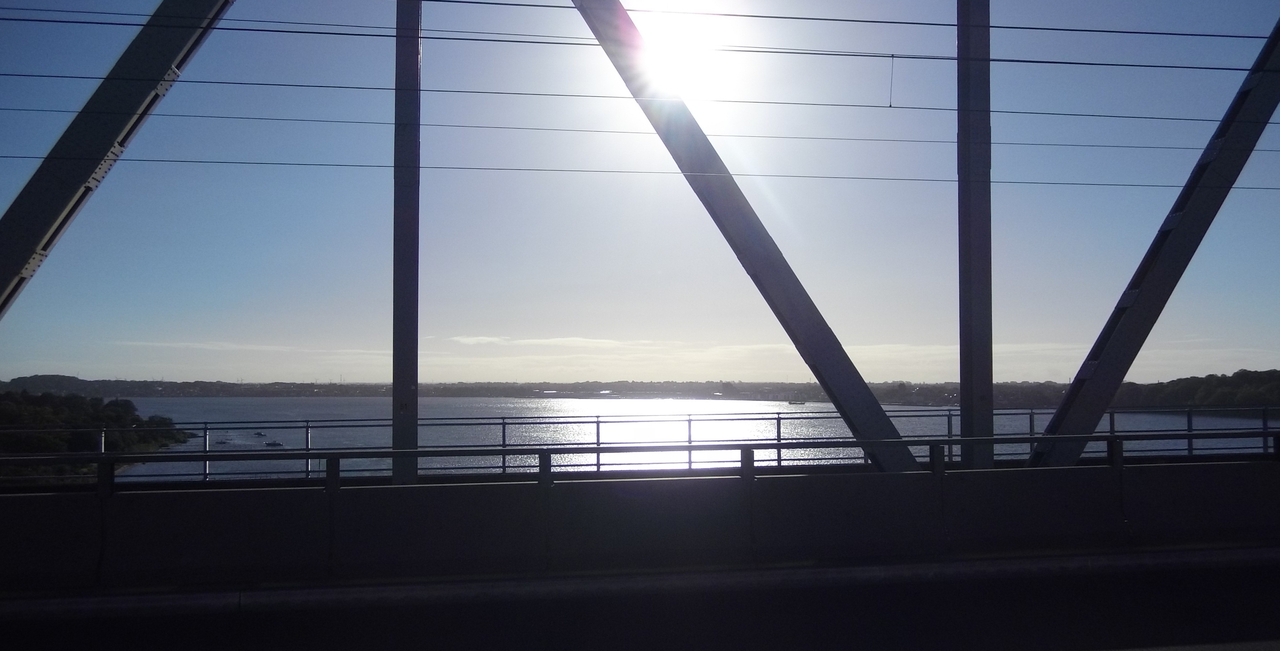 even structural engineering can be beautiful.
Sadly there are still no marsviner to be seen in the frothy spume. They must all be in hibernation, the little angels, their wee cheeks packed full of sunflower seeds and chewed-up toilet rolls.
Next stop, the metropolis.
Middelfart wears its badge proudly;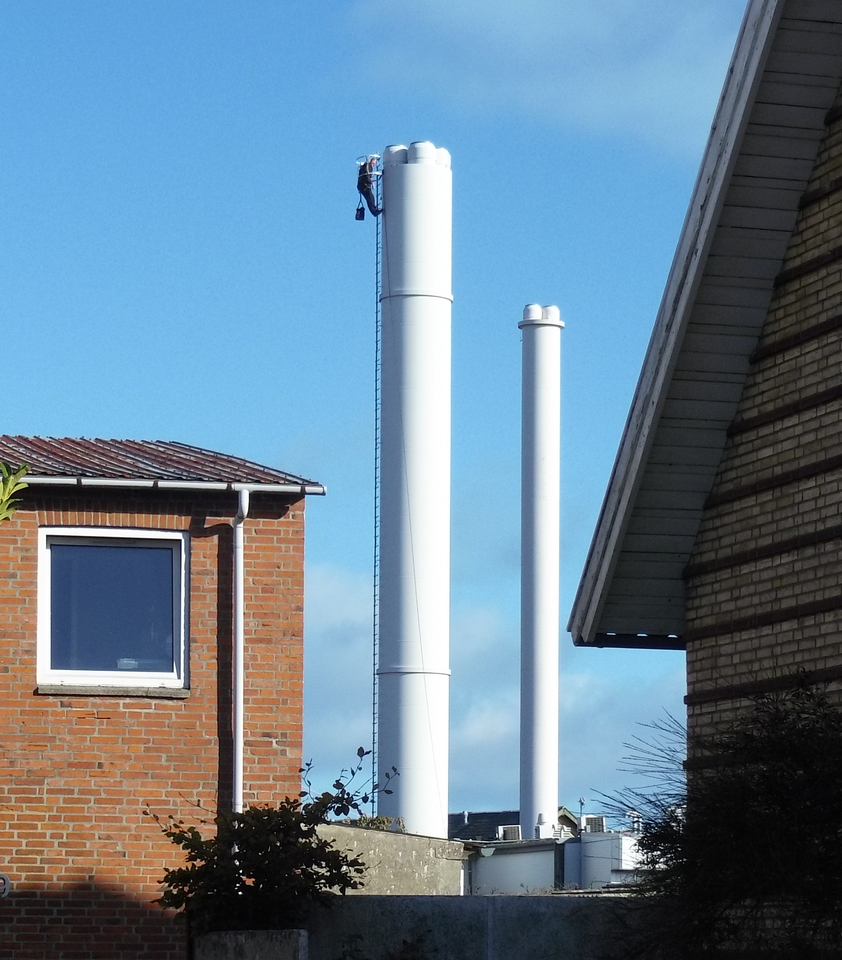 its citizens stand tall.
Away from the train station, the village has a pleasant pedestrian bit, and a chocolatier that would be a highlight in New York. Here we enjoy a coffee and stock up on presents home.
One day's walking has taken its toll. Old legs are tired, ancient eyes gently weeping. Middelfart cares for our every need with soft kindness. I might retire here.
One final can of beer at the station, for auld lang syne, then we shoot home in opposite directions, grateful for the opportunity of a brief meet-up near the end of what has been a tough year for most people.
| | |
| --- | --- |
| | Then finally, just when you thought it was too late in the page for any more garlic bread, out it comes on the trip home. What a treat for everyone in the carriage. |
Yum. Roll on, Strides 2022.