2019: The Danube
Austria, Slovakia, Hungary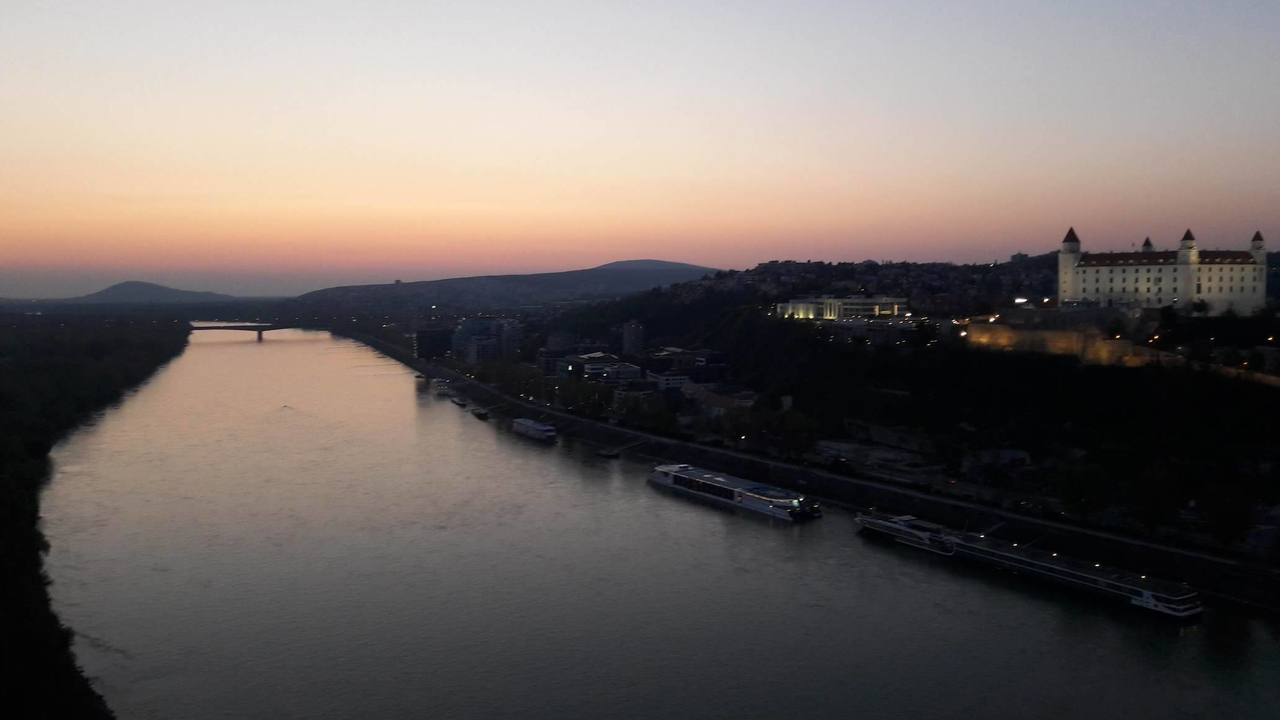 We meet up at the quirky, old-fashioned Hotel Praterstern in Vienna. This understated delight is populated by massive wall paintings of things produced to a standard which is exceptional amongst hotels of this type.
We have a local glass of swift beer at the hotel before heading out to town for supper. Unfortunately we are rather too late for some snobby Viennese restaurateurs, who have no qualms about turfing us out unfed und unwatered. Eventually we find a Thai place near the hotel which instinctively understands our dietary needs - beef, hot - and provides reliable late-night Oriental repast. Thank goodness, we have only a few yards to walk back to our exclusive one-star accommodation.
Next morning we are up with the lark and lace up boots for the off. The nearby Prater amusement park,
with its legendary big wheel,
is completely abandoned and early-morning anonymity offers us ample opportunity for some silly photo ops on our short walk to the start of the Donau-Auen Nationalpark.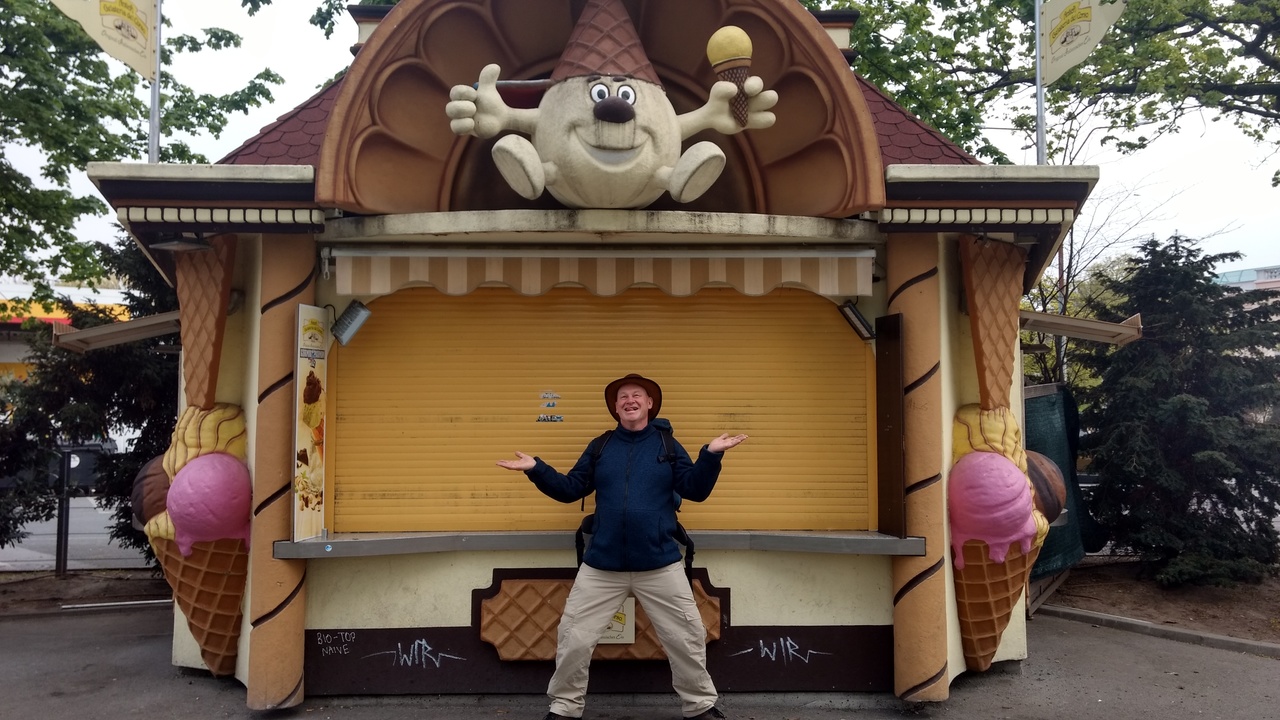 s. p. o. 1
s. p. o. 2
The first few kilometres of our Donau daunder are unremarkable, along an urban walkway then past a marina and sports centre, as we head east and out of the city. Our plan is to cross the river at the Reichsbrücke and then walk along the Donau island for a bit. We walk on blethering and inevitably stride unseeing past the said bridge. Sigh!, twas ever thus. Now we get to choose between a motorway and a railway bridge to traverse the river. The latter option wins the day when we discover we can take the suburban train for the 40 second trip from one bank to t'other. On arrival at the north bank we spot, to our great delight, the walkway to the island actually passing under the railway bridge. So without further ado we cross half way back again to the Donau island as originally planned. That was easy.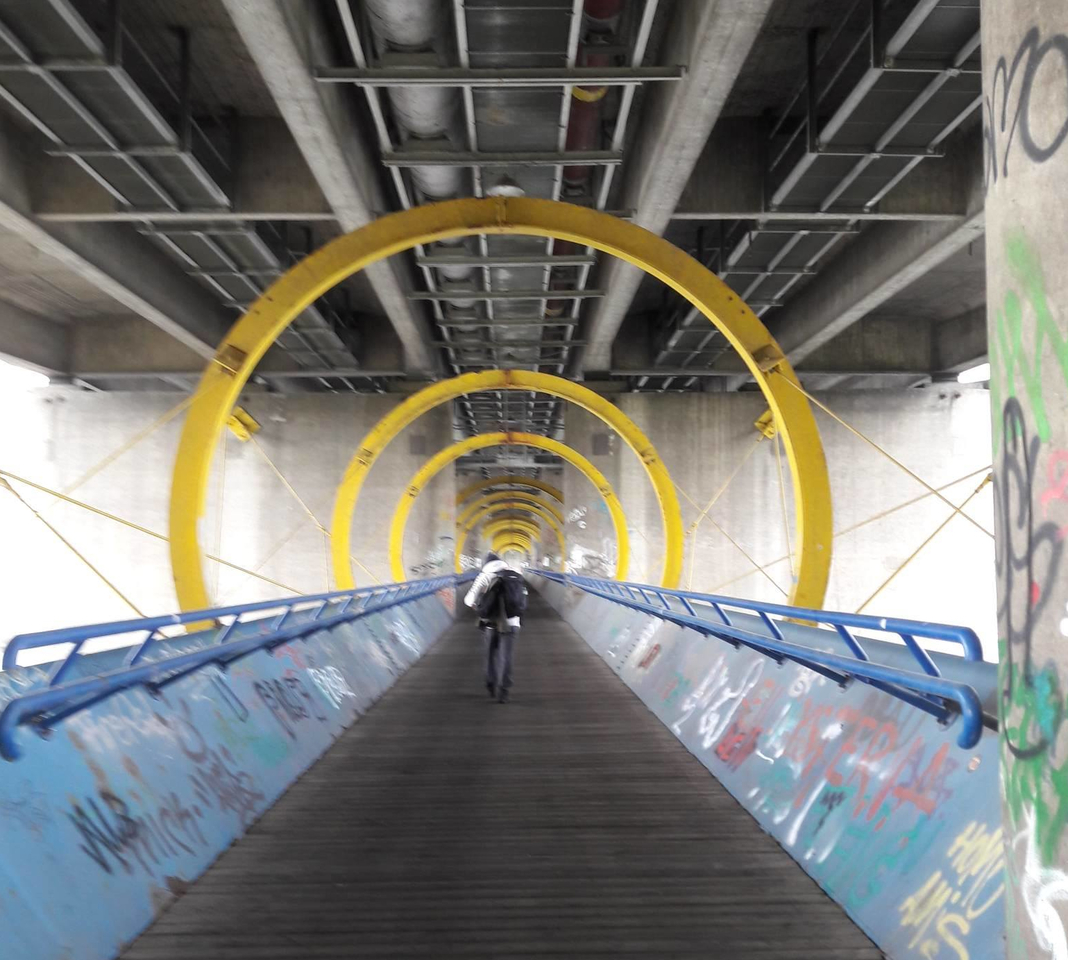 Bridge across...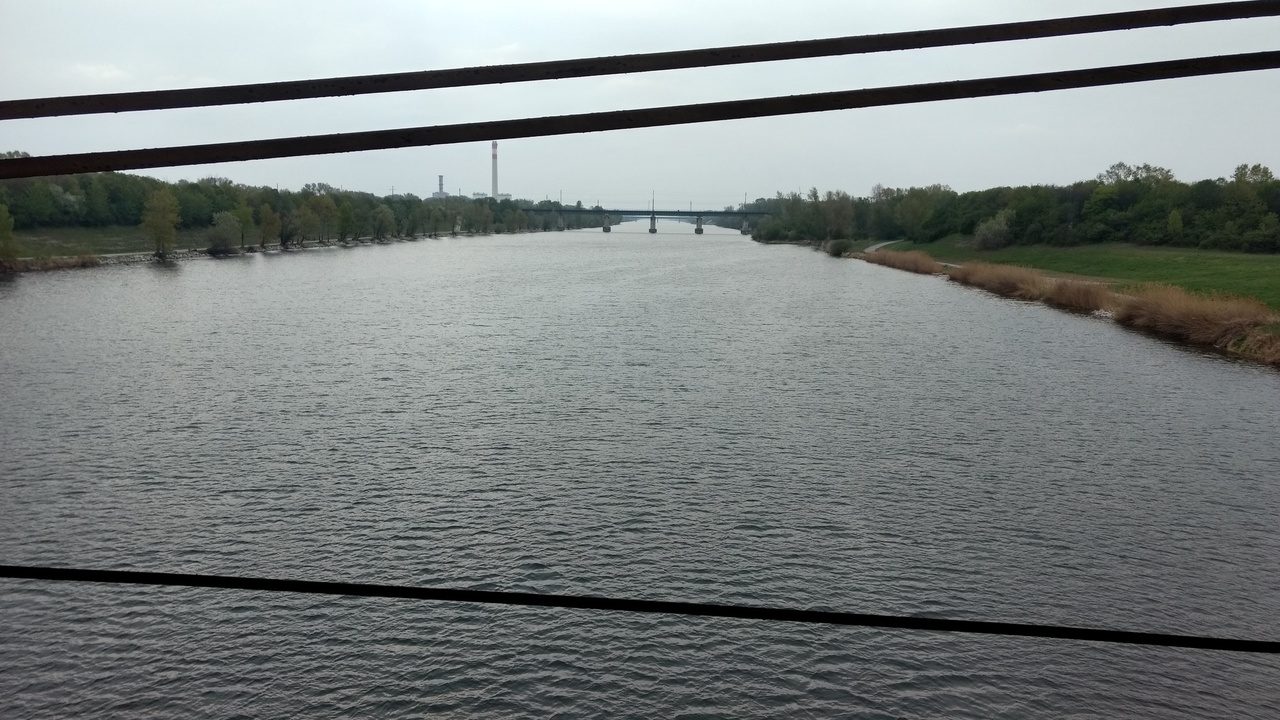 ...the Donau
We follow the island's walking path for a few kilometers. It seems that we really are the only people walking today, in this megacity of nearly 2 million people. Neither of us having read the news, we conjecture that Vienna is the epicentre of a post-Brexit atomic apocalypse, Jacob Rees-Mogg having nuked the EU pre-emptively while we were tucking into our Thai curry the night before. A self-proclaimed shitmobile comes along and shakes us out of our dystopian fantasy; it is the scaffie truck doing the rounds of emptying the "Mistkübel" or dog toilets.
Soon it is time to cross back to the far side of the river, using a bridge whose name we don't quite catch.
Next we have a welcome sit-doon and a wee scoof of water at a sadly closed café. Here we rest and watch male and female rowers training up and down the calm river. Then on we go, approaching the Lobau, the start of the leafy Donau meadows. Everything is still quite suburban, there are plenty of well-appointed villas and clubhouses butting onto the dam.
Before we enter the Lobau proper, we hit the jackpot! There is an unexpectedly open final watering hole, a Greek-Pakistani riverside inn. The cheery landlord bats not one eyelid as we proceed to order our traditional elevenses of beer and coffee.
At last, we enter the Nationalpark, and richt bonny it is, too. Perhaps not exactly the primeval forest wetlands we had been promised, but certainly an interesting and varied mix of woodland, brush and meadows, interspersed with compact-looking holiday homes on stilts overlooking the Donau. Clearly, the owners are well prepared for the dramatic floods and sudden river spates for which this low-lying land is infamous. Or is it perhaps for nuclear Armageddon? It's hard to tell, since absolutely no one is around to spill the beans.
We are rather wary of trying out lesser-trodden paths, since the map shows that many of these suddenly end up at a stream, with no option but retreat. So we keep to the higher land and make use of the causeway, the route lying atop the improbably long flood barrier upon which both walkers and cyclists share the straightest and driest of passages through the Danubian meadows.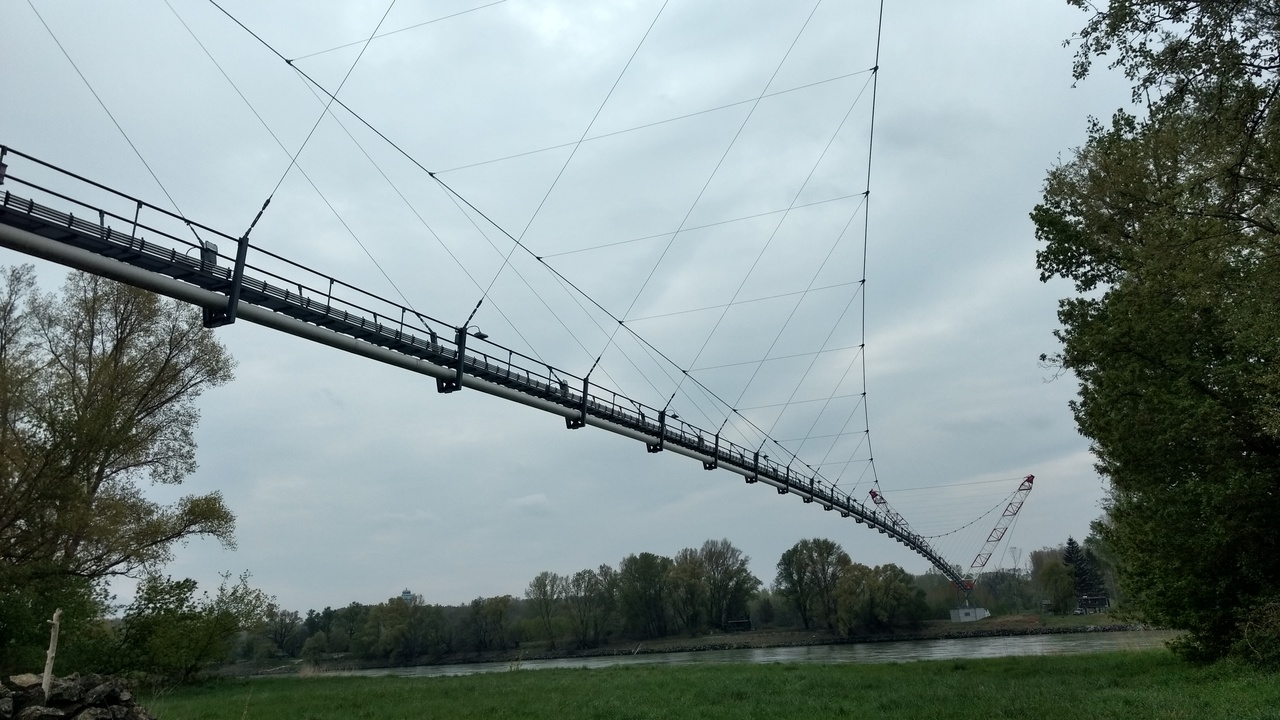 Unnatural things can be beautiful too
Not all is green and lush, however. At one point we are forced to pass through a bleak oil refinery plant for several kilometers. When this ugly blot on the landscape is behind us, with the Donau island no more to be seen, we arrive at a secluded little cove on the banks of the wide river. Here we dip our boots into the sacred river and skip stones across the calm waters. Then we sit and dangle our tired legs for a bit, tucking eagerly into our packed lunches. There is still no one else to disturb our silent reverie.
| | |
| --- | --- |
| | |
Onward we plod, as the afternoon continues. There are no more watering holes and we have now completed well over 20 km. The trail is as straight as can be and we can see to the horizon. What looks worryingly like an oncoming train in the distance slowly becomes a steamroller, parked for the weekend, which, come Monday, will continue asphalting the cycle path. Just keep going, we say to ourselves, as Peter's mangled feet start to give him serious grounds for concern, known in Scotland as "the jib".
Our steady progress is halted when the autobahn-like path comes to a sudden stop. We can see it continuing on the other side of a small gully. In between us is one of the many Donau tributaries of which we have been all day wary. This is no trickle of a stream; it must be at least 6 metres wide, fast-flowing, with a stony river bed.
We search in vain for a bridge, but there is none. So we climb down for a closer look at the rushing stream. Even this is difficult, since it is steep and there is much riverbank vegetation and muddy dubs to contend with. It grimly dawns on us that our only option is to ford the river. There is no alternative, turning back to the diversion sign (which we now remember having seen and ignored) would add at least 8 km to an already ridiculously long day.
We decide to tackle this daring endeavour at a point where there are enough stones to either balance on or fall off, depending on how Lady Luck treats us. Deep-buried Boy-Scout skills are dredged up for the moment and we fashion a walking stick out of a branch to fend off the water. Peter is the braver (more foolish) and starts first. It takes him an age to make it across, but he breaches the far bank unscathed. Adrian is even mair feart; Pete is filming now from a position of smug safety, determined to record for posterity a heavy splash to send back to the folks at home.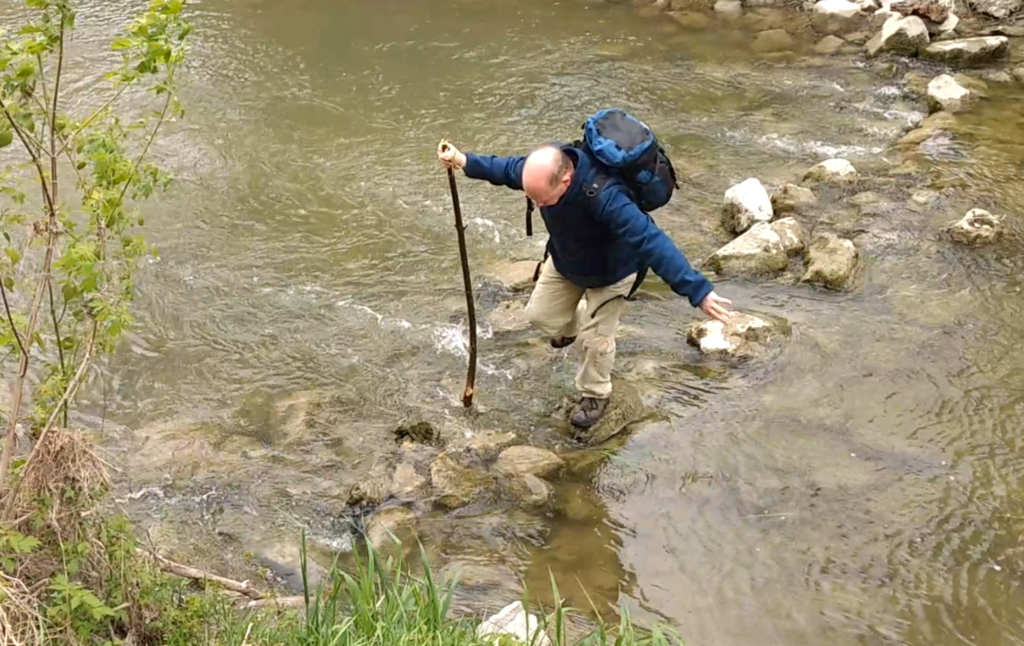 When our dreams have wings we can be like birds high above*
* The Internet
But there is nary a drop to record because now we are both safe at Heavens Door, still incredulous that we two old codgers, who normally can't even walk in a straight line from the bar to our hotel room, have managed to ford a small river with all our kit and without injuring ourselves or even falling in. Equally miraculous is the fact that our walking shoes, which were completely submerged in the mucky river, appear to have held out most of the water, which is nice, since we still have many km to go.
It is a long final haul, however, especially for Peter, whose blisters have now broken out spectacularly.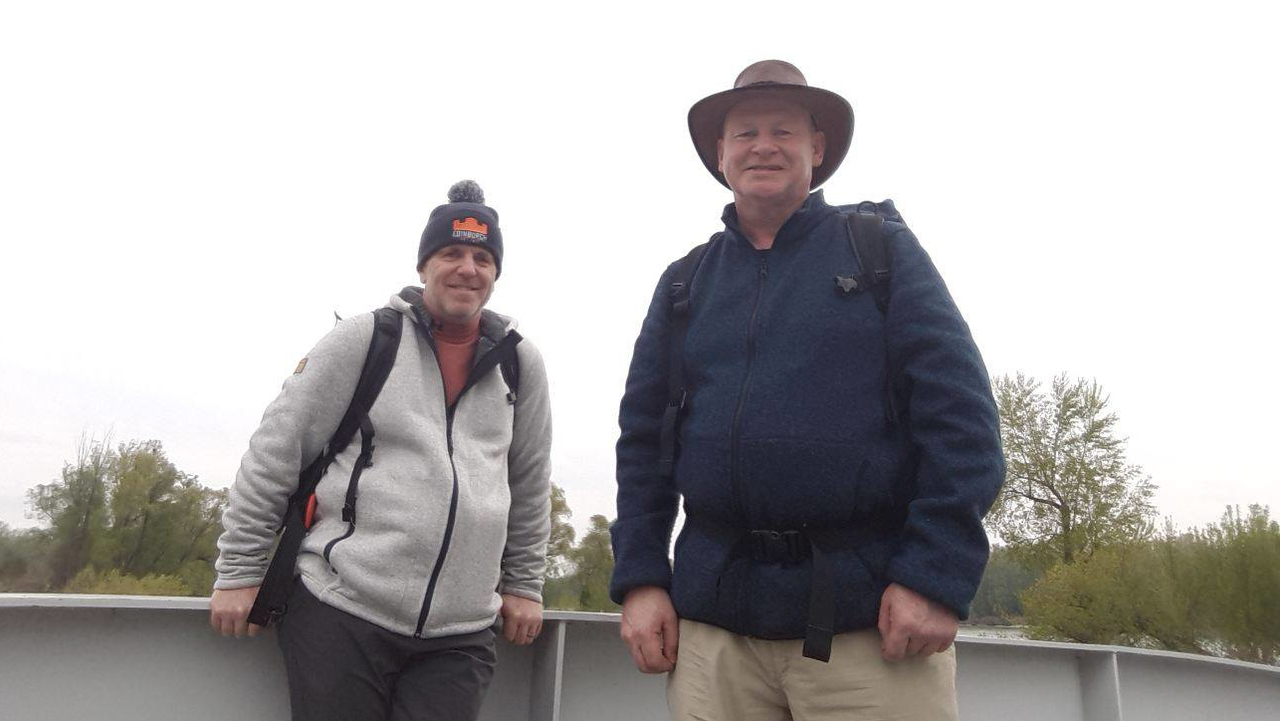 There is nothing to smile about
It all becomes too much, and for the final few metres into Orth-an-der-Donau we begin to hallucinate and see mirages of carousels and obscenely kitsch front gardens which could only be macabre figments of distorted imaginations.
Eventually the mists clear and we reach the Schlossblick B&B. Our landlady is friendly and welcoming and we are relieved to have a place to rest and attend to our various sair bits. Walking a few hundred yards to the local Gasthaus for our evening meal, on the other hand, is quite a struggle, involving a large degree of hunger-over-blister. Hunger wins out and we enjoy the meaty delights of Landhaus-style Austrian cuisine.
Our hotel room is commodious, but oddly L-shaped, with a long sloping ceiling. Adrian manages to hit his head on a low beam, not once but twice, when attempting to arise from the sofa. He reckons he has finally solved the problem by keeping his hat on while reading, as a kind of early-warning system; but no: he forgets, takes his hat off, stands up, and cracks his head a third time.
The next morning we set off early, following a pleasant breakfast. The B&B wifie expresses kindly concern about Peter's extended groaning. She clearly thinks that he will have grave difficulties making it to the bus stop, and her incredulous disbelief at our announced plans to walk to Slovakia is plain for all to see. But Peter, after taking his first baby-steps in front of the B&B, proceeds to go into his own private zone in which he simply denies the existence of pain. We are soon striking out boldly, and in no time we are on the damn Dam again, back to monotonous long-distance plodding. Every year we swear that we shall avoid this, every year we fail to achieve.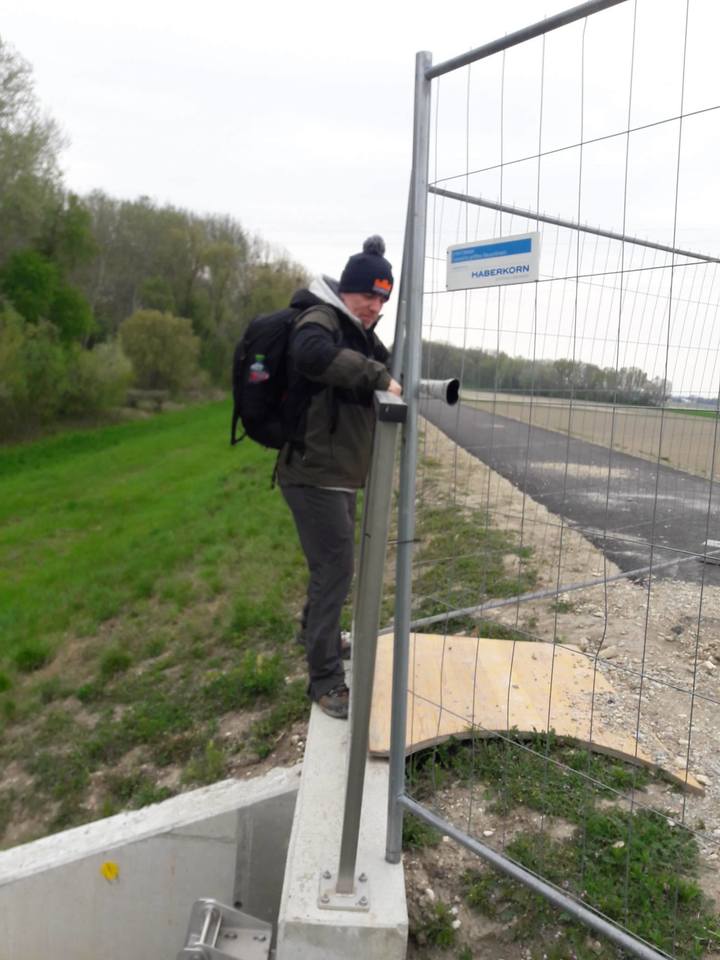 Occasionally there are variations,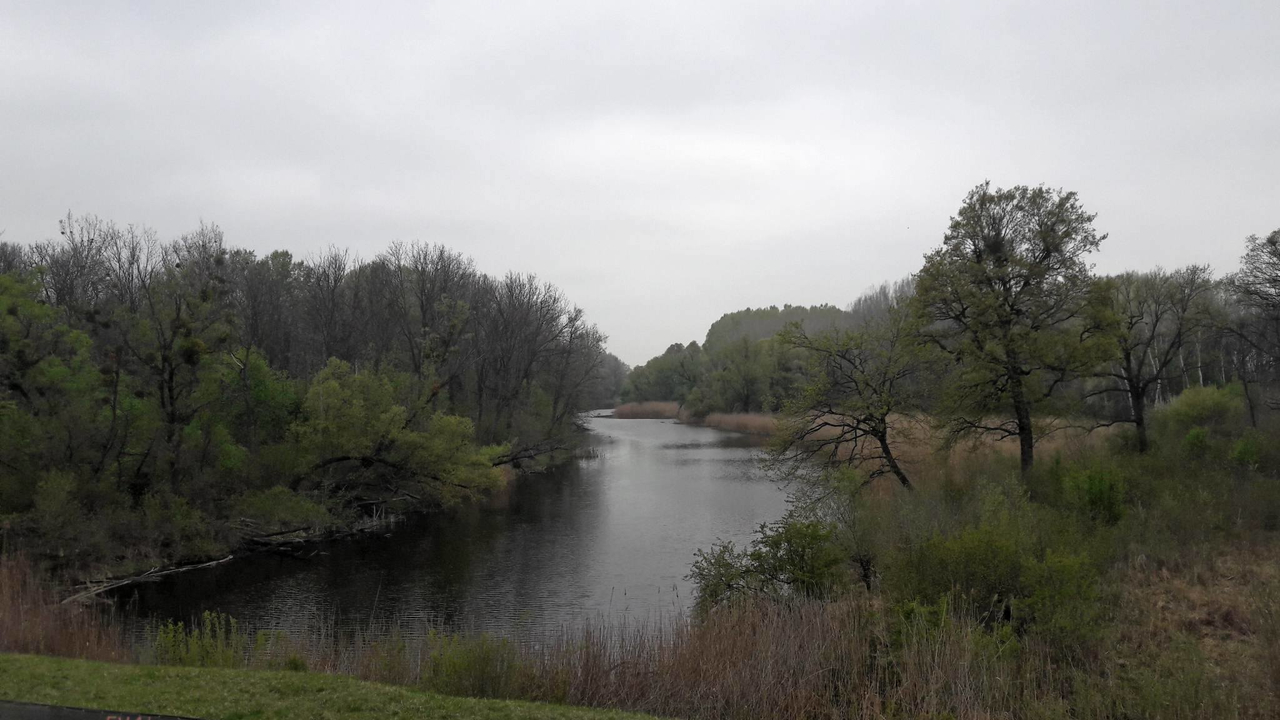 occasionally we see the Donau,
but mostly it is step after step on the road.
At least today we have a proper lunch break pencilled in (and underlined three times, so as not to miss). It turns out to be a real gem of a Gasthaus, the Auhirsch, in Stopfenreuth, with wooden floorboards and a wood-burning stove, probably unchanged in over a century. We sit down at one of only three tables and get wired into today's special: Wiener Schnitzel and beer. Bloody marvelous.
The village is a bitty run-doon, to be honest, we care not. Some of the householders have let the gardens go a bit, we heed not.
Suitably refreshed, we continue our walk through the sparsely populated strip of land known as the Marchfeld, named after the German name for the River Morava, which for centuries has formed a buffer between Austria and Hungary, a cultural and linguistic watershed between German-speakers and Slavs in Central Europe.
As we approach the river we come across what we initially perceive to be a bundle of rags on the path. Closer inspection reveal it to be a creature, a person no less, who hails us as we pass.

"I am one of the Chavs in Central Europe," he calls out. "I have lain here for centuries, waiting for passers by to whom I can relate my tale. Let me speak!"

"All right," we acquiesce, "you have one minute." He sighs, slumps forward on his pitiful stumps and tells us his story.

  There once was a saint called Johannes Nepomuk
  Who was caught in possession of a dirty book
  He was surrounded by a phalanx
  Of all the other monks
  Each of them demanding another look.

"Oh," we both say, rather disappointed, "we expected something a little deeper than that." Thus only moderately enlightened we continue on our way.
We have to move away from the Danube and the Nationalpark in order to turn north, to reach the river border crossing. Thankfully this is not a ford but a rather snazzy pedestrian bridge, blessed by the local saint Johannes Nepomuk and called The Bridge of Freedom. We ponder that this river had constituted a considerable barrier between east and west for much of the 20th century and had seen more than its fair share of conflict and tragedy. Now, both Austrians and Slovaks use the Bridge to take leisurely and peaceful Sunday walks in each other's country and so it is that we too use this route to reach yet another (our 16th) new country on our annual walking expeditions: Slovakia.
We christen a new country the same way we christen all countries, new and old, with beer at a wee cafe just beyond the border. The heady combination of Johannes Nepomuk's glorious deeds, a chance to rest the blisters and beer provide heavenly bliss for one member of the party.
It is a beautiful spring evening in a new country, we are surrounded by happy families on evening strolls,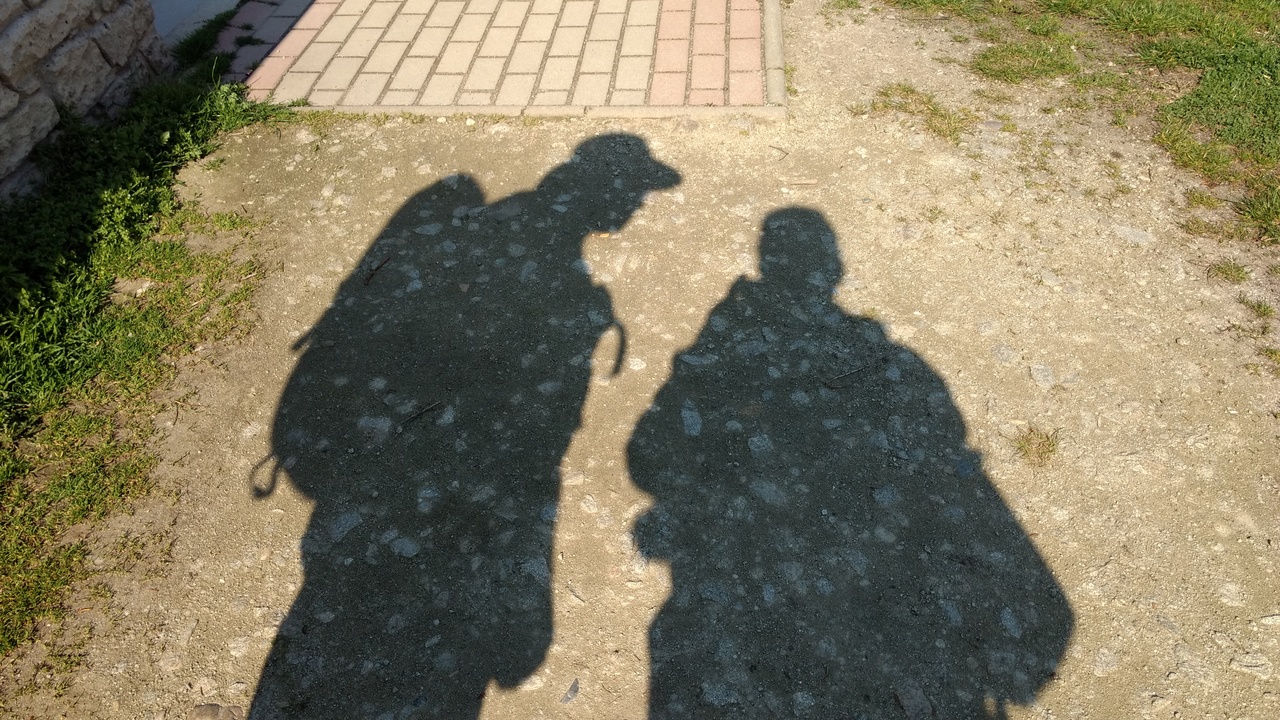 the late sun shines,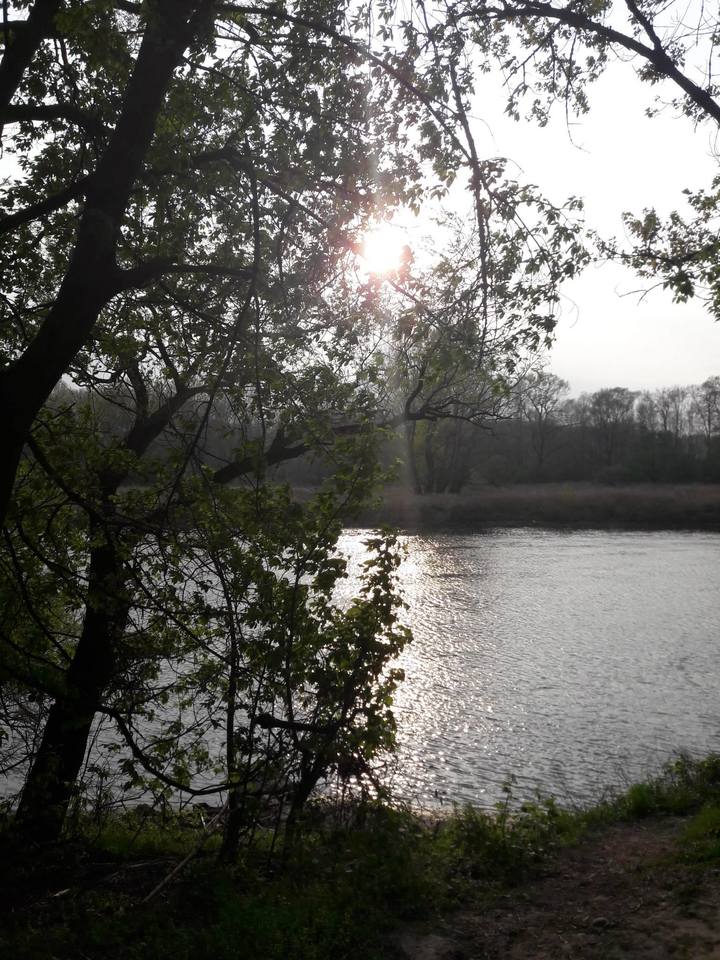 glittering magically across the water,
all is peace and harmony. Long distance walking is the most social and wonderful of lives to lead. We walk together, old friends, both carping endlessly about our sore feet. It is the walker's lament.
We pass the famous and rather wonderful castle at Devin (which was pretty painful).
Only true walkers will appreciate the depth of disdain we have even for the idea of taking a diversion to the castle ruin, high above the village, just to enjoy another pretty view of the Donau. Preposterous. We limp onwards along the Morava, which leads us to our hotel in Devin (Theben), at the confluence of Morava and Danube, on the outskirts of the Slovak capital, Bratislava.
Our hotel is nice and clean and comfortable and it has its own restaurant, which is the best thing of all. Slovak cuisine is its specialty and, since Slovak cuisine seems to mainly involve meat, knedliki and stewed cabbage, we approve. Peter orders meat with mustard and horseradish and licks lips in anticipation.
The food arrives. Peter's platter is served with shredded cabbage and he tucks into a big, crunchy forkful as an appetiser for the delights to follow. I don't know if you have ever eaten a big, crunchy forkful of raw horseradish in one go. The effects are dramatic. It certainly brings the restaurant to a shuddering halt and even the waiter gets involved in the end, thumping him on the back in a vain attempt to make the spluttering stop. It is all yummy in the end, once Peter establishes exactly what on his plate is what.
Drama and meal over, Adrian decides to take a short evening stroll along the river esplanade, whereas Peter wisely limits his foot use to ascending the stairs to the bedroom.


The new day dawns bright and hopeful. The thought of yet another 30+ km day absolutely appalls us, so we bus it into Bratislava and delay starting our day's walking until the famous Novy Most (or more colloquially the UFO bridge) over the Donau in the city centre. This proves to be very hard to capture with it being a boring tourist photo.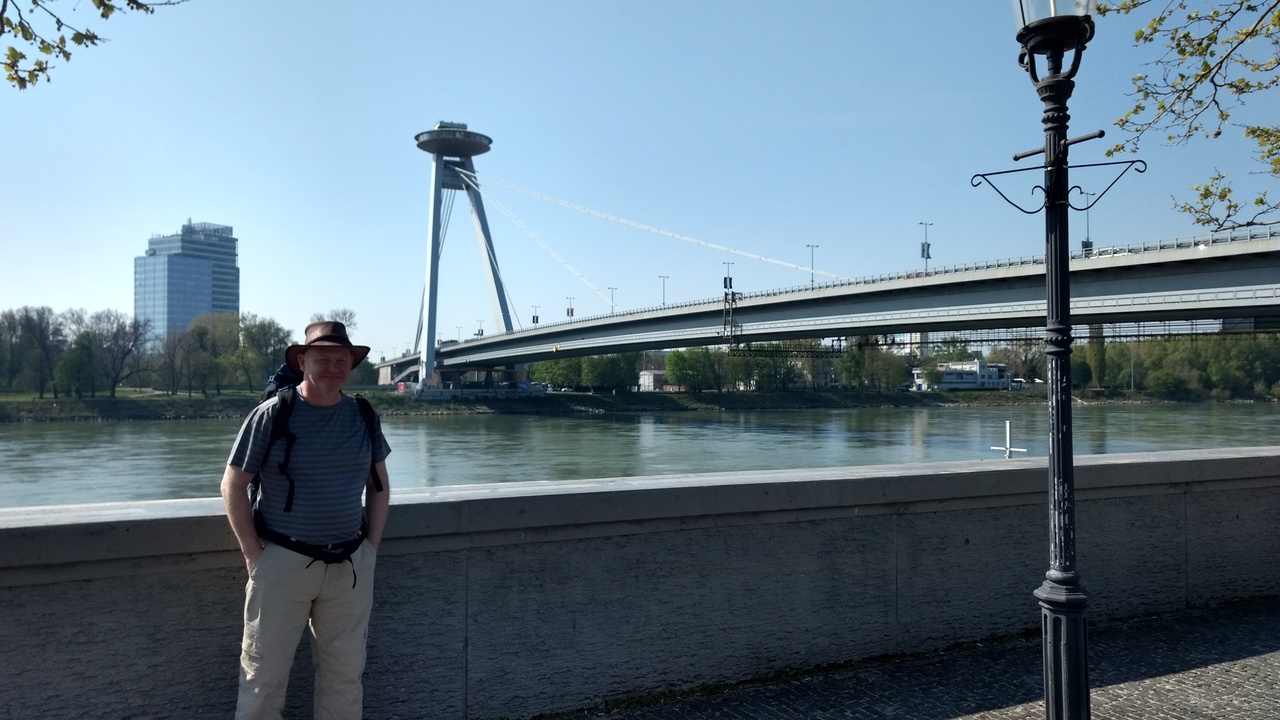 b. t. p. 1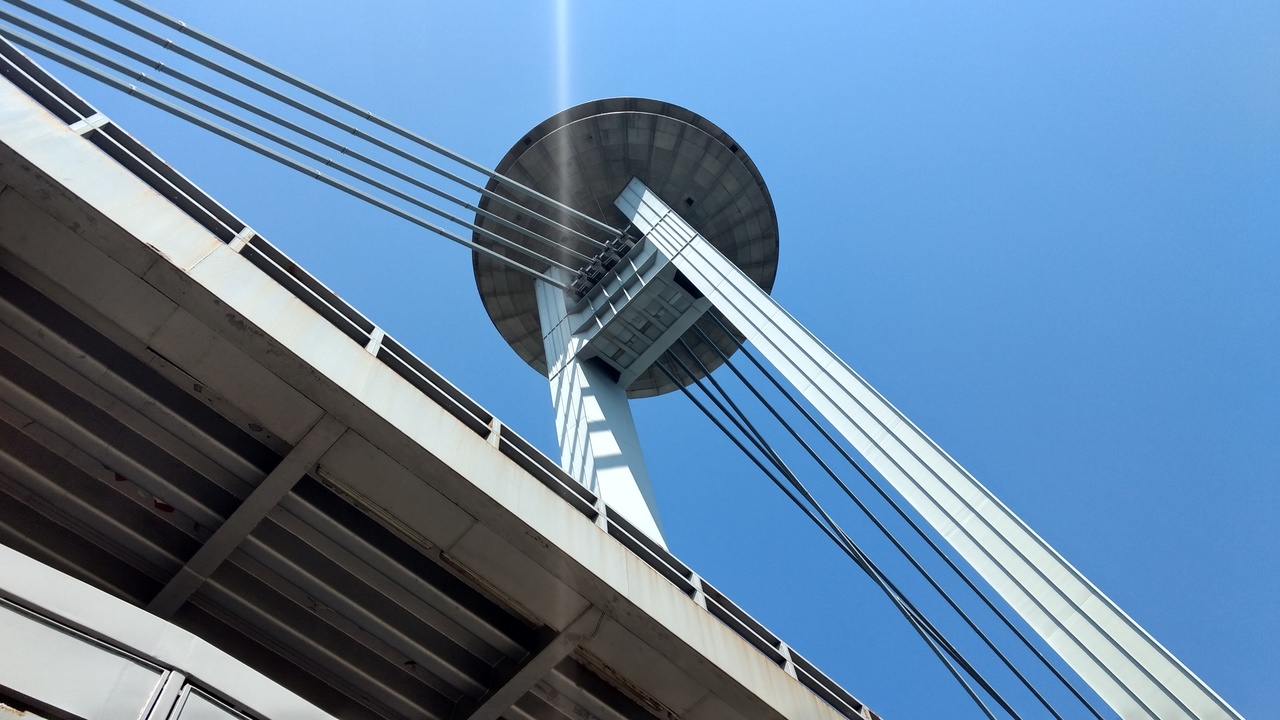 b. t. p. 2
There appears to be a lovely park on the south side of the river, but Pete reckons we can save some precious kms by cutting through the mega-suburb Petržalka, known for its many late-Communist-era panelak public housing schemes, quite a stark contrast to the more obviously attractive mix of ancient and modern buildings across the river in Bratislava.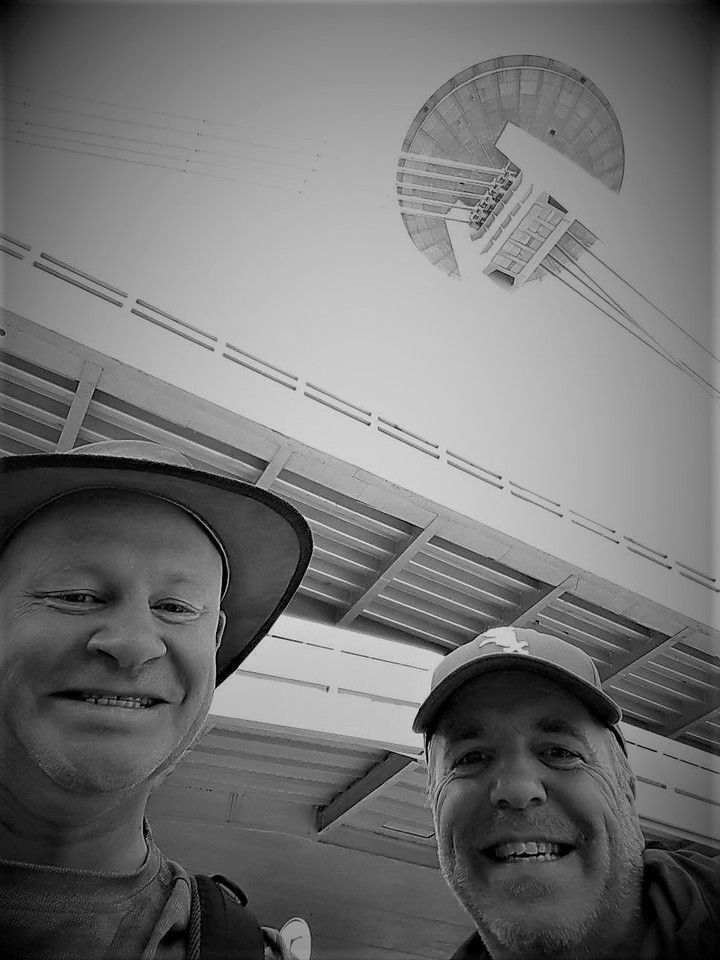 One last go at turning a b. t. p...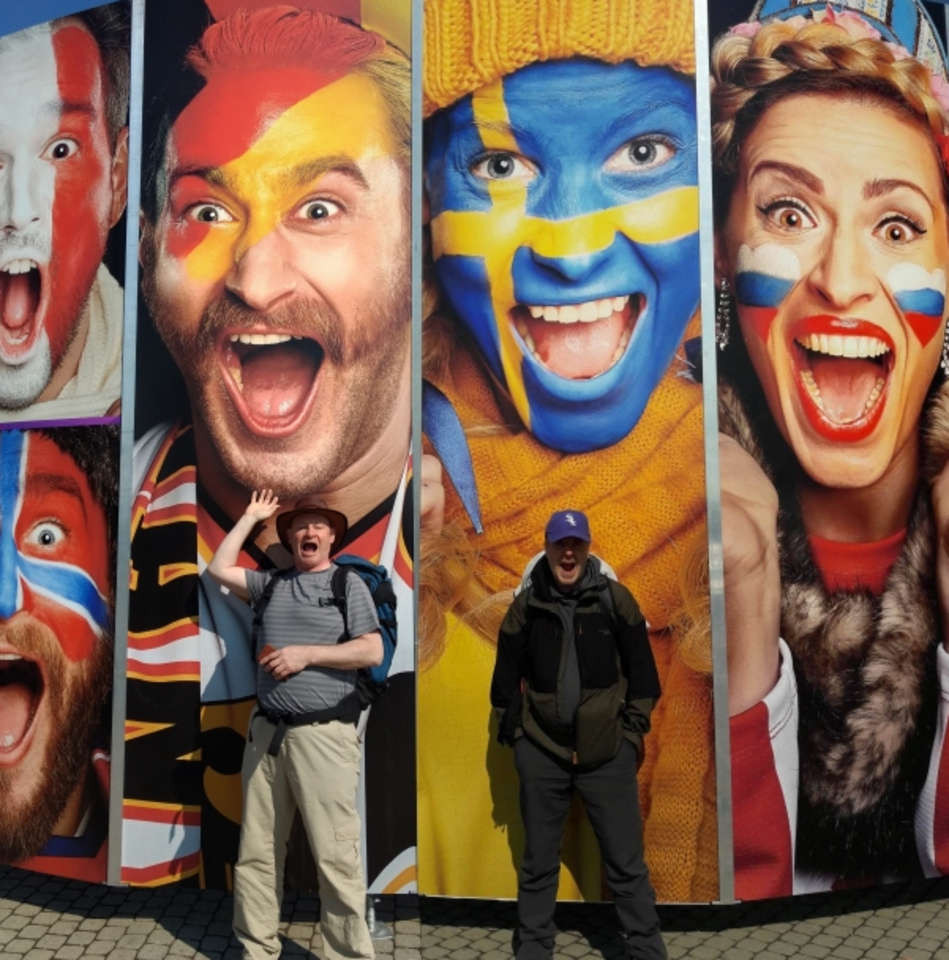 ...into an s. p. o...
and then we are off, taking the shorter city route, rather than following the meanders of the Donau. This certainly saves our feet and we also get tiny insights into the everyday challenges of Slovak life. We need to cross a railway with no obvious means of doing so, so we simply do as the locals do. First we wait trackside and watch, mesmerized, as a never-ending goods train shifting brand-new automobiles slowly passes us by, then we simply walk across the track. Who needs a bridge?
We stop for coffee and a fine piece at a charming little konditorei, all but hidden in between the high-rise blocks. We hit the road again only to shamelessly stop for more refreshments a mere 15 minutes later at a convenient gastropub opposite the horseracing track. This is a real find, beer and meat and friendly waiters, and at last we find our Slovak beer of the trip.
One last unexpected obstacle – a long stretch of dual carriageway – is taken at something vaguely approaching a canter. Just as well it's a Sunday! We are now finally on the path to Hungary. However, we find ourselves encountering more cyclists in one hour here than we saw over the entire walk in Austria. So, for a while we move over to the grassy meadows and follow the course of a little stream, which, Peter assures, will lead us directly to the Slovak-Hungarian border. We are vaguely aware that the Donau must be somewhere over to our left, but we rarely get a glimpse of it due to the wooded landscape.
| | |
| --- | --- |
| | |
We trudge on. The weather warms up, the vista opens out. We are treated to a fine view of the river which, at this particular stretch, has expanded to a width more commonly associated with lakes. Pleasing little holiday homes dot the landscape. We even come upon a trailside tavern and enjoy a sunny beer under a blue sky. These are scenes one remembers, long after blisters, sore feet and aching legs have faded from memory.
We finally reach the Hungarian border and are a little underwhelmed. There is no obvious border sign and no armed guards waiting to squint at us disapprovingly before stamping our passports. Just a tiny Hungarian flag with something written on it, presumably in Hungarian, which we have to look up later.
DictZone: államhatár (no.): Welcome to Hungary you fat bastards.
Along we go a wee bit more until we reach another sign with more identifiably Hungarian writing, so we reckon we must have made it. One is reminded of the finale of The Great Escape, when Steve McQueen hits the roadblock, gets all caught up in the barbed wire and realizes he has failed to elude his Nazi pursuers. Actually, it's nothing like that.
The road leads us up through some tranquil woods and past a charming village pond into the picturesque settlement of Rajka. Passing the village church we find what we are looking for, an authentic Hungarian public house, and we enter in a mood of triumph. The reception we get can best be described as muted. This is a proper pub for local, working men, and we score only 1 out of 3. We are not welcome here, but tolerated and provided for, which is good enough. In fact, one might say that provision of Hungarian beer is a bonus as we have no Hungarian money.
| | |
| --- | --- |
| | |
Thus we fulfill our mission of walking across – and drinking beer in – three Central European countries over only three days. In so doing, we have taken over 120,000 steps, covered something in the region of 90-100 km, and have crossed two international borders. We intend to take no more steps in earnest for the rest of the trip and so we catch the bus back to Bratislava, successfully traversing the obstacles of bus timetables and bus ticket machines dealing only in Hungarian.
It is astonishing how much more relaxing is the journey back, on bus, than the journey there, on foot. As the sun sets, we find ourselves in a little room at the base of the UFO requesting a table in the panoramic restaurant towering above. A snooty receptionist inspects our attire and is understandably dubious. She asks us to consult the menu, clearly hoping that the pricey nature of the exclusive dishes described therein will frighten off these two smelly wanderers. In her actions she merely joins a long, long line of receptionists across Europe, across 20 years, none of whom were ever more successful then than she is going to be tonight. We have come prepared and tell her that the prices are okay with us. Reluctantly she admits to the existence of a free table after all and we are allowed to ascend in the lift.
The views of Bratislava, Petržalka and the Danube from the observation platform are quite extraordinary and well worth the extra dosh that we have decided to splash out. It is another romantic holiday highlight that we share with each other instead of with our respective wives. Ah, weel. Better luck next time.
Tonight we have shunned the more traditional hotel and have booked a room in a boat. Concerns about seasickness in the small hours leave as we can see that the thing is not so much moored as bolted to the banks. Ove the years we have specialised in finding overnight rooms that are roughly the size of 3 beds: one bed each and a bed-sized bit of carpet in the middle for standing on. They have all been cheap and cheerful and quite good enough, and our aquatic accommodation is certainly all three. We sleep like proverbial logs and barely take note of the splish-splashing of the river on the sides of the boat.
Breakfast in the Captain's Clubroom restaurant is elegant and plentiful. The weather improves further as Adrian takes arty-farty photos from all angles of the Botel.
We leave our backpacks - oh joy - on the boat and spend the morning taking a leisurely stroll around the old Town of Bratislava. It is compact and charming and full of posses of city-trippers for us to grumble about. More specifically, we take exception to their microphoned, damned-noisy tourist guides. We are not tourists; we are wanderers.
We explore a cracker of a museum. The Museum of Arms contains weapons and armour from through the centuries, displayed in 5 tiny rooms on 5 floors of Bratislava's Michael's Gate Tower, part of the town's original fortifications. There are breathtaking views from the narrow top-floor parapet across the beautiful roofs and spires of old Bratislava (which was widely called Pressburg until Pan-Slavism following the end of the Austro-Hungarian Empire forced a name change).
| | |
| --- | --- |
| | |
We are urged by the curator also to pay a visit to the nearby Museum of Pharmacy, entry to which is suspiciously included in the price of the Museum of Arms. We are challenged to test this Museum's bold claim relating to the fascination of pharmaceutical receptacles. The opening exhibit is a row of ancient pharmaceutical bottles that must have held tinctures of this and salts of that many years ago. And in fact that is the last exhibit as well, because astonishingly, 3 or 4 lines of such bottles is the entirety of what the museum is. It is without doubt the most underwhelming municipal museum visited in two decades of The Strides, and we are veterans of The Museum of Jet in Santiago de Compostella, remember. We leave three minutes after arriving, loving it dearly.
We have completed a wonderful three-day, three-country Donau-Auen steeplechase and we have taken untold inner and outer hurdles in our stride. The Beer Hunt is over for another year, as we bus it back to Vienna and thence proceed homeward to our loving, but scarcely believing, families.