| | | |
| --- | --- | --- |
| | 2018: Kyst til Kyst, Denmark | |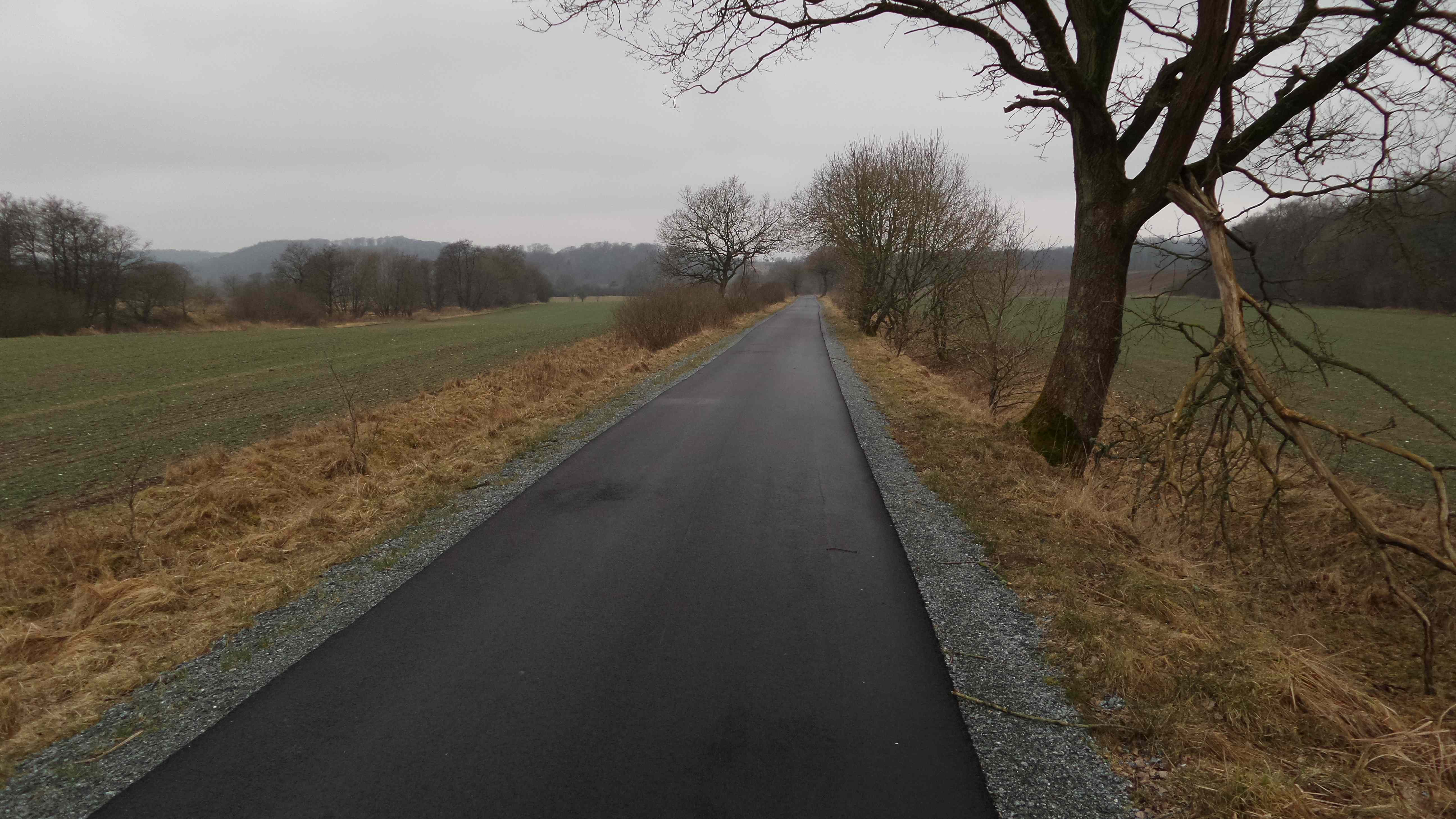 Back to the Strides of March again
Remember all that sun cream and those sun hats and sun protection from last year? Well forget it again. Here we are, back to normal.
Day 0: Friday
Trains, planes and automobiles to get to Vejle. We meet up at Vejle (that's VILE-y) Railway Station, close enough to the Coach Station for the amenities to serve both. The most notable amenity is a bakery which is bigger than either station. Its customer bar is longer than Vejle Railway Platform. It is remarkably big, but also shut, which is a shame. All that pastry gone to waste, instead of to waist.
Unperturbed by the light drizzle we fall swiftly upon Charlies Bar, possibly the only pub in town, certainly the best one in our view. Our first choice of Tuborg Classic is an immediate winner.
A mere hour-and-a-half later and we find ourselves out on the rocky road to Perdition, otherwise known as Pias seafront dwelling, some two kilometres out of town. A warning phone call and hilarious note pinned to the front door informs us that our hostess Pia has had a tiny bit too much wine (it is around 7.30 pm) and she fears she may be asleep before our arrival. It all turns out to be a smashing place, with ...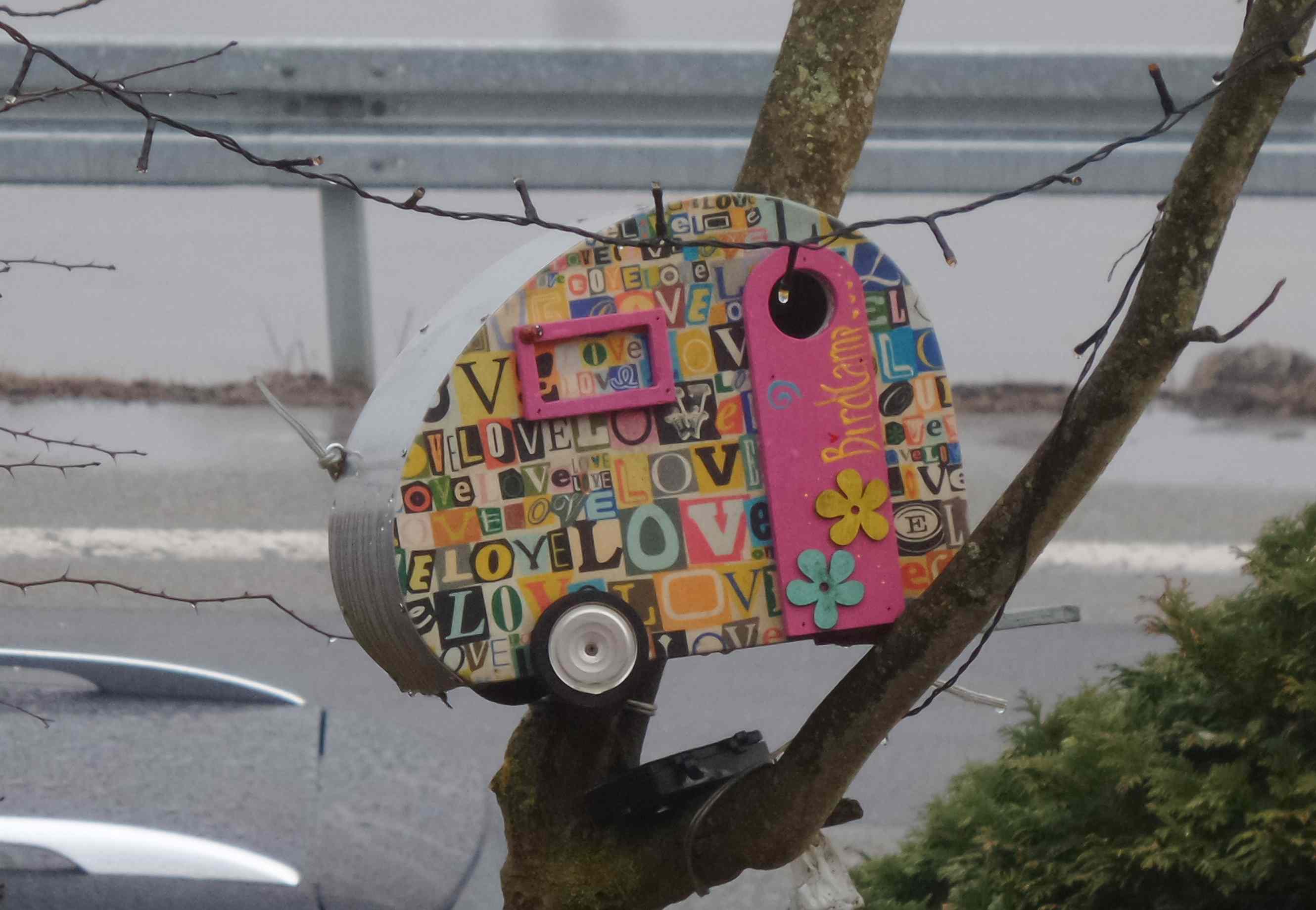 ... colourful gardens ...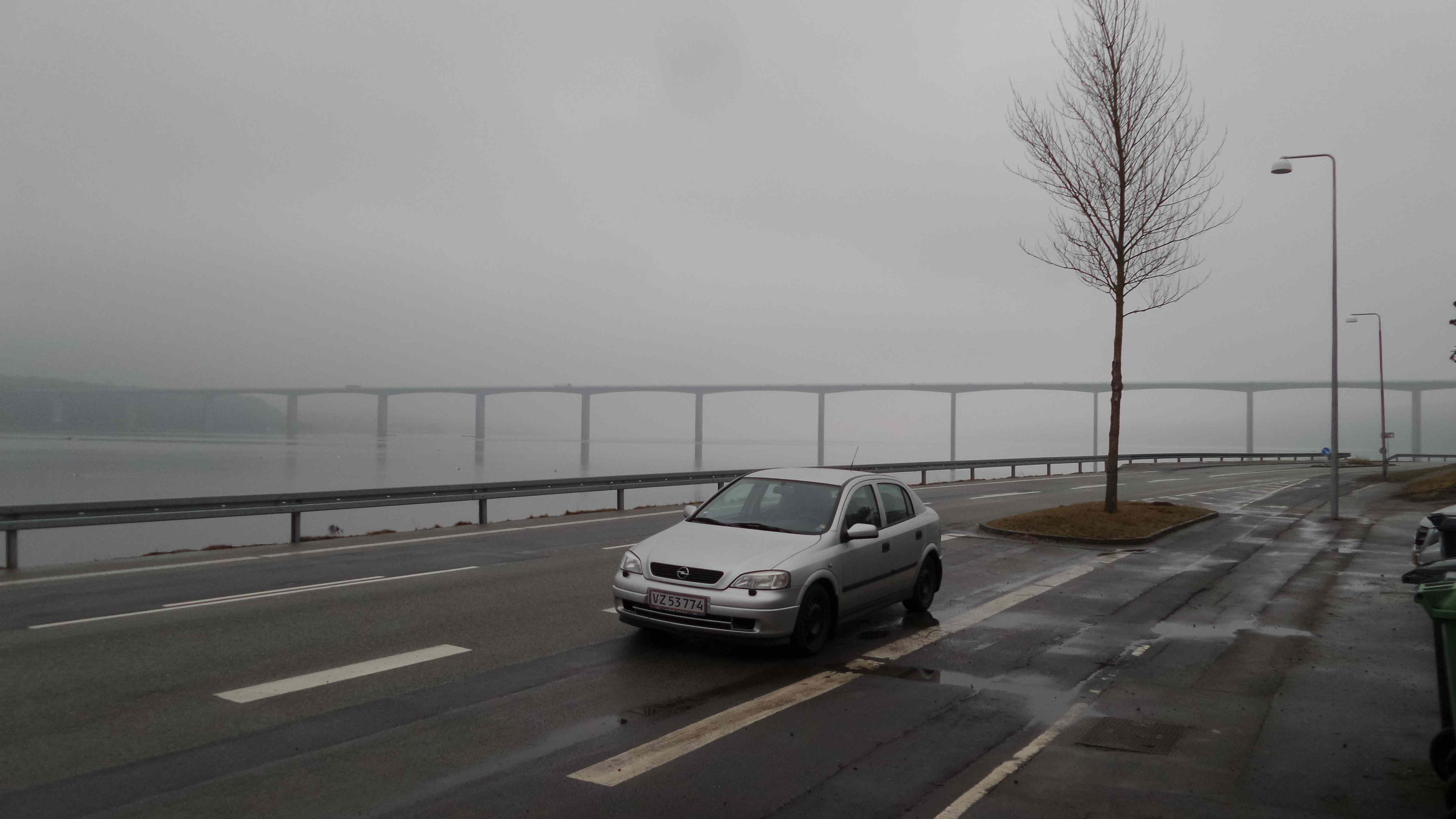 ... and a view of the bridge.
What could be better?
Once our hostess is roused we are warmly welcomed. After a quick tour of the place our minds turn to food. The recommendation is for a steakhouse which is halfway back to town. So off we go to retrace most of our steps of two hours previously.
The resaurant is indeed a wonderful place. It has not just pork and beef but as great a variety of the zoo that we may be reasonably expected to consume. How can one possibly describe, in just a few scant words, a place that provides zebra and crocodile ...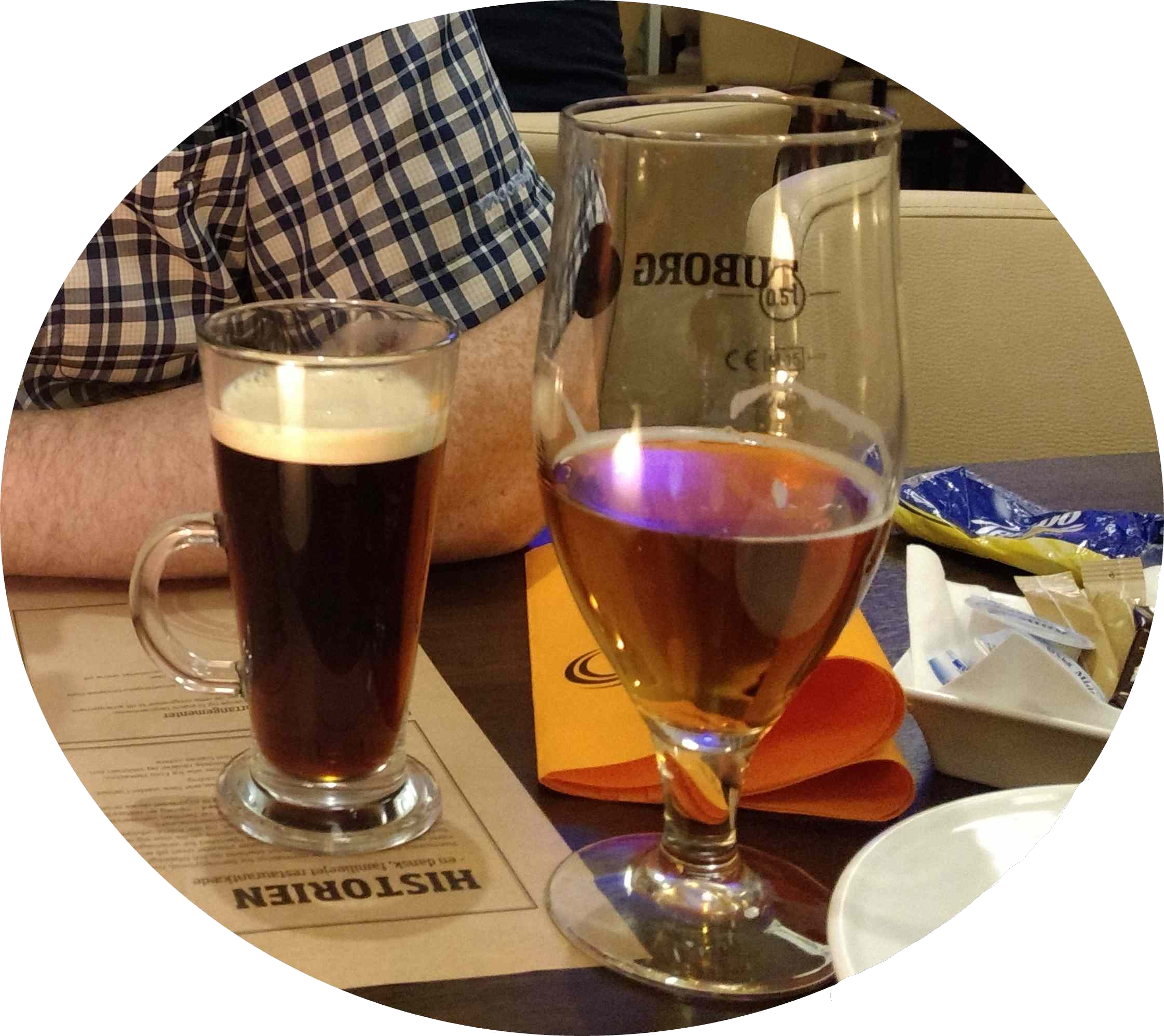 ...and where the head on the coffee is greater than that on the beer?
Day 1: Saturday: Vejle - Tagelund
Next morning we rise, forgetting not to enjoy the comforts provided in the room.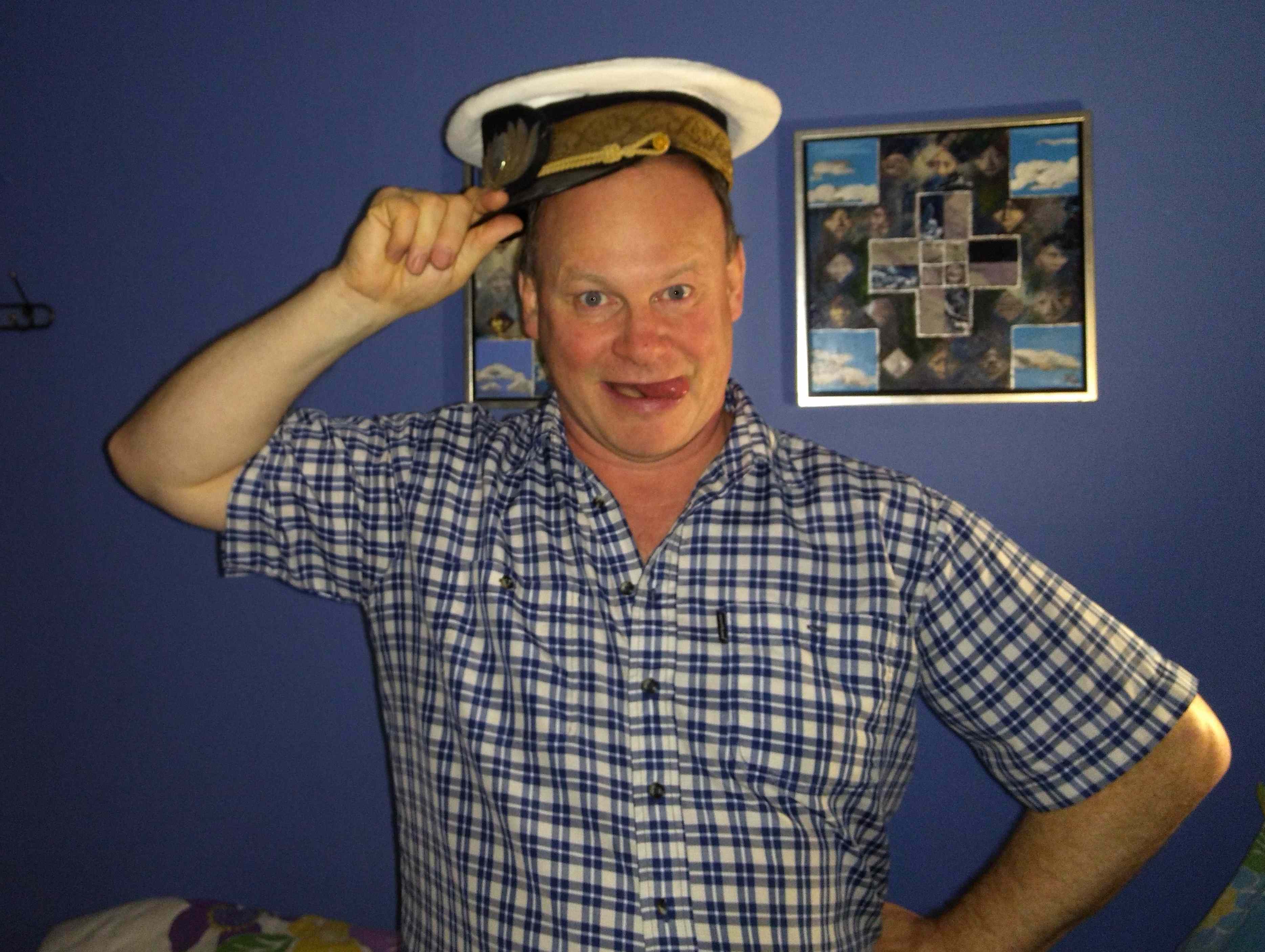 Anyone remember Ernie, The Fastest Milkman in the West?
We are treated to a charming breakfast in the garden pavillion, just a brief (outdoor) walk from the front hall. I think the right word for the decor is eclectic. It has enough not just for both of our tastes but for others also. It is only slightly less Baltic, temperature-wise, than the view. Pia confides in us her own historical and personal Aberdeen connection, which fires our imagination.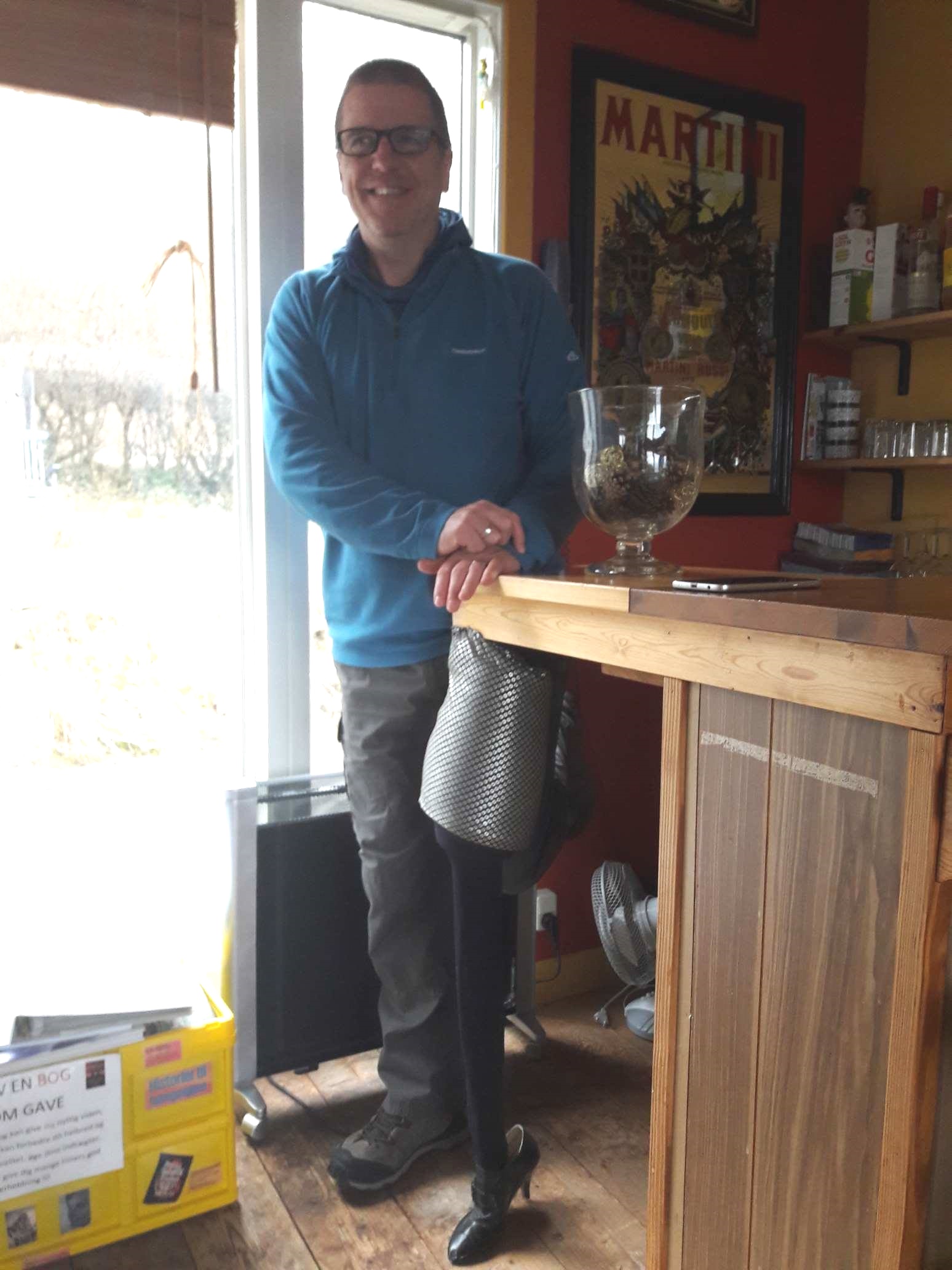 The would have been an hilarious view of a nice bit of leg.
If the photo had worked.
Sigh.
We set off on our Kyst-till-Kyst walk in fine fettle and good heart, first hugging the Vejle river trail as it passes through Apache country, then we are off to the wild west.
Once we leave the town behind, we quickly manage to catch up with the official Path. This path has been recently worked on and is ludicrously wide, straight and tarmacked. It seems that all those oh-so-carefully prepared map skills will not be so useful on this trip as perhaps they might.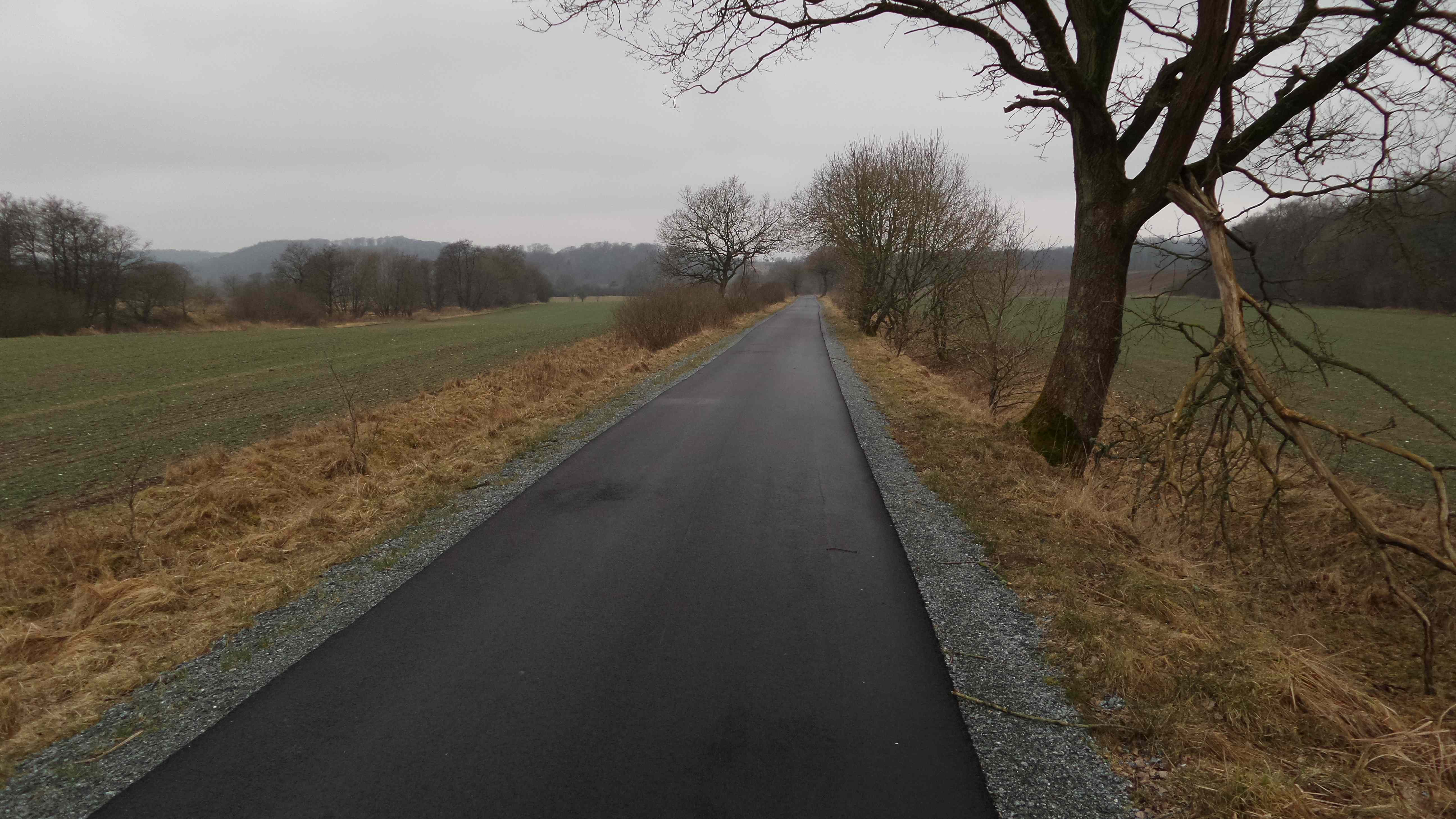 Highway to Fjäll

Hansel and Gretel's wee But n' Ben
Signs on the path warn us that ny asfalt kan vaere glat. This translates from Danish as new tarmac can be slippery. However, I much prefer the translation from a pseudo-Swedish that new tarmac can be happy. I like to think that we were walking on happy tarmac. It is a nice memory to have.
We get into a useful rhythm and start to eat and drink up the miles. This is a good idea because it becomes increasingly obvious early on that opportunites to eat and drink up much else are going to be something of a rarity on this walk.
The way is very well signposted ...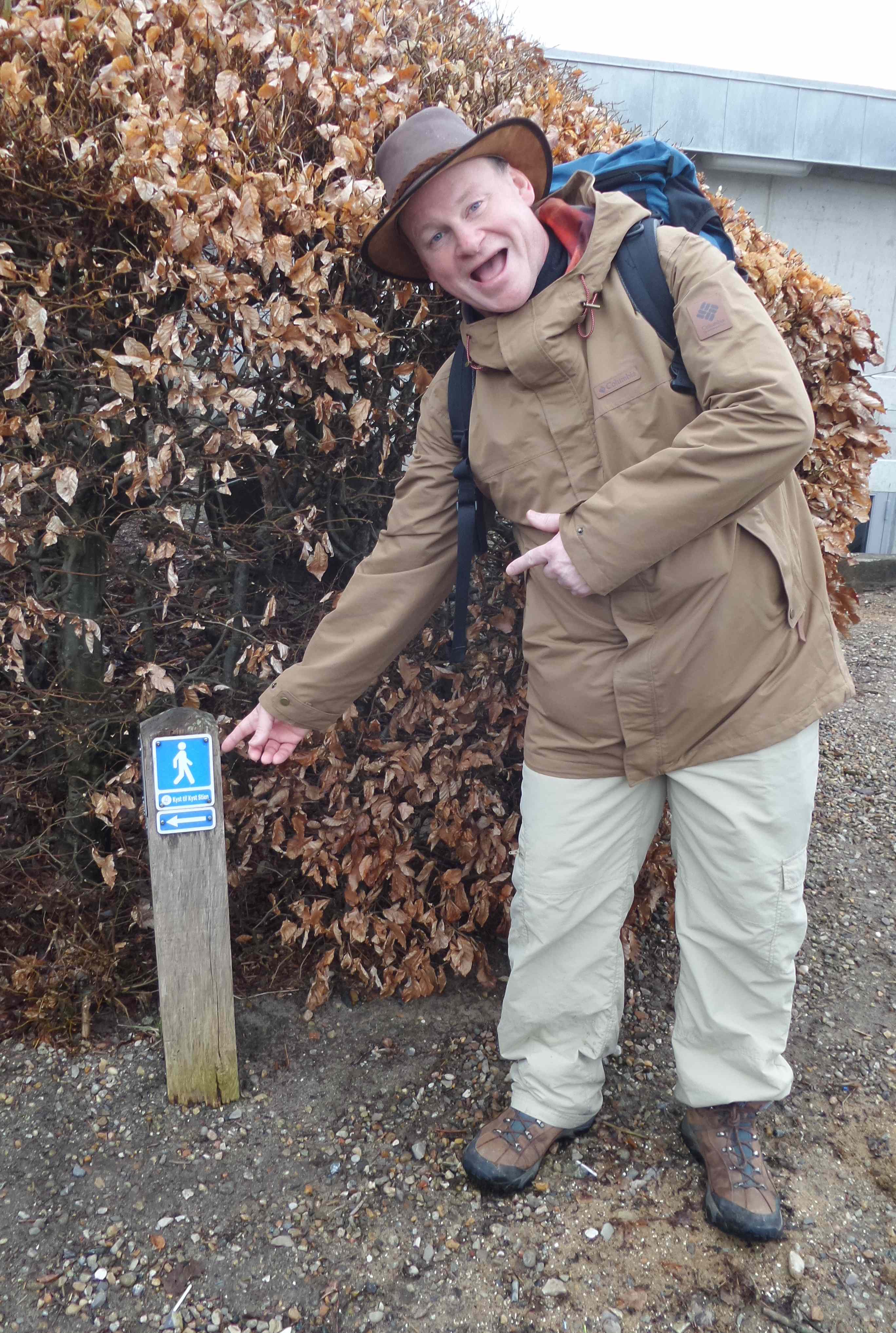 ... sometimes professionally ...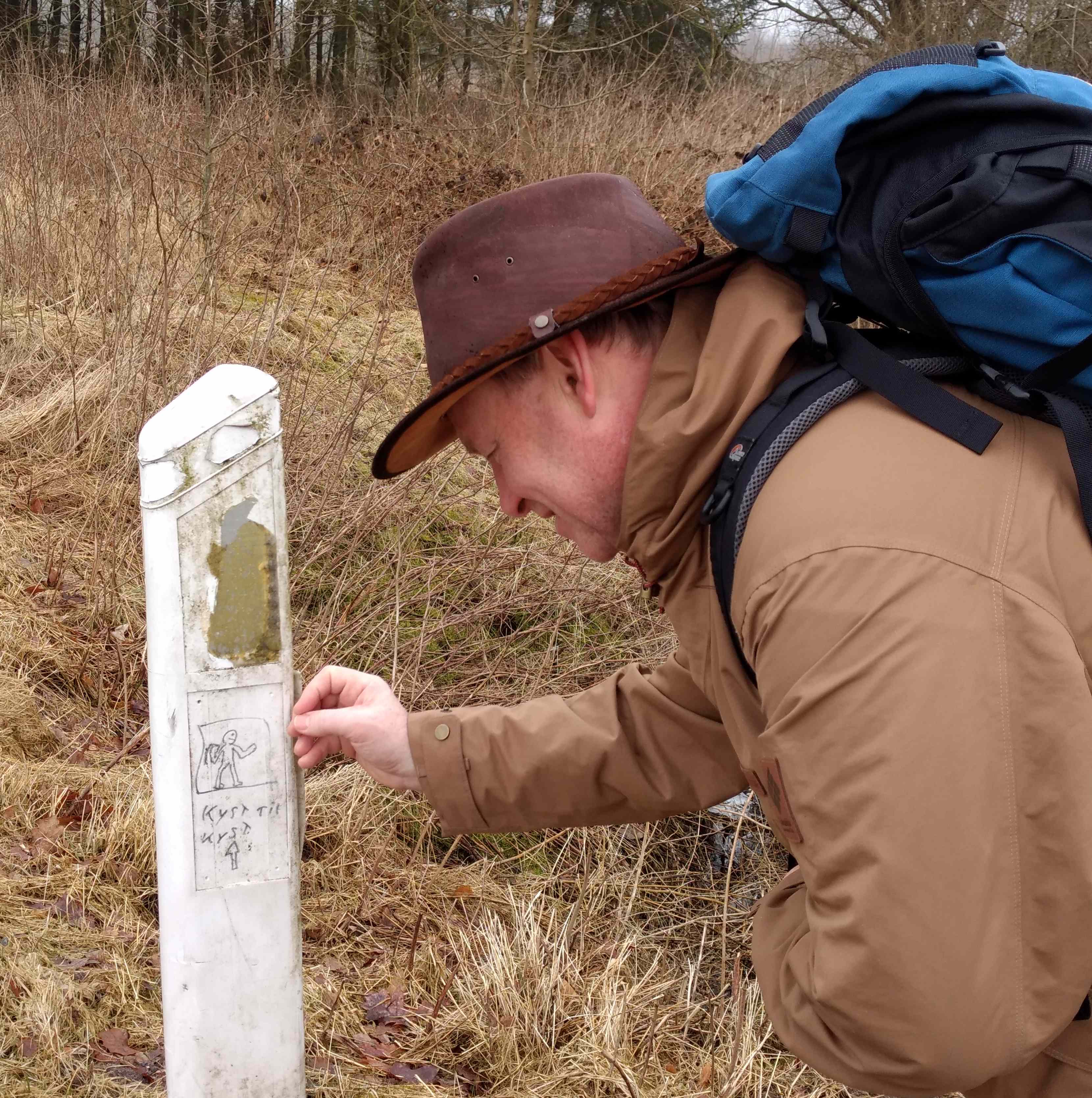 ... sometimes more with local enthusiasm ...
... but always with the wee mannie on the sign striding out purposefully in precisely the wrong direction. We like this a lot.
Our first pitstop of the trip provides one of those surreal moments that never fail to astonish and amuse us. All of a sudden, 4x4 cars with parents and kids and what not are appearing on the trail. What we had imagined to be a little community centre with a cafe at Vingstedt has been commandeered by what appears to be a junior NRA convention with hunners of Danish teenagers and their parents, all openly carrying firearms while waiting patiently for their grandmaster to arrive. Despite having a little unease, our urgent need for a comfort break forces us to enter the packed hall, and we try in vain to blend in with this mob. Our lack of Danish (and a rifle) rumbles us finally, but we still manage to purchase a bottle of beer and a snack, which we manage to smuggle out of the crowded hall and thence to the relative safety of the car park. Alcohol, guns and children: a rich mix that makes one ponder deeply. Unless you are Danish, that is; then it's just normal. We sup up quickly, watching some wee boys throw arrows at each other, and move on.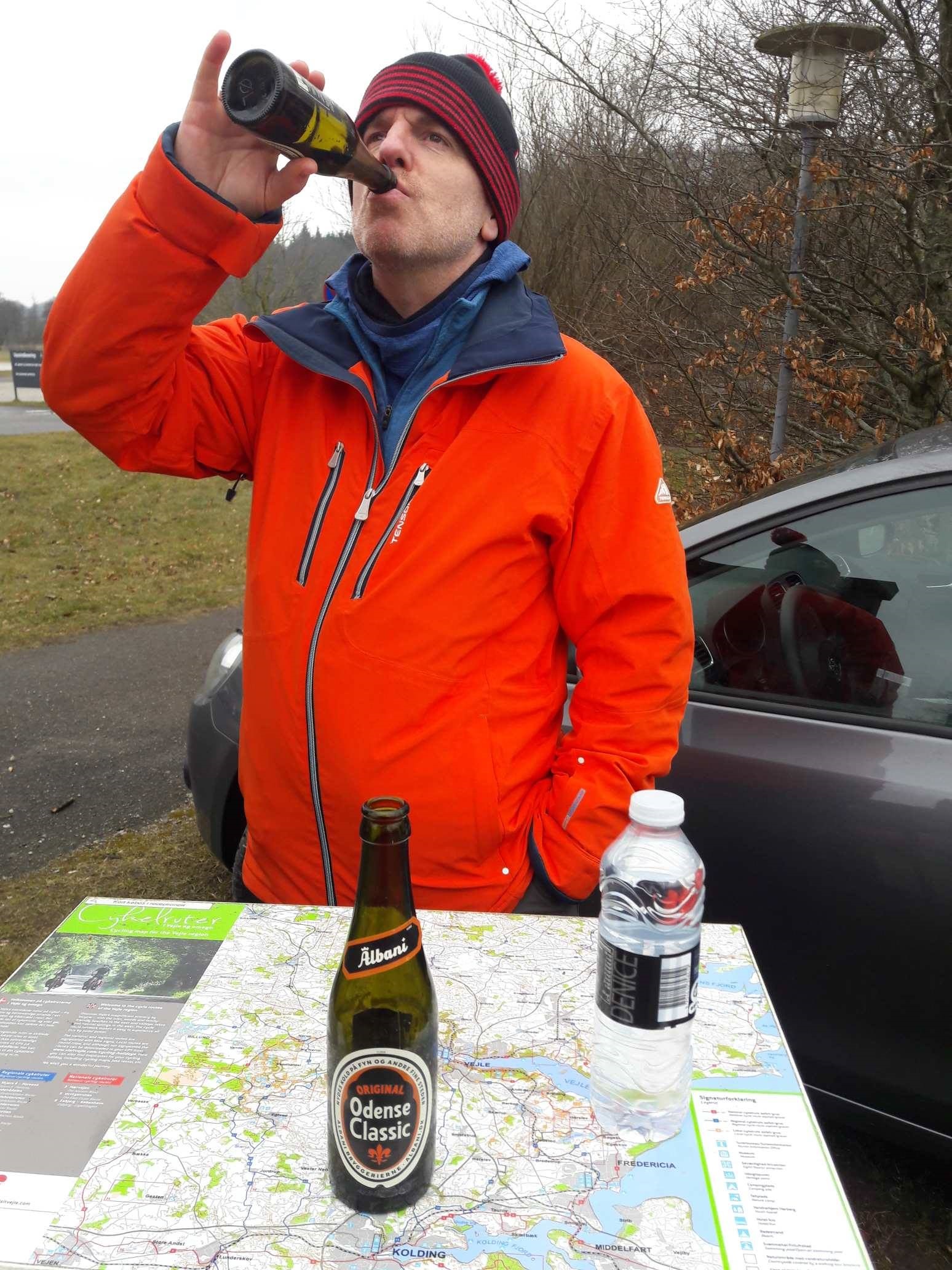 Pinky in correct position always. It is a question of standards!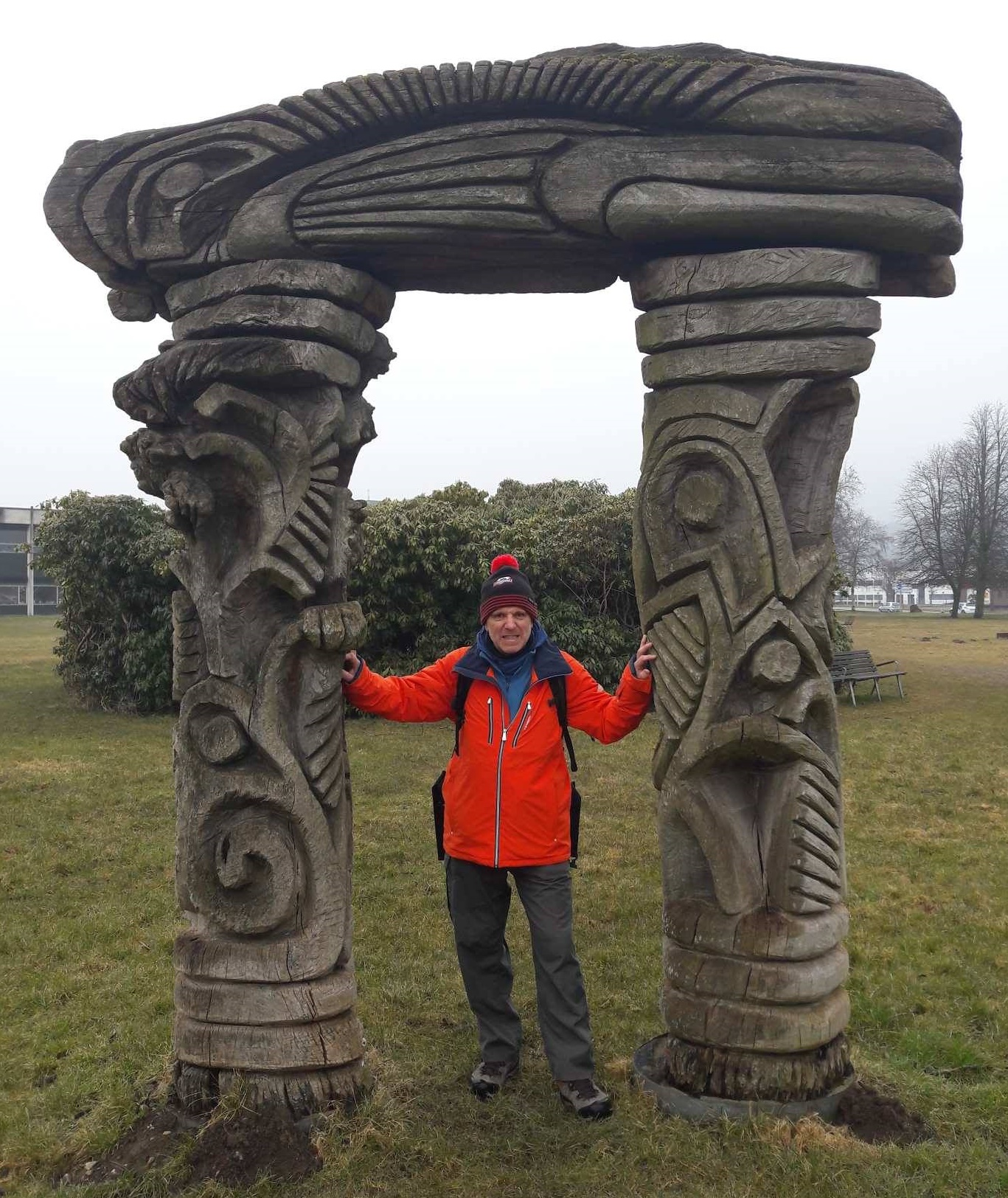 Peters jacket barely visible by the weird totem pole thing.
We come to realise that the Kyst-till-Kyst path is actually a combination of a few other shorter local walks. At this point we stride out along the Bindeballestien, but we cut off before it reaches Bindeballe. We plod on southwards.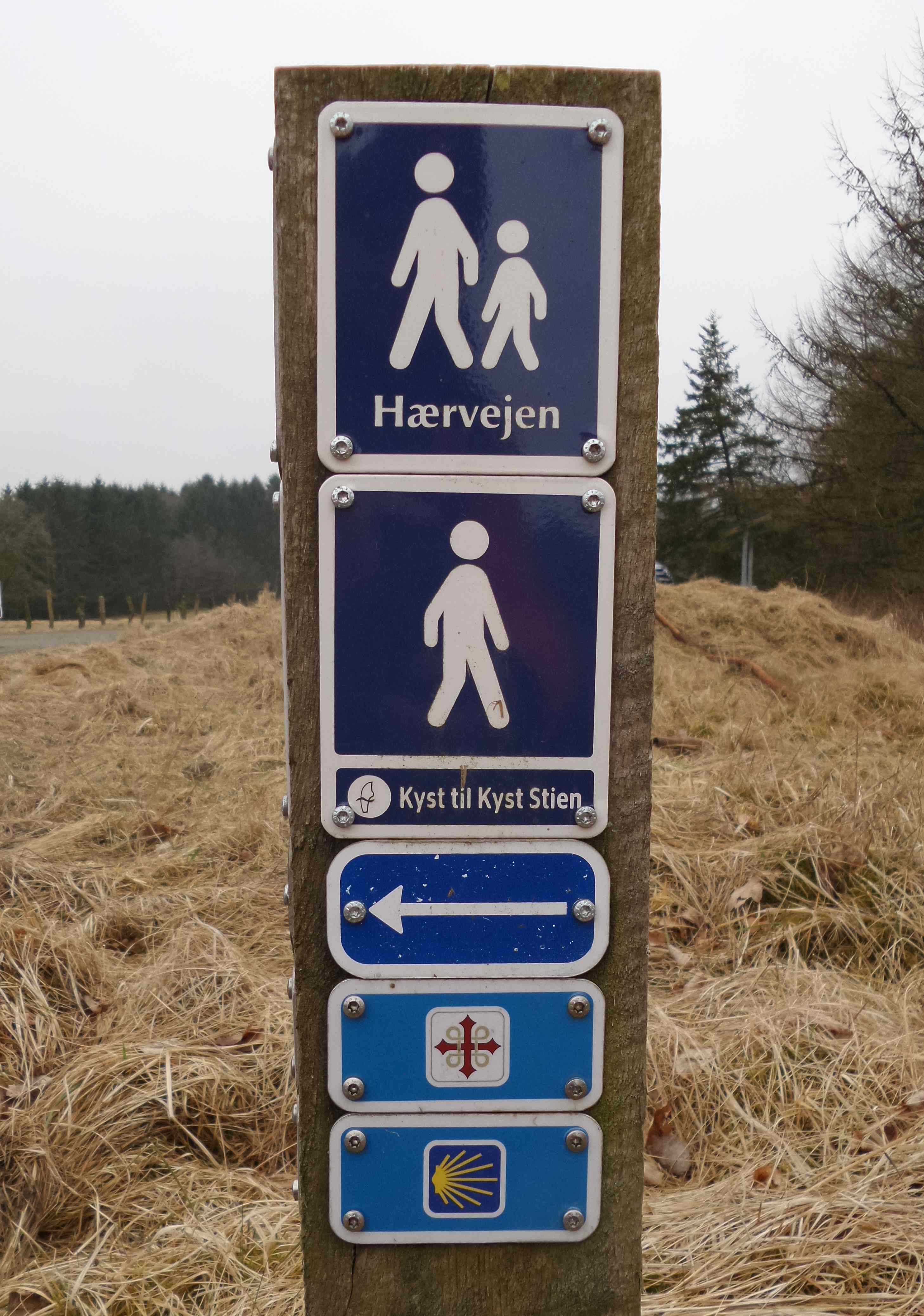 Its that Camino again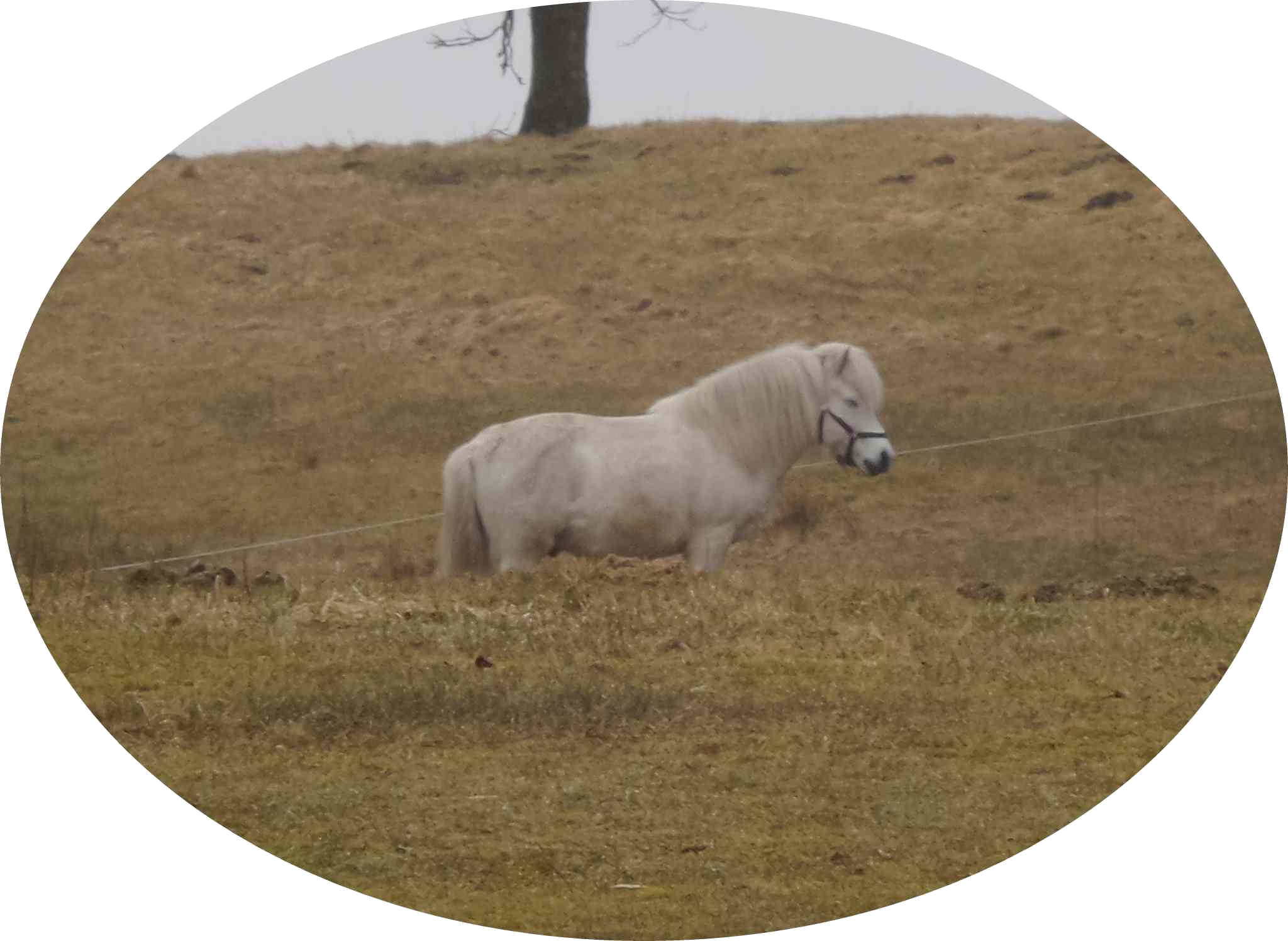 text
Eventually we reach our evening goal, a spacious and tastefully furnished holiday apartment on the Tagelund plantation a few kilometres west of Egtved. Realising that this is the middle of nowhere, Pete has had the foresight to call ahead to the landlady to get in provisions for us. Wonderously, she has provided not just the food, but also more cans of beer than we actually ordered. We are very happy here.
We whip up a mountain of meat sauce and pasta and cold beers, and enjoy the Mark Steele podcasts and Premiership rugby which Peter has also thoughtfully brought along on his tablet. Early to bed and a right good nights sleep after a long first days walk.
Day 2: Sunday: Tagelund - Hovborg Kro
We set off early, after another fine breakfast. It is just as well, since this was to be the toughest day of walking. We were expecting the difficult kilometres, the diffcult terrain was a bonus provided by the Gods of Long Distance Walking. Having been lulled into a false sense of security by the Autobahn-like nature of the path on day one, we blithely continue our journey due south, not realising what it was all to turn into. We strolled through the appropriately named village of Fitting, or was it the fittingly named village of Appropriate?, and on to an early lunchstop at Baekke.
Disappointingly but not unexpectedly neither pizzeria nor pub are open. We sigh and accept the lesser but at least available option of the Coop toilet; a few al fresco bread rolls; lovely Danish roast beef; awfully (Adrian), wonderfully (Peter) smelly cheese and two more cans of Tuborg, all on a park bench outside the closed municipal information centre.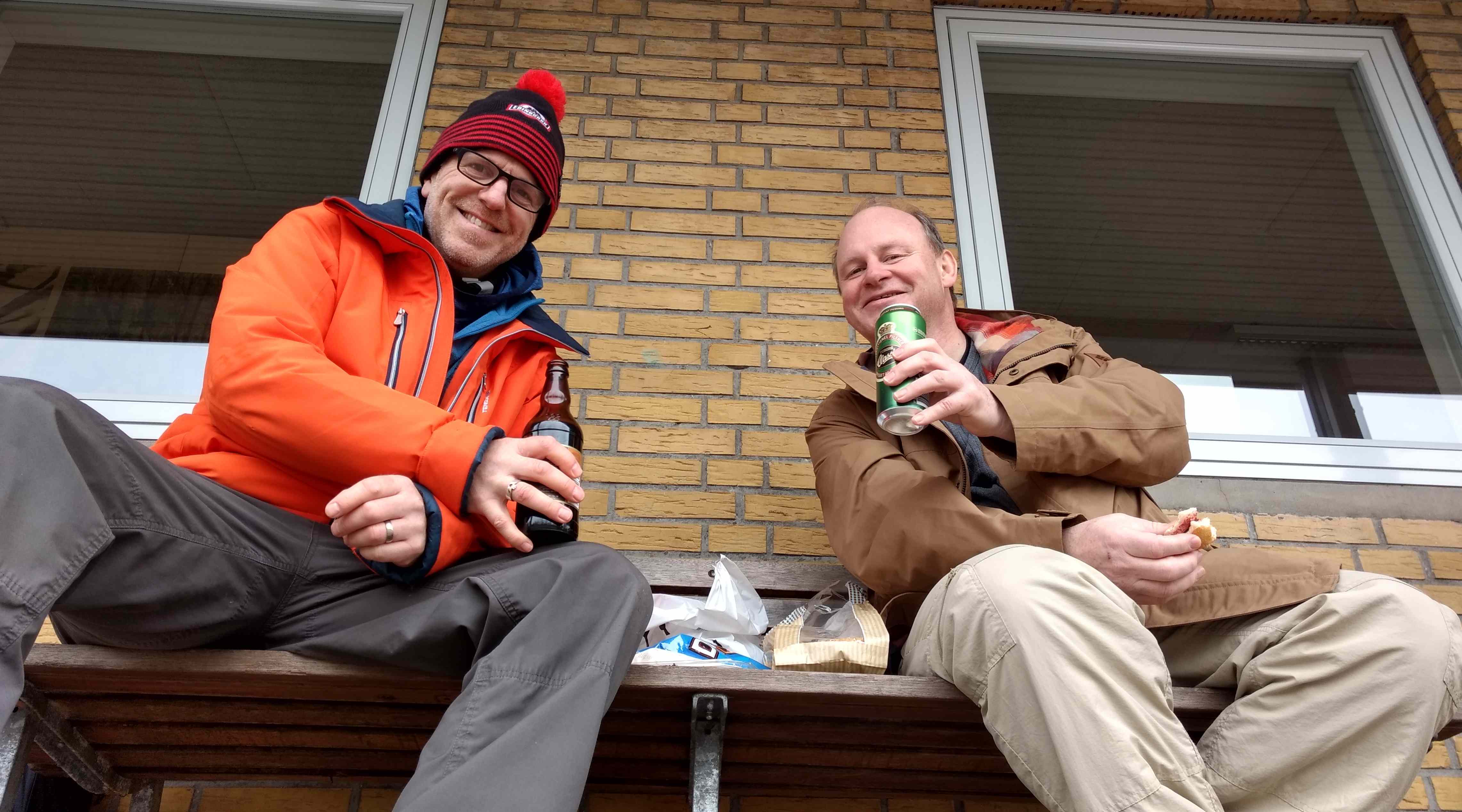 We feel surprisingly at home sloshing down lager on a park bench outside the Coop.
Is this perhaps the Ultimate Calling which we have both been missing for
all of these years?
We are actually quite satisfied with this arrangement, although it is perhaps a tad chilly for a picnic. However, it is not long before we attract the attention of the locals. Two very nice people are soon there for a chat. They are in fact not offended by our gadgy appearance, but instead they suggest we go in to the Information Centre, which they have opened up for us. We say yes, of course we shall, once we have finished our lunch. They are quite insistent, almost pushy, but with lots of practised misanthropy we finally put them off and we can sit and finish our meal in peace.
This takes a wee while, on account of our being quite lethargic, but we eventually go in, just to please them. Inside, it is wonderfully warm and hyggelig and there is a large dining table with comfy chairs at which we sit and imagine how nice it would have been to have eaten here, instead of the cold bench outside. Sigh!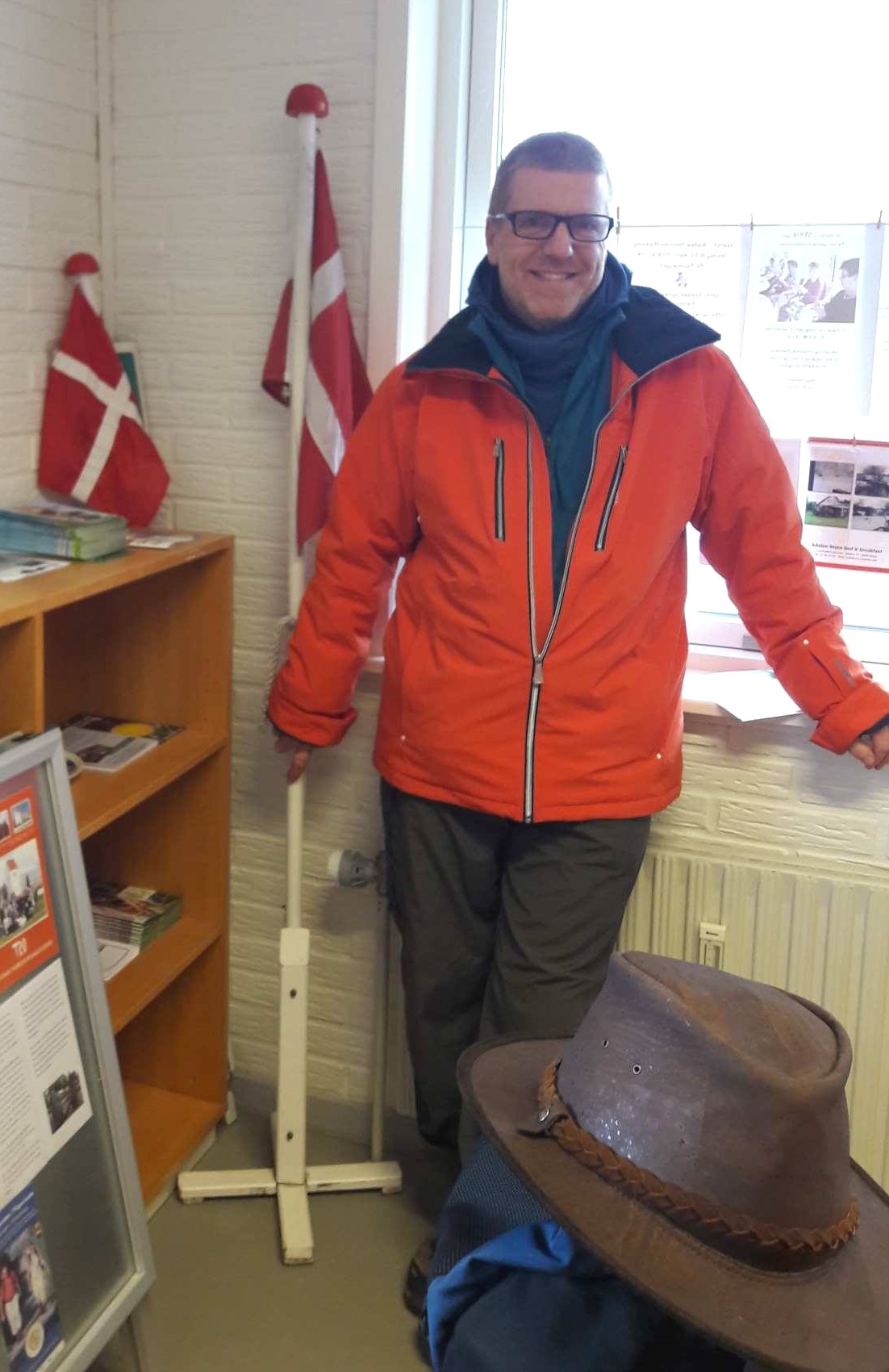 It is so much warmer in here.
Peter even partially unzips his jacket.
Well-rested, fed, warm and relaxed we leave Baekke reluctantly to head off down the path. Before long we find ourselves on our first lengthy off-road riverpath section of the walk. It is relatively amusing, to start off with, as we fall into our accustomed single file, with wetland plains on the left and a slightly sloping path down to the muddy riverbank on our right.
Whatever happened to the tarmac machine?
We are bemused by the innumerable molehills which further serve to break our stride. They are absolutely everywhere. Innumerable. Is it a massive community of moles? One very very busy one? Some weird feature of the bog? We cannot decide.
We manage to think up some river songs to cheer us up for a while. However, the wild and lonely landscape continues interminably and the terrain worsens, slowing down our pace and silencing our songs and humour. Our mood darkens, as we are forced to keep our eyes down permanently to avoid rabbit holes and soggy, boggy bits which conspire to trap us and make us stumble.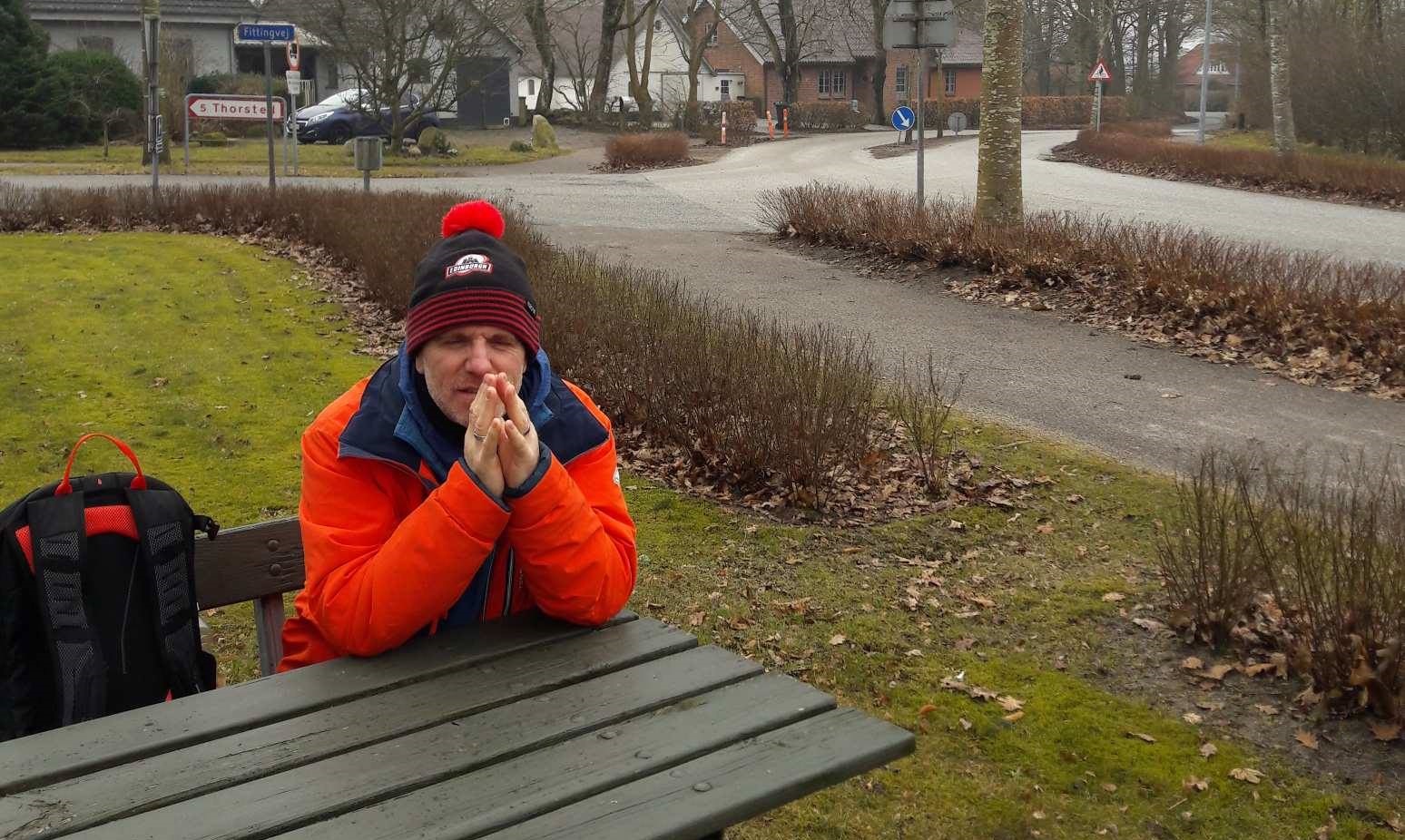 Please God: Let there be a pub in the next village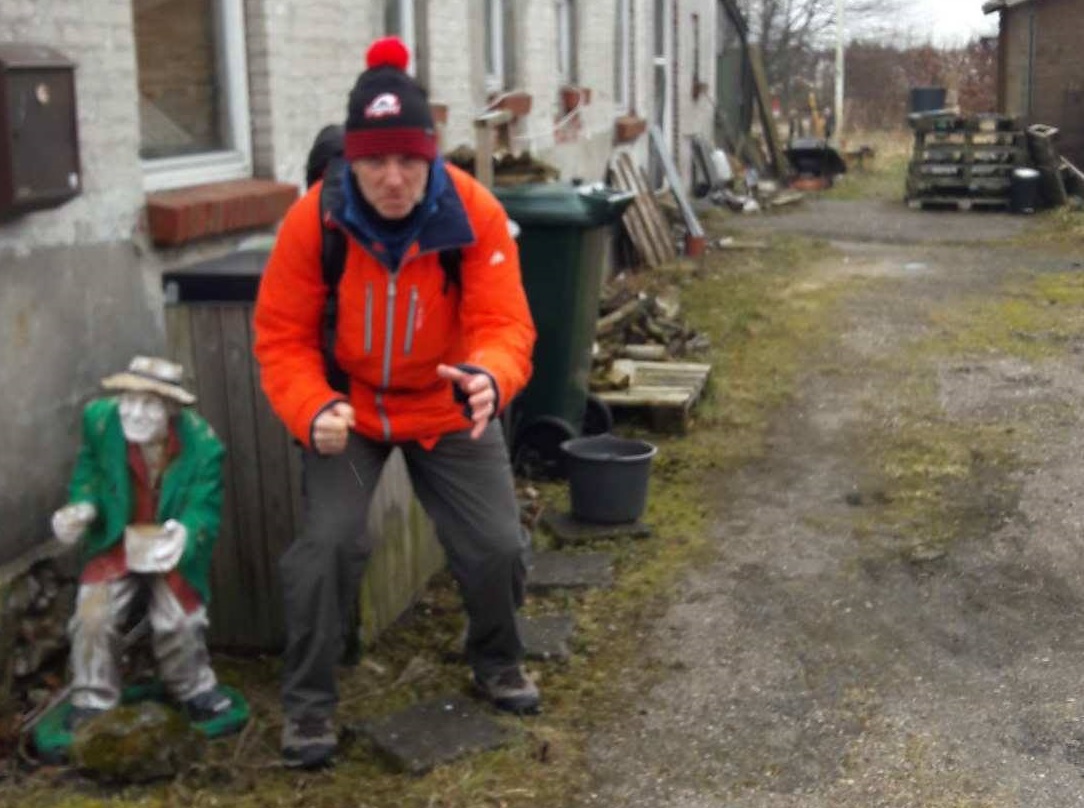 What an ugly auld troll!
Having spent well over two and a half hours ploughing through maybe 5 or 6 km of bog we are exhausted and fed up, but yet we still face a worryingly large distance to reach our destination before dark. We grimly re-appraise our situation and decide that leaving the riverside and diverting to the road is the better option. While 8 or more kilometres of roadwalking is never pleasant, at least it shows promise of getting us to the hotel before the Trolls emerge at dusk, which is more than the bog does.
This turns out out to be a good decision and we finally arrive at Hovborg Kro, one of those hotels we meet occasionally on these March treks of ours which is ...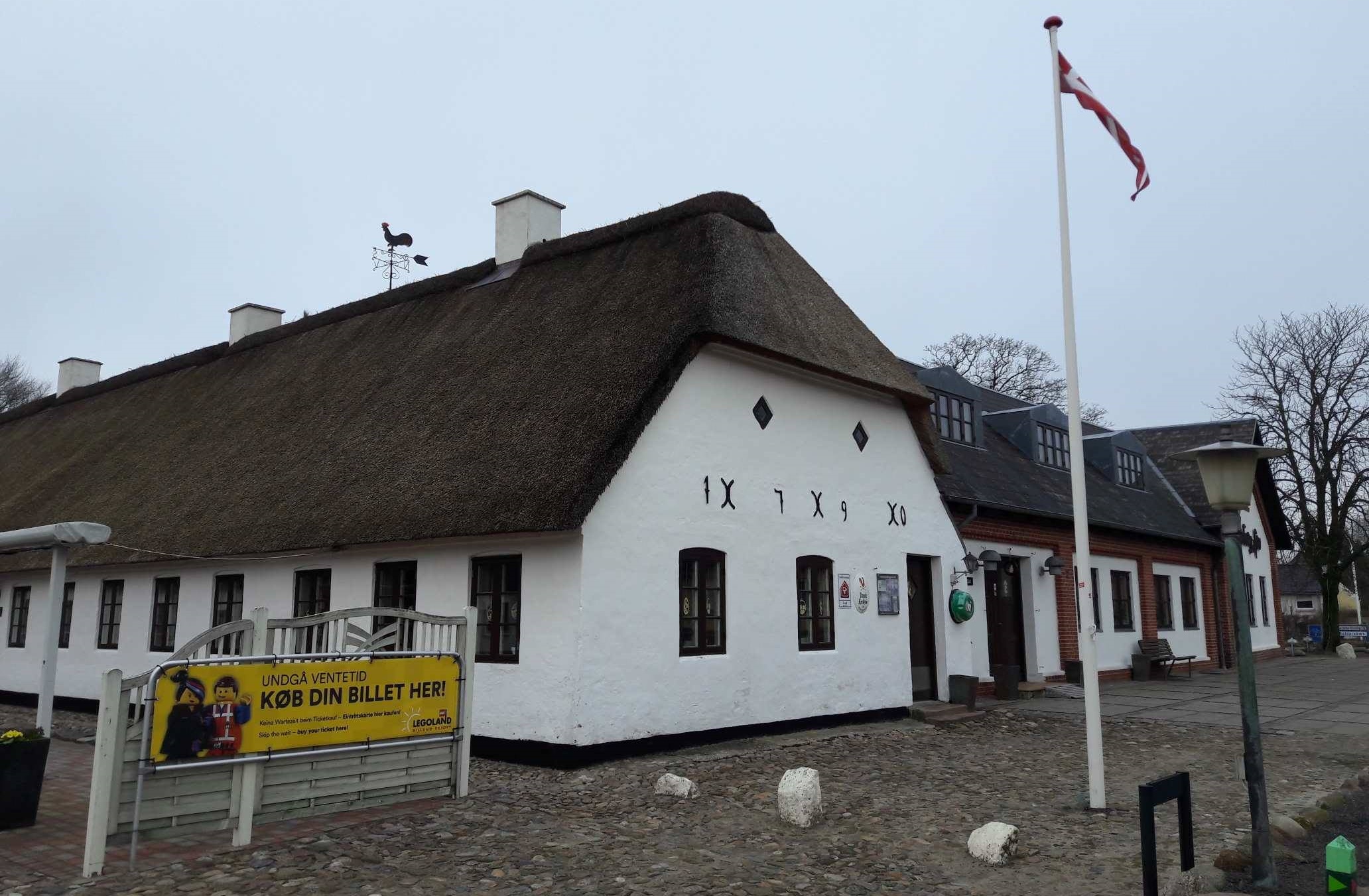 ... certainly too good for the likes of us.
This provides us with a comfortable room and a wonderful dinner of roast meats and potatoes. Petes pedometer tells a remarkable story: today we have completed 47 415 steps, a distance of well over 30 km. This makes it the hardest days walking since the Great Glen Way in the Scottish Highlands, some decade before. Quite proud, but also very puggled, we resolve that we must stop planning walks with days as long as this. Again.
Day 3: Monday: Hovborg Kro - Agervig
Another good nights sleep does its wonders. We have an excellent breakfast in the hotel and then out set out, feeling fresh. Our mood is lighter as we enjoy a much better and varied morning walk along forest paths and through agricultural landscapes as well as the riverbanks and scabby scrubland we have become used to. Very quiet and peaceful as we hark the birdsong.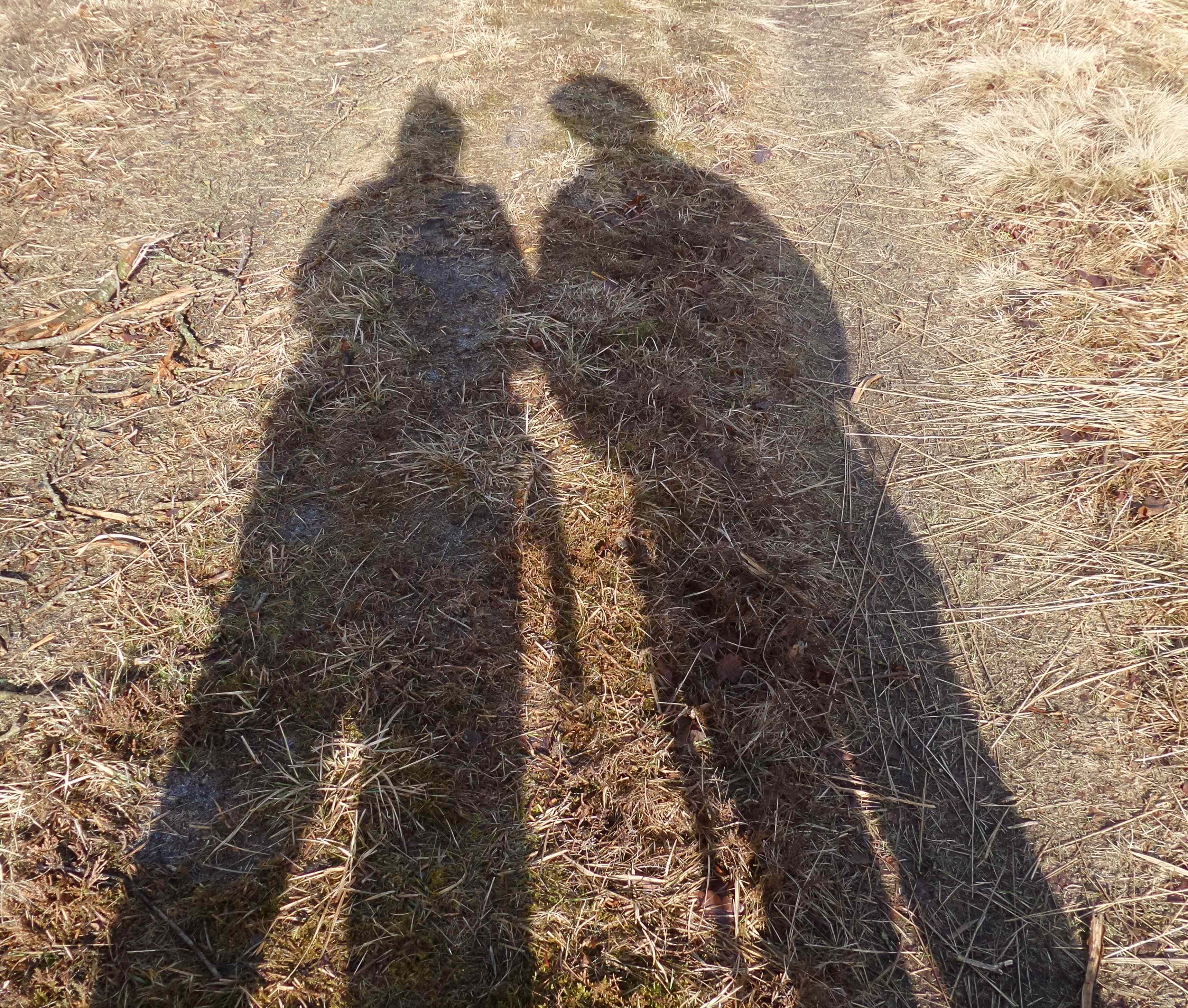 The sun makes a fleeting but welcome appearance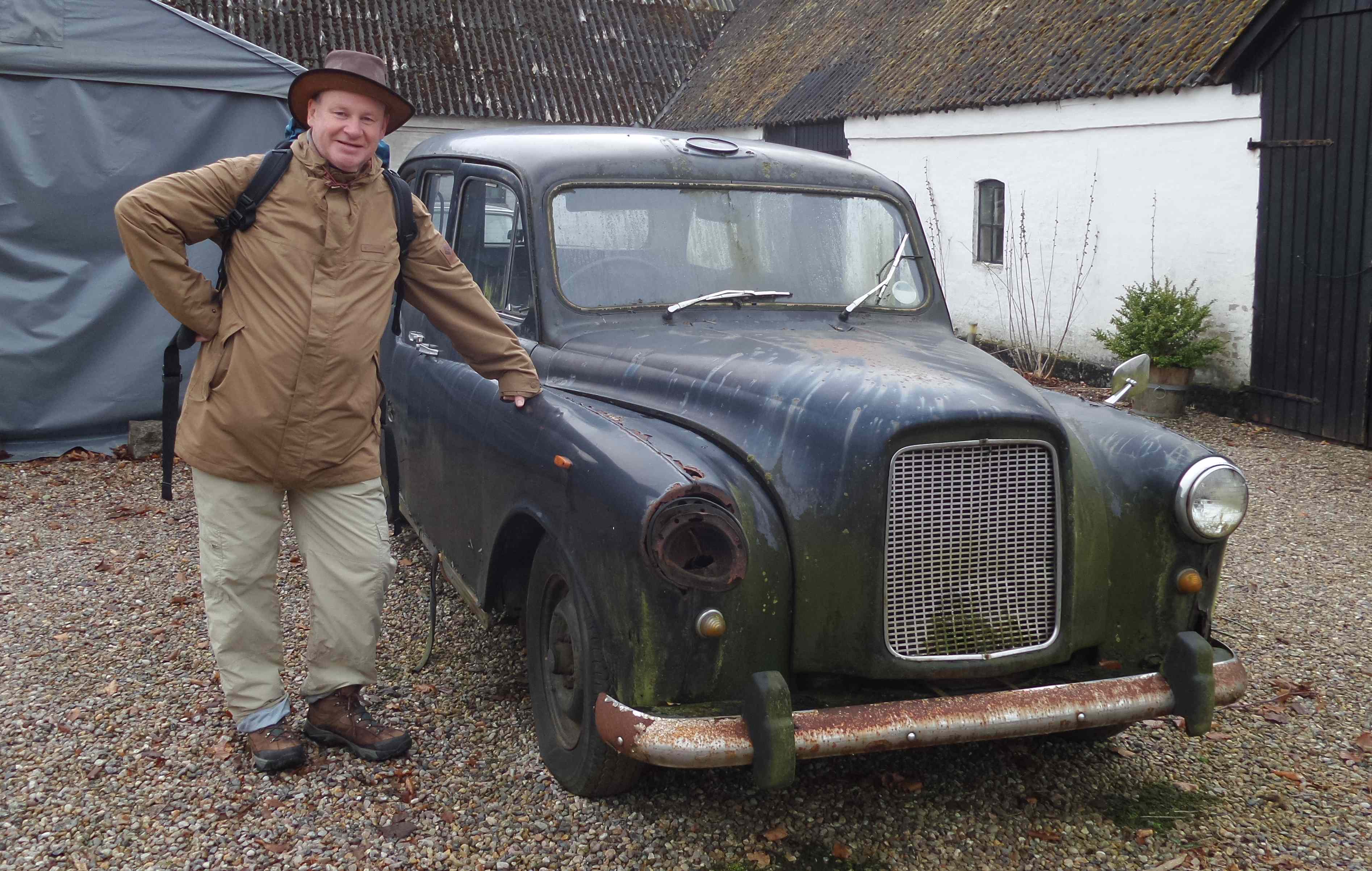 Auld walker. Auld car.
Another plus today is that even the locals have got tired of boggy walking and boggy trousers and have, at times, provided as with the wherewithal to rise above it. Luxury!
Not nearly enough of these on the Kyststien
And yet another plus is that today, more than days previously, the path contrives to meander past TWO pitstops: one in late morning and another during the afternoon.
However, upon arriving at the first of these at Töfterup we are disappointed to learn that the supermarket symbol we see on the map is erroneous. The shop has closed down and there appears to be no alternative. In nearby Starup, Peter accosts a lady who is out walking her dog and appeals for her help. She directs us to a promising sounding place not far off. We wander off in a direction which is similar to but not the same as the one in which we should be going.
However, this wonderful angel, unsure if we have understood her spoken instructions in Danish (we haven't), swiftly deposits her dog at home and jumps on her bike to catch us up again. She ends up walking us to the crossroads where we once again can partake of the lavish hospitality of the local Coop. This so helpful wifie is one of a breed of locals whom we love and cherish, and who make our trips so enjoyable.
Finally we can sit down to the fare of ...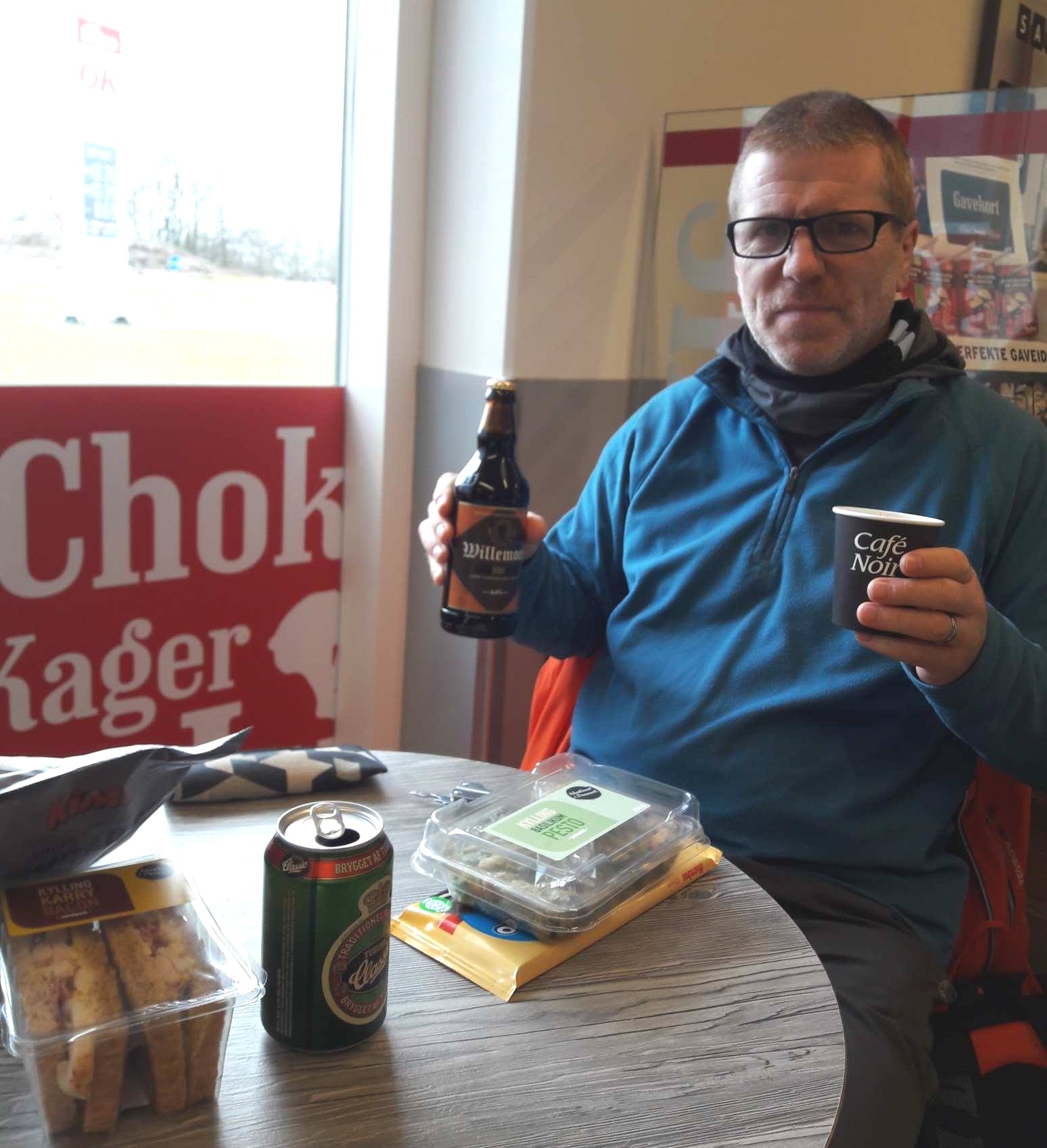 ... a sandwich in a packet and a bottle of beer and a coffee from a machine ...
... which we have grown to, well, get along with, on this trip.
The weather changes as we are crossing an open field and our rainwear is tested seriously for the first time. By the time we have dried out again, we are approaching pitstop no. 2 at the village of Nordenskov, which makes Adrian literally shine with joy.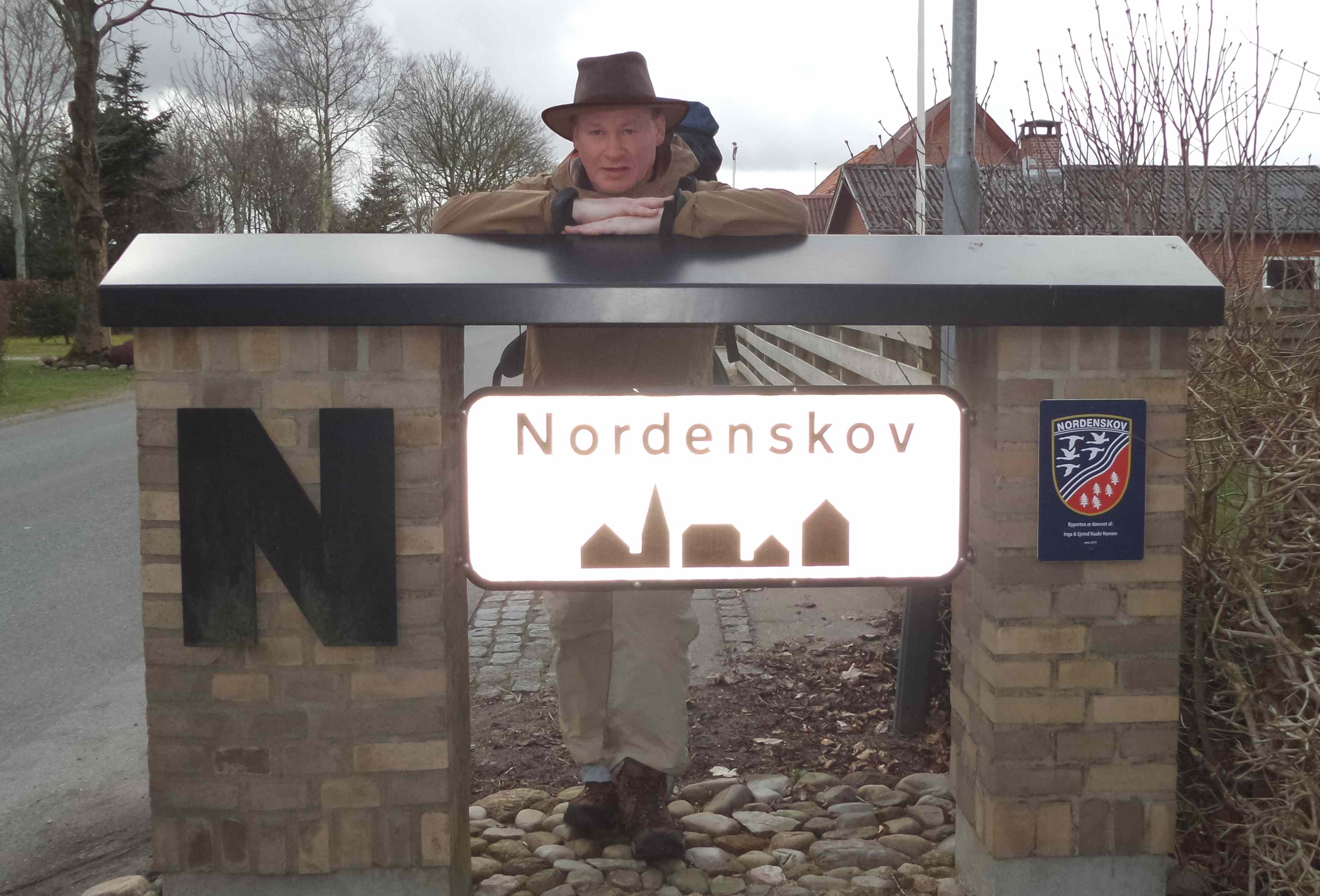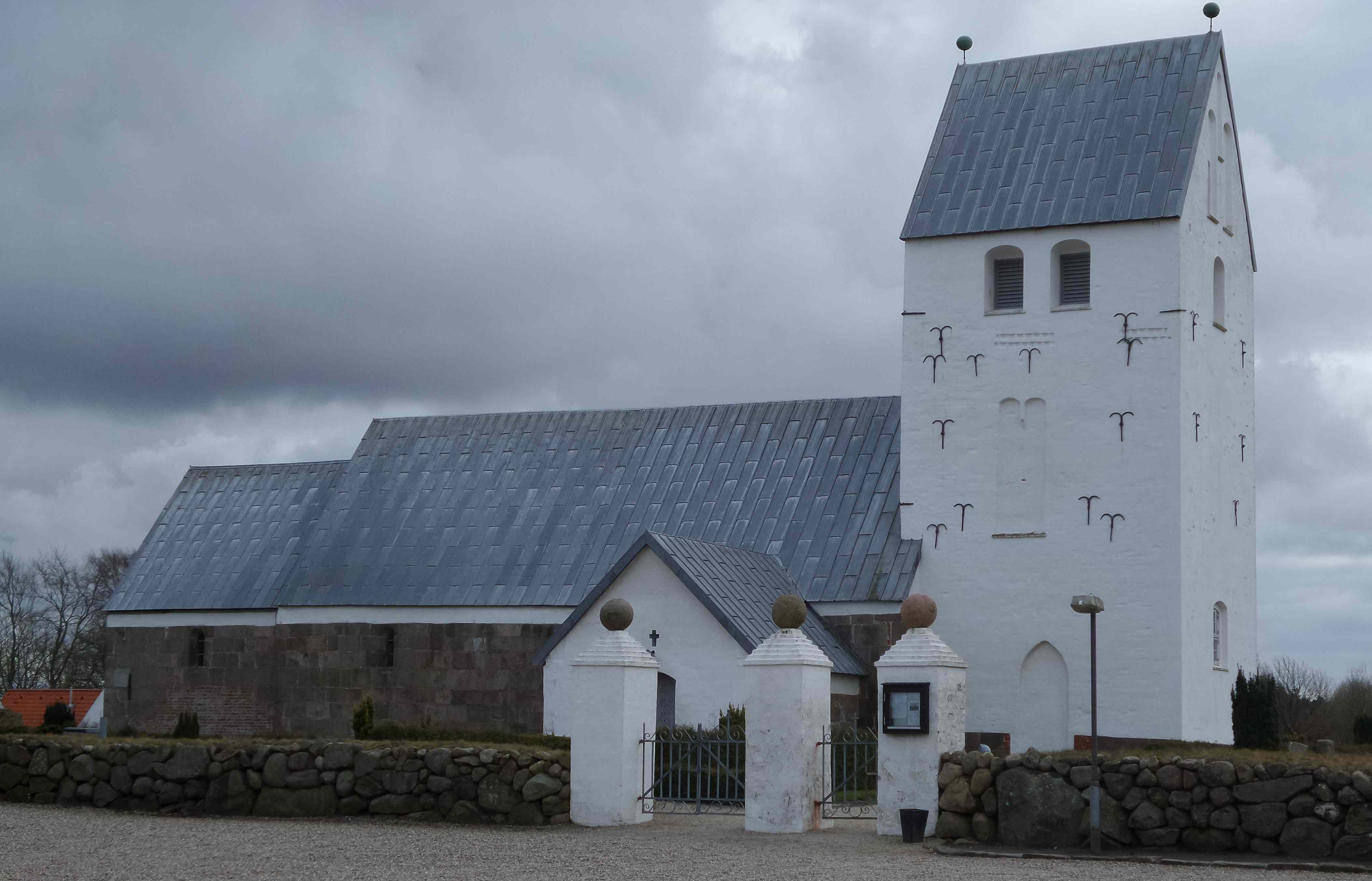 Peters prayers answered?
This one boasts not only the ubiquitous Coop, but also a Grillen. No decision is necessary, we frequent both in accordance with our avowed policy of never passing up any provider of food, beer and a toilet. A few kilometres more on the road...
It is a bit of a mystery how we contrive to each take a photo of the others arse at the same time.
Wonders of modern photography, eh?
... and we are at our accomodation for the night, another large hostel-like farmhouse in the middle of nowhere. Here we have not only a large bedroom and bathroom but also a canteen-size kitchen with all the trimmings. We are disappointed to have missed the 40 000 steps today by a tiny fraction, so Peter does a lap of the room to bring it up to 40 009. These things are important.
Our friendly hosts dash any hopes of a restaurant for dinner by informing us that the only local one is closed on Mondays. However, they follow this up with an offer that we may help ourselves to some homemade lasagne out of their freezer. With a gasp of gratitude we do exactly that. Tucking into homemade dinners not just once but twice while on the Strides is a wholly new experience for us, and it is so much better than the alternative. Twice this trip we have had food and beer provided for us on a table situated directly outside our bedroom. No requirement to walk even across the block for grub. What a fantastic experience. We could get well used to this.
Neither of us have any recollection of either of these photographs.
Their appearance in this blog is a complete mystery.
Day 4: Tuesday: Agervig - Varde
Last day walking and we are already within spitting distance of our goal, the town of Varde. We wipe ourselves down and get back to the trail. We suspect, correctly as it happens, that the meandering riverside path on our map is going to be much longer, not to mention boggier, than as the crow flies.
Another shit creek and nary a paddle in sight.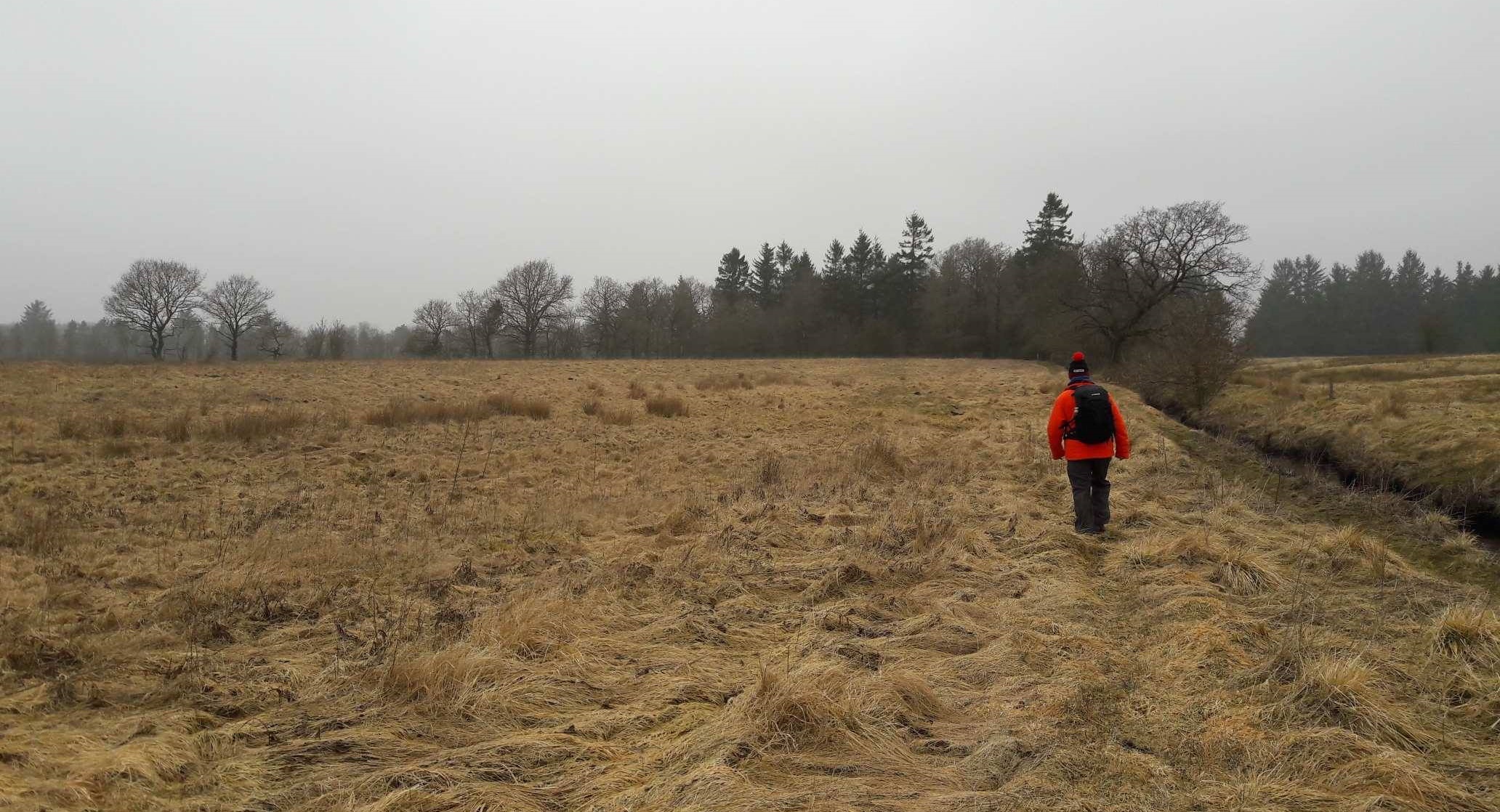 Some boggy bits were barely any drier.
We sweep* past the only real lake encountered on our tour, namely the Karlsgarde Lake. Our jaws drop appropriately as we learn that this was dug out by hands, picks and shovels in the 1920s to feed the first electricity power station for West Denmark.
* wild piece of creative writing here. Lets be honest. We plodded, same as for all the other bits.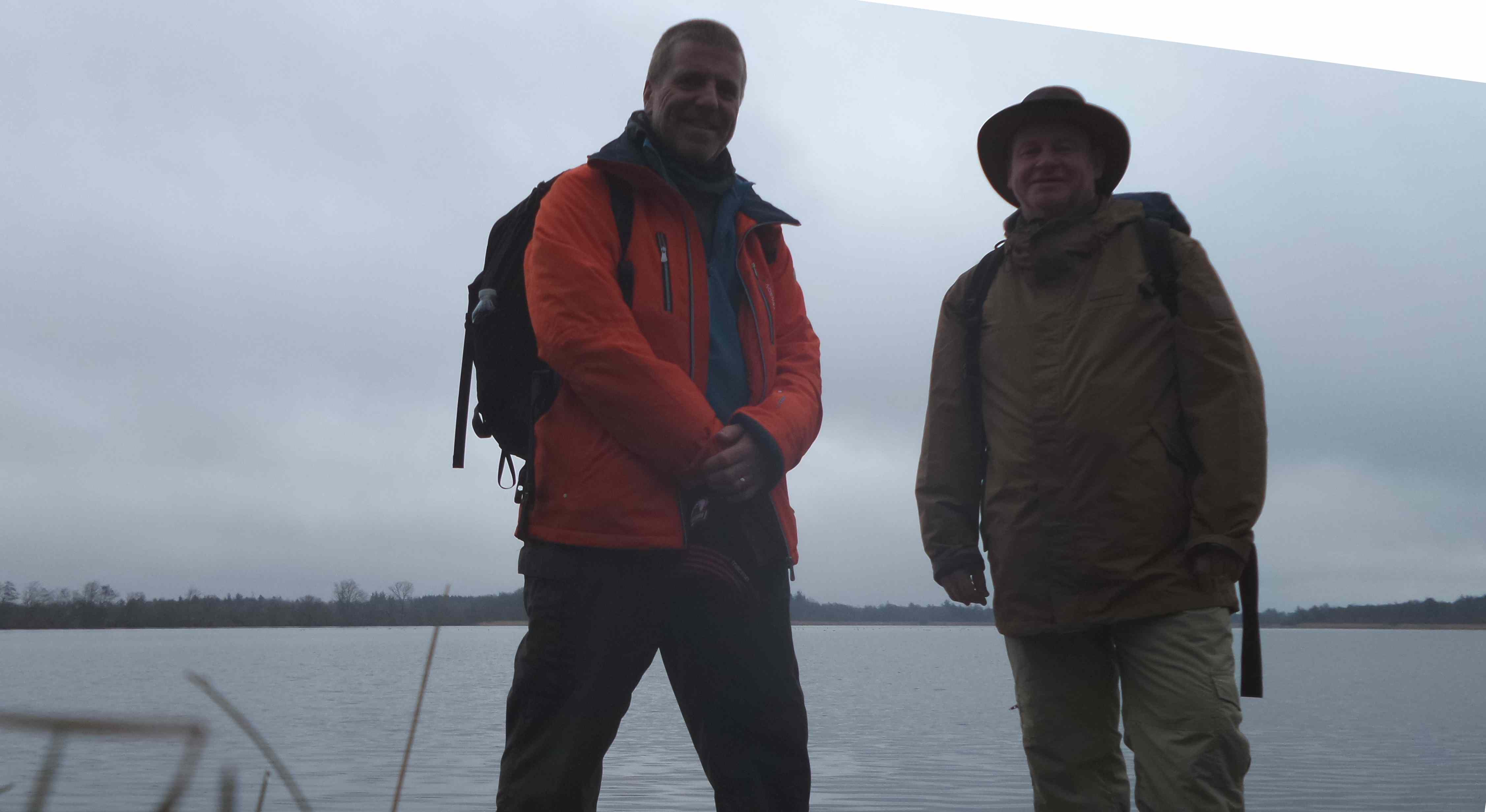 Selfie: Try and get as much sky in as possible this time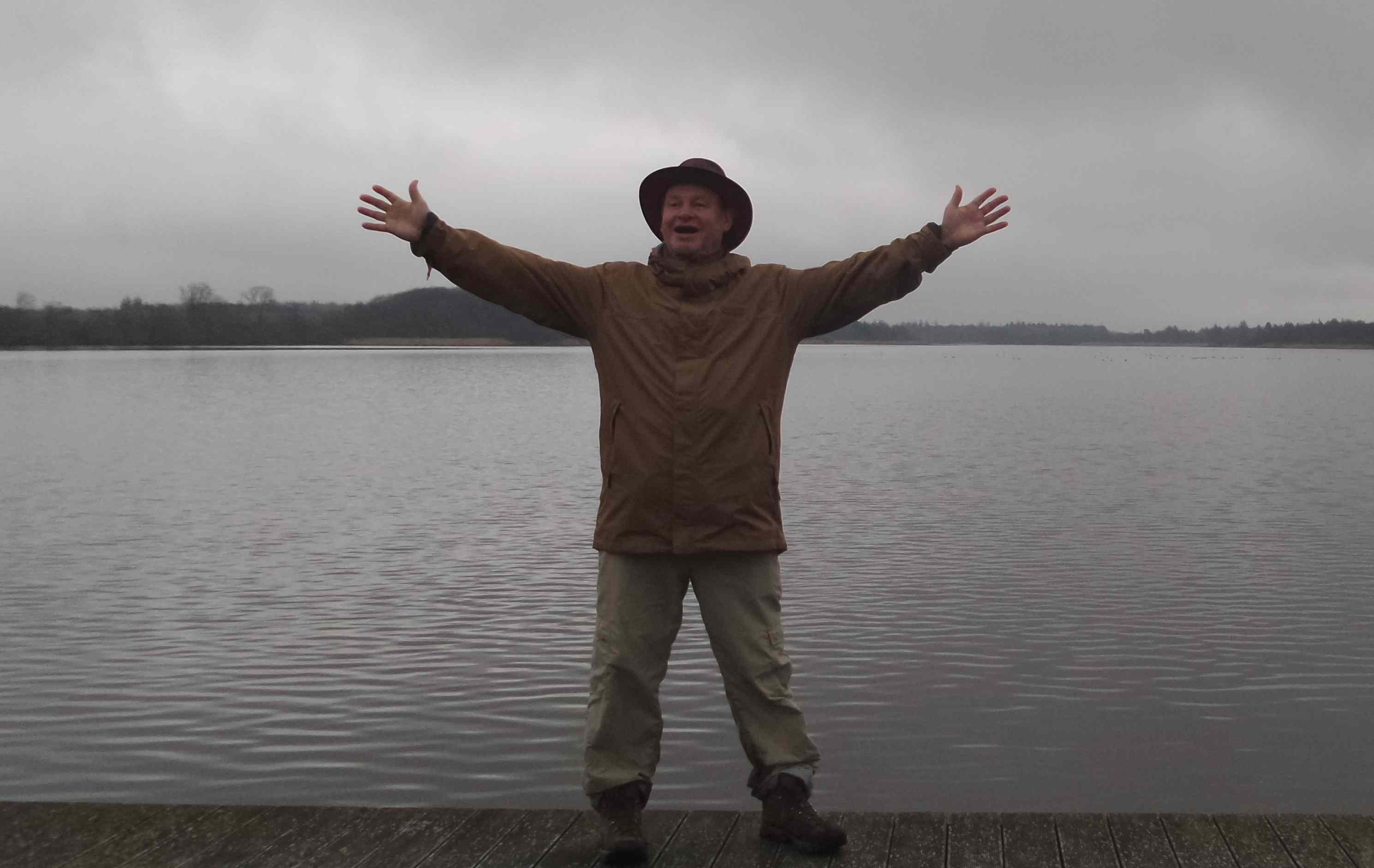 On my last trip the molehills were soooo big.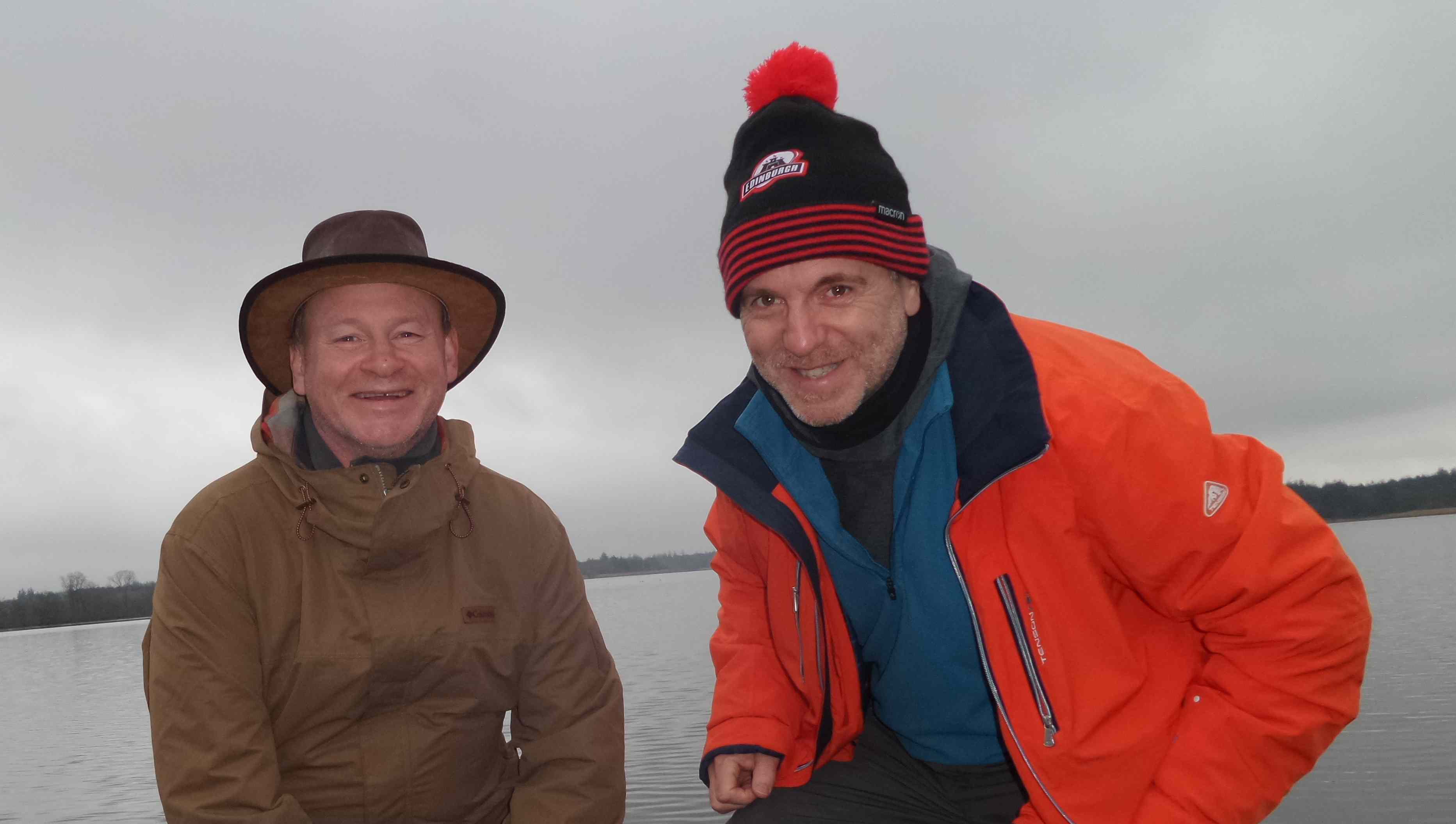 Selfie: This will never work out
Onward ever onward. Round the corner, down a bittie, along the path. A brief stop at a bench beside a meander of a river to listen to some birdsong. There is true beauty in sight and sound to be found just everywhere.
| | |
| --- | --- |
| Your browser does not support the audio element. | Varde town centre's fair humming today |
We finally come to a main road and a bridge on the outskirts of Varde. We decide to skip the final section of skog and, lo and behold, eventually, at last, on the very final leg of the walk, we come upon a thing of beauty: an unexpected food and drink stop. This one is a licensed transport cafe, perhaps not surprising as our detour has taken us alongside a local motorway.
It is time neither to eat nor to drink, but that is hardly going to stop us and we each get right stuck into a truckers meal and a couple of rounds of Tuborg Classic. Its not clear whether this should be regarded as a second breakfast or an early lunch, but it hardly matters. All is well with the world again.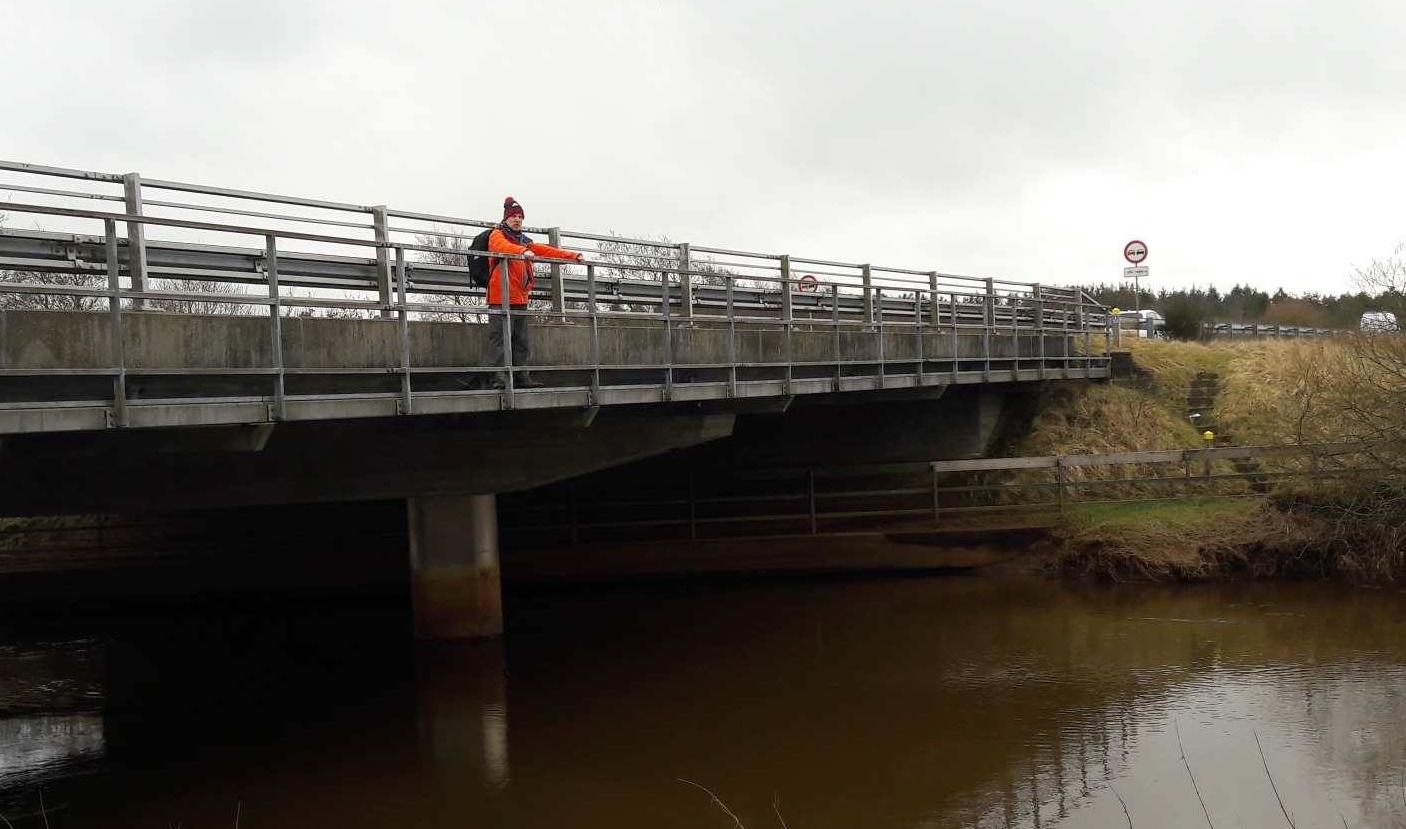 Reflections on another great walk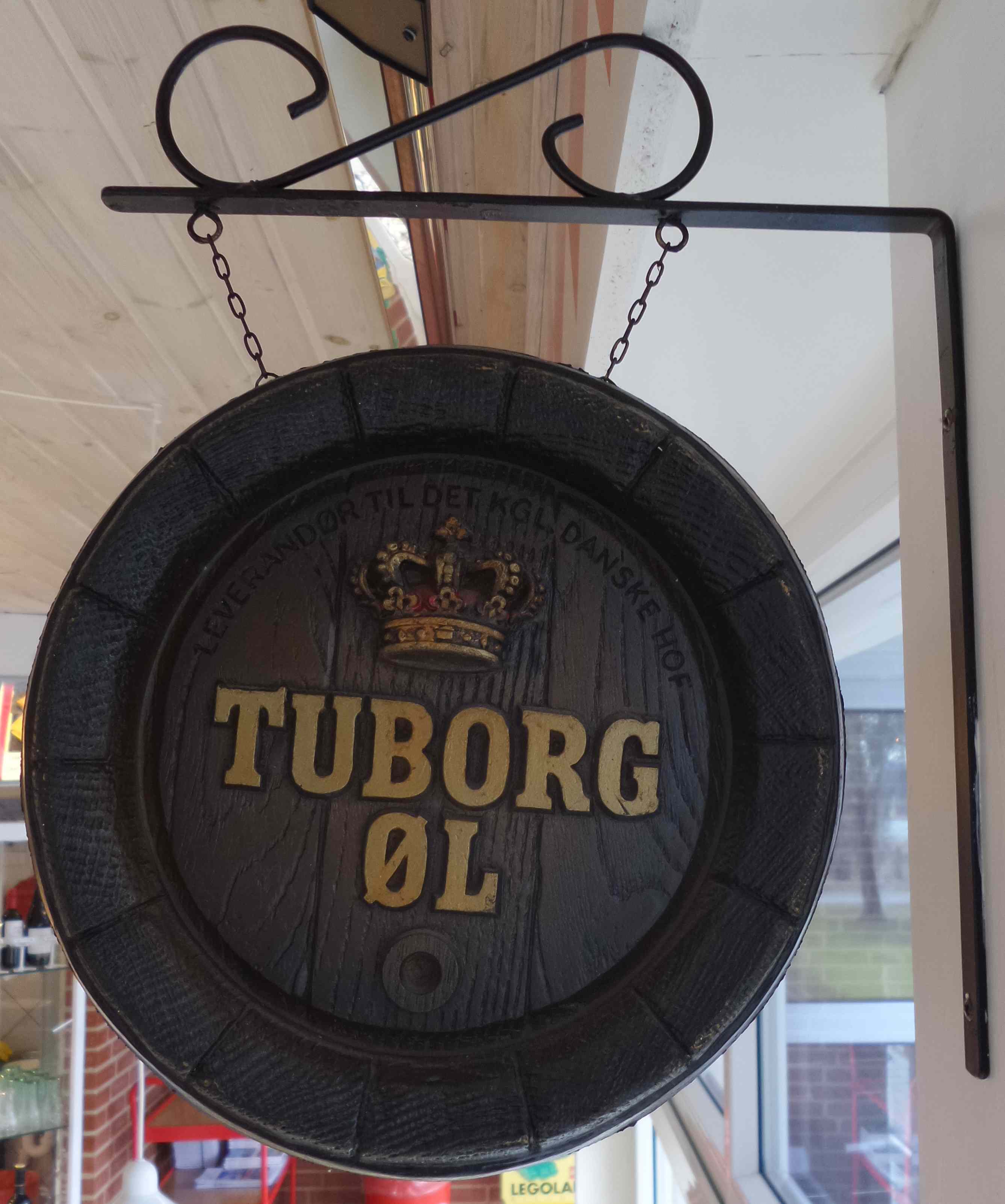 Nae contest for Beer of the Trip this year.
Just before we reach the centre of Varde, we take a quick breather on a great muckle bench. Random unexplained features and quirky roadside sculptures have been greeting us all the way from Vejle, but this one is most welcome and we let things dangle for a bit.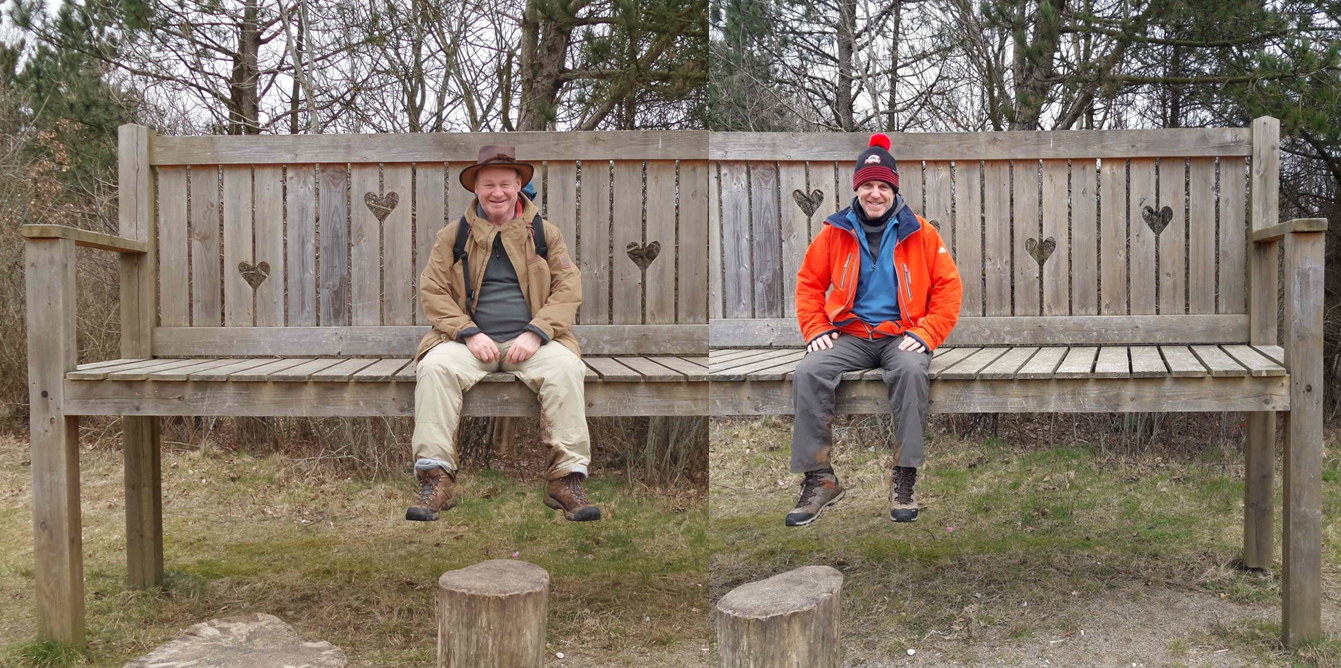 Well, legs, mainly.
Our vague plans for day 4 have been alternating between getting a bus out to the seaside at Blavard or doing a museum in Varde. In the end, we see no reason to stray at all from Varde town centre and we hunker down to enjoy a wee bittie culture there instead.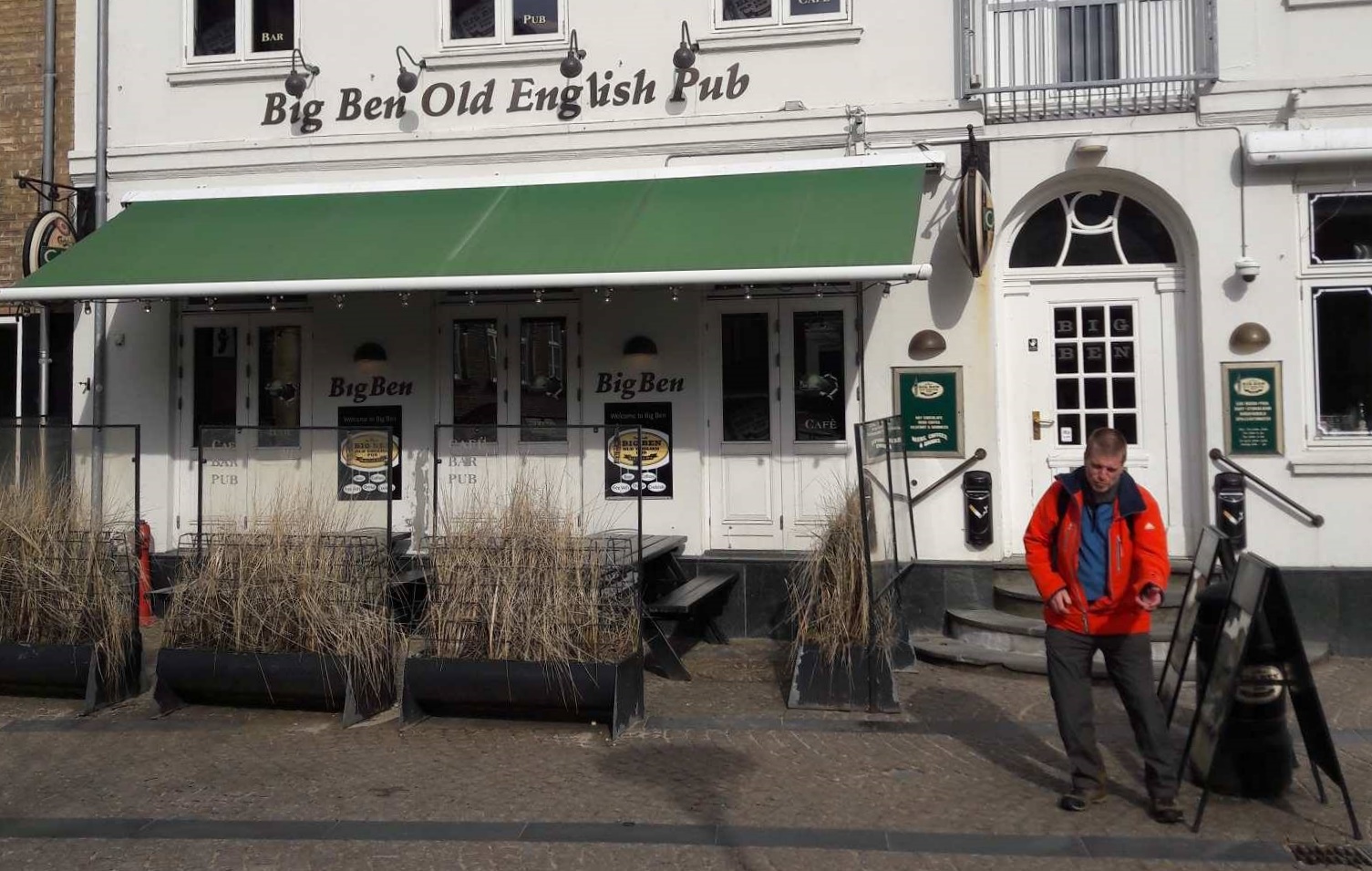 There was presumably a good reason for Peter to pay tribute to The Shadows in this photograph, but unfortunately this has been lost to the mists of time.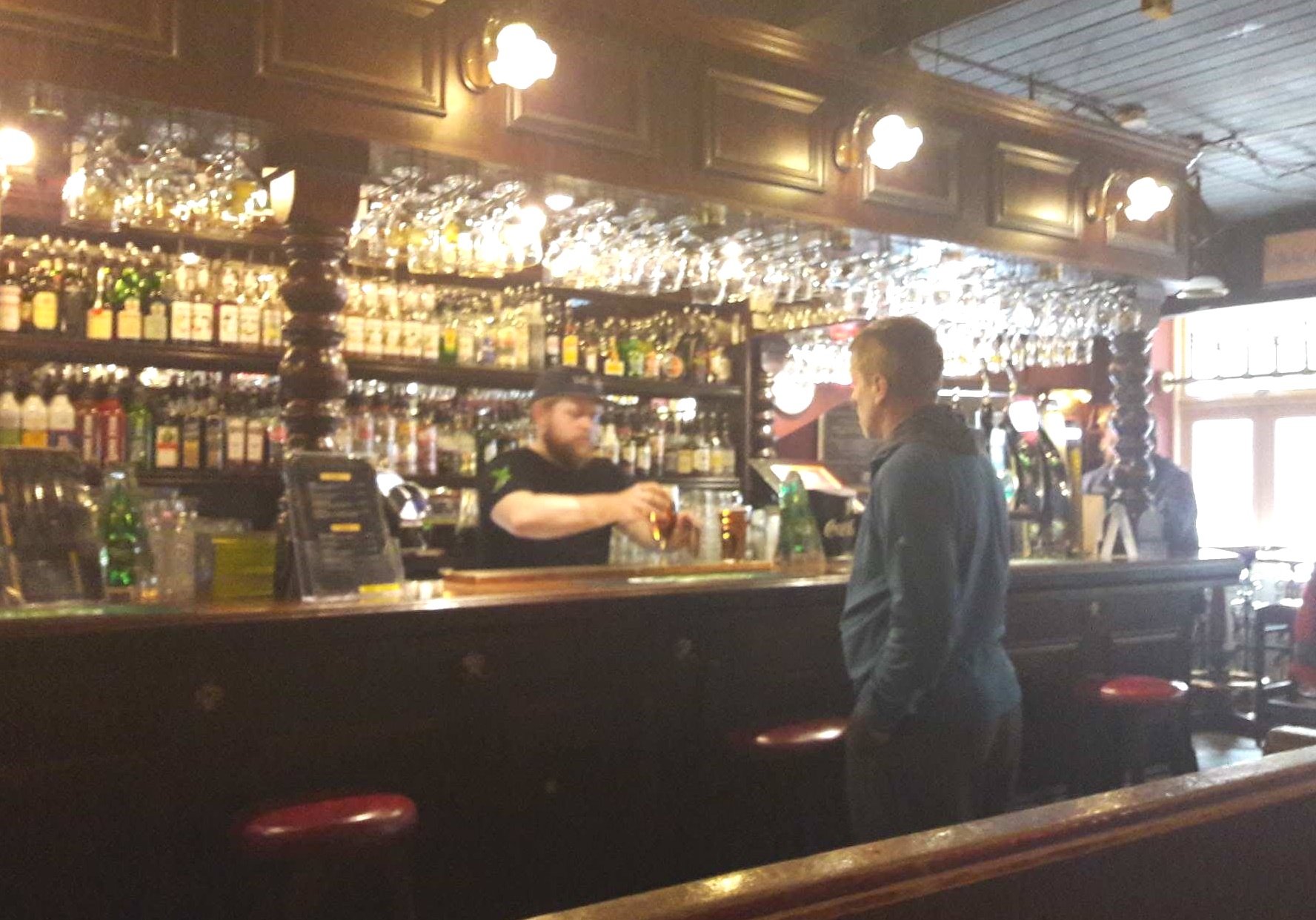 Astonishingly, this seems to be a pub!
Our B&B on the outskirts is not quite ready for us to occupy, so we relax for half an hour in the garden, drinking coffee and watching our young slip of a landlady through the basement windaes as she cleans our room. It's a slightly secret voyeuristic pleasure. Later, she will catch Adrian in his armchair, colouring in a childs picture of Varde, so even stevens on that front.
By Adrain, agde 52.
That evening we have a lovely Greek dinner in town followed by a quick nightcap back at Big Bens. Here we become embroiled in pointless conversation with an imbecilic English businessman sitting at the bar. He is fascinated in our opinions on Scottish Independence and Brexit and seems surprised that we offer little in return regarding either opinion or fascination in his. We quickly drink up before slinking off into the night.
Day 5: Wednesday: leaving Varde
It's an early start and we're off without breakfast to the railway station, where we set off initially in the wrong direction to Esbjerg, whence we get respective bus and train connections home.
It's been a full four days of blistering, walking, drinking, resting, chatting, joking and laughing, but we made it, and early plans have already been laid for the Strides of 19. We talk of plans to do future tours with mobility scooters when the time arrives, but we are hopeful of getting through a couple more pairs of walking socks first.