| | | |
| --- | --- | --- |
| | 2017: Via Appia, Roma | |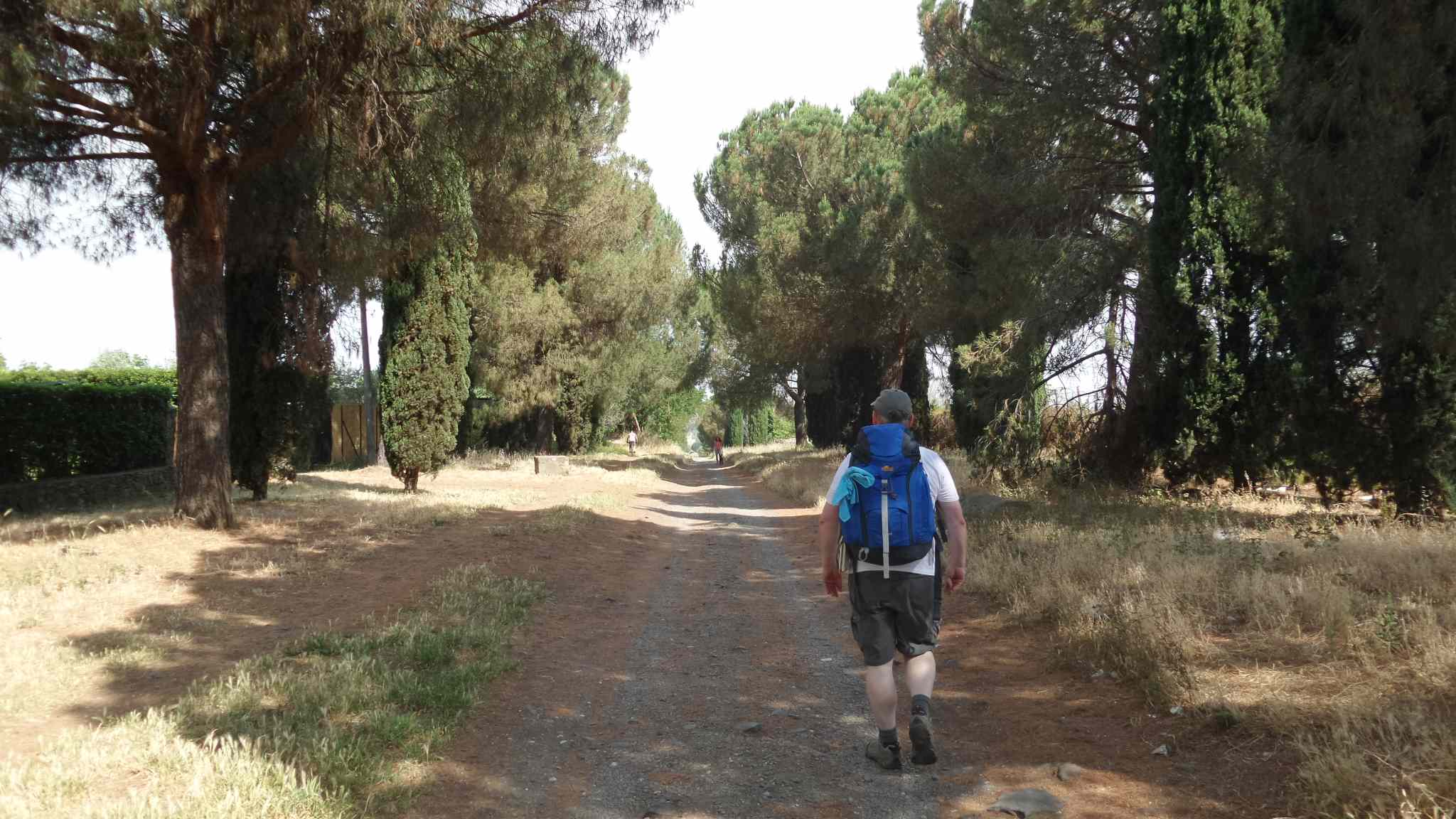 Whatever Happened to the Strides of March?
Due to extraordinary timetabling reasons which are wonderful, but do not fit into the margin of this blog, we end up walking in Rome in baking temperatures in the height of the tourist season. The sun shines, sun cream is lathered on, all beer stops are open, other people are everywhere, buskers play and trains run and restaurants battle to win our custom. Where is the fun in that?!
Friday
Trains, planes and automobiles to get to Rome. We both plan to be there at a certain time, we are both late. Peter's taxi ride from Ciampino to Albano Laziale is more like a crazy video game than a drive on a road. At one point I thought to myself, "Well, the road is going down to just one lane now, so at least he will stop making these suicidal overtakes. But I was wrong. Somehow, I get there alive.
Alone and hungry, and after a bit of dithering, Peter plumps for a parmagiano in a local beer and food place, hidden down a dark alley to make it as difficult as possible for Adrian to find when he turns up. This succeeds for a while, but eventually the radar homes in and we are reunited for the trip. Out on the loose we stumble upon a craft beer place which looks a real find. We have a salty ale reminiscent of drinking a pint of 70 shilling while being sloshed with sea water in a fo's'cle. We just have the one of those.
| | |
| --- | --- |
| | The B&B is a palatial, terracotta, palm-fronded, cool building that would happily serve as a classical Italian scene in a Merchant Ivory film. Given all the splendour, a few bloodstains on the stairs to our room seems a small price to pay. |
Saturday
The day dawns bright and clear and hot. Now there is a sentence which has never been used before in any of these blogs. After a quick breakfast we hike up from Albano Laziale to the edge of Lago Albano, and proceed to circumnavigate the lake.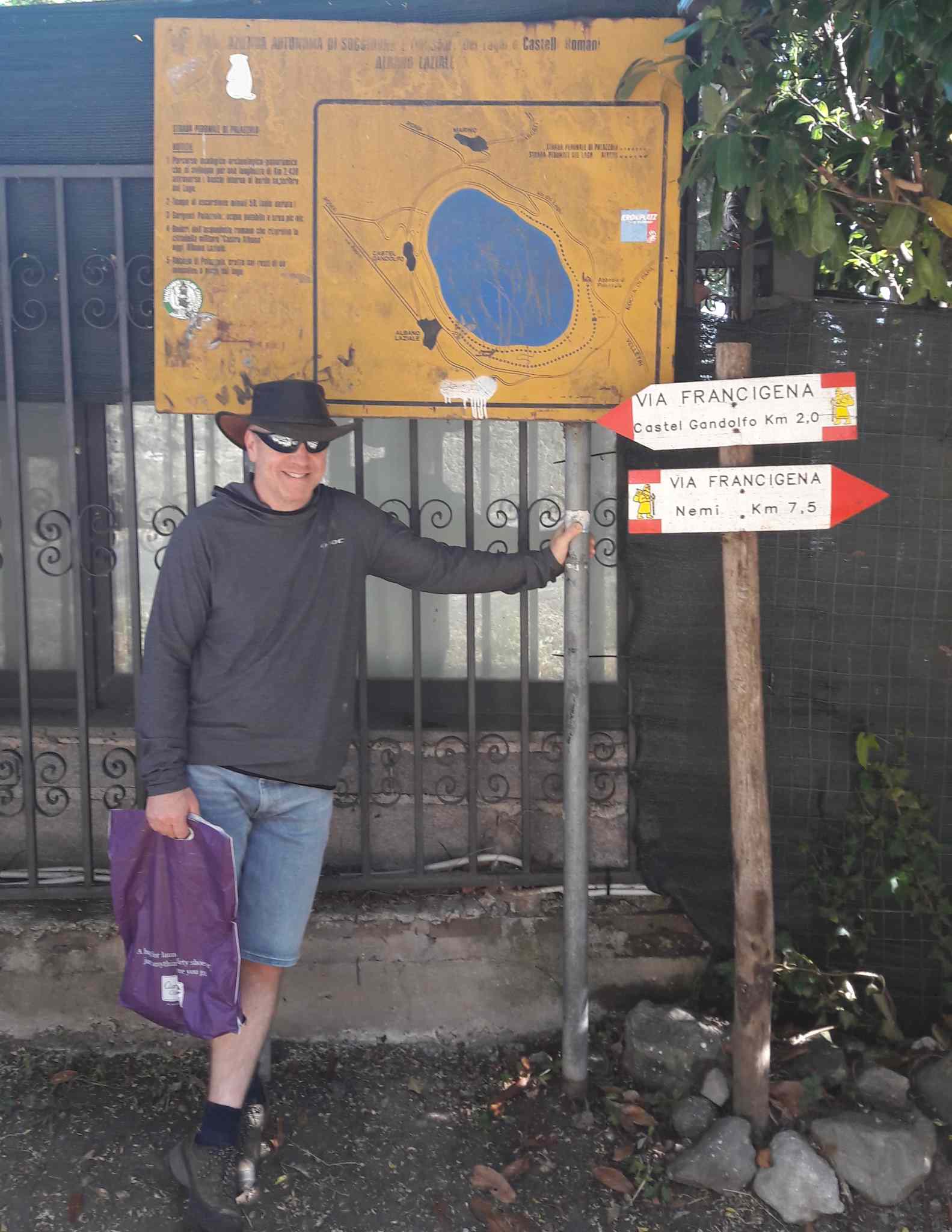 Navigation is seldom an issue when circumnavigating a lake. There is generally only one choice to be made over the entire route. This way or that way?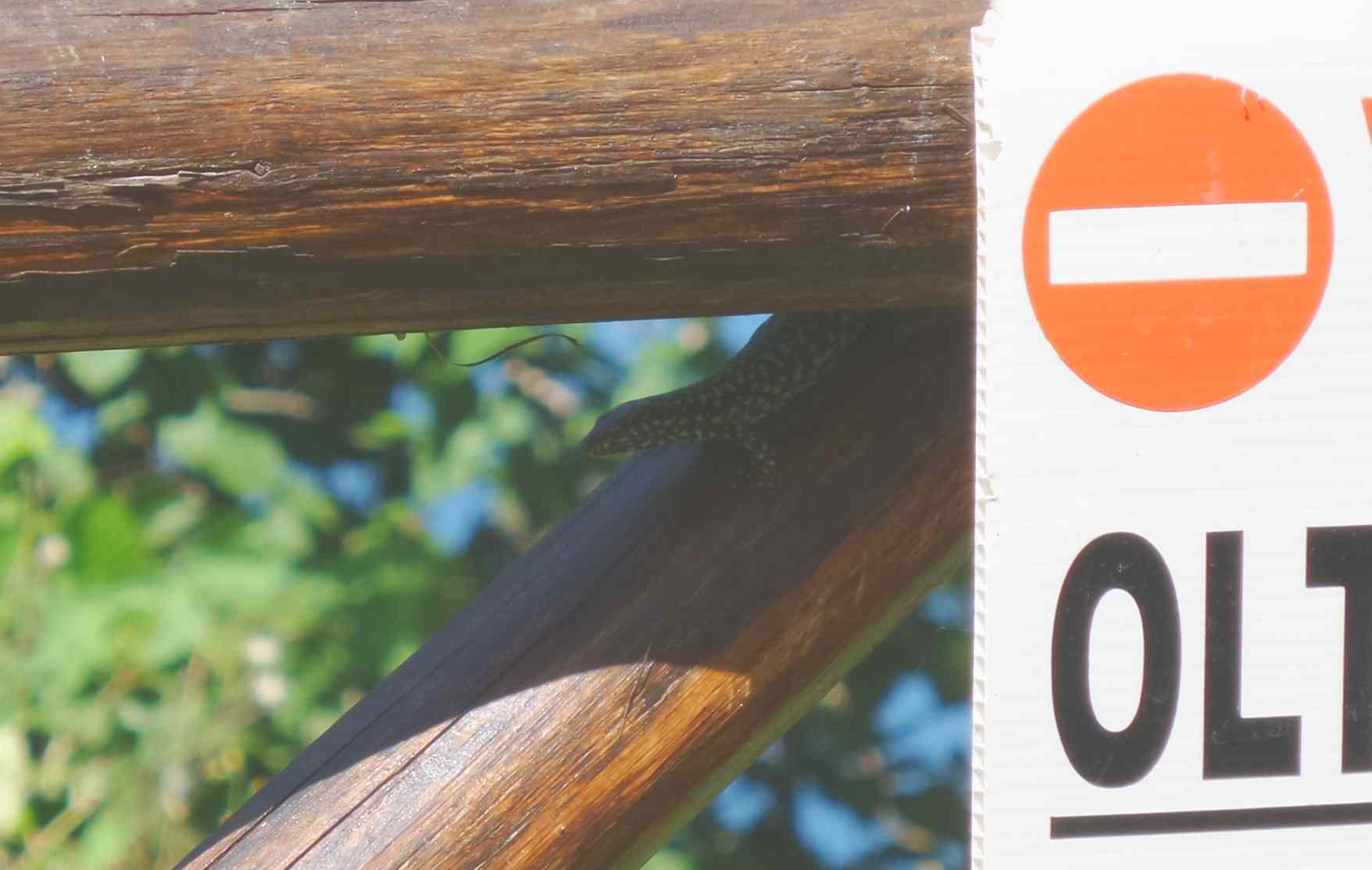 Lizards abound.
We have a pit stop at a lake view pub which is technically closed, but the wifie cannot resist the temptation of a quick sale. We are served beer, but asked to drink up quick and begone because some nice people are coming. Sigh!, twas ever thus. We approve heartily of these 66cl bottles.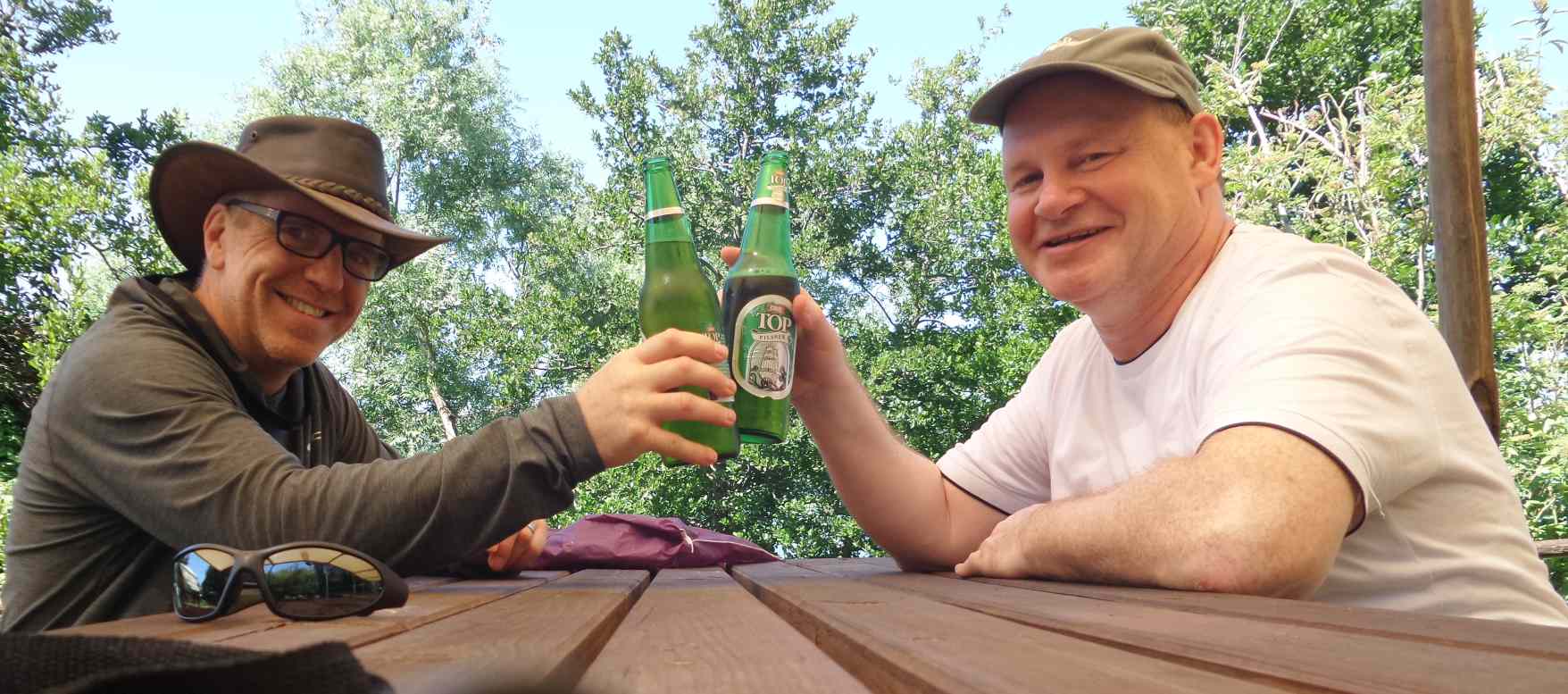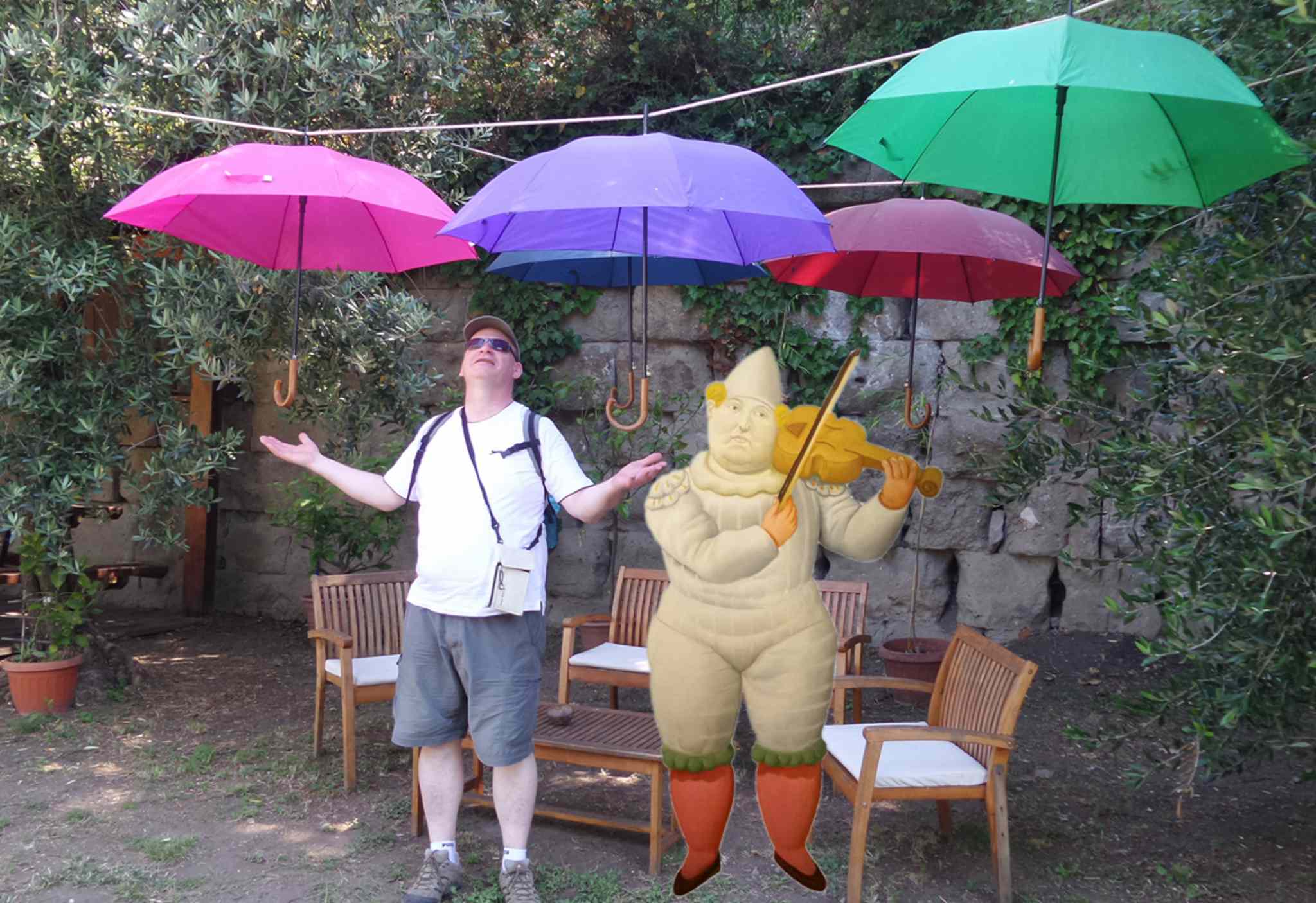 The whole scene is extraordinarily beautiful, azure blue of both lake and sky. There are many joggers on the way. Panting and sweating and too fat for the gear they are wearing, they serve only to despoil the beautiful scenery, we both think of each other. Especially at first it is quite woody so the lake tends to be glimpsed through the trees, but all the more tempting for all that.
| | |
| --- | --- |
| | |
We complete the lake bit with the satisfaction of a job well done, and now look to tackle the long and steep hill up to Castel Gandolfo. It is slightly disappointing that this is not the Castle of Gandolf from Lord of the Rings, as in our imagination, but it is a richt bonny place, nonetheless. Ignoring numerous warning signs, as is our wont, we unwisely attempt an illicit short cut, but we quickly find ourselves in a field of foot-high nippy nettles. Hamstrung by indecision as to should we stay or should we go, we look skywards and find, to our slight surprise, at least a dozen nuns immediately above our heads, closely observing our hesitant approach upon their back passage. They give us a friendly, benevolent wave and, cheered by this blessing, we head for the secular safety of the long way round the back. Discretion triumphs over valour once again.
Next stop on this brief tour of unlikely delights is the Pope's summer butt n ben. This really is where he goes to recharge the holy batteries, apparently. Its quite like the holiday cottages we remember so well from Julys in Invernessshire, but with a bit more space, a larger gallery of paintings of Popes from Days of Yore, and less midges.

This must be where he parks the jalopy out back
Its not entirely clear what is going on here from this side profile, but surely it is not what it seems?!
It takes a lot of effort to be uglier than the Ugliest Pope Ever, but Adrian somehow manages.
We show our friend the Pope's summer throne beneath his formal crest, but she is perhaps, if anything, too keen.
Despite all the monkeying about above, it is Adrian's observation that, "I bet that bedroom has seen some action!" that finally seems to get the exclusive attention of the palace guards. We feel a need to escape out onto the Pope's personal balcony above the Lake. Panic for a short sec as we realise we have been followed out by two rather grim-looking Swiss Guards in their civvies. Thankfully, they appear quite relaxed about our being there and are merely taking the opportunity to have a fly break for a ciggy. The view is certainly worth a brief spell of secondary smoking.

| | |
| --- | --- |
| | Finally we hotfoot it outside to the very Italian looking square outside, and stop for postcards and beer at a roadside cafe. One slips down a treat, the other gets posted into a nearby orifice, to eventually turn up at the appropriate address only an improbable number of weeks later. Peter buys a bag from a local shop which is even more cool than the Tescos plastic bag he has been using thus far. Just why did I not bring the really good day bag we have at home?! |
At last its back to Albano for Lions game and pizza and calzione in a local pizza and calzione place. And would you believe it?, more beer.
Sunday
An early start today. Very bright, very clear and very hot: extraordinary. We leave the coolness of the B&B behind and hit the road. This is no understatement as the building has no front path and we are straight into the morning's traffic as we leave the gate. The start of the nice bit of the Appia is 5km away, so for the first hour it is all rushing traffic and tacky billboards and roadside weeds. Its not great but bearable with it being Sunday. Lets skip on quickly to better bits.
Finally we get to the end of Carbon Monoxide Avenue and are overjoyed to reach the start of the Via Appia Antica. We gird our loins and take dramatic photos and tighten belts and set boldly off.
False alarm, it is someone's garden. When we hit the deadend of a garden wall we concede that we need to go back and try, try, try again. It all just makes for a good excuse to first take a timeout for a cheese toastie and our first Peroni of the day, before setting so much as a toenail on the Appia proper.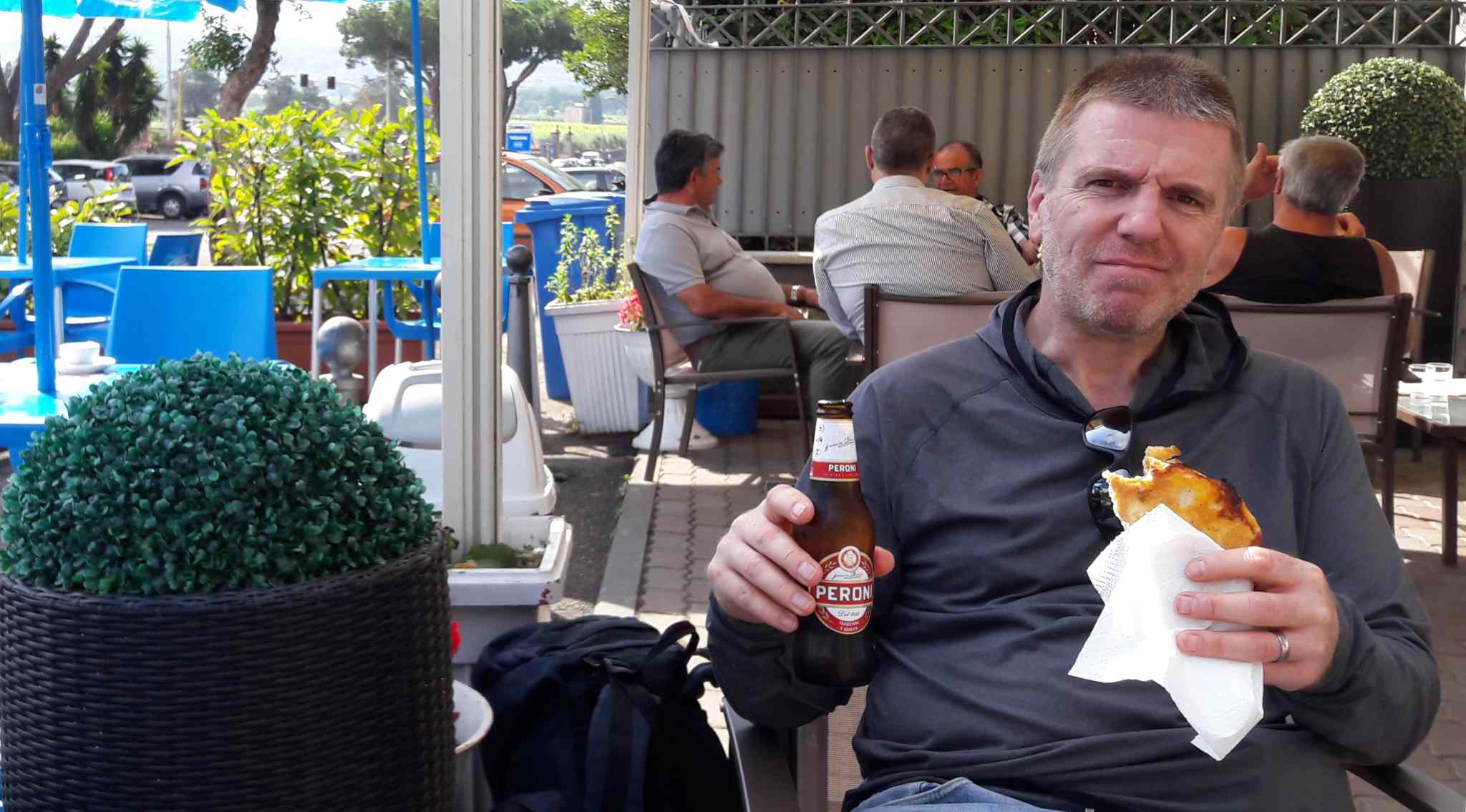 The Appia is straight and dramatic and wonderful. We have waited a long time to take these first imperial strides. This is the life. There is lots of history on the side of the road. Ancient artifacts which would be fenced up or in museums elsewhere in the world just sitting there, one after the other. Before long we make the discovery that grassy verges and ancient bits of road are really difficult to walk on, less ancient bits make for much better walking. How on earth did those ancient armies do it. Different feet?
For much of the early section of the walk we are almost entirely alone. We are not yet on the fashionable, urban bit, and only the dedicated and mentally unstable like to wander these parts. Before long, Peter decides to demonstrate just how carried away he is with all the mystic wonder around and walks straight into an iron bar while taking video. This is a high jink which is much funnier in the blog 3 months later than it was at the time. It really hurt!
It is not so deserted as to make roadside cafes quite obsolete, and we take opportunities for many beer stops. In March one seldom gets the chance.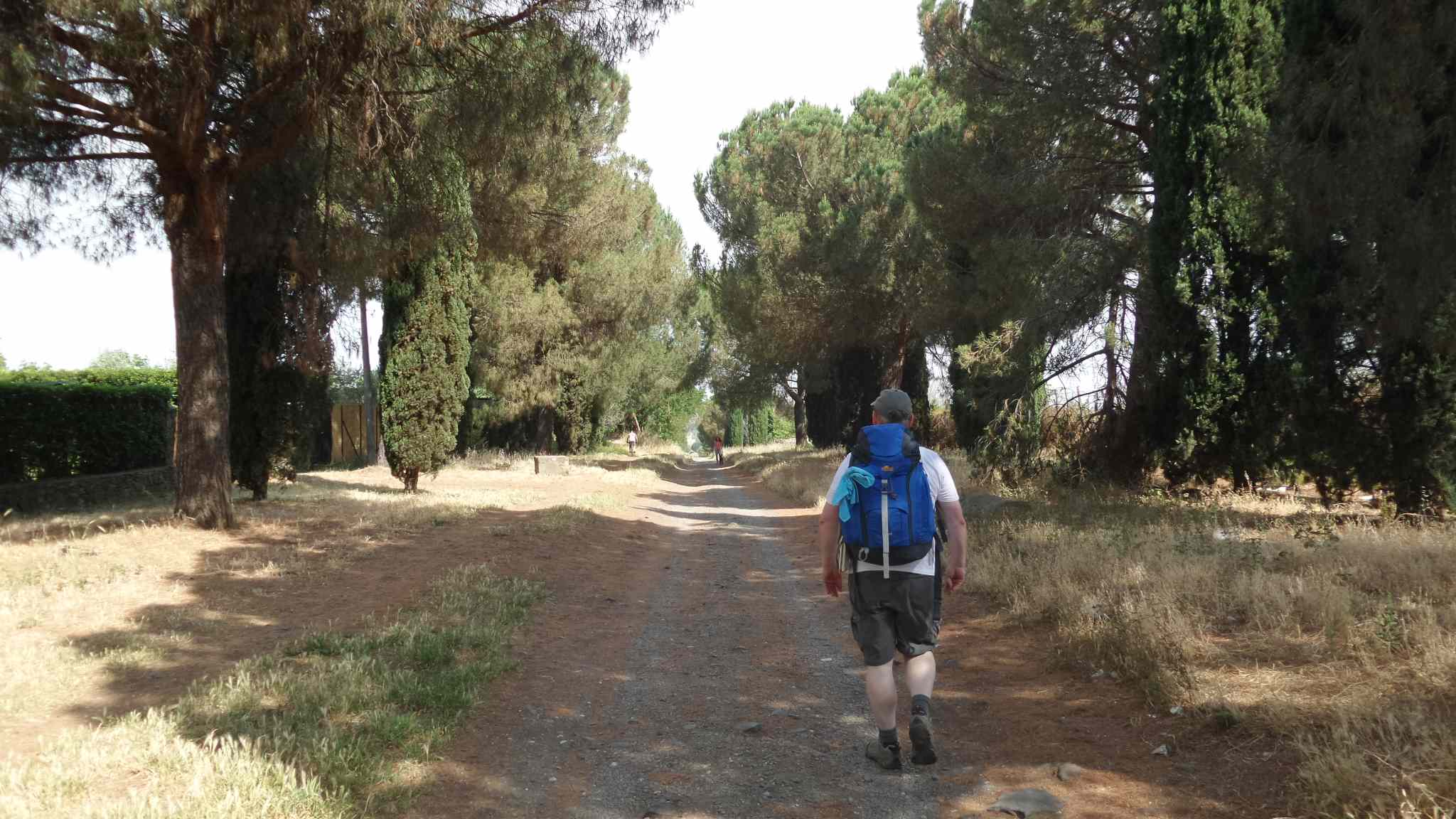 The fragrant bloom from flowers and herbs and the constant hum of the summer crickets in the Appian arbour fill our hot heads as we follow the homeward route of countless ancient armies.
Sculptures, catacombs, temples and churches abound at the wayside and before too long we start to get just a wee bit scunnered at the heritage overload. You might find it hard to believe, but...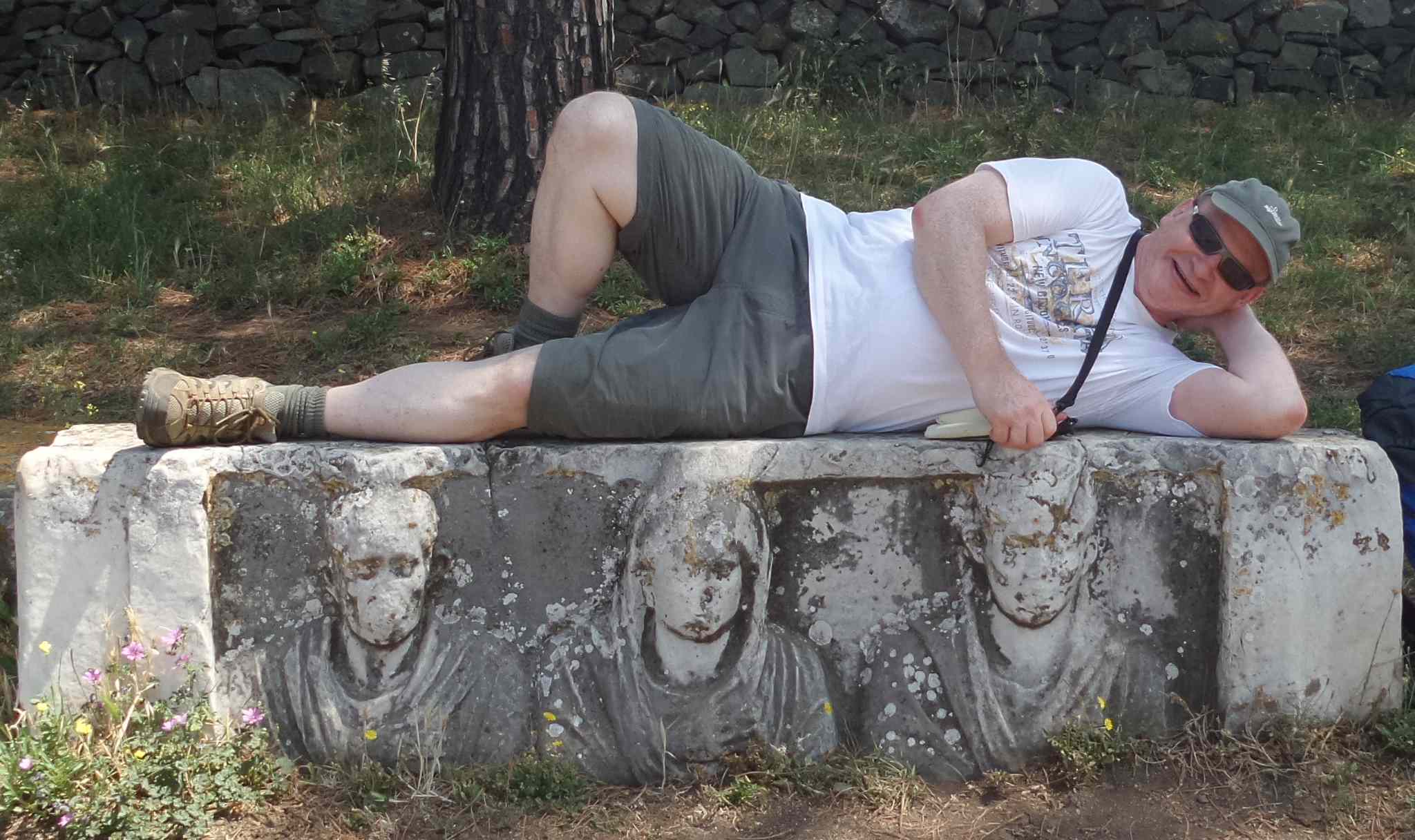 ... there were times when we didn't give them all the reverence they deserved!
We became increasingly loathe to stop and study yet another Roman ruin. Instead we resolved to keep up our pace and improvise a mythology of our own making, fervently imagining each new edifice we encounter to have been once populated by dwarves, mermaids, gryphins etc. What a loss to the world of fantasy literature was caused by the want of a dictaphone.
We make a not insignificant detour for lunch. But this proves to be worth it as we get to a wonderful Italian place. Rigatoni for Adrian. Tagliatelli for Peter. Beer. Much sighing and loosening of belts. This is the life.
We return to The Appia ...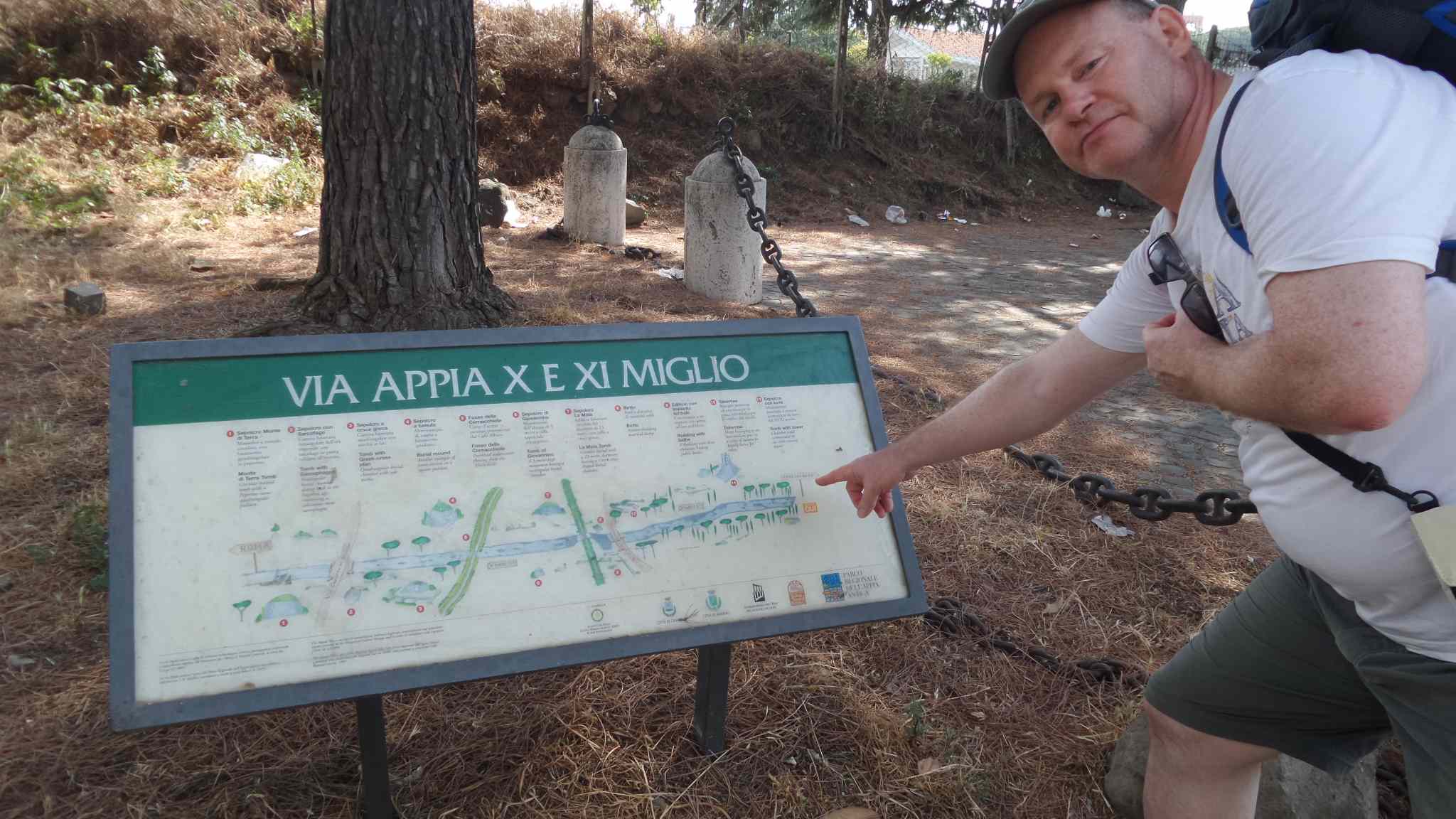 ...just round about here...
...and fall back into stride. As we march it all just gets more ancient, more filled with monuments, more straight and true, with every passing mile. We are also getting closer to Roma, and it gets more filled with walkers and joggers and cyclists too. We feel a need to behave with more civilised decorum once more, at least for now.
See that thing in your kitchen? That's not an aloe vera plant.
This is an aloe vera plant.
A cross country detour combines roman straightness with modern road building. We could get used to this.
| | |
| --- | --- |
| | We pop into a couple of churches, including the tiny Domine Quo Vadis, where our Saviour once imprinted His Holy Feet in the drying cement while famously persuading St. Peter to abandon his flight from his oppressors and return to Rome and a martyr's death. What a hoot! That's the sort of prank we usually get up to on our walks. |
And so finally we get to the end (or start) of the ancient Appian way, the San Sebastian gate at the Aurelian Walls, which for centuries have constituted the outer limits and the stout defensive ramparts of the Eternal City.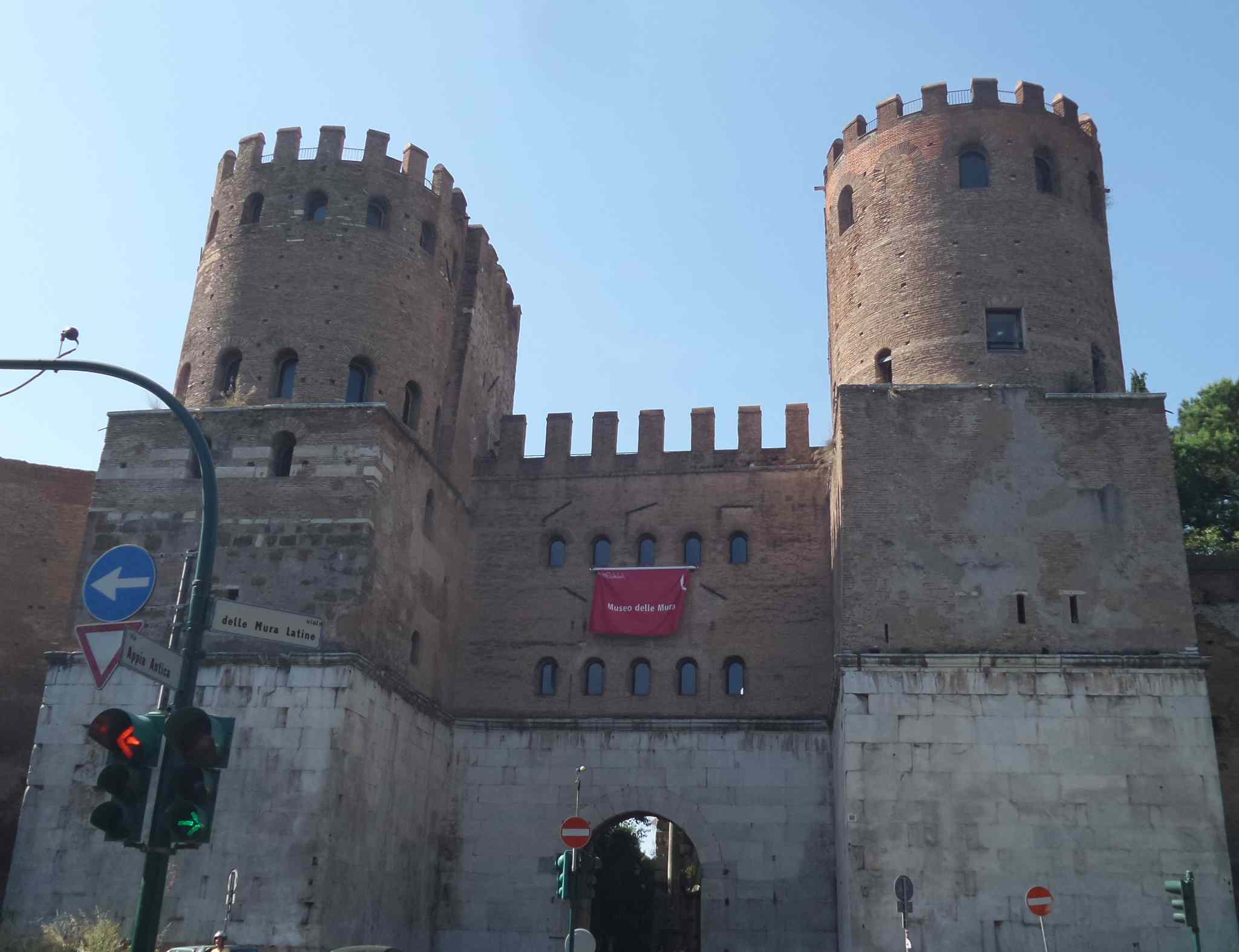 There is a wonderful water trough to cool down. Peter briefly considers dipping his hat in and then pouring the wet ensemble all over his head as this would make a fantastic video moment. But he doesn't. Life is ever full of missed opportunities. We touch the gate and brave the remorseless Italian traffic, dodging out between cars to get the necessary photos.
That might be the end of the proper walk, but we still have a rather long and tedious walk across the southern suburbs of Rome to get to our B&B. This is when the blisters, leg cramps, dehydration and fatigue now suddenly and massively kicking in, as always, when we are within spitting distance of our destination, especially within a big city. Funny how this always hapens 3 km from home, regardless of how far one has actually walked up to that point.
We eventually find our pre-booked Pensione, but no one answers the doorbell. We recognize purely by instinct that we should pick up the key from the pizza place next door. Upstairs there is another large room, two floors up to take us away from Roman noise. The flat appears completely abandoned, so we choose a room and a bed and crash. This is central Roma in July and the room actually has AC. Another odd feature in an entire trip taking place so high above the usual setting of the bar that it is disconcerting. Is this really how the other half live?
We have our evening meal in a local Chinese restaurant, chosen because it is only a short limp from our accommodation. Fortunately the meal is up to standard, another Strides cracker. We are at first greeted by an enthusiastic mother who makes us feel welcome. However, the rest of our service is provided by a doleful daughter who seems so miserable at having to serve customers in her parents' restaurant that it is almost heartbreaking. She would rather be doing anything else, absolutely anything else, than having to deliver another bowl of rice to another customer. She approachs the table and hands over another dish of food with the same funereal tread as France's finest leaving the tumbril and advancing to the prospect of an extremely short back and sides two centuries previously. We can but look on and shed sorrowful tears of commiseration.
The meal arrives in this order:
Adrian and Peter's rice;
Peter's starter;
Adrian's main;
Peter's main;
Adrian's starter.
This is the order we eat it. When in a Chinese restaurant in Rome...
Unable to cope with the misery levels any more we head next door to the inevitable Irish Pub, chosen because it is only a short limp from both The Stygian Depths and the B&B. This place has fantastic ale, and a Guinness with which to end the evening. What with Chinese cheerlessness and Irish irascibility we feel that we have traversed the cultures of the world in an evening, all no further than our legs are able to carry us. In a place like Rome, everything is invariably benissimo.
Monday
Astonishing, what the power of excellent food, copious beer and a good night's sleep can do. Peter's magic plasters have moulded themselves miraculously onto Adrian's battered feet, allowing Adrian to forget yesterday's monster blisters, and we are ready to continue. We take the metro over to The Monte Mario nature reserve in North West corner of Roma. Adrian's map, bought just for this part of the trip, is very very nearly big enough to include where we are going, but just isn't.
Mapless, it is all a bit of a wander to find the place. We ...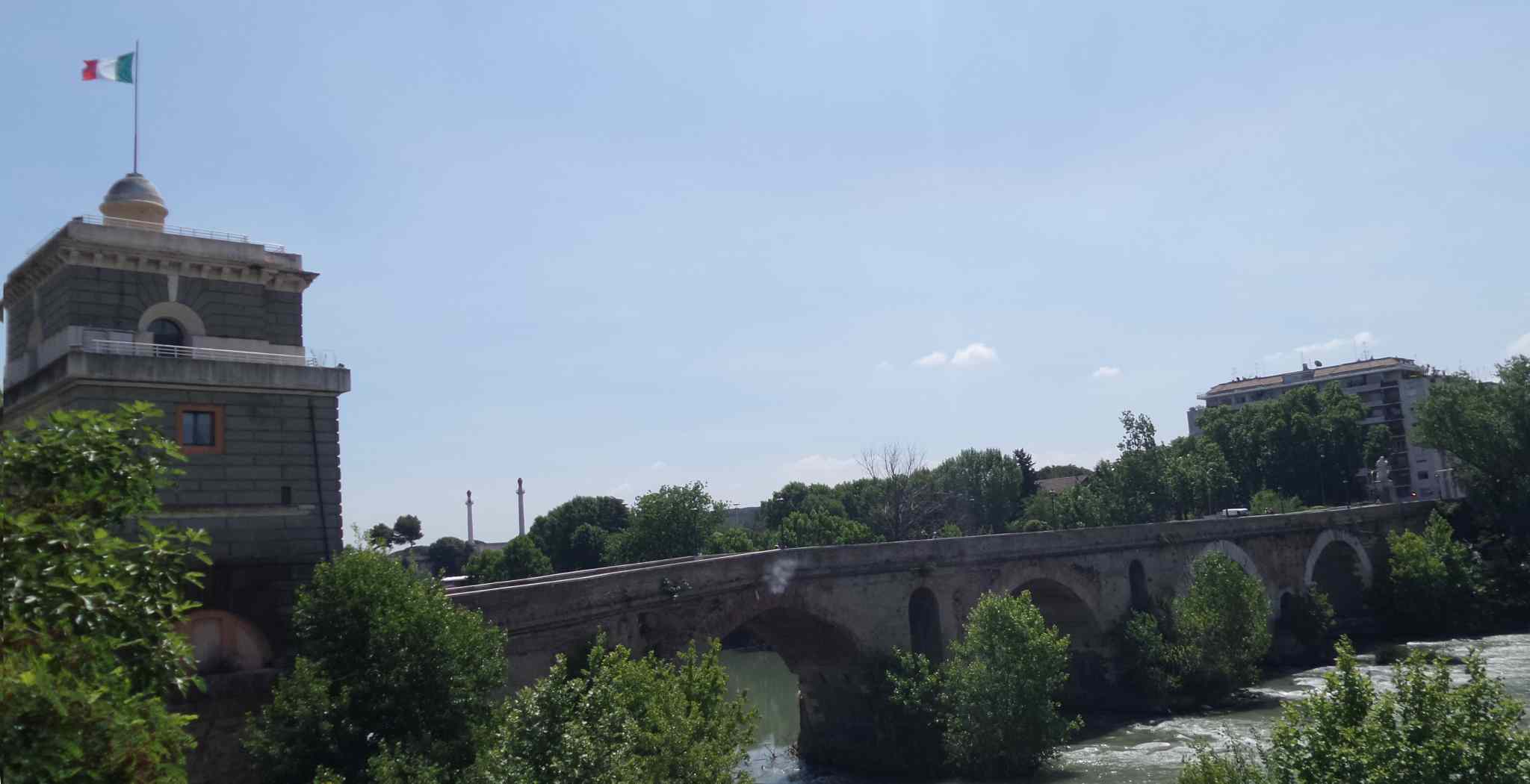 ... cross the Tiber ...
... pass an old banger (painful) ...
... and somehow end up at the Olympic Stadium. This is too good an opportunity to miss. After a bit of reconnoitring we manage to breach the defences and make our way in for some tomfoolery on the running track and a view of the bare faced cheek of the local statues.
Initially this seems a great place for a round of Head, Shoulders, Knees and Toes, but ...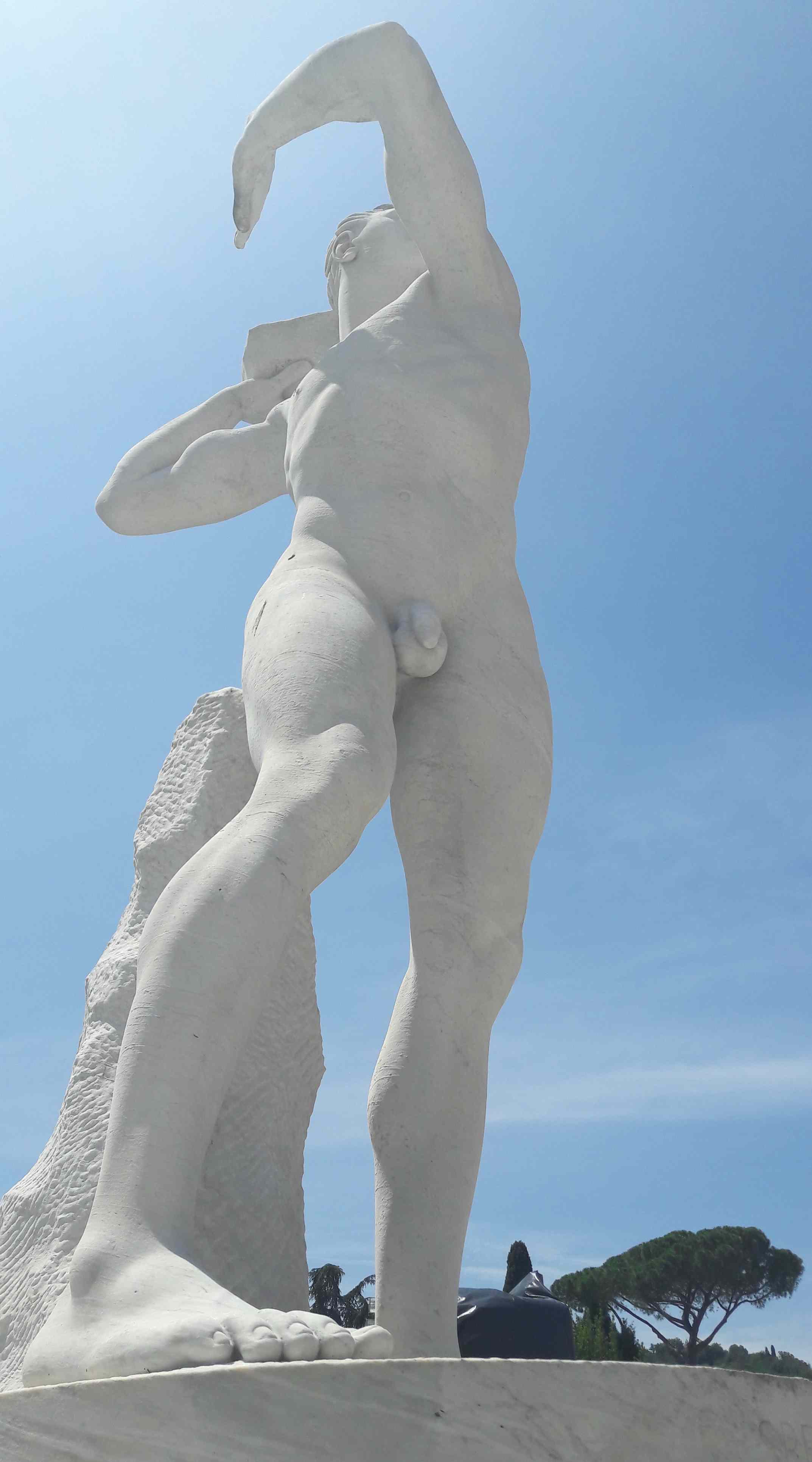 ... we can't help thinking that the second verse might get us into trouble. We stop while we are ahead and get back on the route quick.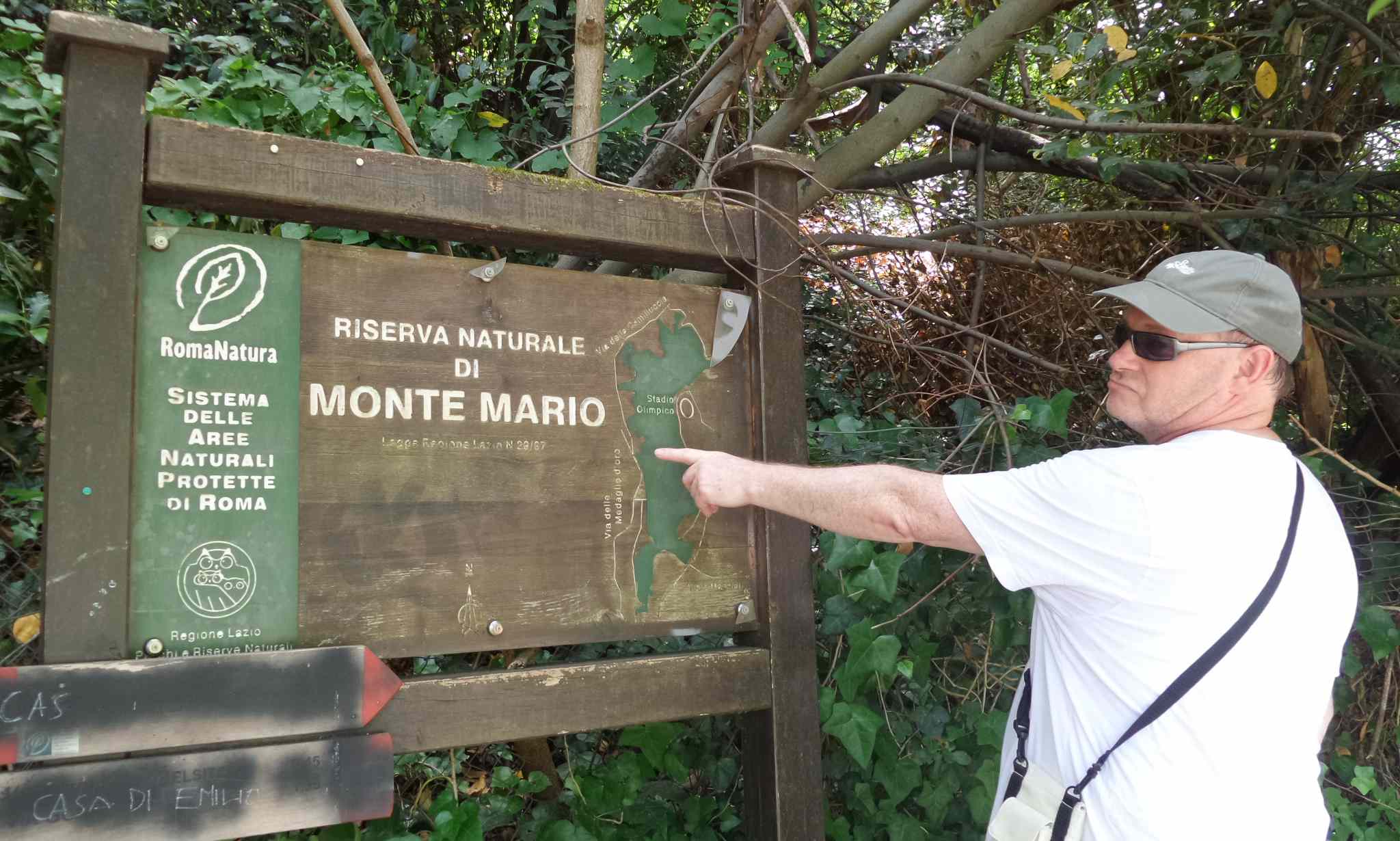 The start of the walk is here.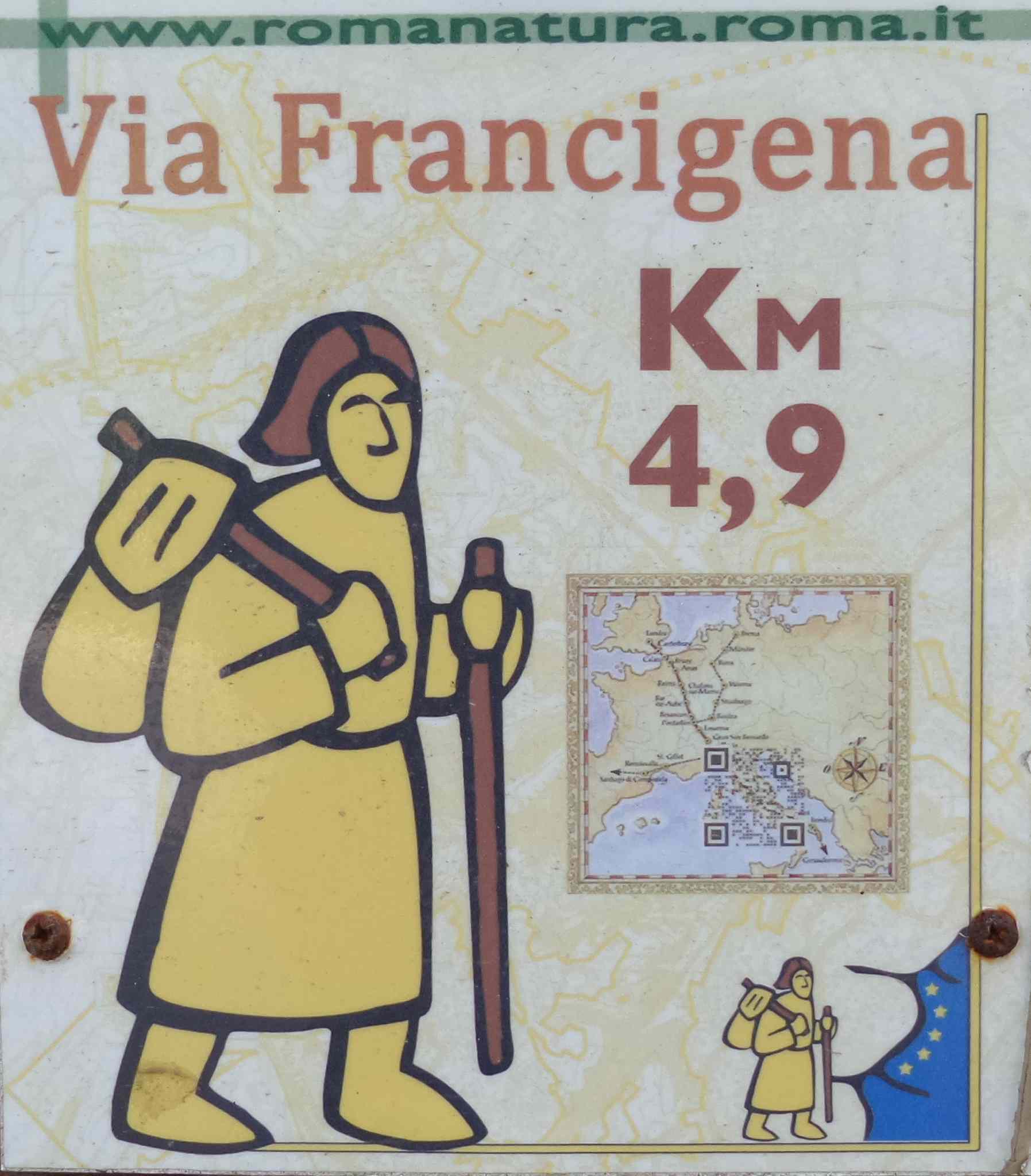 I can't help think that this overview of cross-European byways is a bitty pretentious for a walk of 4.9km, but I suppose PR gets everywhere nowadays.
Initially it all seems very isolated. But then we stumble upon a conference centre cafe rather out of the blue and have an unexpectedly bountiful buffet banquet. There are lots of chicken drumsticks and cold veg and all the other accoutrements of a business lunch. We gobble up as much as we can before the real business people come and then scarper.
We seem to be the only hikers out on this final iconic section of the Via Francigena; indeed we encounter virtually no other living soul all day (which, let's face it, is exactly how we prefer things). We keep having to remind ourselves that we are well within the city boundaries of one of Europe's biggest and busiest capital cities. The route meanders up the nature reserve, down, round, up, keep going, past an unexpected children's nursery, and then finally gets to the Promised Land.
The highpoint of the walk is a hilltop cafe with beer and stunning views of Roma. Our vantage point takes is high above the Olympic stadium, and it takes in the slow brown Tiber and the spires and rooftops of central Rome and the Vatican City below us.
The vista is so extraordinary, the atmosphere so peaceful and the beer so cold and delicious that we delay our inevitable descent back into the hubbub of the teeming metropolis for as long as possible.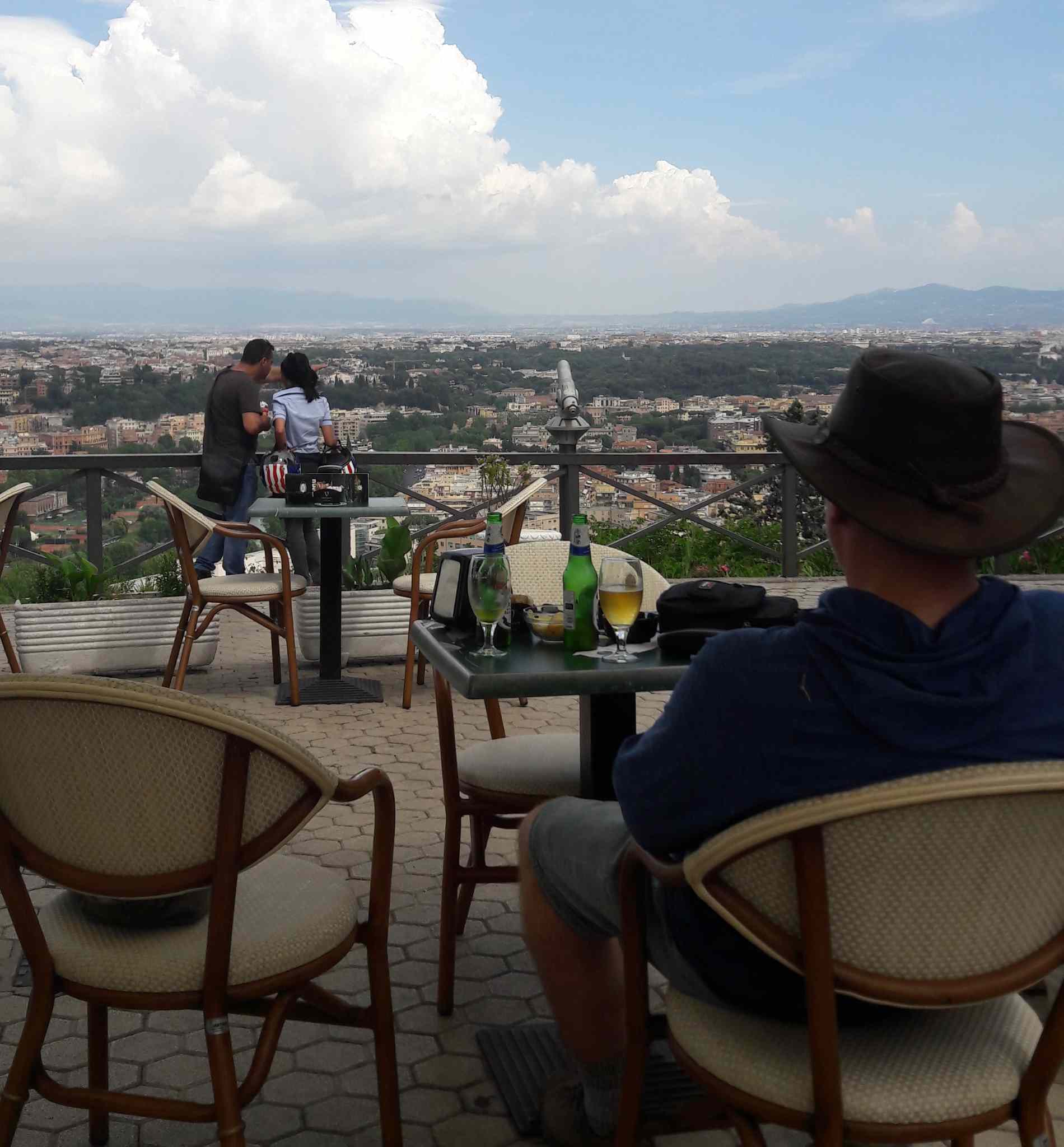 But eventually its time to return to base, not forgetting to ...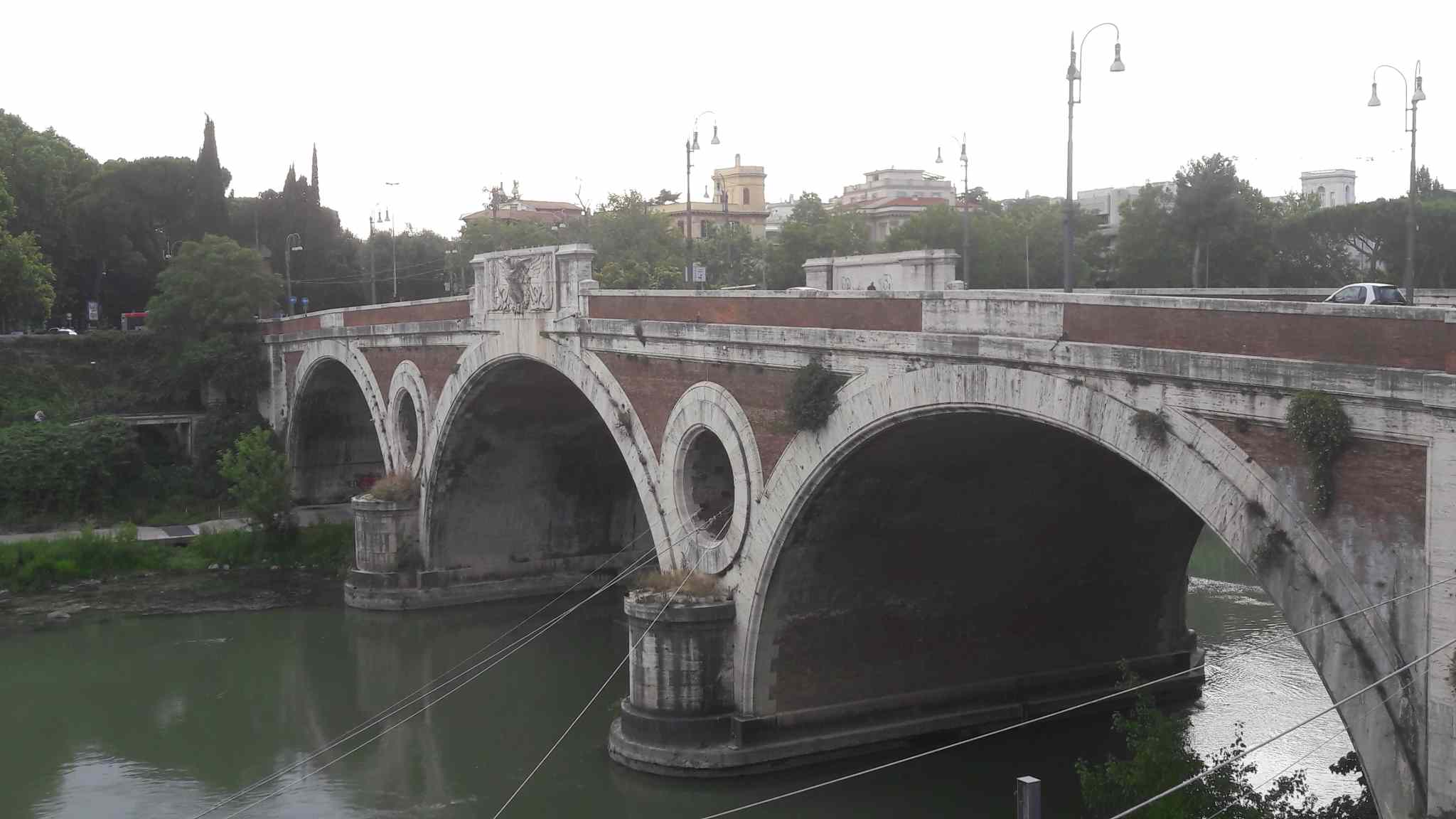 ... cross that Tiber once more of course.
For the evening we return to the inevitable Irish pub of the previous night, where this time we just stay put, drinking more ale and eating more food. Peter is served a calzione which seems bigger that his stomach, but it fits in somehow. Another final Guinness.
Tuesday
We briefly consider a bit more urban walking, but plump instead for art exhibitions at the Museum of Art of the Capitoline Museums, this year's cultural choice having been largely predetermined for us by the mesmerizing oversize images of well-endowed, Latin nudes which we have encountered on posters at every street corner and tube station in Rome. As Peter keenly observes, those ...

... eyes ...
... appear to have been following us wherever we move.
The walk across to the Museum meanders through the very center of the ancient capital. Rome is, of course, as the philosopher rightly observes, Rome.
An eclectic mix of the auld and the new.
Including this statue raised to the Great Augustus,
The Patron Saint of Proctologists
We get to the Museum, happily leave our backpacks in some back room somewhere and stride into the Art Faculty, hoping to be inspired. Boldini is classical and artistic. Botero is modern and colourful and plump and challenging, but both are good stuff. For some reason all our photos seem to be of the latter, which is a phenomenon I cannot explain.
| | |
| --- | --- |
| | Its a real head scratcher. |
We have a final lunch in central Rome. At last we eat spaghetti, but it is tourist tat and not worth writing about.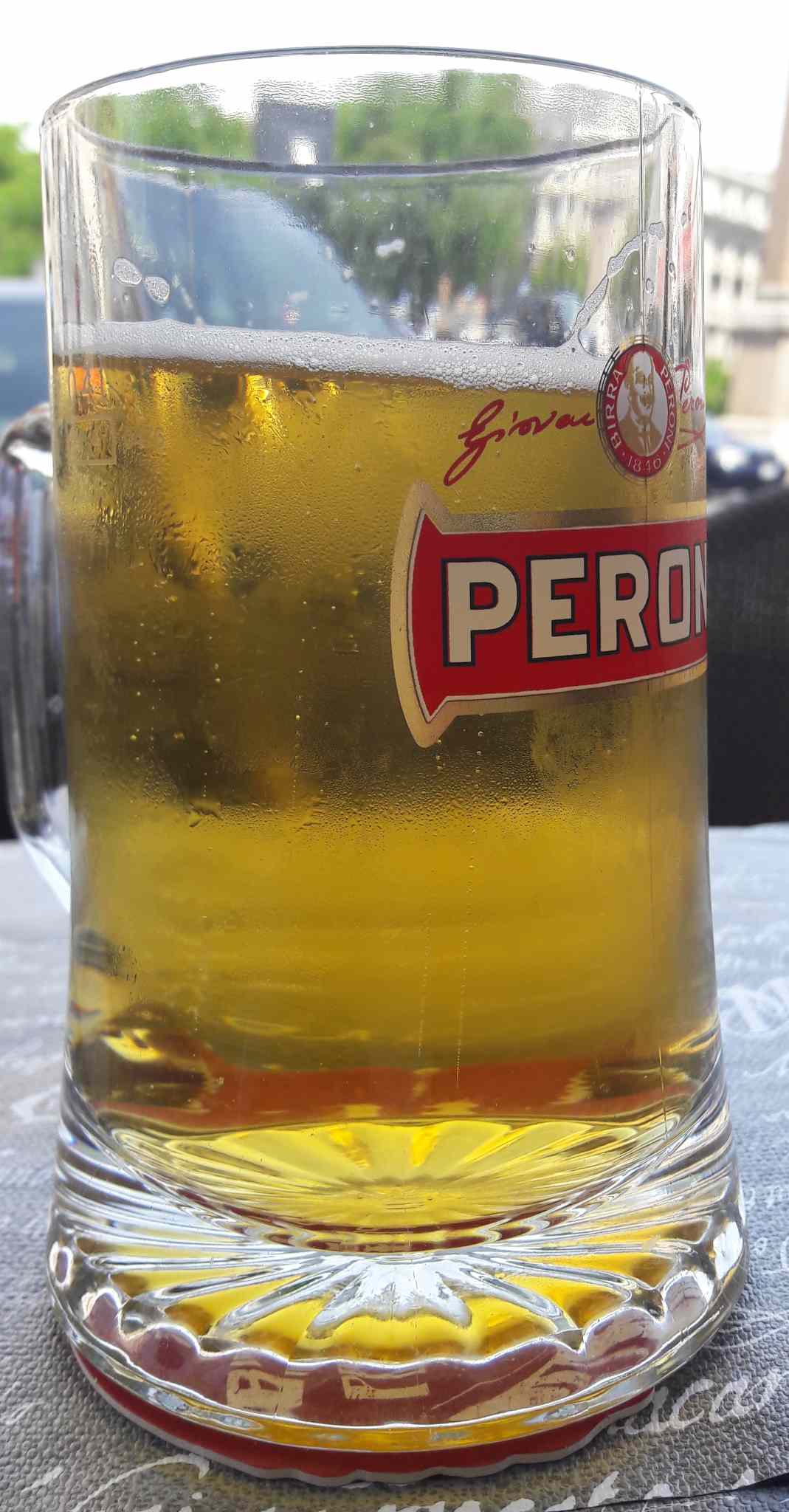 Just time for a last Peroni of the trip.
Thence to airport and home.
Epilogue
After 4 days of walking in the baking sun in Rome Peter wakes up to torrential rain in Trollhättan. Car battery is dead, so he takes children into school by bus and then walks home again in precisely those conditions so typical of a Strides of March walk which he has so precisely avoided this year. Soaking waterproof and soaking trousers and soaking shoes by 10 am. Welcome home!