| | | |
| --- | --- | --- |
| | 2016: Göta Kanal | |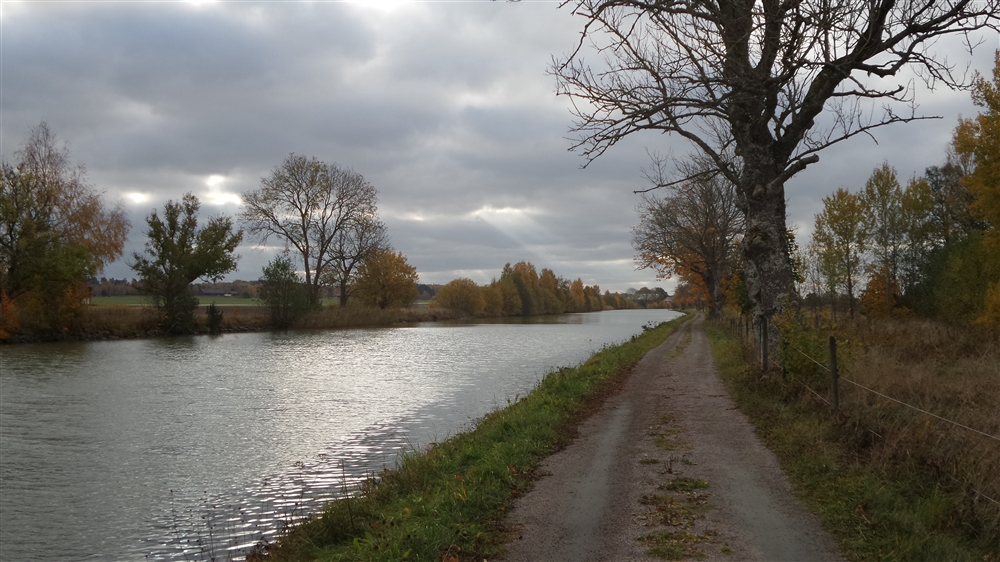 Getting There
A man's göta do what a man's göta do. Ne'er a gammy leg nor the small business of transplanting an entire family to the misty lands of Västergötland were ever going to succeed in scuppering our hallowed annual tradition of chumly shenanigans and high jinks along the highways and byways (but mostly the byways) of Europe.

This walk takes place pretty late in March even for us. Since Peter was emigrating in July and seemed to want to concentrate on that for some reason, we finally end up walking in Autumn. This change in date dramatically changes the environment for the walk. For years now we have been walking in March, and we have become used to signs hanging outside various shut pubs, restaurants and tourist attractions saying, "Open Next Week," in various languages. None of that this time round! Now it is October, and instead all the signs hanging outside various shut pubs, restaurants and tourist attractions say, "Stangt för sasöngen," instead. Totally different.

The site of the walk is chosen as Peter's backyard, as we have never been walking there before and Peter is very lazy. So this year Adrian has to do the travelling, getting into Göteborg late on Friday night.
Day 1: Lörsdag.
Saturday morning sees us driving North and East along the eastern shore of Lake Vanern to get to Sjötorp. This marks the beginning of this bit of the Göta Kanal, the supreme feat of 58 000 Swedish navvies, whose 116 000 calloused hands, over around 10 years, (we eagerly learn), dug out a splendid waterway which meanders across country, kind of, more or less, in a roundabout way, connecting Göteborg with Stockholm. We do not plan to walk that far, but only a mere 60,000 alnar from Sjötorp to Tätorp. Alnar, we shall discover, are much friendlier units of measurement for weekend walkers than irksome kilometers, miles or such like.

Initially, it seemed as if this route had everything we needed...
Sjötorp is a wee, twee, sjöside village. We park the car alongside a tourist place and dining area which is open and gives us delicious food and good ale at an approachable price. The locals appear to be dining here also, which is always a good sign. Unfortunately, places which served food or good ale or even were just open turned out to be few and far between on this walk.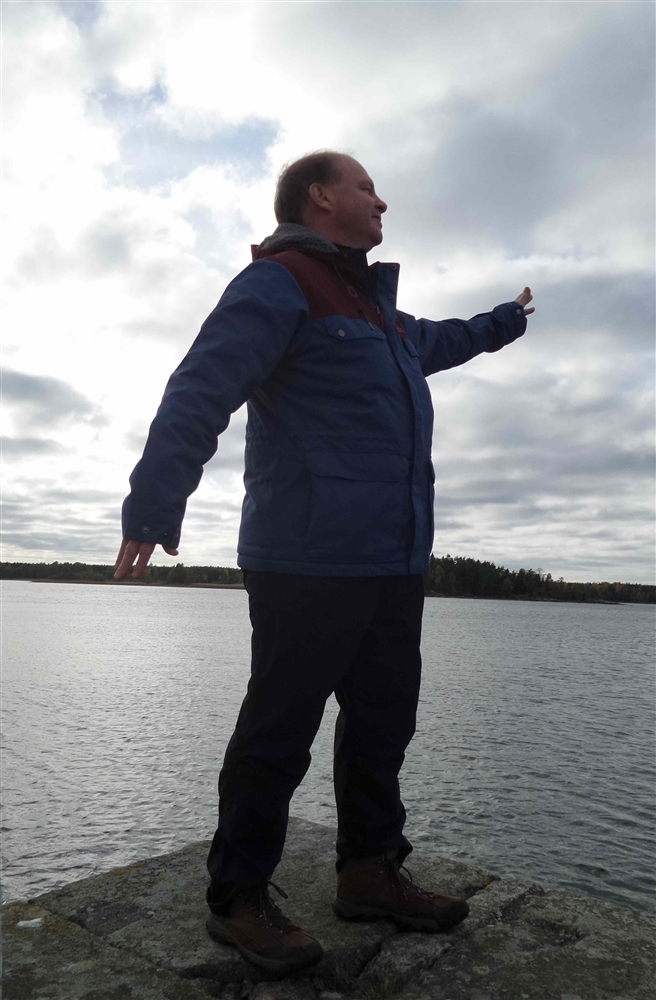 And off we go!
We start off by walking backwards, of course, down the jetty thing to the very far end and hence the very beginning of the walk. It is unusual indeed for us to do that on one of these walks, but it was only a hundred alnar or so.
Walk to Norrkvarn very serene and pleasant, ideal for catching up with more than a year of untold blether. We see virtually no one that day ...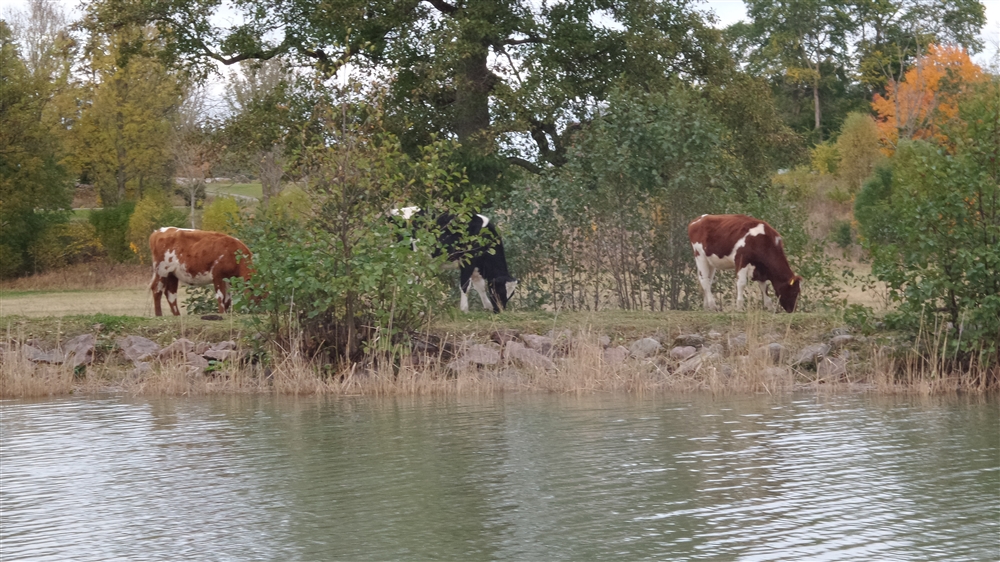 ... apart from some bonnie coos on the far banks.
We have high hopes of bagging an afternoon coffee in the village of Lyrestad but we learn that in provincial Sweden in October even the cafés close at 3 pm. At 3.10 pm, we are faced with a choice between a takeaway pizza place or ...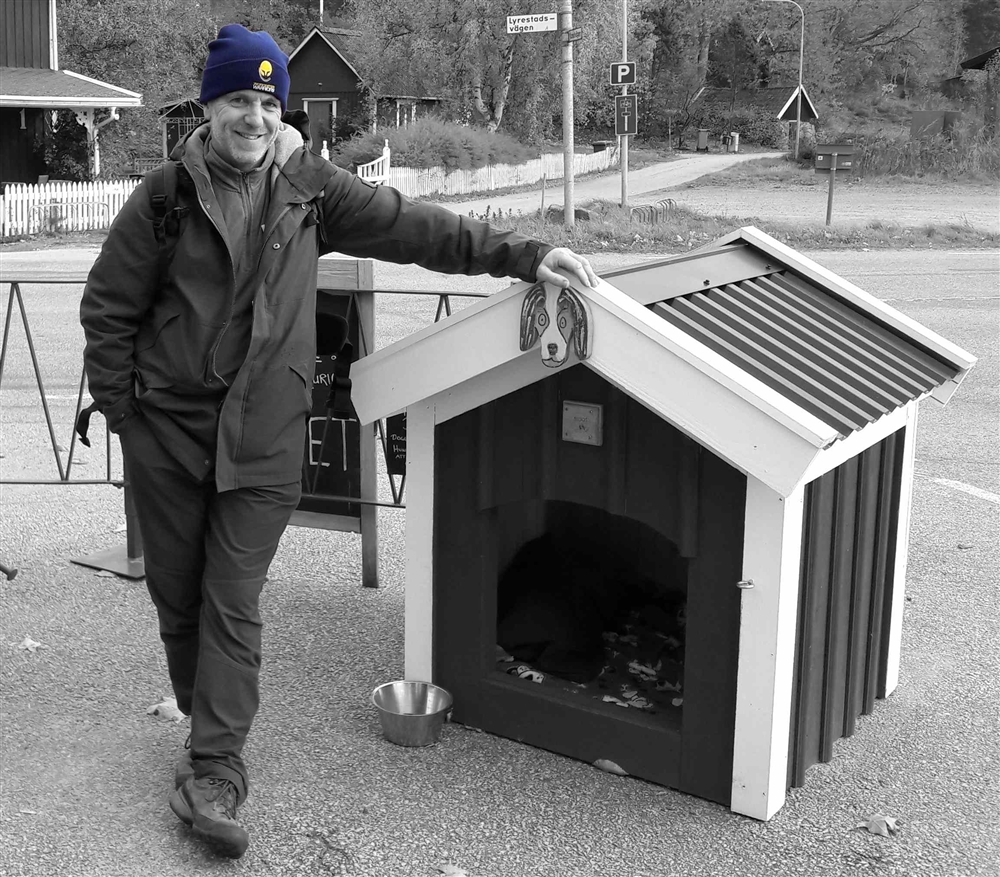 ... a kennel.
It was a tough one, but we eventually find ourselves sitting in the pizza place, supping a Mariestad beer we have just bought in the wee supermarket next door. No one appears to serve us or even seems to care that we are there.
When we arrive at Norrkvarn suddenly we are faced with grassy lawns and twee statuettes of horses and childrens' playparks. It must be lovely in the summer here, but we do our best on this bitter, autumn day.
| | |
| --- | --- |
| | This is the night that we stay in a proper hotel with a bar. The Norrkvarn hotel has a nautical theme going on, commensurate with its canalside location. Unfortunately for us, the ship it proudly models itself on appears to be the Marie Celeste. We are the only guests. The restaurant is actually closed but at least the bar is open and the barmaid is friendly, speaks good English and is also happy to let us erect a camp on the upper deck. Drink good beer. I think evening meal was something we bought in Lyrestad. Bröd och skinka och ost och, if I remember rightly, far, far too much choklad. Rather poncey rooms have faux bunk beds in tubular steel which are presumably meant to leave a strong impression of chic, although they made a stronger impression of uncomfortable with me. |
Day 2: Söndag.
Decent breakfast in the morning, with fantastisk hard boiled ägg.
We are directed by the hotel waitress to go over and inspect some rather wonderful mushroom houses next to the hotel which are obviously designed for summer guests who prefer Tolkien to the Titanic when it comes to accommodation. Tree trumps are also let out for residence during the season, but in October we are most definitely not welcome.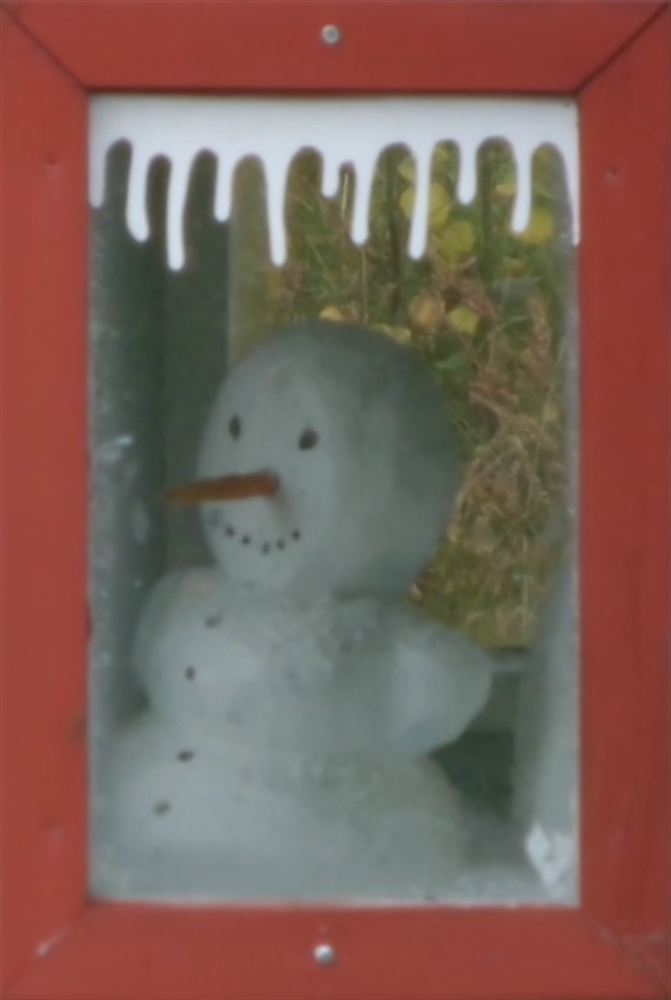 Followed by general arsing about by the boats.
Continue walk to hostel at Töreboda.
The kanal has many locks and attractive moorings and picknick points. It must be humming during the season, filled with traffic and laughing children and working barges and the noise and bustle of thriving commerce and active people. In the season this must be a riot of colour and all of human life. In the season. We can only imagine.
Now it is very definitely stangt för sasöneng. If you want a beer en route, you take it with you.
Interlude: bits of art.
There are pieces of art laid out all along the kanal. Just when one least expects it there is a collection of stones piled up in an artistic way for you to stubb your toe on and admire. It is some project or idea or something. (Should I research this any more, or is that enough? )
These pieces of art are ...



... buttock-clenchingly ...


... artistic.
Above we see Peter standing in front of yon thingmy proudly commemorating the grand opening of a new section of the Kanal by the Koning. A plaque on another canalside menhir bizarrely claims that bargemen traditionally race up the embankment just to kiss it. We look at each other and decide that Swedish bargemen are even more starved for entertainment than we are on these trips.
| | |
| --- | --- |
| Wanting to join in with the theme and leave something of more permanent value, we decide to add our own piece to the montage. It is entitled, Still life with Mariestads and Some Stray Leaves. | |
Now back to the Walk
Arrive at Töreboda, which is between Sjötorp and Tätorp, and close to such a poor campingplatz that even local signs warn you off. We are initially uncertain as to where the allegedly canalside hostel is located, so we decide to hit the town instead. Töreboda turns out to be everything we have come to expect a provincial town in middle Sweden in October to be: grey, unassuming, closed. We stumble upon the Giang-Jou restaurant and pile in for a pint, for some reason not expecting this to be a Chinese place. Undeterred, we shrug and get stuck into a large bowl of fried Chicken balls. Our post-prandial patter attracts the only other patron of the hostelry, a Norwegian pensioner and erstwhile resident sot of Töreboda, who has clearly nothing better to do than to spend his Sunday lunchtime boozing in a Chinese restaurant. Unlike us, of course. We say our farewells and head back whence we have come. Eventually, we find the hostel, right next to the canal.
| | |
| --- | --- |
| | |
| | |
| --- | --- |
| Our hostel, the yellow building in photo above, is very pretty from the outside, but is bitter and cold and amusingly bereft of bedsheets or linen or really comfort of any kind once you actually get in. We dub it the Amityville Horror. After taking a cool afternoon nap (cool in the sense of not remotely warm), we go for evening meal at groovy American Diner kind of place. Not especially hungry after our Chinese sit-in, we peruse for a while what the Diner has to offer, wondering if we might just about squeeze in the Massive Double Whoppers. But then we stop ogling the waitress and get on with ordering our burgers and fries. We are served a meal of grilled fat, coating a little meat and potato. The trashy paper Cadillacs our burgers arrive in and some amusingly titled movie posters keep us entertained in our unique childish way. Back to hostel for Sir Tastelot and Mark Steel in the kitchen. Töreboda is the sort of place that he should most definitely do a piece on. | |
Day 3: Måndag.
Next day we start with cereal bars for breakfast. Its lucky that Peter thought of getting his own coffee in the evening before. Brief interlude while Peter gets his glasses mended, and finally gets to dispense with that Oh So Cool sticky tape. Then we hitch up the auld breeks and walk towards Philippi, or rather Tätorp. There were beautiful autumn bits all along the kanal, and these only increased on the final day. With autumnal trees and rural animals and ploughing tractors and wonderful wooden, Svenska houses and hostels.
Nothing is open all day. Putting green perhaps the lowpoint of the whole walk, as we had really been hoping for a spot of lunch, or at least a coffee, here. Most desolate and Stangt för sasöngen place imaginable. A huddle in the desolate bbq hut perhaps not the greatest drink stop we have ever had, although we did devour for lunch a family sized packet of crisps that we fortunately had with us.
The final stretch gets longer and longer, as all final stretches do, regardless of how long one has actually walked up to then. We pass evidence of wild things en route, but we cannot make up our minds whether this is a failed beaver or a failed lumberjack. And what on earth is that, just off the bridge?!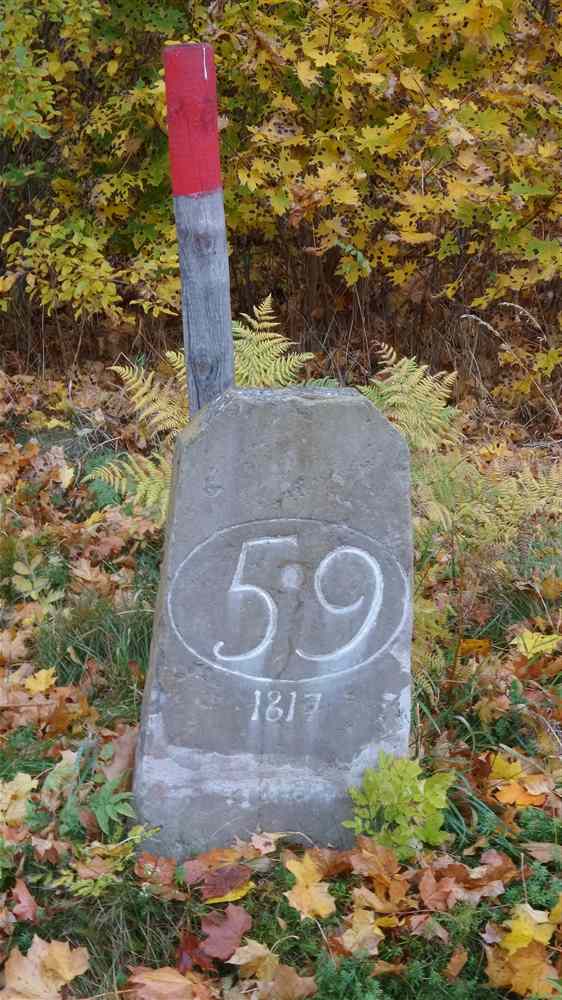 Just 1000 alns to go, final paces.
Da da da dah!!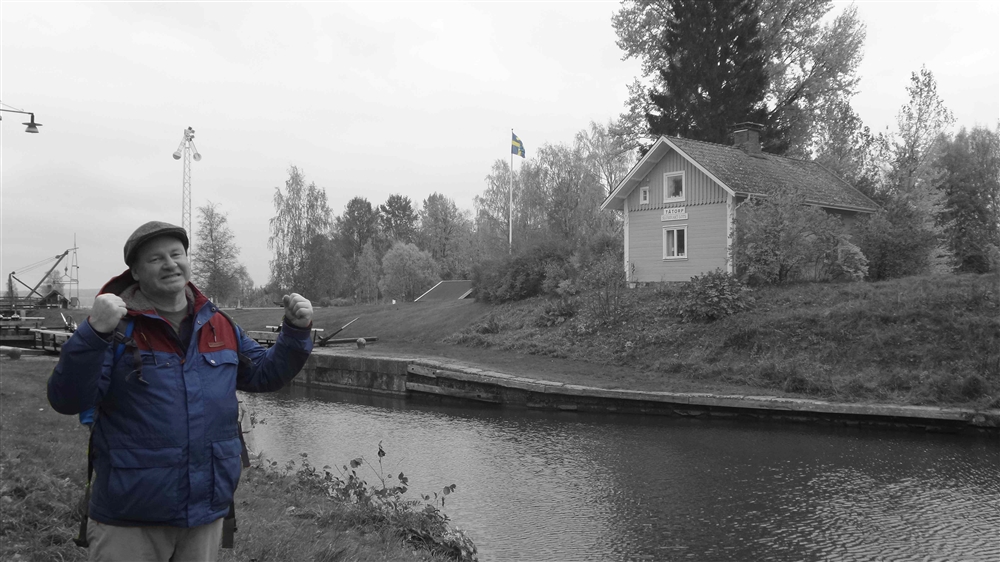 Made it!
We just have time to venture out to the end of the jetty at Tätorp, thus completing the entire walk from the very beginning to the very end, without missing out any bits in the middle. I think this is some kind of record for us.
We had a taxi all set up and arranged to meet us at Tätorp, but all of a sudden there was a sudden and chaotic flurry of phonecalls suggesting that everything had fallen through and we would have to walk back. But in the end the taxi is there and ready to go when we need it. Story of the whole trip really.
Back to HQ
Back to Trollhättan and fun and japes with the little ones. The following day we drive up to Vänesborg and gaze at Sjö Vanern from its southernmost viewing point instead.

One can only gape at its vastness
| | | |
| --- | --- | --- |
| | A little time is left over for a little tomfoolery in the towncentre itself. Vänesborg town museum is predictably closed, so instead we go looking for coffee and kanelböllar at some nice wee place Peter vaguely remembers having gone to once. It is closed, too. We luckily find a bakery nearby which gives us refuge and refreshment. Familiar faces are recognised, they are quickly joined by more punters in search of a warm beverage. It would appear that the proprietors of Pete's Caff next door have closed up their own shop, in order to come and sip the cocoa over here instead. Hilarious. | |
| | |
| --- | --- |
| | When skola finishes we pick up the little ones and eat pasta in a local kanalside restaurant which is open, which makes a nice change. After that we call in at the Saab car museum to look at lots of Saab cars, and give the little vandrarers the chance to run screaming around somewhere different. |
Then Adrian makes it back to Göteborg Airport and we say Hej do for another year.