| | | |
| --- | --- | --- |
| | 2015: Cote d'Opale | |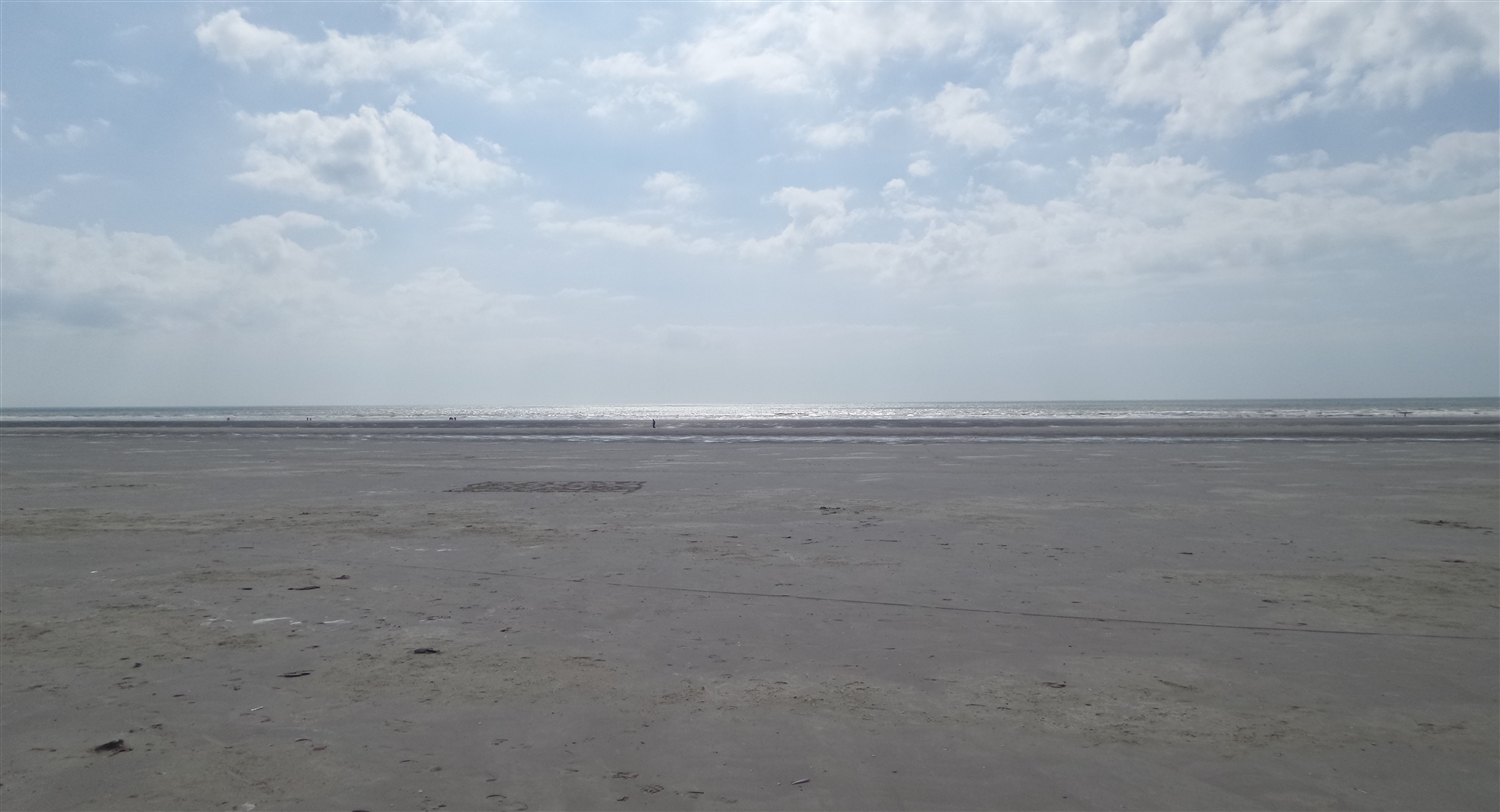 Day 0, Mercredi, Getting there.
After 15 years of travel around Europe, this year we decide to take it easy and base the walk around a port directly inbetween our two homes. What could be easier to get to? Well, it turns out practically anywhere, as we both really struggle to obtain even convoluted routes to Boulogne. Meet up and catch very last train to Rang du Fliers.

Walk into station car park as, miraculously, the only taxi in town drives in at other end. Persuade taxi driver to let us share a taxi with a surprised but charming Grandfather/granddaughter couple, who happily agree on a detour to the Le Littoral hotel in Berck-sur-Mer. Have to knock the hotel proprietor up out of bed, he thinks we have called off and has already closed down his place.

Check in to our room and hit the town within minutes. First soon-to-be-rued pit stop of the trip had initially seemed the place to be in Berck but turns out to be more of a school disco, heaving with electro-pop. Wary of attracting the attention of the youthful ravers of Berck, we sit at the bar, and brood silently, over our glasses of Grimbergen Rouge, which turns out to be some kind of vaguely alcoholic raspberry kool-aid flavoured cordial. Disaster looms, when, having found another, more appropriate bar, our second drink (with much more dignified name of Leffe Ruby) turns out to have the identical same flavour. Peter henceforth forbidden from choosing another beer for rest of trip.

Vr smll htl rm, nt vn bg ngh fr vwls. But it does have an even smaller balcony, from which Adrian watches an auld mannie let his dog do its morning poo on various parts of the municipal greenery. Well worth the extra money for a room with a view.
Day 1, Jeudi, Walk GR120 from Berck via Le Touquet to Etaples (22 km)
Fantastic golden sands ahead, blue sea on our left flank, skyline of mixed gothic, architectural beauty and horrendous 60s prefab monstrosities on our right flank. We soon got used to this, it barely changed for the length of the walk.
The sands are dotted with ruins of WWII bunkers. Which we have to climb, of course.
| | |
| --- | --- |
| This is the garden . Sometimes, like on this trip, we see the garden at the beginning, sometimes not until the very end. But wherever in Europe we are, we always find the garden. | |
First morning stop is at Merlimont, where we succeed in completely confusing a cafť-owner by querying, in our best French, if his business is open. When he says, no, not until the afternoon, we are surprised: we can quite clearly see seats and tables behind him; indeed they are neatly stacked. It takes some seconds for it to dawn on us that we are absurdly gesturing to his storage shed, and not his cafť, which has inexplicably remained invisible to us, while being situated only about five metres away.
Rain hits just short of Le Touquet. At first, we try to shrug it off, but finally head into town centre in search of shelter, refreshment and afternoon delight. We fight our way through the disassembling marketeers to take our rest at an easy going cafť, fueled by more beer, Croque Monsieur and the guilty pleasure of watching other, more attractive, people, doing physical work in the rain.
Now here is a real auld beauty. A sleek, streamlined racer from years gone by. Bodywork still in fantastic condition. Still got all its original parts. Just had a good polish and rub down that morning. I'll bet it still goes like a thoroughbred given half a chance, with a deep, throaty roar that can be heard half way across town. They don't make them like this any more.

Car is nice too.
Take rainy photos outside Le Bristol hotel, where it seems PGW did not stay during his pre-war exile in Le Touq. His Bristol Hotel was in Paris, apparently. Whereas our Hotel de Londres would be in Boulogne, but more of that later. All very confusing.
This hotel has a blue plaque on the wall,
saying that PGW never stayed there at all.
| | |
| --- | --- |
| | We finally decide to resume walking in the steady rain, shrugging off the mild, French, spring shower. We are in the middle of these golden sands, a long way from sea or promenade, when we start to feel the deluge approach down the beach behind us. Like a chasing herd of zebra's hooves, we hear the thundering drum of raindrops rolling towards us, down the sands. We tighten jackets and gird loins and wonder how bad it could be. Very, is the answer. We get 5 minutes of the most intense and wet rain imaginable. The angle and intensity of the cloudburst is such that it renders our light rainwear completely useless. So much water runs down backs and trouser legs, soaking into socks that shoes quickly overflow with water. |
| | |
| --- | --- |
| | Just at the climax of the storm a weird vista opens up on the horizon and we watch in wonder as the local half-marathon with about 1000 participants pans across in front of us. Like lemmings or lambs going to slaughter, the runners seem to be willingly following each other into waist-deep pools of sea water, only to plod on in an endless line of misery. Where did they come from? |
Hotel Escal in Etaples gives us basic hostel-standard room. Lucky itís basic, because we proceed to fill it with sand and smell. In vaguely damp clothing we venture out for steak-et-frites at a riverside bistrot.
Day 2, Vendredi, Walk GR121 to Montreuil-sur-Mer (20km)
Train direct inland to Beaurainville in the valley of the Canche. Upon arrival, we purchase bread in Patisserie and then bacon and sausage and cheese and beer in local deli.
Lovely walk across mildly rolling hills and plateau top. Landscape very reminiscent of southern England, as of course it should be.
Stop for lunch in charming village of Aix-en-Issart and have the bread and sausage and ham and cheese and beer at a picnic table at the village green. Perhaps the most fantastic meal of the trip, or even the year.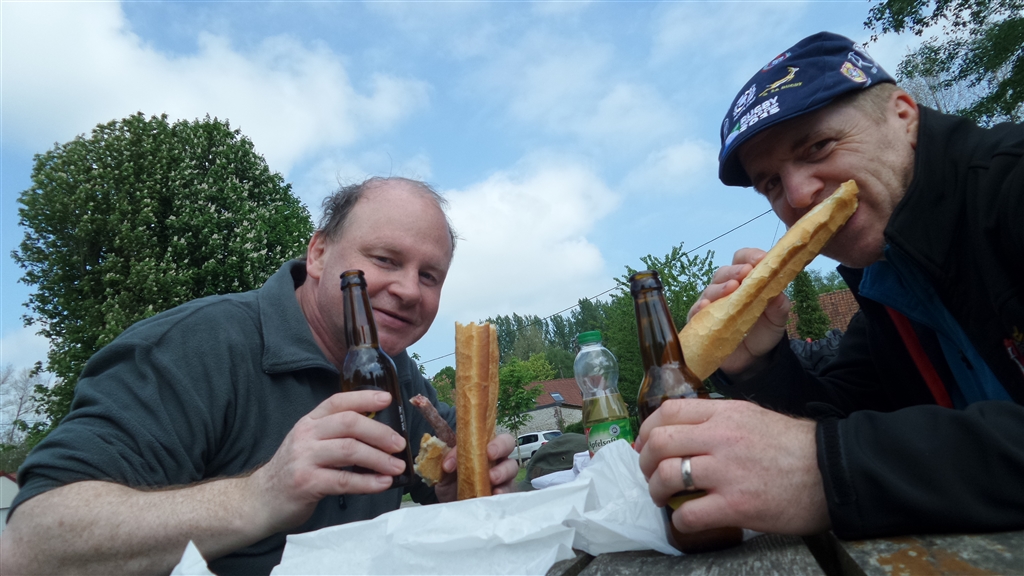 Can anything taste this good?
The afternoon is spent walking slowly through sleepy meadows and lilting grassy plains. At times like this one can almost imagine that we take these trips for fun.

Was it on this day that we walked into a pub just as owner starts sweeping up remnants of smashed glass and china from a henny party the previous night? Yes it was, which quicly brings us back to a more normal atmosphere for one of our walks. But such signs of female saloon brawling donít stop us quickly settling down to a couple of jars before we feel compelled to leave Neuville sous Montreuil, to climb up to the proper town of Montreuil.
Takes us a wee while to locate our B&B, but even when we do, no one is home. With a wholly unjustified confidence, Adrian calls the wifie on the phone and tries to leave her a message on the answer phone in French. Unsurprisingly, she never calls back.
Walk down to wee brewery/brasserie in Montreuil-sur-Mer, just past our B&B, and buy its own beer, Quentovic. Fantastic.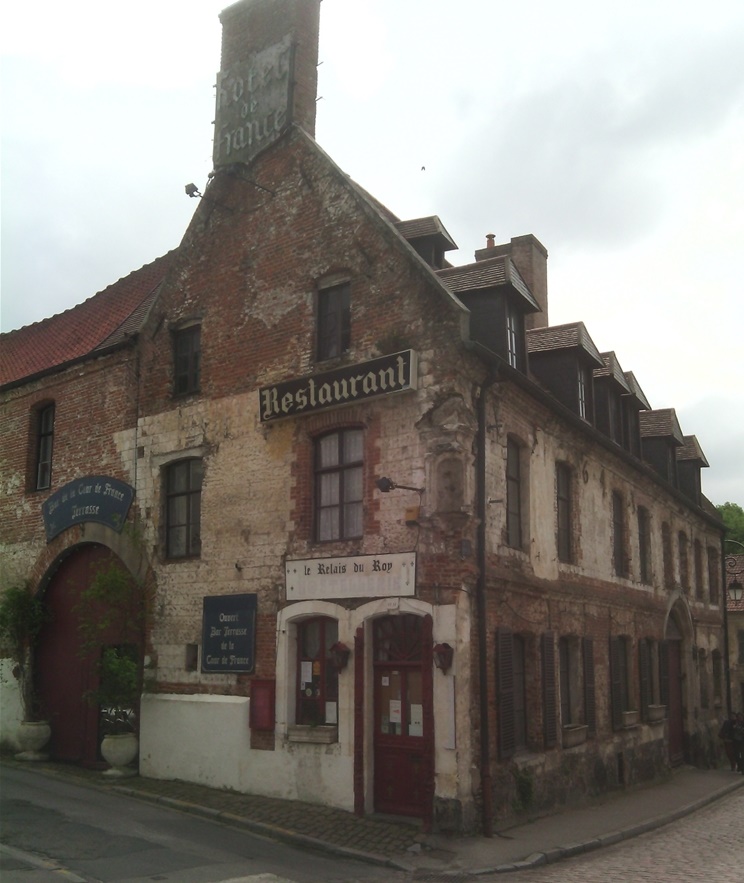 No mockery here. This a fantastic place. Full of history and age and
character and auld wood and smells and ghosts of visitors past.
Premier Inn, eat yer heart out.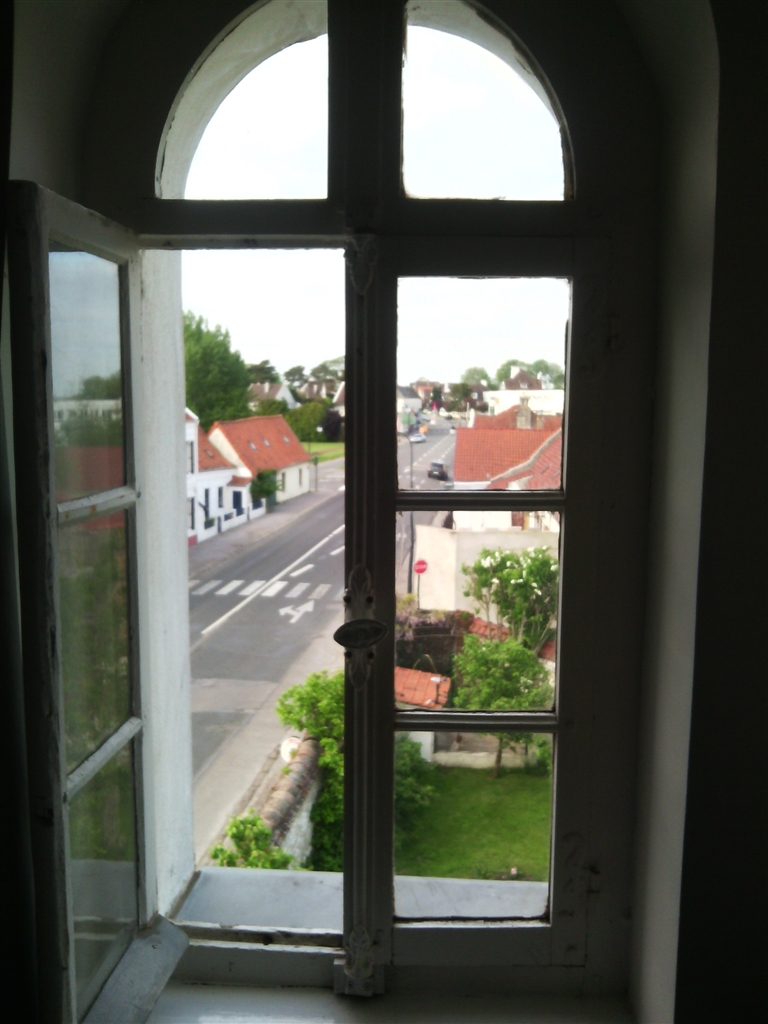 Looking for a quiet beer garden somewhere to while away the time, we inexplicably find ourselves in the Le Shaker basement bar. Very dark. At 4 p.m. In May. We turn out to be their first patrons ever, which is quite cool in its own way. Play pool and drink beer until all our coins run out.
Some 2 hours later, we try for a second time to check in at the B&B, this time with more success. B&B is a local place, with charming hosts, lovely attic room with lots of beams.
Nice French restaurant turned out to be far too far away from the Cote Opal, so we went to a local, nice French restaurant instead, right on the broad Town Square. The restaurant was full of people, and when we arrived we were shown into a deserted annex room in isolation. They claimed that this was because the main restaurant had just filled up, but we had our suspicions. The untypically giggly manageress proceeded to crouch down below our seats for a few intriguing seconds. However, it was merely to connect music. There was a pause, then a slight hum of connected sound systems, and then a great and ponderous blast of music as The Last Post blares out in all its solemnity. Was this just a funny moment, or the introduction to a more sinister evening than we had bargained for?! Fortunately the former, seemingly wholly appropriate, as the opening trumpet blasts resolved into something with a slightly weird electro-pop beat. Waiting staff consist entirely of keen but inefficient young apprentices and fantastic food like our veal and asparagus and Penne Gorgonzola. We might as easily have ordered snails, then at least we wouldnít have been surprised at the speed of delivery.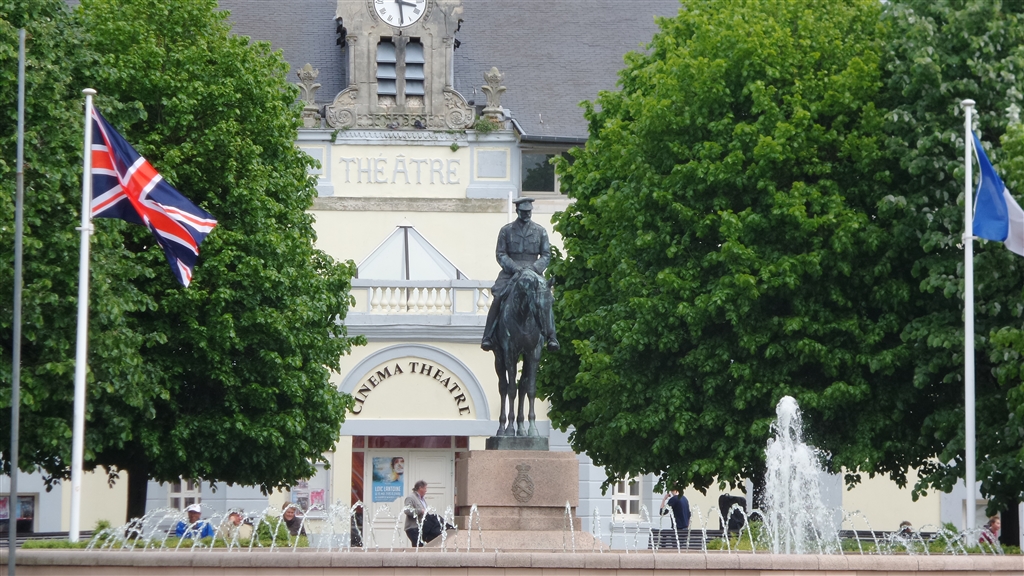 In the period between making this trip and writing this blog, all memories of the Hotel St. Justin, Montreuil have slipped from my mind.
Day 3, Samedi, (eventually) Resume GR120 to Boulogne-sur-Mer
Can't get train connection until later. Walk around fortified medieval city walls and citadel at Montreuil. Walls very impressive, even in the rain. Adrian takes full advantage at the Citadelís throw-the-hoops game, in order to exact a crushing revenge for Peteís pool whitewash of the night before.
Lots of silly photo ops in citadel and in the Museum, which was showing historic paintings of the town and castle.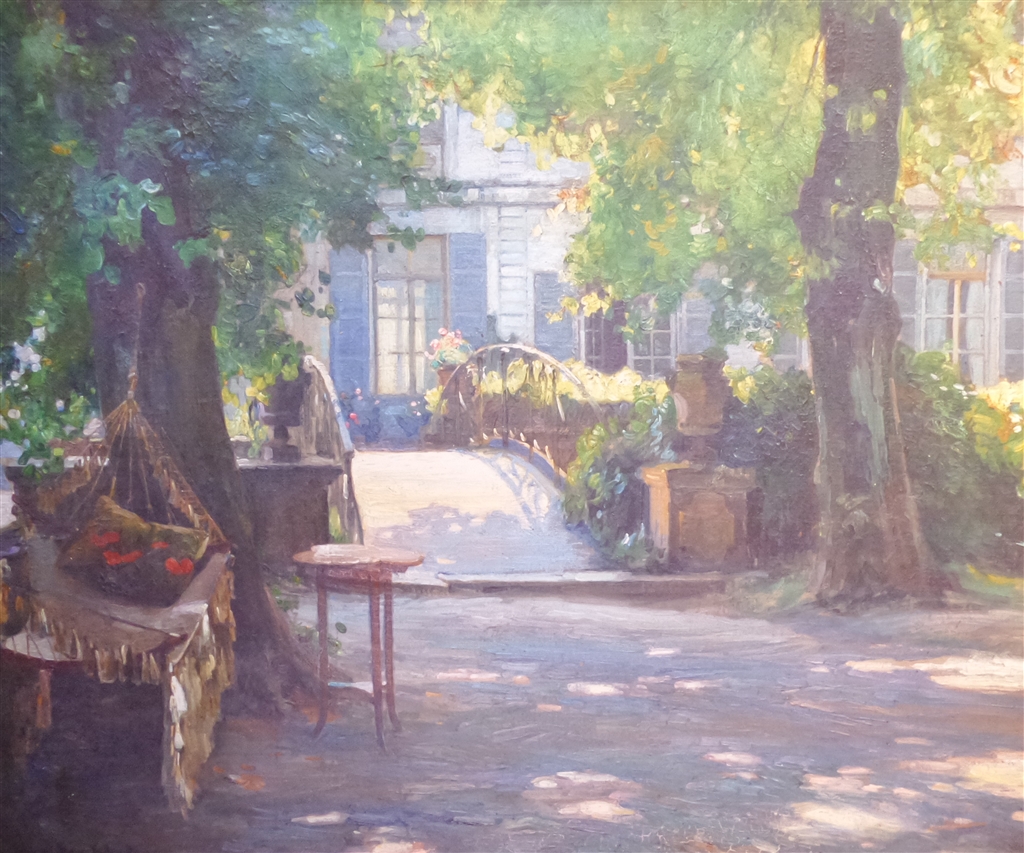 The scenery around the museum so perfect and idyllic,
it was like actually being inside an oil painting.
If I remember rightly, these pieces were quite serious and rare relics, and so we really shouldn't have done this.
Train to Camiers. Walk down to Plage Ste.-Cecile, and immediately have lunch in pizza place near seaside. Cheap, very filling food after lovely French stuff of recent nights.
More golden sands as the sun finally comes out, gorgeous dunes, derelict bunkers.
Before long the almost endless sand makes way for a delightful wee forest detour. Adrian leaves his hat behind after insisting on a drink break and photo op near the beach. Lucky that Peter gave him a Rugby World Cup Cap, but itís irretrievably at the bottom of the rucksack.
| | |
| --- | --- |
| | Having met basically no one all day, we settle down at the side of the path, like a right couple of gadgies, and pop open the two last bottles of blonde Quentovic, our beer of the trip. Naturally, this acts as a signal to all the hitherto unseen beachcombers to take our path, tutting and tsking as they are forced to squeeze past our sweating, beer-stained bodies. |
Unperturbed, and refreshed, we resume the beach path, leaping majestically like two gazelles across rivulets dribbling into the sea. Pitstop at Hardelot, to where the bikers and tent-flying families and generally happy holidaymaking crowds we had expected to see at Le Touquet appear to have decamped. Last 4 km a bit of a drag up from Plage and into Boulogne.
Quite a late finish after late start. Very nice hotel room at the Hotel de Londres, especially given its location directly beside bus station. Too good for likes of us. The smallest elevator in France.
| | |
| --- | --- |
| | Fantastic restaurant in the old hilltop fortified town of Boulogne. A single, very experienced waitress serves a huge roomful of people singlehanded, with more style and speed and efficiency than the entire squadron of apprentices last night. Perhaps because of a lack of hinderance of any clothing! Peter has crunchy of goat, cod and chorizo and Adrian has something else. |
| | |
| --- | --- |
| | |
| Throughout the walk along the Cote d'Opale, we were treated to a fascinating skyline of charming 19th century gothic diagonals and chimney stacks, interspaced with horrendous 1960s concrete pre-fab megablocks. For four days there was not a single ordinary building to be seen. | Boulogne is a very attractive coastal town, with a spectacular auld town at the centre and a bracing walk around the almost extant town wall. So it is a bit of a mystery that the only photo we seem to have in our collection is this one. Ho hum. |
Neither of us know anything about any of these photographs. Their presence in this blog is a complete mystery!
Day 4, Dimanche, time to say Au revoir,
Bit of a slow start to the day at Boulogne, waiting for late train. Potter about along the riverside walkway and on a pretty river causeway, which we willingly share with any number of Sunday morning joggers, some of whom are sweating more than us. Train up to Calais-Ville.
Lovely view of the Calais Town Hall with its famous colourful clock, Rodin sculptures and flower gardens oot the front. Eat enormous pizza in Pizza Hut really only meant for takeaways.
A final coffee at the Bistrot de Gare and itís time to say Au revoir.
Whilst departing from Calais station, Adrian takes a snap of what he claims is the Orient Express, but maybe, given the above, it is just a Pizza Express.
Homeward journey is equally long and bizarre, Adrian being the only passenger on the Megabus service from Lille to Brussels. Basically, itís an exclusive 70-seater international chauffeur service for 20 Euros.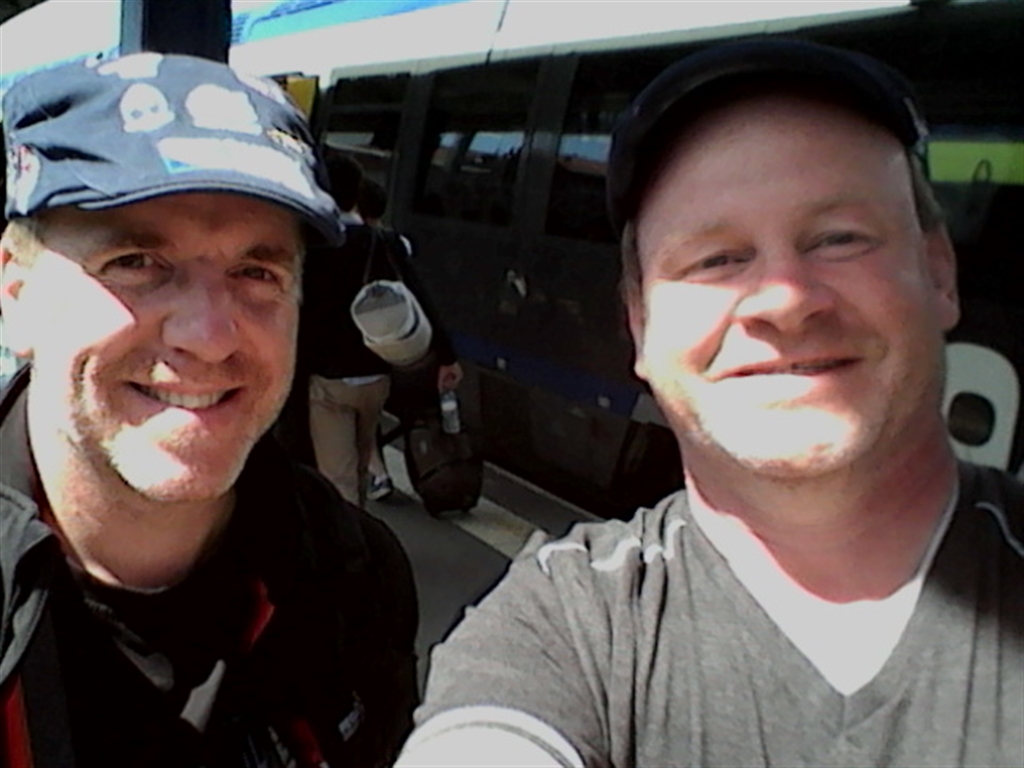 Inexplicably, we sometimes don't get warmly welcomed home after these trips.