| | | |
| --- | --- | --- |
| | 2014: The Cotswold Way | |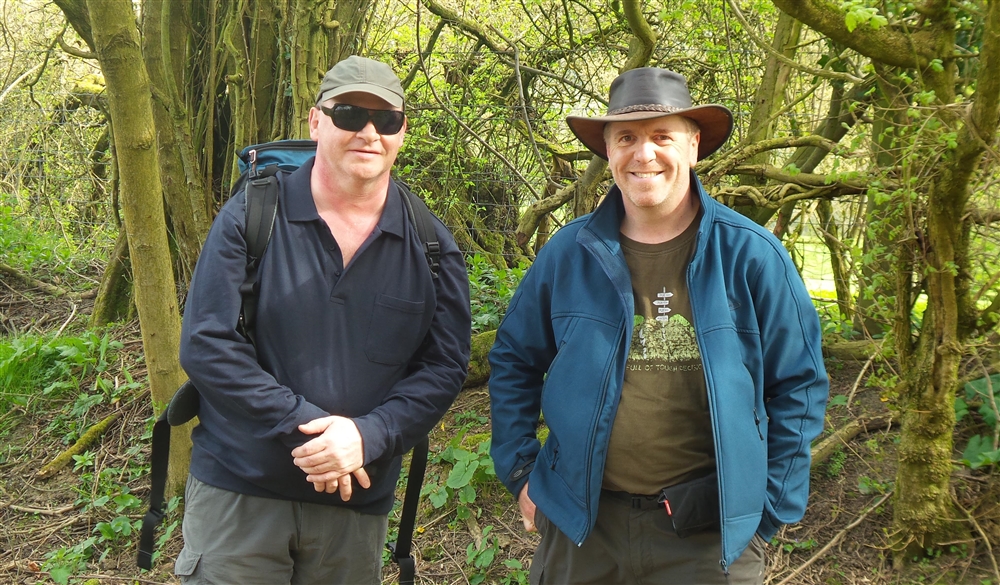 The moosey musings of yon orra loon fae Alloway are rapidly becoming our signature tune for the Strides of April.
Unforeseen family commitments forced Adrian to change his travel arrangements for The Cotswold Clamber at very short notice. Booking blindly at the very last minute on a very squeaky Greek travel website led to some very sweaty palms for Adrian at the check-in at Cologne airport, and he couldn't actually be sure of getting a seat until the boarding pass was nestled moistly in them. Unfortunately, though, this did mean that plans for us to begin the Cotswold Way at the beginning (it is the very best place to start) went for a Bourton-on-the-Water.
| | |
| --- | --- |
| Having safely arrived in Brum, we swiftly motor along some pleasant byways down to Cotswoldland, hitting the tourist trail at Broadway, where we make a brief pause, eschewing the bright lights in favour of some hearty local ale and even Cotswold-themed crisps at the very quaint and possibly misnamed Crown and Strumpet Inn. | |
| | |
| --- | --- |
| | This is but a taste of things to come as we move along to Stanford village, which is to be our first overnight stay and is quite possibly the most perfect little Cotswold village imaginable. |
Our B&B, the third-best-rated choice of the three advertised accommodation options in the village, proves to be another pearl in our collection of Romantic Hideaways. Initially, there is no one home, but we go in anyway, taking care not to let in the cats. Pete has booked the Attic, which boasts not only the most dramatically slanting floor hitherto encountered on the Strides, but also a remarkable new concept in hospitality: we appear to have been given a spacious bathroom, with a small en-suite bedroom attached. No wonder Buddha is laughing his head off.
Evening meal is something of a hike to the aptly named and obviously very popular Mount Inn. Being diners without a prior reservation we are given the cold shoulder by the waiting staff. Unfortunately, this turns out to be just a metaphor. Pity, as some cold shoulder with all the trimmings would have hit the spot nicely. However, once a few diners start to leave we are offered someone's cast-off table and get stuck into a lovely meal.
Breakfast at the B&B next day is equally jovial, pleasant company of fellow walkers and pretty horsey gals. Bit embarrassing having to admit to hikers that we have skipped the start already and actually have only walked to the pub and back so far. "Still," we are invited to agree, "once you get started on the walk you just have to complete it all don't you?!" We nod and smile ingratiatingly, and keep plans for missing out extraneous loops to ourselves.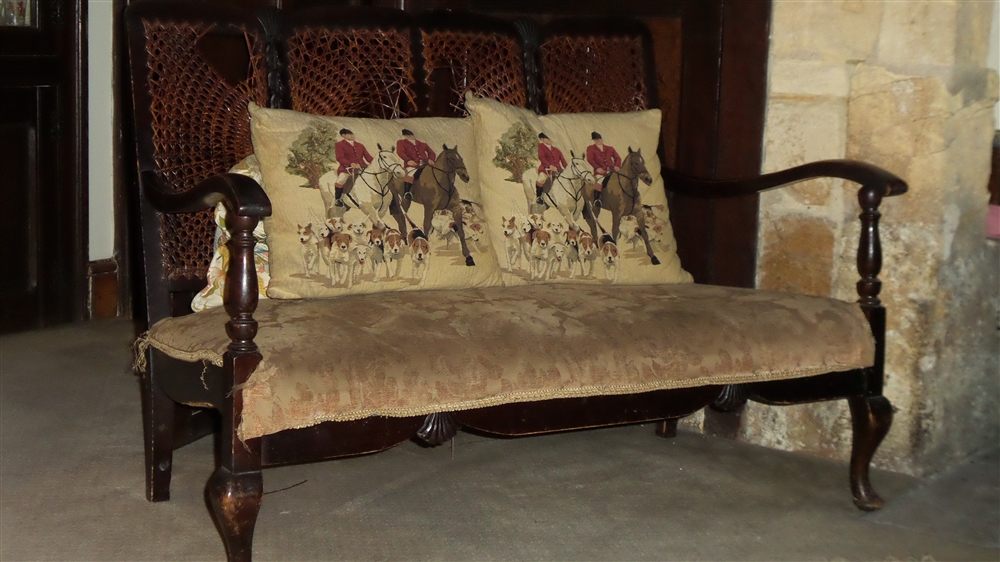 Say what you like about this B&B, but in sofas it remains unsurpassable.
Itís a fine morning as we set out on the path, and immediately get up a fine manly sweat as we stride out towards Stanway and...
| | |
| --- | --- |
| ... its bonny church and other quaint sights... | ...such as an auld wifie oot in her horse and carriage. |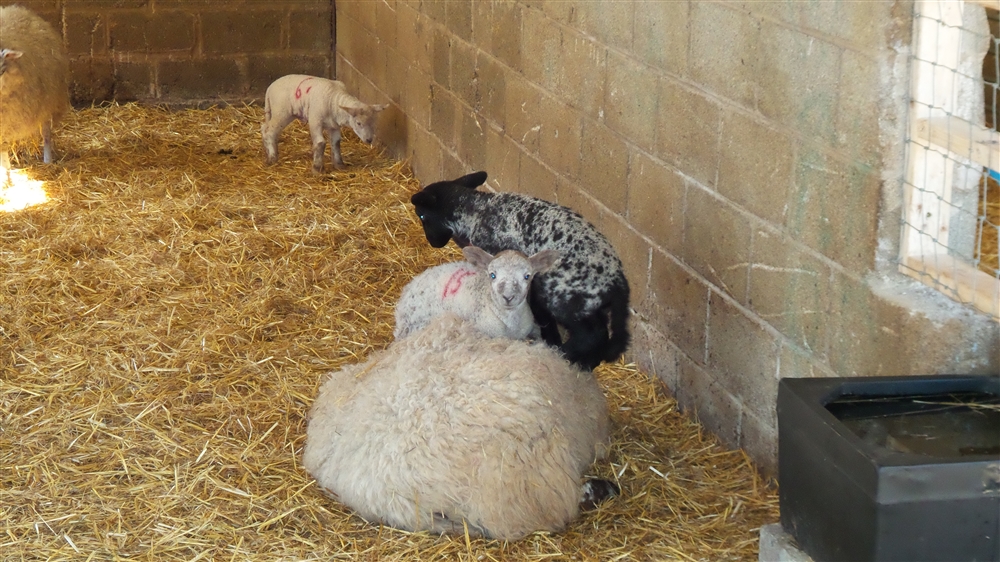 Itís lambing time and we face up to some right brutes,
who are obviously out looking for trouble.
The Cotswold Scenery is all around us, in all its glory.

Some vistas are magnificent,

although closer inspection reveals unpleasantness
lurking under every root and branch.

The walking is hard and we need to stop and sit,
sometimes because we are puggled,

and sometimes for other reasons!

The lasting memory, though, is of outstanding natural splendour.
Before we know it we arrive at the comely Cotswold town of Winchcombe which, while no Stanway,...

...is still quite pretty.

Say what you like about Winchcombe,
but in woollen-wrapped bicycles it remains unsurpassable.
Best of all, though, is the fabulous White Hart Inn, which has a commendation from the Bangers and Mash appreciation society and gives us sausages and beer for lunch. We like places that do this.
From here on it is onwards and upwards to the impressive Neolithic longbarrow at Belaís Knap, where we take the hint and have a wee lie-doon on top of the thingmy. There we rest, like two star-struck teenagers, staring up at the uncannily cloudless blue skyÖ
Slightly abashed after that gay reverie, itís time to hot-foot it towards Cleeve Hill, although first we have to make a ridiculously steep descent through luscious woodland, in which shrieked portents of cramps and cracking knee cartilage break the idyllic peace and quiet. We finally make it to the valley floor just in time to start the ascent again, which is a bit of a bugger, but does allow us to take in some amazing vistas of North Cheltenham and surrounding villages in Peteís backyard.
The bleak hill summit is a natural setting for a golf course, and indeed the golf club is where we come out. After another descent we settle for a well-earned pint in the sun-kissed garden of the Cleeve Hill House Hotel. Pete calls a taxi which speeds us back to Stanford and his own car. Thence, hame to Stoke Orchard.
Itís something of a first to have a home break right in the middle of a walk, but, hey! this allows fun & games & cuddles with the weans and a wee break for their mum, or perhaps it was vice versa.
Next morning, we are back on the trail, having been driven out to an elevated starting point by Euan, only to promptly drop down a couple of hundred metres and start our ascent again. In fact, this day is punctuated by many such ups and doons, traversing half a dozen hills or hillocks on our way to Birdlip.
Crickley Hill is a beauty, we stumble over some more Neolithic stones here, before going on to contour round the Hill with some dazzling panoramic views across and beyond the valley below. Stop for food, beer and cute ducklings at the Hungry Horse at Seven Springs, all very satisfying, each in its own way.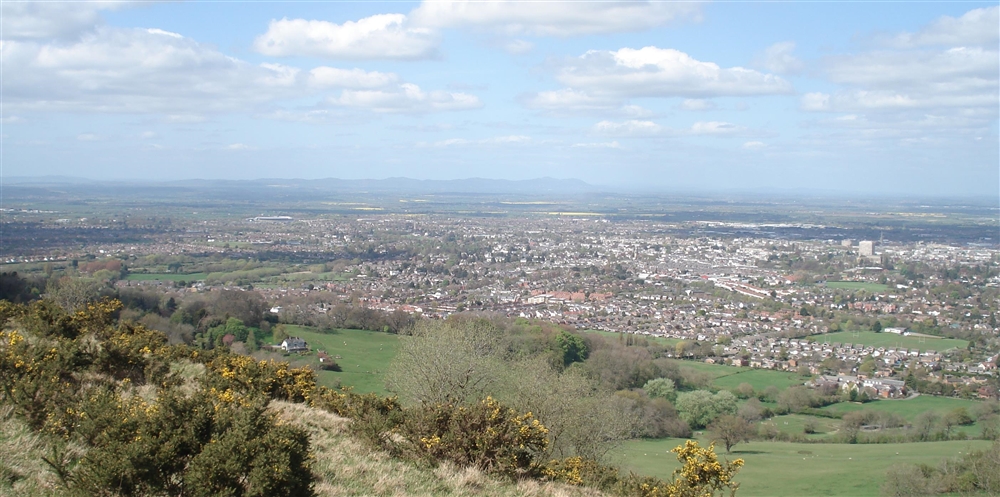 Last bit of walk into Birdlip village on the road is a bit scary, but we make the Royal George hotel in time for tea. We enjoy a bath Ė two baths Ė consecutively Ė before dinner is served. Actually, the service in the bar turns out to be so slow, we might have ordered the meal, THEN run the water, had the baths AND enjoyed a wee nap in front of the telly, before the food finally arrived.
would you go hill walking with these two??
Day 3: Early morning and Birdlip is left behind without further ado, as we stride on to Painswick, via Cooperís Hill, which is a cheese-rollerís paradise...
...and rather nastily steep in places.
We are irritated by a fellow walker, who seems terribly keen and whom we therefore dislike. We manage to give him the slip a couple of times due to our practiced subterfuge and predilection for short-cuts. Honestly, some walkers really do believe that old adage that you ďhave to walk the entire path, donít you?Ē. We know better! Even so, it really was a tad low of Adrian to purposely hide the signpost with his rucksack, sending the poor chap off to the summit, when he should have taken the side-turning, like us. Still, that was the last we saw of him, so fairís fair.
The Way takes a rather crazy route here, right across the middle of a busy golf course Ė we are still wondering at the warning signs about stray golf balls when we promptly have to take cover, as a well-hooked, half-flied, top-spinned clout comes flying out of nowhere.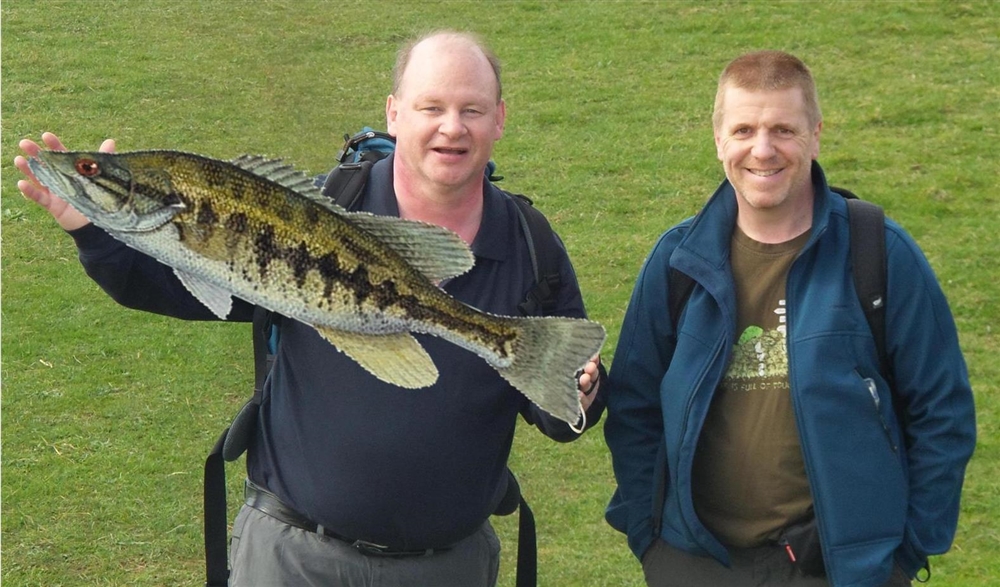 a well-cooked, half-fried, top-finned trout comes flying out of nowhere.
Painswick is as picturesque, stony and timeless as we had been led to expect, but we receive a first knockback of the trip when our pub of choice actually has the cheek to be closed! There is a more than adequate replacement, however, on the high street opposite the Church, and we do what we are used to doing on these trips, namely, drink coffee and water and beer, and write postcards, while we wait for lunch to be served. The long wait makes Pete go a bit mental, even for his standards, as he orders the liver and potatoes together with a vegetarian option of cauliflower cheese (actually another main course!) on the side.
Post-prandial punishment as we push out of Painswick, pass the midway stone, which was quite painful!, and climb steeply once more to Edge. This is a well-named little hamlet on the margin of a large common and has a fine pub with views back to Painswick and beyond.
We need to pause and take stock, because we have hatched a dastardly plan to cut out yet another meaningless 4 km long meandering hill-climb and instead have resolved to step out cross-country to a dot-on-the-map called Birdinhand. This short-cut involved some non-trivial map-reading and some impressive stile-breaching. We bravely risk our genitals, jumping over some electric barbed wire in a field of angry bullocks. From here we are in a twink back on the leafy Cotswold path, having successfully found the fabled Birdinhand (photo opportunity).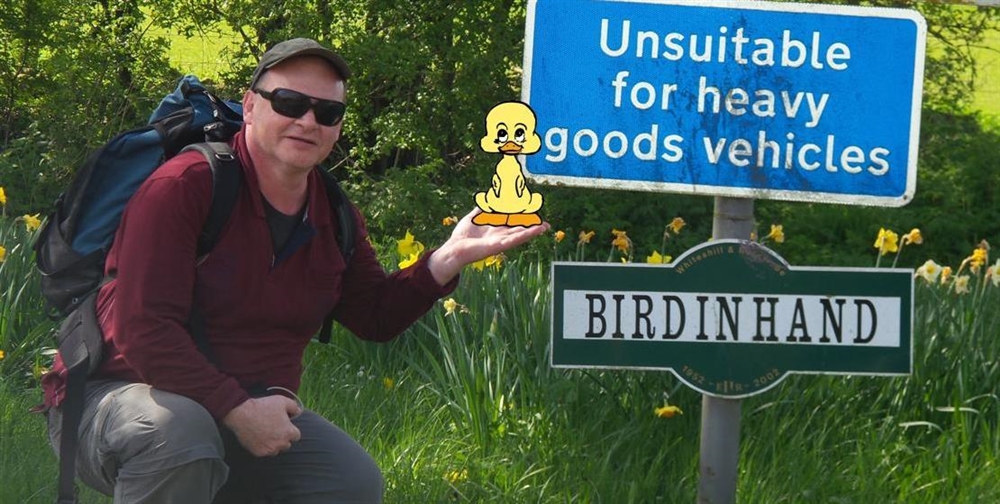 We are rather ecstatic and imagine itís all going to be downhill from here, and it basically is, and it is really all rather bonny, with views over the Severn Valley and back to the Malvern Hills, but the gentle descent proves quite a long haul over fields and dykes and over stiles which were not designed for coos or other fatties to pass, all the way down to Stonehouse in the Stroud valley, which is to be the end of our Cotswold walk. We briefly take the time for a traditional mother-nature tree-birth photo, although as the years pass it may be worth considering having a Caesarian in future.
Train from Stonehouse back to Cheltenham not running today, so we take bus instead to Gloucester and get picked up by Euan.
Another night of food and drink and shenanigans in Stoke Orchard with the wee and not so wee Armstrongs. Next morning, Adrian sets off on the low road home, via Cheltenham, Reading, London, Dover, Calais, Bruges, Brussels, Liťge, Aachen and er.. Cologne. Coach and ferry journey very evocative of student years. May be repeated next year. Or not.