| | | |
| --- | --- | --- |
| | 2013: The Gower Limp | |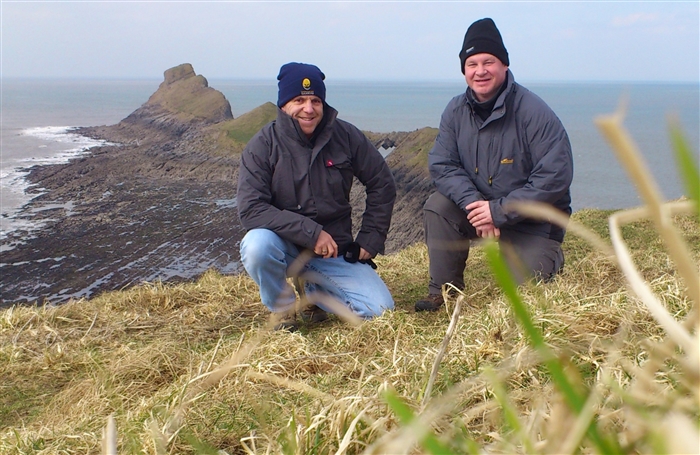 Early plans included catching rugby games at Ospreys and Neath, and mixing with canal walk around Neath, Gower Coastal path around the Three Cliffs, and Gower Way across Cyfn Bryn to Worms Head. Good few days, mix of terrains, lots of rugby, a causeway, a long day on the Sunday. We had teamed up with some mice to lay the best plans. What could possibly go wrong?
On Wednesday evening Peter started coughing, and felt hot. This was the weekend fever arriving. I failed to kick this one off in 24 hours as normal, and I was laid out flat by fever and chills and coughing and lethargy for the duration. It caused all change, extra challenge for the simplest walk, a bid for a record for the highest temperature ever recorded on Worms Head Ridge, lots of hanging around groaning, and huge amounts of patient self-indulgence from Adrian.
Sigh
Peter picks up Adrian at Bristol Parkway on Fri afternoon, and we grabbed a late lunch at the Beaufort Arms just down the road. Then we drive into Swansea. The Beachcomber is a friendly wee place, with good welcome and humour and help and nae room to swing a particularly short cat. . It is most certainly the B&B with the most convenient en suite bathroom in Swansea. It is possible to basically fall out of bed and find oneself in the lavvie. There is nae parking at the Beachcomber, nor anywhere else in Swansea if mannie is tae be believed.
| | |
| --- | --- |
| | |
We unpack then get big purple bus out to Liberty Stadium. Great game, Ospreys trounce poor Dragons, notching up 50+ points. Hot Bovril and Welsh children's choir renditions very pleasing, but these are followed by pints of freezing cold beer which prove counterproductive to cockle-warming process. Chilled to the bone, but thoroughly entertained, we grab some food at Frankie and Bennies and return to the beach. Not the most adventurous evening ever, but perhaps Peter's illness is starting to go.
Saturday morning we aim for the Tennant Canal. Peter feeling rough but at least vaguely human. It is dry, but bitterly cold, and the wind coming off the sea is like ice. We bus it out to the start, to save that extra wee bit of energy. This potential hidden gem of a walking route turns out to be just hidden. Especially to the locals, who are justifiably dubious of our proposed choice of walk, Our first sight of water is a stagnant green mess. Half bricks and broken glass litter the landscape.
For an hilarious opening quarter mile we have to trudge in file behind a massive digger machine thing which crawls along the walking path, filling it from side to side with nae chance of overtake.
Once we get past the open vista is not really much of an improvement. There is a view or two worth looking at, for example the ruins of Neath Abbey (more broken bricks!), but then it closes down again as it nears Neath town. The canal path from Swansea docks to Neath docks is, we are forced to agree, grimmer than it sounds. Some very soggy and messy going underfoot. Peter's energy runs out after about 4 miles, and he retreats into an inner shell to cajole his aching legs to get him to Neath. Ho hum.
We make Neath. Cold, tired and in one case feverishly perspiring also. We stop at the first coffee shop we come to, which is a wonderfully twee French bistro. A large Welsh gentleman serves mugs of tea and all day breakfasts to Neath working men in an atmosphere of a Paris boulangerie. We tell the owner that we think this place is great, and he tells us that he was all set to open a French Bistro in France, but then some immigration thing happened and he couldn't, so he opened it in Neath instead. Maybe he was a bit hard of hearing and thought he was opening up in Nice? We think this is a great story. We order coffee. Adrian sits and Peter sits and fevers and chills and sweats uncontrollably. The owner wipes down an adjoining table with spray and cloth, and we have a vision of him doing the same once we are gone, to our table, plates, cutlery and chairs.
We muster up enough energy to walk down the road to a pub for lunch, but in fact barely eat. Everyone else seems to be drinking cider out of cans, not a very encouraging advertisement for a CAMRA-listed pub. We are looking forward to the game, but it is bitterly, bitterly cold, and we are under no illusions of sun-kist beaches. This will be an endurance test.
We go to the game. It is. Neath must have been humming in its day, but its day has long gone. Its a good game, the home team win comfortably; the unfancied travelling underdogs from Bargoed fight, fight against the dying of their cup-run light, and resist until the end; fans of both teams around us bicker in an enjoyingly bad-tempered kind of way; sugar marinated children run crazily up and down the touchlines. Typical local game. Its very cold. Leaving the clubhouse at end of halftime to sit outside for the second half has a touch of Captain Oates about it. But we make it all the way through.
| | |
| --- | --- |
| | |
We catch bus back home. We find a another CAMRA recommended pub for the evening which is in the process of changing ownership that weekend, and is great, apart from beer, food, staff and atmosphere. Most notable bit is when the bay windows are opened fully to clear the fug and accentuate the Mediterranean ambience. Swiftly Move move to an Indian where Peter orders food and then, half an hour later, apologises to the waiter for not eating it.
Sunday dawns bright, sunny, cheerful, dynamic and full of weekend fun. The exact opposite of Peter. Still bloody perishing, which was like Peter. Any pretence at walking even for 5 minutes today disappears out of the window, and instead we spend the day mooning about cafés, pubs and heritage centres. Basically, doing all the silly inter-walk bits of a standard trip, but without the walk. Half hour breaks that are priceless in a day full of walking instead pall in a day empty of walking. We get a bit lost somewhere around the infamous Mumbles and have to double back to Swansea before finally managing to hit the Gower highway. At freezing Oxwich Bay, we watch a lonely paraglider-surfer-manny bravely doing his thing and derive a certain amount of satisfaction from crunching shells underfoot as we plod along the beach. We visit the Gower Heritage Centre, which turns out to be not quite as crap as it looks, and footer about on the exhibits. A round of Victorian children's skittles is the nearest we get to our traditional bar sports this time round. Even in his febrile state, Peter manages to knock over more skittles than Adrian. We have lunch in the Gower Inn, a plastic pub with nice, if slightly glaikit, staff and terrible, processed food. It is the first hostelry we have ever experienced on these trips in which bar staff give out a little cheer as we enter the bar (usually the cheering begins when we leave a place). Peter orders food and then, half an hour later, apologises to the waiter for not eating it.
We give up the ghost and make it to the King Arthur Hotel by about 3.30. The hotel is still full of Sunday Lunch Crowd. So we turn up unannounced, leave the luggage in the car, and just go straight straight up to the our room. Of all our dubious assignations all over Europe, this is the one which probably looks worst in the eyes of the hotel staff. Is this just a 2 hour motel break, or shall we actually be spending the night? Reputations plummet once again in another European spot. KAH is a cracker, with good beer, fabulous food, wood fires and wonderful atmosphere. Adrian dines in splendor on a fabulous slice of Roast Beast, while Peter orders food and then, half an hour later, apologises to the waiter for not eating it. Adrian pulling well ahead on the calorie intake scale.
| | |
| --- | --- |
| | |
Monday dawns, and we head for Rhossili and the Worms Head. A fabulous morning, with memorable walking in a fabulous spot, exciting views, great topography, followed by food excellent coffee, chocolate shortbread and great beer. Reminder of what we have missed for rest of this trip.
We drive out to Rhossili, and walk the final mile from car park to the promontory itself. Spectacular view of the causeway and peninsula ahead, getting closer with each step. We pass the coastguard's hut, drop down to sea-level and then step out onto the causeway. Its rough walking of course, with sharp slices of stone and absolutely littered with more mussel shells than one could shake a stick at. The wee island at the end is very attractive, with a spectacular ridge which of course we have to climb and to capture the great best views. Peter discovers that all previous attempts at setting up a micro-rainforest climate within a waterproof outer layer over the years were but feeble attempts. Really what you need is to be absurdly wrapped up, then undertake a stout climb on an exposed spot with a raging, perspiring fever. That gets the Amazon basin flowing like no other activity.
We return to the Worms Head Hotel and sup a pint of Worms Head ale at the Worms Head Bar. I wonder if they are marketing their position sufficiently well? Great morning.
Then we drive home. Hugs for Samantha and tea and books and ale and rugby videos get us through the night at Stoke Orchard. Nicola breathes a sigh of relief now that cavalry has arrived and gaily succumbs to the same fever which we like to share. Adrian beats a retreat back to Germany heap big double quick.
Not quite the trip planned, but at least Beechams Medication gained from it all.