| | | |
| --- | --- | --- |
| | 2012: The Pieterpad | |
South East Holland remains, perhaps, the world's greatest unexplored wilderness. After Shackleton's flummoxed attempts to begin exploration of the area in the 1910's, international explorers spent the following decades concentrating on the lesser challenges of Everest, the Poles and the North West Passage. Ranulph Fiennes revived interest in the area in the 1970s, as he established the first base camps and provision depots. However, it was not until 1983 that the first trailblazing crossing of the Pieterpad was successfully achieved by Bertje Jens and her friend Toos Goorhuis-Tjalsma, when their crown bowling fete was unexpectedly cancelled one summer. For many the complete route remains an unreachable challenge, but other successful attempts have been achieved, using the dumps of provisions, medication and oxygen originally set out by Fiennes and, later, Jens and G-T (as she is affectionately known in the Bridge Club). This trip: covering almost the entire route, except for just a little bit at the beginning and another little bit at the end; traversing the rugged peaks and crevices North of Gennep and the exposed plains of Zyfflich, is the first to eschew oxygen and excess provisions, and rely solely on whatever can be obtained by hunting and foraging en route. Mostly schnitzel and chips and bier.
Friday.
Meet in Zum Schussel, Dusseldorf. Home brewed alt bier, very nice. Take metro to Dusseldorf Hbf, curry wurst all round, then train to Venlo.
Quick drink in Station Hotel at Venlo where waiter who has mistakenly wandered on set from the Savoy in London insists on putting tablecloth on table, despite the fact that we have already unloaded bier, possessions and hats onto it.
Train to Venray, where we sit engrossed with vision of young Dutch lassie sitting opposite us on the train, who proceeds to stuff her face with salad as we gasp, slightly squeamish at such a public display of herbivoracity. I swear I never saw someone acting more like a coo lowin ower a dyke than that wifie. And it's not as if she was a bad-looking quine, just totally gallus that's all.
Hang about at Venray station for an hour. Well, in fact, walk down a back path, past a local chap in his garden, and find a nice wee pub and have a drink, and play table football. Then taxi to Trefpunt.
| | |
| --- | --- |
| Venlo has more railway tracks than one would have thought possible for a wee station. | We walk past a Venray chap in his front garden. |
We drink nice pilsner and horrible, sweet alt bier and eat schnitzel and chips in the local pub. We share with a tall, slinky, fair-haired siren, who made halting, blushing conversation; tried to make frequent eye-contact and danced voluptuously as the night wore on. Tempting, revealing, fantasy-inspiring. Or perhaps it would have been had she been 60 years younger. As it was, I was just reminded that my laundry desperately needed ironing.
These are war-generation Dutch locals. They ingratiate themselves with us descendents of their British liberators, repeating in a slow German-Dutch mix their happy memories of British Tommies arriving and handing out chocolate to the little ones, in relief of the overthrow of German invaders. Peter gets his German nouns and Dutch verbs just ever so slightly mixed up and, mistaking the conversation for one about chocolate only, defends German chocolate manfuly, saying how rotten is the British kind. For a second there the EU tottered once again, but our food arrived and so we retreated.
Saturday.
Walk from Holthees, which is already satisfactorily 2 or 3 km further along the track than we had intended.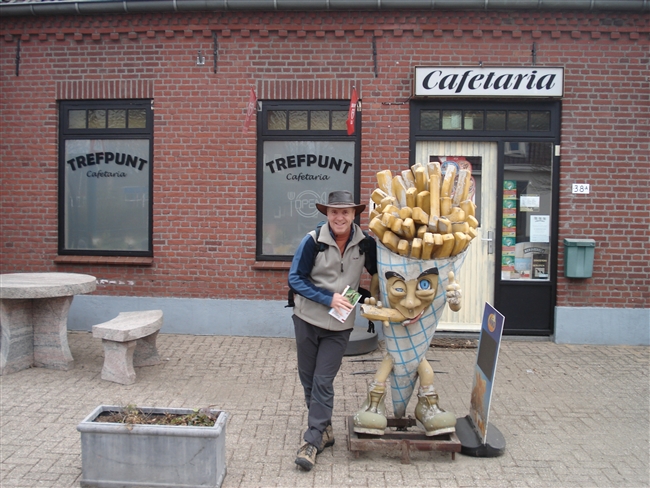 Trefpunt glamour is internationally underappreciated.
First stop Vierlingsbeek, about which I can remember nothing, except that each of us had a cup of coffee, a mini-egg and a crap at the local library.

Gruelling days of schnitzel and beer occasionally broken up by all too brief spells on the road.

Err.....
This one is a bit of a mystery.
Thence on to Aferden for ...
| | |
| --- | --- |
| ...lunch... | ...and darts. |
First sight of the impressive array of Gulpener beers which are available in this part of the world. We disdain the stouts, porters and high alcohol brews that trap the weak-willed, and instead go for a man's drink: pink, sweet, fruity pilsner at 3.4%. Speedfreak!
| | |
| --- | --- |
| For rugged, outdoor types, | it's a Man's Life on Betty and G-T's Pieterpad. |
Past some moorland, highland cows and mountain goats, all looking vaguely out of place in Holland.

Typical Dutch scene

Raw, desolate, frozen wastelands.

There are no local libraries out here.
Then long pull through Gennep, which decides in its wisdom to site the town "centre" in the very North West corner.
| | |
| --- | --- |
| Nice wee town square, chiming clock and Hotel de Kroon. | This year's compulsory arty farty one. |
Sunday.
Takes about a minute to get from centre of town to the town boundary, given bizarre siting of centre. Down a wee road, past some houses, along a suburban street, and in the very satisfactory setting of all this municipal mundanery we come across the....
....first windmill of the trip!!
Long auld pull across fields to the German border, which we walk alongside for a wee bit. Strike out over some hills and pass many, many contour lines on the map. On a Scottish map this would involve climbing mountains, but in our Dutch map the lines are only 1 or 2 metre spaced, and the highest we get is 80 metres (40 contour lines!) Descend into Groesbeek where we stop twice: one was for Warsteiner beer (but nae food); the other was for kip sate and prawn crackers.
| | |
| --- | --- |
| Suffusing shadows in spring sunshine. | Pass a bonny windmill (not as painful as it sounds) |
Then back to real world for sombre trip round liberation museum and images of wartime cemeteries.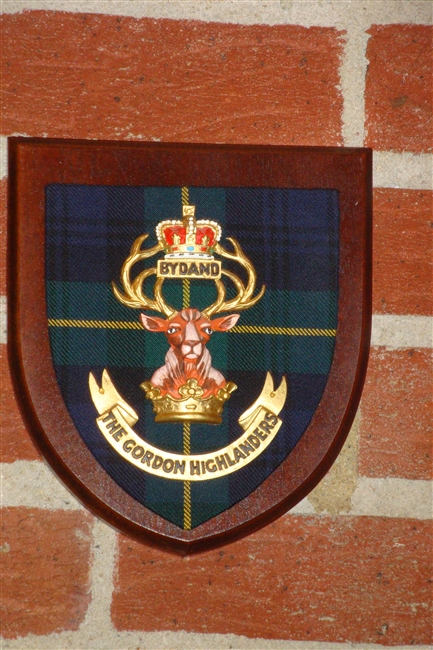 Walk on across more countryside which is, well, nice rather than anything more spectacular. Cross the edge of the Wylermeer, just at a dyke. We say hello and then come across the German border, and stride out towards Zyfflich for overnight stop.

Winning entry in this week's Spot the Ball Competition

If its a riot of colour and natural glories, with stunning views and exotic experience that you hanker after, perhaps the Pieterpad is not for you.

It's that Camino again! These signs follow us about all over Europe.

Step we gaily, on we go.
On Betty's trail in Lands so Low.

Everything a man needs, except coffee and minieggs.

Mountain goat definately not at home in Holland.

Shades of the Coleridge Way perhaps? While never really spectacular, this walk was at times quite nice.

Seconds after the shutter was released for this one, the force of Adrian breathing out could be felt as far away as Rotterdam.
Zyfflich is a very small place...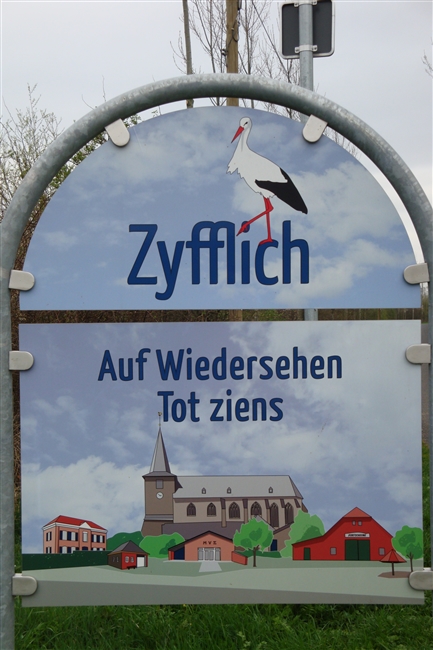 ...but we walk the length of it twice to find our b and b, and another twice to get to pub for meal and back. B and B a warm, lovely, friendly family place, with lovely room...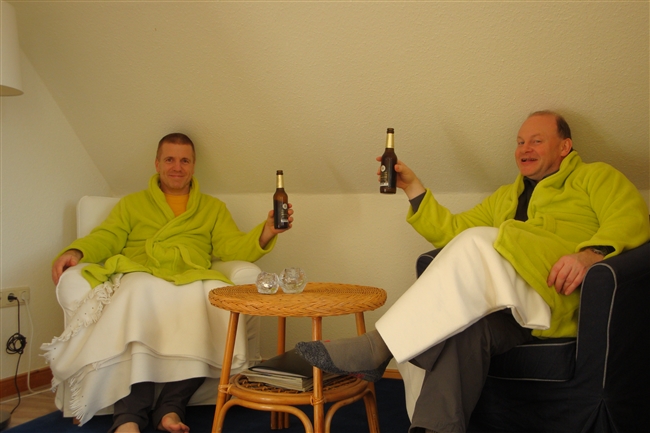 ...sumptuous dressing gowns...
...and very nice breakfast. Pub is a smoky, small town bar, which oddly opens out to a luxury dining room out back, where clearly the county come to dine. Eat fantastic food for less money than schnitzel and chips in dutch cafe. Superb place.
Monday.
Walk length of Zyfflich for 5th time and leave, never to return. The village's symbol, a stork, flies directly overhead as we go, a rather nice moment. Long 12 km stretch to Millingen an der Rijn.
| | |
| --- | --- |
| | |
| Do cows enjoy this? | Err, no they don't. |
| Clip clippety clop on the stair | |
Here we get a coffee at near end of town, before crossing to far end where we plan to get the 12 oclock ferry, but miss by one minute. There now follows a shameful array of bars and drinks, culminating in our making about 4.5 km in 5 hours over very easy ground. Spend 2 hours (and miss another one ferry) in lunch stop at Mill.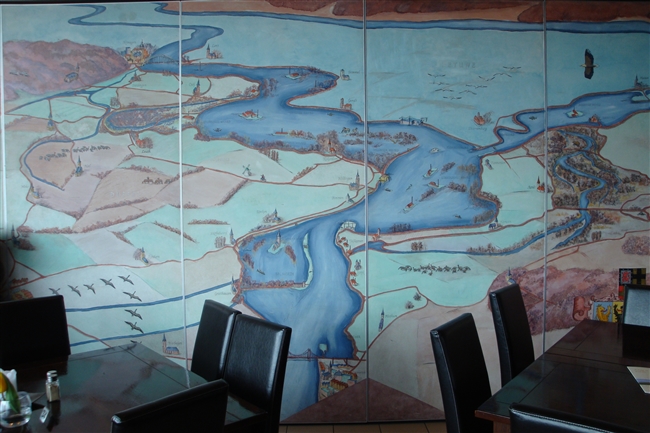 All our pre-walk training with improvised pontoons, kayaking skills, fording, crocodile-escaping and rope-bridge-building seem to have been in vain, faced with the level of terrain we experience on the Pieterpad. Instead, we use the ferry service, despite the fact that the far bank seems to be ablaze!
Then stop again where we originally planned to have lunch just 2 km further on and spend another hour drinking. Then again another 2 km further on at Tolkamer where we watch barges on the Rijn and sup more. Its a tough walk. Recover tiny bit of face by striding out final 8km or so to Elten.





We got really worried that we had missed the compulsory kitsch garden this year. Just found it at the last gasp.




Here we stay at an old folks home, and we walk directly into the centre of the nursing home as we fiddle about getting the right room. Pass several old ladies in dressing gowns as we walk down corridors in jackets, backpacks and hats. Very odd. Hit Elten for the night, but this a disappointing experience, despite unearthing a pint of guinness somewhere. Resolve to eschew high calorie and high price, rich fare of other nights, and stick to basic, veggie food. End up devouring most of a pig, a fair bit of cow, a thousand chips and some beetroot in a feast of Balkan, carniverous gluttony. Oh the shame of it. Is the Elten bitch barmaid with the middle finger worth a mention? No probably not.
Tuesday.
Mostly trains and buses today. We succeed in getting tickets to Dusseldorf, mostly because the ticket chappy at Emmerich interpreted my request for, "a one-way bottle to Dusseldorf, and make it snappy, young man!," in the spirit in which it was intended, and not literally. Or perhaps he just didn't have a snappy bottle to hand.
Did squeeze in a coffee in a coffee shop straight out the 1950s, where the owner's display of modern, state of the art kitchen machinery has remained unchanged through the flowing sands of many years, slowly become dated, then retro, then antique before her very eyes. We love places like this, although clearly Emmerich's Monday morning clientele are less enthusiastic. Paid about 3 euros for our hour's stay and two coffees during which we share our cafe experience with nary another living soul. How can the owner survive on this?
And so it was that the Allan-Armstrong Dutch Foray of 2012 succeeded where so many other expeditions had failed: in valiantly crossing two of Europe's mightiest rivers, conquering the summit of the lofty Duivelsberg, soutly defending both mott AND bailey, hunting down big game on the dusty savannah, mapping the meandering course of the tropical Afleidingswater and, most impressive of all, tracing the source of the mythical stream called "Wireless-lan", deep in the depths of the jungle settlement known as Zyfflich. From this day onward the trail has resounded to the gentle sound of Pieterpader, coming from the countless calloused feet of the grateful natives of Gelderland, Limburg and Noord-Brabant, all thanks to the sterling efforts of "our brave lads" and, of course, their heroic forerunners, Bertje and Toos.