| | | |
| --- | --- | --- |
| | 2010: The Cesky Raj | |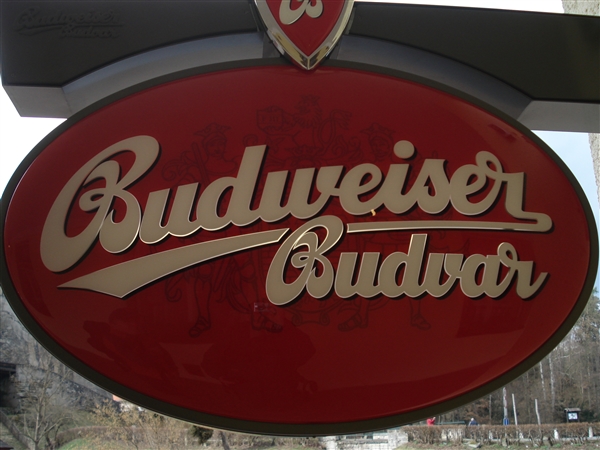 Bohemian Paradise, Czech Republic, 2010
About 90 kms north-east of Prague, the Ceský Ráj is a natural preservation area covering about 180sq kms and stretching from Jicín in the south to Malá Skála in the North. Its name means Bohemian Paradise and was coined by enthusiastic patrons of the mineral water spa at nearby Sedmihorky in the 19th Century. Paradise is probably a bit far-fetched, but along with the national parks, the Ceský ráj is certainly one of the most attractive natural areas in Bohemia.
Day 0 – Prague – Mnichovo Hradiste – Na Krasne Vyhlidce
This year's walk, our first to a former communist-bloc country, begins in nail-biting fashion, at Prague main station, platform 6 (south). Adrian had arrived early and cased the joint for our stay here at the end of the week. Peter's flight touches down 14 minutes early. Bus would be too tight, so he gets a taxi. All going well, until the taxi is bizarrely delayed by Prague Marathon! I sit in the taxi watching runners going past, as time for departure of last train of the day gets closer and closer. We cut it very close, only made it by 7 minutes - lucky that plane was early!
We meet, with only seconds to spare, for the last train to Mnichovo Hradiste (Central). Recover on board over a wee bevvy.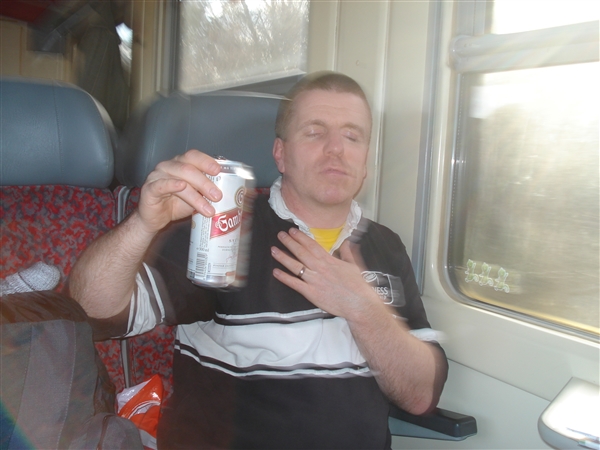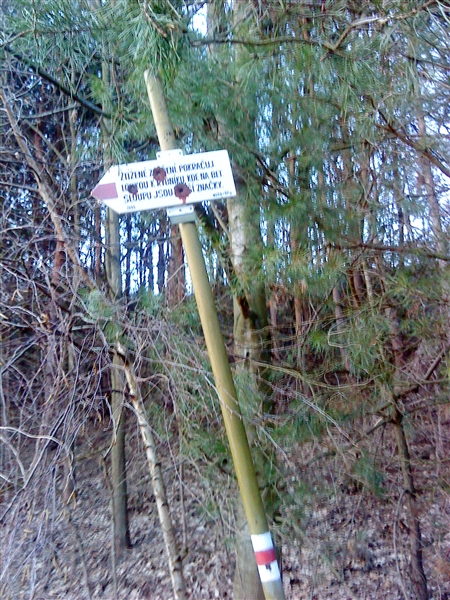 On arrival at Mnichovo Hradiste, our gateway to the Bohemian Paradise, we head swiftly up steep Muszky hill, as the light slowly fades. We are not at all deterred by the opening sign for the trip, which is spectacularly defaced by bullet holes! We are rewarded by stunning views of and from wonderful first crags of many on this trip.
We briefly nod in appreciation of the labyrinth of iron-age rock fortifications at Drabkse Svetnicky, but we are basically too puggled to consider exploring them properly. Some head-scratching and the odd wee sweary word, as path through the crevices grows ever steeper and narrower. Some of the twists and winds are almost comically narrow, as we head off into a dark crevice of which we cannot see the end.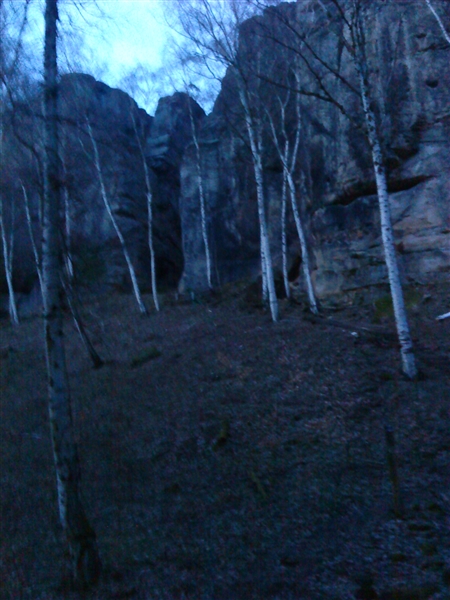 At last, we make it by torchlight to our trailside inn: "Na Krasne Vyhlidce". Sadly, the innkeeper Mr Vladislav Volf is not there to welcome us (he's out for the evening, apparently) but a buxom local lass does the business and knocks up some homely fare for us two tired travellers. Adrian wakes in the night to some strange, soft howling downstairs. Above us, a full moon is shining….
Day 1 –Na Krasne Vyhlidce – Kost – Trosky
The ample barmaid of last night is still alive, without noticeable bite marks on her neck, and she serves us up a slapping breakfast of ham and eggs. We never did meet Mr Wolf, but then he was probably busy. It was a full moon!
Just as we set off, via the inn's bizarre mini-zoo (not noticed the previous night), a light drizzle starts up.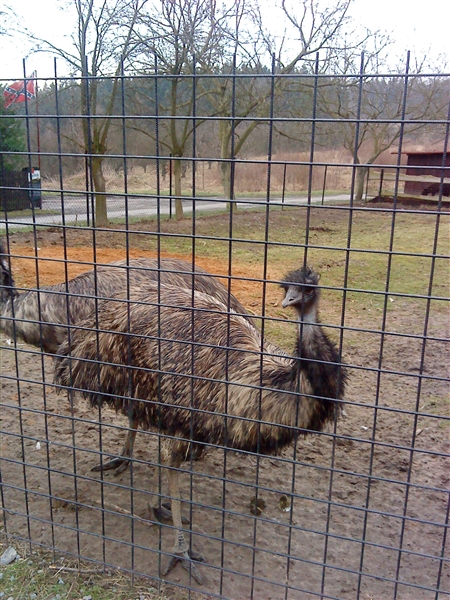 Undeterred, we swiftly cross the wonderfully craggy landscape of Prihazy skaly, with some precarious steep drops to left and right, lucky we never knew about them when walking in the dark last night.
Before too long, we come upon a remote settlement with an open restaurant and decide to stop here for beer and coffee. We look askance at the tourist coffee, which is cheaper than instant coffee (what was it?!), and instead order the genuine Cesky Stuff. It arrives a smells wonderful. We both breath in the gorgeous fumes, both sigh, both take a deep slurp, and then both retch the contents back onto the table. Coffee makers in Cesky don't bother with filter papers. The stuff is swimming with coffee grounds. We are picking it out of our teeth for hours. We have no more luck with the beer. Although the pumps make impressive noises for fully 20 minutes, only froth emerges. After half an hour we give up and push off, regardless.
The only village we go through is pretty, but was named by The Society for the Abolition of Vowels. The name is presumably what it sounds like when you drive through it on a motor bike at 100 mph.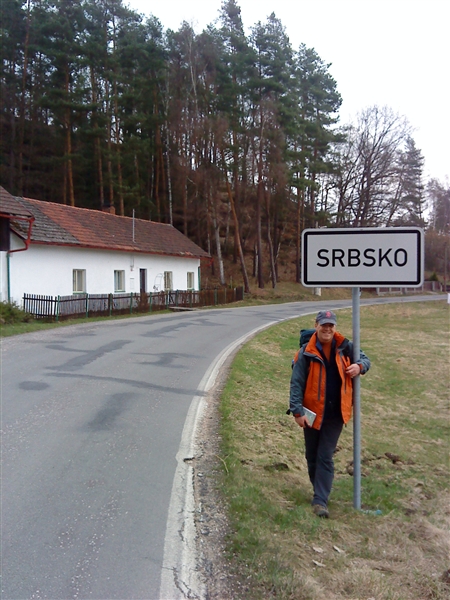 We had been planning to have a decent rest and lunch at Kost castle, but are initially scunnered, as the breathtakingly picturesque castle is clearly closed.
| | |
| --- | --- |
| | For a while, we explore a fine cave, but there are no bones to gnaw on there. |
Somehow, we are lost. Just on the other side of the castle, however, we eventually stumble upon the perfect lunchtime pub, where we enjoy some authentic Budweiser (Budvar) beer with wonderful gulasz and knidliki, which are tasty slices of dumpling in a meaty sauce.
Suitably strengthened, we set off up quite a steep hill above the unusually named village of Podkost.
Outside Libosovice, we first set our eyes on weird Trosky castle in the distance, just as the rain comes on again.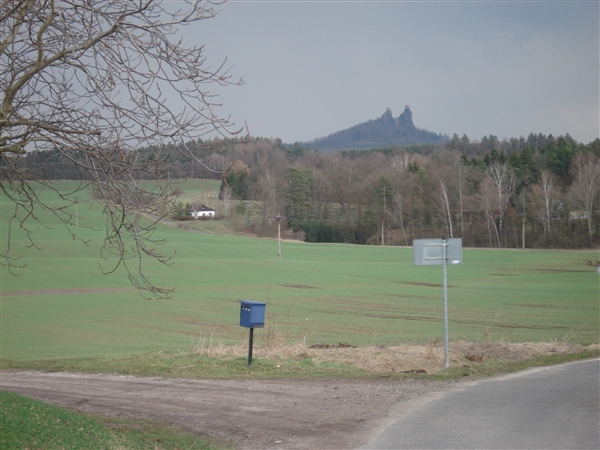 We escape into a primeval valley with very tall trees and massive sandstone piles, which look beautiful, but must be very painful.
We emerge from the valley and all of a sudden Trosky castle appears much closer, but there is still the hotel to be found.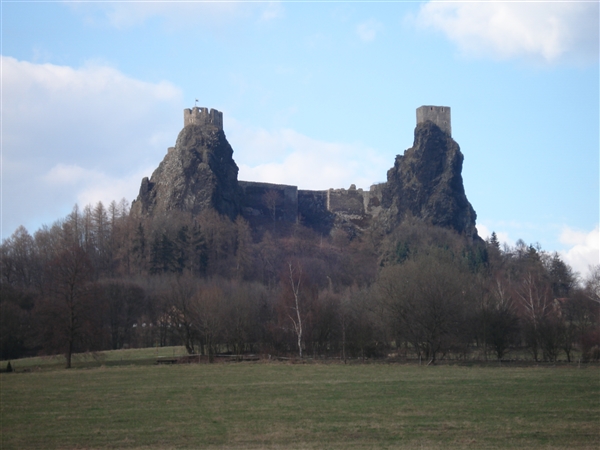 | | | |
| --- | --- | --- |
| | When we finally reach it, we are rather despondent to find the hotel locked up and the hosts nowhere to be seen. Finally manage to reach them by phone and they soon arrive, full of apologies and with poly bags of food and drink. The place is indeed still closed for the season, but the youngish couple (two media professionals from Prague, who have just taken over the business) open up the hotel just for us two and they proceed to make us feel very comfortable in front of not just a roaring fire, but also a beautifully crafted chandelier of reindeer antlers, which is not tacky at all! The hostess serves up an improvised but perfectly respectable meal of gammon and bread, washed down by some home-distilled apricot schnapps. We proceed to consume all the beer in the hotel, which we regard as a very satisfying achievement, even if it was only the last two bottles from last autumn. | |
Day 2 – Trosky – Hruba Skala – Valdstejn – Turnov
The grim, surreal-looking Trosky Castle isnae open and to be honest we cannae see much from up here anyway. So we shrug our shoulders menacingly...
...before setting off again down the hill and back onto the trail, via, err., one or two diversions.
We immediately get kind of lost, and once we eventually find our location again on the map, we discover that we have inadvertently taken a useful short cut of a couple of kilometres. Long, lonesome trek through verdant valleys, interspersed by crazy sandstone formations. Eventually pop out of the forest at Hruba Skala, where we collapse for a pint of Gambrinus and a coffee at the kiosk on the Castle forecourt. Very bonny views, including one all the way back to a surprisingly distant Trosky, which seems to loom over the entire country.
We decide not to lunch here, and regret this 2 hours later, having not passed another eating place since. We fool about for a bit in the castle court but feel rather too scabbily attired for the posh restaurant and resolve to head on to Valdstejn for lunch. (This was a very bad idea, since Valdstejn was resolutely shut.)
Err, this one is a bit of a mystery!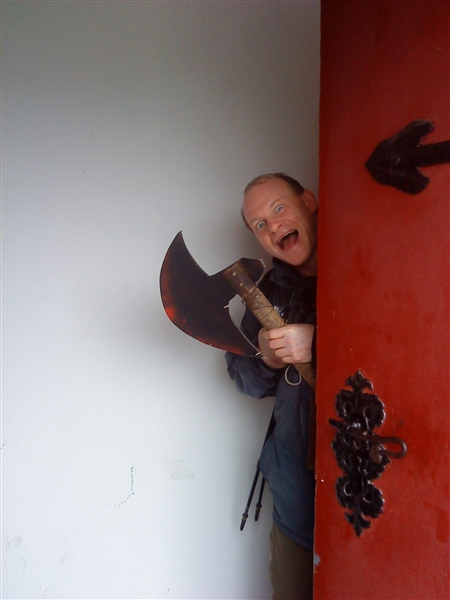 Take in some breathtaking, sometimes scarily un-secured, crags, en route. We piss about for a while at various viewpoints, before pushing on to Turnov. We pass a beautiful Arboretum in the middle of the thickest forest, which really seems very pointless. There is nothing inside that is not outside in great numbers. Feels for all the World like a prison for some naughty trees which have been caged in.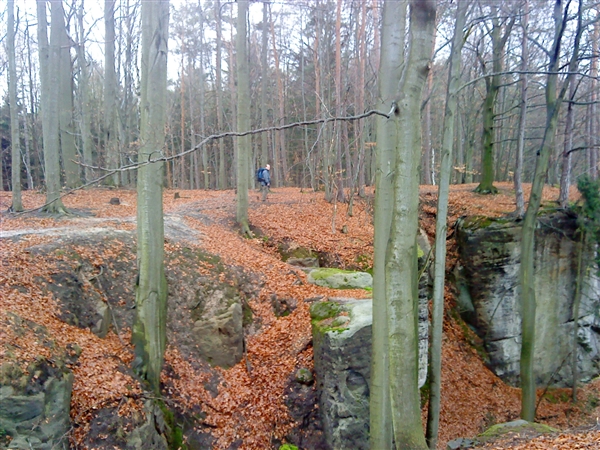 Finally reach a very cool viewpoint immediately above Turnov, giving us a fine view of the city.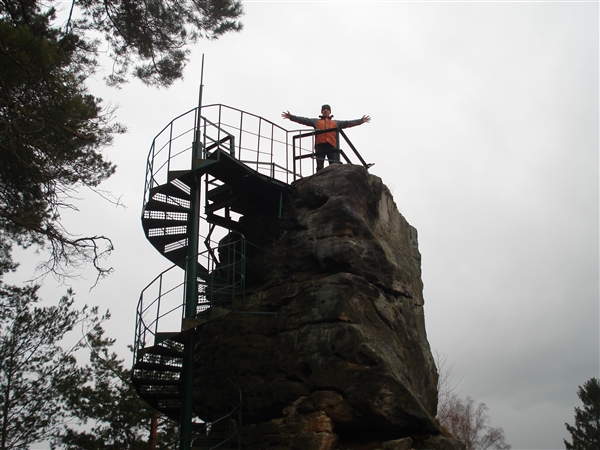 We descend swiftly and fall upon the nearest pub for a very late lunch. Again, we consume cheap beer and yet another fine meal of gulasch and dumplings. We quickly find the Viktoria hotel, but are disappointed to learn that the town museum, bowling alley, and indeed everything else boasted of by Turnov's information office, is closed today. Because it is Monday.
Hotel room is, rather bizarrely, on two levels, in a land refreshingly free of tedious Health-and-Firkin-Safety Regulations. Pete bags the upper bunk.
Crash out for a couple of hours before hitting Turnov for the evening. Optimistically, we choose the Belgian Restaurant at the main square, because it sounds a bit different (and is open) but even there we encounter the same meaty, dumpling-oriented fare that we have been consuming for the last three days. Having been served nothing but Brown for 3 days now, Peter spots some Green on the menu, and asks for some with his meat and dumplings. The waitress couldn't have been more flabbergasted if he had asked for the whole arrangement to be sprinkled with gold. She says yes, then comes back and says no, then yes, then no again. Peter gives up hope, but then, after some presumably hysterical scenes in the kitchen, remarkably, the chef does come up with some broccoli. It is the only Green we see in 5 days on the Raj.
Spend the rest of the evening drinking copious amounts of local beer in Al Cappone's bar, a seriously downmarket joint which, without irony, still sports its former name: "Turn-Off". We hog the juke box for the rest of the evening and use up all our spare crowns, tapping our feet and singing along with closed eyes to the pop music of our youth, to the obvious disgust of the only other person in the bar, the barmaid, who must be about 18 and will likely talk of this evening for months to come. A quality evening's entertainment.
Day 3 –Turnov – Frydstejn – Mala Skala – Turnov
Today, we enjoy the previously unknown privilege of doing a circular walk without a rucksack. We eat breakfast at the other (the better) hotel in Turnov, before crossing the river Jizera, messing about a bit at a play park and swiftly climbing out of the valley on the other side. Good weather and roadworks follow us all day. Soon, we are in the rather wonderful wooded idyll of Drabovny scaly, high above the Jizera valley, a charming landscape which almost lives up to the rather pompous name of Bohemian Paradise claimed by Cesky Raj.
What's that in the very far distance? Good grief, I don't believe it. Will we never get away from that blasted castle?!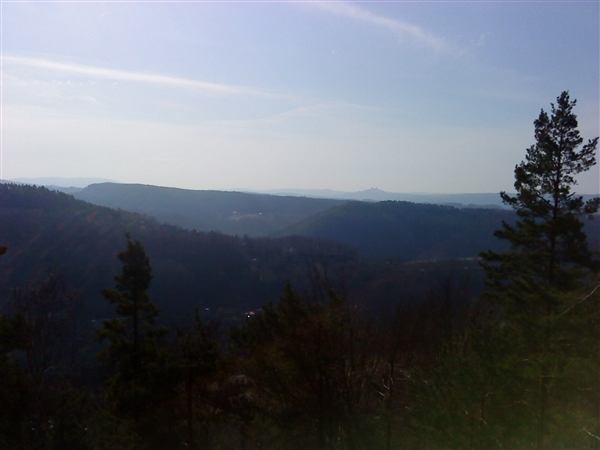 We emerge from the woods hoping vaguely for a beer at the sleepy village of Voderady, but it seems all the pumps are dry. We while away a few minutes with other diversions instead.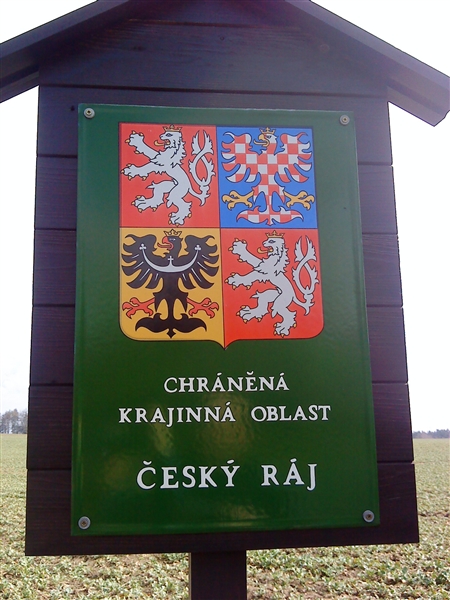 Frydstejn, a stunning castle, is also shut, something which we are slowly becoming resolved to on this walk.
We follow a high craggy ridge all the way back to the Jizera at Mala Skala, where we descend to have lunch at a pleasant, if smoky, Italian restaurant at the riverside. We cross the river again and take in a marvellous panorama of the Pantheon and Frijdstein castles and the Jizera river valley before tackling long, snaking paths up steep Sokol hill, nearly getting ourselves lost again, around Besedice.
It is here that the Great Event occurs. We hear a heavenly choir and feel the beating of Angels' Wings, and with a roar of Godly Thunder Adrian is called up into the clouds. It must have been the Camino that did it.
The Transfiguration of Adrian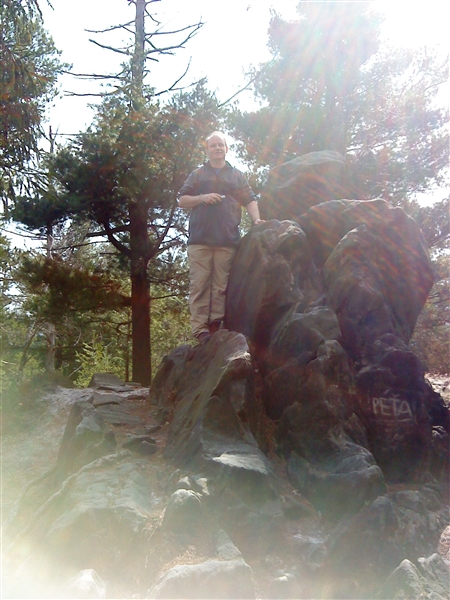 Once he returns (a case of mistaken identity, apparently), we find a charming, bizarrely Mexican-ranch-style restaurant which (inevitably) is not open, so we sit for a while anyway in their garden. We share our meagre rations with a very cute wee dug, which, apart from us, seems to be the only creature around.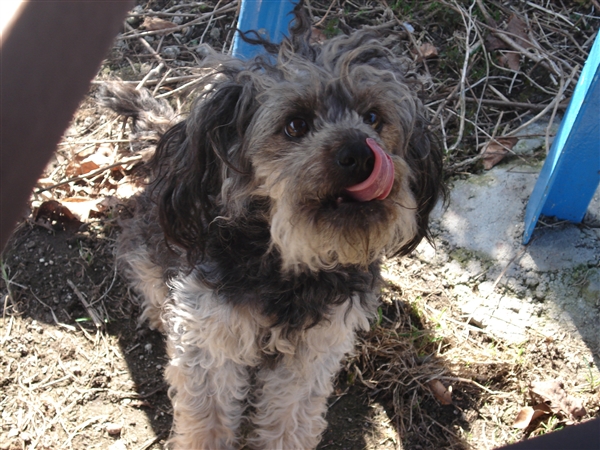 For some time now it looked as if the obligatory March Walk past a garden decorated in nauseous, stomach-churning tat would be missing from this year. But at almost the last moment we find it. Seems to be a Wild West Theme going on here, oddly intermixed with a nordic one, or perhaps just Wild Taste.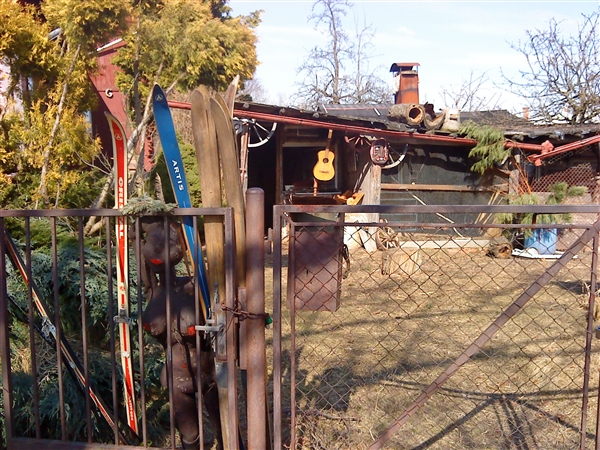 Walk back to the Viktoria hotel in Turnov is uneventful, basically just a pleasant riverside stroll. We make a distressed mum happy (we hope!) by carrying baby + pram round otherwise unassailable roadwork obstacle.
Entertaining evening spent in Turnov's bowling and billiards bistro. Peter succeeds in humiliating Adrian in each and every discipline, including air hockey and table football. Clear evidence of a mis-spent youth. Decide, very unwisely, to take a nightcap in the U Museu bar, possibly the most unnecessary beer we have ever ordered on one of these trips. Another quality night, but despite this attractions of Turnov are starting to pall.
Day 4 –Turnov – Mlada Boleslav – Prague
Today we plan a train from Turnov to Prague. This is even better than walking without backpacks. Why didn't we think of this before?!
Have breakfast at the Grill on the Market place, where beer costs only 12 crowns (less than 50 pence!) for a half litre. Endure something meaty and another undrinkable Czech coffee, while perched on wonderfully unusable seats. A nostalgia creating photo-op at the Pride and Joy of Ma Cappone's little boy, then pay brief visit to Turnov museum, where we enjoy a very fine wall painting of the Massacre of the Saxons below Hruba Skala, before hurrying off to the station.
| | |
| --- | --- |
| | |
When we get to Turnov station, we discover that our train connection to Prague (given to us by the Tourist Information) is wrong. Tourist Office at Turnov turns out to have been neat, tidy, efficient, helpful, good English, and 100% wrong in all information provided. Now we learn that we must wait another hour for the next train, and then change at Mlada Boleslav, which sounds foreboding. We hang about in station restaurant in Turnov, which sounds bad, but then all things are relative, as this turns out to be huge improvement on Mlanda Bolosova in the rain, one of the most God-forsaken places on Earth (I'm sure its lovely in the summer). Our train, when it arrives, is very orange, very small and has very steamy windows. It is basically a bus on rails.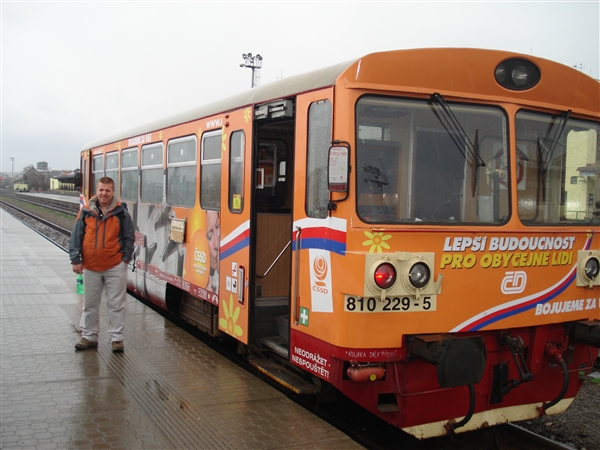 We get off at Mlada Boleslav, still hoping for a quick pint and a sandwich there, instead we spend the most tedious half hour of our lives, watching a locomotive coupling and de-coupling pointlessly in the rain (although there are no doubt some top-shelf men's magazines dedicated to this kind of thing). Compared to Mlada Boleslav, Turnov has been a veritable hive of excitement. Train to Prague comes at last, but is very slow, stopping at every station.
Arrive in Prague rather hungry and out-of-sorts, following a wasted morning. We fall upon the Jizera restaurant on Wenceslas Square to get our daily fix of goulash and dumplings. Stunningly beautiful Czech girl at the next table seems to be the focus of some negotiations involving a number of seedy-looking characters. We are relieved when it transpires that she has merely been taken on as a waitress. We locate our nearby U Suteru hotel, and are much impressed – it's easily the best hotel we have ever stayed in, at only 40 Euros per night! Far too luxurious and nice for the likes of us. Twin beds are a bitty close together, mind, but Pete wastes no time in rearranging furniture.
We hit the town, heading first to the Old Town Hall tower, which we climb the steps to get perfect views of bustling Prague in the sunshine. Very impressive, if rather over-crowded and twee (the costumed trumpeter comes out for a blast every hour).
| | |
| --- | --- |
| | |
Desperate for a bittae culture, following the trauma of Turnov and Mlada Boleslav, we visit the National Gallery, which is offering interesting exhibitions of Mucha and Dali. Thence, we make our way to the Vltava river, crossing the Charles Bridge, with just one or two other fellow tourists. We partake of a comparatively expensive meal at a restaurant on the quiet Kampa island, which is just below the bridge, before heading back to the Old Town square for an early-evening classical concert at the Nicholas Church there. Also very enjoyable. Having imbibed enough high culture for one day, we visit Rocky's Irish pub and are staggered to have to pay 100 crowns for a pint of Guinness – fully 8 times the price of beer at the Turnov Grill! We have only the one. Prague is all very commercial to us travellers, seasoned with inner Cesky.
Day 5 – Prague
We want to fit in one last museum before heading home, so it is an early breakfast and awa' to the Museum of Communism, which – as its brochure ironically points out – is just upstairs from MacDonald's and opposite Benetton's. Fascinating exhibition gives an insight into just how much change this country endured over only one or two generations.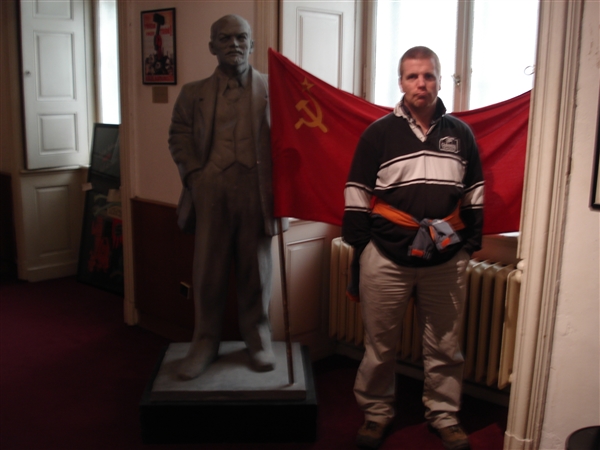 Adrian returns to airport. Peter messes about for a bit, but this includes a walk up a park situated above the Moldau, where he sits with the mighty river in front and listens to Smetna's The Moldau on his Walkman. A wonderful 10 minutes. He then follows the trail to the airport.