| | | |
| --- | --- | --- |
| | 2009: Surfing the WWW | |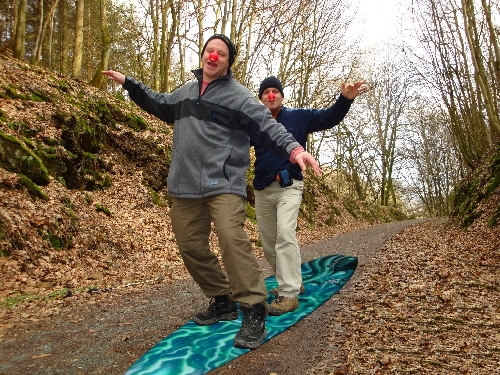 Weiltal Weg, Lahn Valley, Germany
or the Weil Walley Way
or maybe the Weiltal Weg Wander
Day 0 – Frankfurt Airport - Ennerich
Peter arrives on a latish flight from Birmingham to Frankfurt Airport (the real one) where he luckily bumps into hay-fever-ridden Adrian. Since the Airport Irish pub is closed for refurbishment, we settle for a quick Bitburger and some pasta at a soulless Italian place in the main terminal concourse, before heading back home to Ennerich for a midnight Paulaner wheat beer chaser and excited chat about the next days' program.
Day 1: Glashütten / Rotes Kreuz to Rod an der Weil
The next morning begins early, since it is a school day for the little Allans. Peter and Adrian set off before 8 a.m. on their first walk of the day – getting to the start of the walk. This is not as easy as it sounds, involving a march to Eschhofen railway station, train to Idstein, bus to Glashütten, another 4 km walk around the Glaskopf hill and then up a very steep, snow-capped final slope, taking us finally to the official start of the walk at Rotes Kreuz. Fair pechin' by the time we reach this snowy, windswept place, we are rather aghast at the number of regular bus lines which appear to go past Rotes Kreuz directly.
| | |
| --- | --- |
| | |
Undismayed, we stride out on our Weiltalweg Walk (hereafter known as the WWW), firstly traversing the hilltop villages of Niederreifenberg and Oberreifenberg, with their up-market hotels and holiday houses. We admire some truly unusual features, like the whitewashed British telephone box in one villa's front garden and a truly incongruous menagerie of ceramic animals in another landscaped garden. As the path drops down, the snow quickly turns to rain, and a light but incessant drizzle sets in for most of the rest of the day.
Herr Ober's Pub
We walked into a lovely old pub, Zum Schützenhof in Schmitten, with wooden benches and silver cutlery and a lovely polished bar and a white-haired auld gent who had clearly served a glass or two of bier in his time. Pilsner tradition calls for a 7 minutes pur, but Herr Ober managed at least twice that as we licked our lips and aniticpated the food and drink to come. He was clearly exhausted when the glasses of golden elixir were finally delivered to our tables, so perhaps a little disappointed that we ordered the second round straightaway, having seen how long the first one had taken.
Adrian, who clearly dines out in such places every other day, was satisfied with Hacksteak with onions and fried potatoes, while Peter went for the full Schweinhaxe, potato and sauerkraut. Glorious! A wonderful moment as "This Old House" came on, just as Herr Ober was carrying us our second round of beers, he nearly got knocked over by the stupendous, deep-belly burp of his good lady, clearly not used to having guests in the pub at lunchtime.
Our bier-pouring friend watched our every move, but said nothing until Adrian left the room, at which point he suddenly started a conversation with Peter, who was delighted to grab an early chance for a conversation about the weather in the vernacular, a must in any European country we visit. We decided between us that today it would rain, but tomorrow it would be sunny, partly due to the climatic conditions, but mostly because these were the only words that I could remember, and then Adrian returned. Herr Ober, bored with conversing with those who spoke his native tongue fluently, relapsed into silence once more, and we went on our way.
A slice of auld Deutschland. Wonderbar!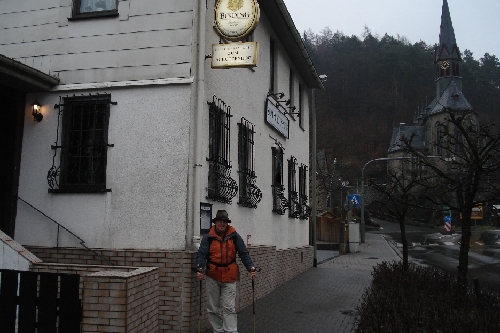 The quiet villages of Dorfweil, Brombach and Hunoldstal offer a few interesting photo motifs, such as balancing cats and gorillas. Even the sun comes out, if only briefly. We leave the Weil for a while, for another sweaty up-and-doon march through some leafy woods, after which Adrian bravely mounts a precarious looking hunter's hide, just for the photo-op.
We pause for a wild-hog beer in the Landsteiner Mühle pub, where there is some kind of function going on. Amusing toilet seat cover.
We pick up the WWW again, and are soon admiring bonny far-off views of ancient villages Altweilnau and Neuweilnau, but do not stop there. Still no other walkers encountered this day. The path continues, as the Weiltal becomes narrower, we pass a tiny unnamed hamlet with nothing more than an ancient fortified church and about two houses. As the light begins to fail, we approach that evening's destination, Rod an der Weil. Our B&B is a great wee place, with a very friendly host, Herr Nickel. He recommends to us a local Greek restaurant, the Aphrodite, and we are delighted to pay it a visit. We tuck into yet another mountain of tasty meat and stuff, not forgetting to take note of the admirable pertness of the waiting staff, before we retire to our charming little abode for a good night's rest.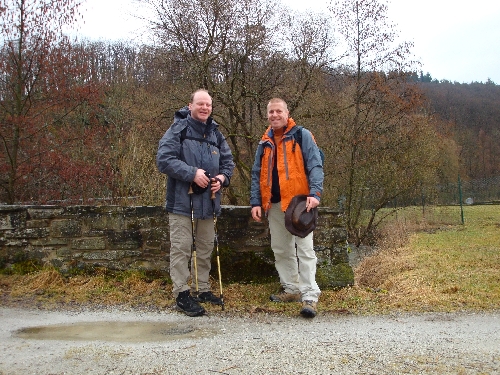 Day 2: Rod an der Weil to Weilburg
Feeling much refreshed, we enjoy a nice breakfast and fill up our pockets with mini Toblerones, at the express urging of our amiable host. Today is Red Nose Day, back in Blighty, so we decide to mark the occasion with some silly stuff of our own, mainly involving Rod's village see-saw and horse trough.
Rod is indeed a very nice little place, also by day, with several bonny wee bridges over the fast-flowing Weil. Weather is also much better today, dry and a good bit warmer.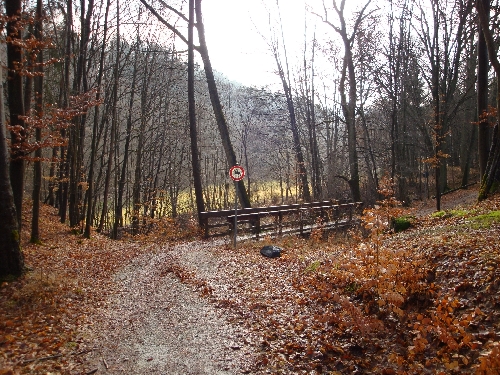 Not far on from Rod an der Weil, we hit upon a particularly pleasing section of the walk, a bit higher up above the river, with emerald pools in dark forests and whatnot. On reaching the halfway point signpost, we celebrate this achievement accordingly, wearing our red noses.
| | |
| --- | --- |
| This is the land of the wild deer and the wild boar, but we didn't pass anything quite as wild as this cat, clearly furious at our daring to venture onto its strasse, so much so that it could barely continue balancing on the fence. Hell hath no fury like a really angry cat | |
Much of today's walk is on gravelled or concrete paths, so foot problems are quickly felt. Trying to forget our blisters we come to that part of the day, post lunchtime pub stop, where a mind challenge or intellectual pursuit seems to be called for. After some debate about the best and most invigorating subjects of discussion and exploration, we decide that singing of 1970's Motown and Soul/Disco classics, while simultaneously translating into Doric would be best.
It stairted wi a snog, as ah wis coming out frae the bog;
Fa could I resist, the reek o the quine?
It stairted wi a snog, I nivver thocht it wid come tae this.
It stairted wi a snog, I nivver thocht it wid come tae this.
YE DINNAE KEN ME DIV YE?
YE DINNAE KEN ME DIV YE?
YE DINNAE KEN ME DIV YE?
YE DINNAE KEN ME DIV YE?
It stairted wi a snog, I nivver thocht it wid come tae this.
It stairted wi a snog, I nivver thocht it wid come tae this.
She wis D - drookit;
She wis I - insatiable;
She wis S - super-scrawny
She wis C - couthy
She wis O - O - Orra.
And so we continued on our happy way. Caveat!: while we fully expect this excerpt from the journal to be side-splittingly hilarious to 40 year-olds frae Aberdeenshire, we don't necessarily expect anyone else to understand!
Err, this one is a bit of a mystery!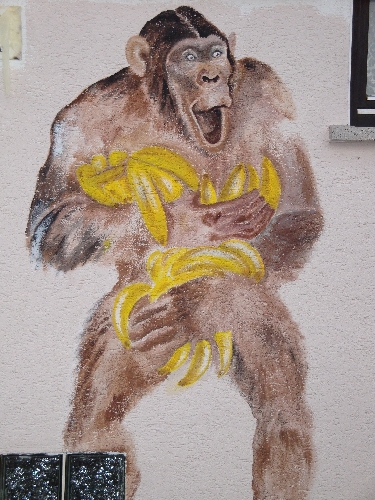 | | |
| --- | --- |
| In Weilmünster we are kindly shown the way to a Market place Italian restaurant by a local worthy whom we have met on the way. Again, we are the only customers. Lunch is okay, but it is the WC which provides entertainment, with its amusing guide on how to use the toilet brush. | |
| | |
| --- | --- |
| | More red-nosed friends greet us on our parade through the village. |
| | |
| --- | --- |
| Feet (bruised, battered, sore, blistered and hairy), seem to be a constant feature of this, and so many of our logs. Here a great place to rest yours. A seat especially built for hillwalkers, just when one thinks that one's companion's feet couldn't get any worse. | |
| | |
| --- | --- |
| | Its a Long Way Frae Santiago. Maybe, but that Camino gets everywhere. Memories of 2007 here. Are there really little blue and yellow scallop shells along every tree from here to Northwest Spain? |
The afternoon becomes a bit of a long haul, on a former railway track, with a few natural diversions to keep us interested. Peter looking very regal on his tree-trunk throne near Essershausen. Adrian thinking about taking a splash in the Mighty Weil.
We finally manage to stage our long-mooted "Surfing the WWW" photo session and are somewhat relieved that the shooting is over before the next walker appears. Freienfels is reached. This is a dramatic castle ruin, perched high above the Weiltal. We feebly attempt an ascent, but call it off very quickly on account of affa sair feet.
However, on hitting upon Freienfels' tournament arena (it is the venue of one of Germany's biggest annual medieval enactment festivals), all aches and pains are forgotten, as we enter the arena to resounding cheers (of our own) and indulge in some impressive jousting.
A few more K's and we soon find ourselves at the end of our WWW – the four parallel bridges marking the Weil's confluence with the Lahn at Guntersau. Feeling a bit sad, we say farewell to "our" river Weil, after sharing a total of 47.5 km from source to mouth. This is possibly (definitely) the first time we have ever completed an entire signposted walk without cheating.
Time to pause now, and appreciate the mighty Weil, frae source tae mouth.
We still have a couple of kilometres to go, however, upstream to our hotel in the city of Weilburg. Our down-market digs are in the Hotel am Schiffstunnel. Embarrassing but funny moment, as the hotel wifie shows us our room, looks at us, and apologises that the two single beds are not placed together. Are given only hotel room directly facing the railway bridge and tunnel.
| | |
| --- | --- |
| Time for the final, ritual, loving foot massage, beloved of all walkers as the hightlight of the entire trip. Its what keeps them looking so good. | |
| | |
| --- | --- |
| | We venture out to discover Weilburg by night, but only get as far as the market place. |
Evening meal is Wiener Schnitzel in Austrian-style "Turmschmiede" restaurant, also very nice. Intending to have a nightcap in the hotel, we discover our hosts have closed up early; obviously we are not worth waiting up for. We cross the railway bridge in search of beer, quickly finding some at a spit-and-sawdust place called Kojak's. Its back to the 1970's in atmosphere, as well as name, as European anti-smoking laws have clearly failed to penetrate the dense fug of this joint. Crash out, back at the hotel.
Day 3: Weilburg to Ennerich
The acoustic signals of the railway crossing just outside our room ensure that there is little danger of us sleeping in. We have decided to curtail day 3's itinerary somewhat, since Adrian's conservative estimate of 20 km for the walk to Ennerich has been hugely out. In reality, it would be over 35 km, which we, in our advanced state, regard as being nae fun at a'.
We decided that what Scott and Oates would have done would have been to blindly cheat, and take the train half way, from Weil to Aumenau. Having agreed on this, we got on the train to Aumenau at the appointed time, and sat back and relaxed while the first half of our journey home sped past with unblistering speed. Wonderful!
As promised, the train took us all the way to Aumenau and into the station. And then through the station. And then out of the station and on down the line, without ever slowing down or stopping. Hmm, not quite as planned. In fact the train took us quickly and directly to Runkel Station, whereupon it did actually stop. We were now hilariously at our day's endpoint, a km or so from Adrian's house, at just after 10 in the morning. While cheating on our walk is always quite funny, even for us this was overdoing it a bit!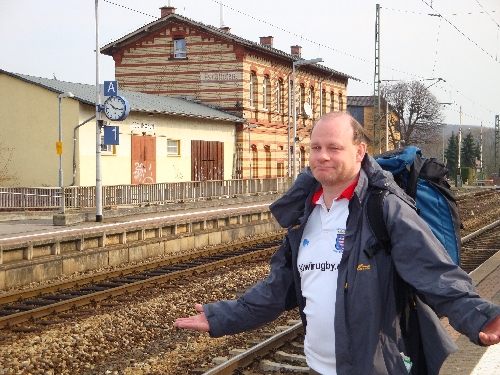 We held a council of war to replan our route after something had gone wrong - another March tradition! - and decided to return to Aumenau. We reread the timetable and decided that the next train back (halt uberall) stopped at every station, including Aumenau, while the one we had originally taken (nicht halt uberall) did not. In fact, having found that line in the timetable it made it all sound a bit obvious!
So we returned. We did have that odd feeling as we approached Aumenau that we might just whizz through the station a second time and end up back in Weilberg again, which would have been really very annoying, while still being very funny, but all such feelings were misgiven, and our train duly stopped at the right place. Finally we were ready to start the 15 km hike to take us to the place where we had been standing 40 minutes previously.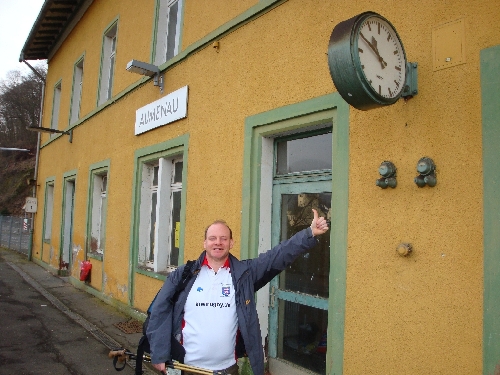 Pleasant weather today, a bit warm even. We attempt to follow the Lahnhöhenweg (Lahn Heights path) but quickly get lost and have to clamber up a fairly steep embankment, which takes us up above the forest. We eventually manage to regain the path, enjoying great views before passing the station and entering the village of Arfurt. However, there are no hostelries open there. We go back down to the Lahn and walk on to the riverside camp site "Am Speich", where, lo and behold, there are some guys opening up the clubhouse for the season's start. Officially the place is closed, but they welcome us over for a wee chat, a rest at the river and a bottle of beer. Best kind of pub, the one that opens especially for us walkers.
| | |
| --- | --- |
| | |
We are soon pechin' awa' again, as we march up to the road, with but a few kilometres before us until we reach Runkel. We make a stop at the Gasthaus Schaaf in Schadeck, where not only beer and lunch, but also a championship skittle alley awaits. This recreational stop becomes rather extended as we stay there over 2 ½ hours!
Feeling just a little bit embarrassed, we are conscious that we still have the last section to go. By way of the Schadeck castle and the viewpoint there, offering wonderful panoramic views of Runkel and the Lahn, we descend via the many steps which join the two communities, cross the Lahn at the ancient bridge and make our way along the lower riverside trail for the final three kilometres to Ennerich.
A little out of breath, but with a feeling of no little satisfaction, we descend down into Adrian's garden, having walked a total of around 70 km over the 3 days.
Elke and the kids make us welcome and ghoulish soup, roughly in that order. Evening spent dosily watching British comedy video.
Day 4 – Weilburg (again), Braunfels and Limburg
Peter has misjudged the number of days he needed for the walk, so we have a full day left over. We use this for our traditional museum trip. This takes us back to Weilburg, by car this time, to visit the celebrated Terracotta Army exhibition, which is rather improbably hidden in a warehouse in an industrial estate, between McDonalds, furniture dealer and fitness studio. Its only right and proper to give this slice of foreign culture the reverence it deserves, wi nae muckin' aboot.
Again, it is clearly too early to go home, so we drive on to Braunfels, with its fairytale castle and old town. We meet a newly married couple being photographed by a photographer and serenaded by some pissed old coot.
Looking for a place for a quick jar, we find a nice cosy place near the castle gate. Our accents attract attention; we are addressed by an old seadog, who speaks to us in near perfect English about his many and various experiences in the German Merchant Navy. Humorous stories, recalling how he once found himself locked in a British Veterans' Club in an English port, and the time he and his mates took part fully costumed in the "Wiking" fireball parade in Shetland. We promise to visit his favourite pub the next time we are in London's East End.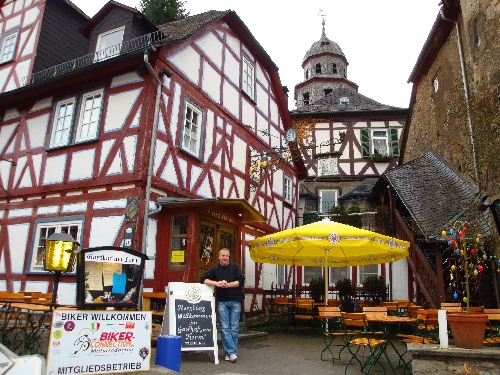 We join the family for Pizza and Pasta fun together in Eschhofen, but later leave them to their own devices, to take a stroll into Limburg, using a very dark riverside path, for a pleasant evening of live music and Guinness at Limburg's own Irish Pub. Taxi home, toasted cheese and tea for supper, and an outrageously funny Frankie Boyle stand up act on DVD.
Day 5 – Hame's best
Last half day in Germany and everyone is doing his own thing. Adrian takes Emily to visit family doctor, and returns with a dose of hypertension therapy for himself. Talk about luck. Pasta pesto for lunch and Pete is off to the station to catch the bullet train to Frankfurt Airport and Freedom. Adrian comes home with blinding headache, collapses into bed, claiming major side effects of new blood pressure pills; or is it really a hangover from the WWW?