| | | |
| --- | --- | --- |
| | 2008: The Great Glen Way | |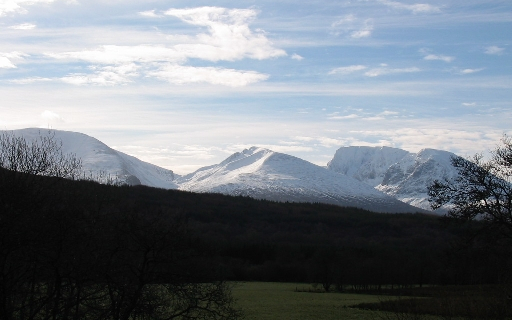 Day 0: Glasgow to Banavie
Betreff: Help lost
Von: "Adrian Allan" ins Adressbuch
An: pete.armstrong@email.uk
Datum: 14.03.08 17:53:59 Uhr


Hi Peter

In case you read this, I LOST MY MOBILE at London airport and just picked up your number at Glasgow library (of which I am now a proud member). YOU CANNOT REACH ME BY MOBILE PHONE./ Will try to call you when I leave here, but just in case you are also sitting at the computer next to me wondering where I am (its possible) I shall return to Bon Accord 153 North Street for one last look (its right next door) then I shall make my way down to Queen Street Station. I shall wait for you at the side entrance, i.e. the one next to the Buchanan Street Subway. I shall wait there until 18.00. At 18.00, if you arre not there I shall wait at the platform to the FW train.

Mad, mad world

If all ropes break (to use a German proverb) just get on the bloody train, and we shall see each other in FW.

God, oh HGod,

Cheers min,

A.
Against all the odds, we finally succeed in meeting up in Glasgow, just in time for a quick pint of Guinness at Queen St Station, then on to the train with a kerry-oot to enjoy one of Scotland's most scenic railway journeys, or so we are told. Unfortunately, we are unable to see a blooming thing, on account of it being completely dark outside the train carriage window. A few other walkers are on the train, but they alight at remote stations like Rannoch Moor and Kinlochewe and are swallowed up by the night. By the time we reach Fort William, we are virtually alone on the train.
The last three miles of the train journey to Banavie are the most entertaining, with a giggly gaggle of young Fort William lads and lasses who seem well up for it, they are giving the conductor a bit of a ribbing. We smirk, secretly glad that they are not slagging us. When the train finally rolls in we leave and start to search for some habitation. Banavie appears completely dead. Eventually, we find a pub, just enough time for one last pint there before they close, then we finally locate our Chase the Wild Goose Hostel.
The Hostel is a real warren, and surprisingly busy for early March. We enter our 4-bed dorm in darkness where two serious hillwalkers are already fast asleep. Sleep is rather fitful, especially in Adrian's case, since he is trying in vain to fit himself into a pillowcase, having mistaken it for a sheet in the dark. Give up finally at 4 am, and spend the rest of the night drinking tea and reading in the common room downstairs.
Day 1: Banavie to Laggan Locks
A fairly spartan breakfast, but some pleasant chit-chat with other residents, one of whom is a teacher at Aberdeen Grammar. Small world, indeed. Up bright and early and ready to go. Gazing over the still sleepy village there is a magic moment as the snow-capped Ben Nevis suddenly rises, without warning, out of the swirling mist. Seen from this close it is really is awfy big. However, no sign of the Banavie village amenities promised in the guidebook. Decide to hit the trail anyway; there will be a teashop or something on the way?...
Neptune's Staircase, the series of rising sluices at the Caledonian Canal is underwhelming, after all the hype we have read about it. However nice background for some silly photos.
Lovely, crisp, cold, sunny morning, as we stride out confidently, admiring Telford's engineering as we go, as some increasingly spectacular Highland vistas loom to our left and right (but mostly behind us).
| | |
| --- | --- |
| The morning light is superb; very picturesque views and dramatic photo motifs reflect in the Canal's surprisingly clear waters. | |
Before long, we hit Gairlochy. Our hopes of a first pub stop were slight, none was mentioned in map or guidebook, and we were not to be surprised. The Nelson Tearoom was to be a long second best, but then even this turned out to be our next disappointment of the day. Despite being highlighted in our Guide book as a place not to be missed, it is not open; indeed, it is doubtful that it has ever been open anytime during this century. We make use of what facilities there are to be had, i.e. the garden wall, for our most urgent needs, and move on.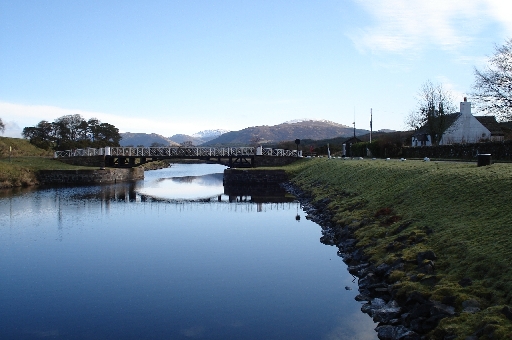 We quickly hit upon some prominent 'diversion' signs, just as we are beginning to look forward to the start of Loch Lochy, the lochiest of all the of the lochs in the Great Glen.
| | |
| --- | --- |
| | Danger - Tree Felling in Progress, say the signs blocking the GGW lochside path. The alternative is many miles of road walking instead. After at least 3 seconds of pondering, we decide to ignore the signs and drop down to the loch side, anyway. |
We are rewarded by very lovely wooded paths and some exceptional views across beautiful and peaceful Loch Lochy. However, the sound of motor saws soon disturbs the idyll. We find ourselves face to face with a fierce looking man in an enormous digger, who seems to be ripping up the forest in front of us. We briefly wonder if jumping into the loch might be a better way to die, rather than at the hands of this ogre. With hearts in mouths, we brazen it out, take a couple of brave leaps past the infernal machine and push on, out of the woods, as quickly as possible.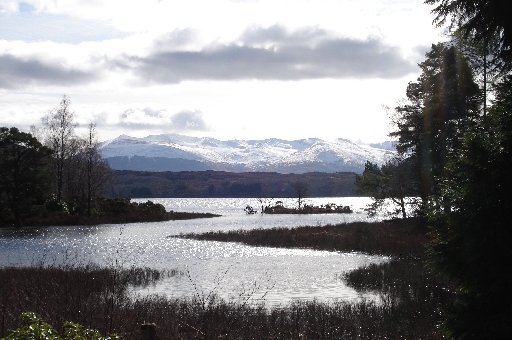 We have been making extremely good time - mainly because there has been nowhere really worth stopping at for any good reason, or even remotely worth stopping at for any reason. However, the lack of food and drink stops along the way is starting to take its toll. We reach the end of Loch Lochy and approach Laggan Locks, it is getting all very arduous, as we are led the final yards by some sheep. Thoroughly fed up by now, we argue pointlessly about the flags we see fluttering above the Locks: why on earth should the locals be flying the Welsh flag? (It turns out they weren't.)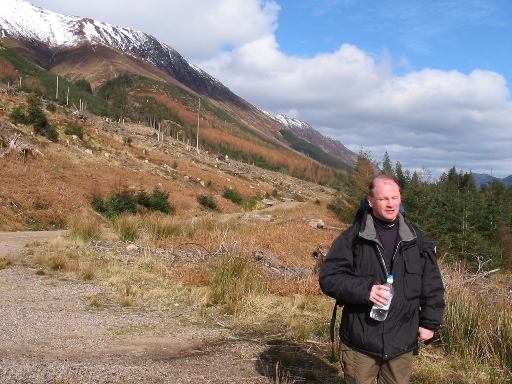 To cut a half mile or so, we opt to take to the road for our final approach to the Guesthouse, despite the warning from the B&B wifie that the traffic is heavy and fast. This proves to be a really bad idea, since the traffic on the road is surprisingly heavy and fast. Drag ourselves to our lodgings, which is actually called Forest Lodge Guest House, but which we, in our fevered imagination, have been calling the Flughafen, on account of its website abbreviation www.flgh.co.uk Pete snuggles* down immediately in front of a log fire with a lovely Tennent's Velvet to catch the end of the England-Ireland rugby match, whereas Adrian goes for a warm shower. The place is a bit parky on the whole, but our charming Yorkshire hosts do their very best to stoke up the fire. Impressive panoramic view of the Great Glen to be seen from the bedroom window.
* Err, not sure if snuggle is the word I would use. You don't point out that the log fire was actually just a pile of logs, because it was not lit. I was very tired, the beer was very cold, and I was liberally endowed with a fine, manly sweat, temperature dropping like a stone and taking my body temperature with it. Perhaps huddle, would be a better word!
Spend the rest of the day drinking beer and watching Wales deservedly take the Grand Slam. Lady of the house conjures up, at our request, a lovely homemade roast beef dinner.
Day 2: Laggan Locks to Invermoriston
Next morning, it is porridge for breakfast, and off we go. Heel by heel, and toe by toe. On checking the guest book, our suspicions are confirmed. Not only had we been the only guests this weekend, we were the first guests to visit Der Flughafen in over two months. No wonder the place had felt cold.
We are now traversing Laggan 'Avenue', actually a disused railway line, on our way to Loch Oich. Very leafy, wet, paddy-like grasslands. With a little imagination we could be in Bangladesh, were it not for the interesting Hieland touches....
| | |
| --- | --- |
| ...like the picturesque whitewashed croft, which comes complete with en-suite waterfall and resident sheep... | |
On the opposite bank of the loch, we catch a glimpse of Glengarry Castle ruins. Loch Oich is quickly rounded. The views back southwest across the water are spellbinding and call for intense photographic attention. We both marvel that the Paps of Jura appear so large, close and beautifully formed; it must be noted that we have been with only sheep for some time, so maybe this is to be expected.
Disaster strikes, as we approach Cullochy Lock. Peter is seriously injured; blood and pus are seeping through his sock from a rogue toenail on the right foot. The tranquil beauty of this location is despoiled somewhat as Pete pulls out the nail clippers to perform an emergency self-amputation. It seems to do the trick, however. Adrian celebrates Peter's rapid recovery by ringing the lockkeeper's bell and running away. Peter can't hurry, of course, due to the toenail situation, but we still both manage to escape unharmed.
The next section of the walk takes us past the quiet Kytra locks, where we navigate a weir at low tide...
...say hello to a big toad,...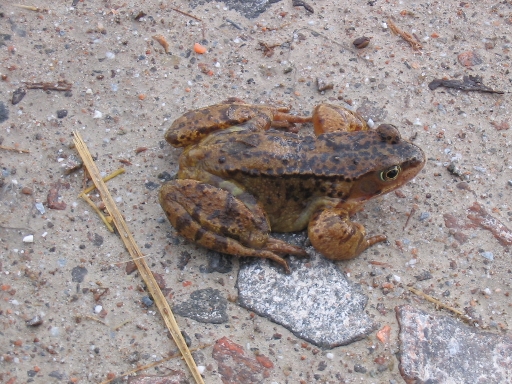 ...and are then basically on an isthmus for a good few miles, with a fast flowing river on one side and the Canal on the other. Fort Augustus is a long time coming, but it turns out to be quite a pleasant place to stop. The multiple locks here are actually nicer and better to photograph than Banavie's more famous Neptune's Staircase. We are ready for lunch and quickly find a pleasant Canalside pub for lunch and some beer.
| | | |
| --- | --- | --- |
| | Having enjoyed a fine rest, we immediately face a hefty climb out of the village, up through some dense woodland above the southern end of Loch Ness. Only occasionally are there clear views over the loch, but these are stunning. | |
| | Many, many waterfalls and streams are encountered. Towering snow-clad mountains on both sides of the Loch. Very, very remote and impressive. We glimpse the Pig's Snout Mountain ahead and quiver with trepidation. | |
According to the map, the GGW takes a huge unnecessary detour here, contouring the Pig's Snout as it enters Glen Moriston before turning back on itself, at least three or four miles, back to Invermoriston. Sod that, we reckon, and drop down instead to the lochside road. This time it proves to be a very good idea, particularly since the lochside road even boasts a pavement, which we certainly had not been expecting. Make good time once more as we reach Invermoriston,...
...taking some photos also at the celebrated Telford's bridge...,
...before making our way to our lodgings, the Glenmoriston Arms Hotel.
Hotel owner bluntly denies any knowledge of our online booking. The place is basically empty. He checks his reservations anyway, tutting, sighing and shaking his head, before graciously allowing us to stay, although not at the previously agreed cheap rate. The evening is spent convivially enough, with a fine meal and malt whisky. But first impressions of the hotel chap are confirmed, he proves to be a total bore and a fibbing blowhard. His tall tales of creating trading empires in the South Seas would bore the pants of Baron Münchhausen himself. We get our own back on him, in our own childish way, by writing paeans of worship and gushing compliments in his visitors' book. Johnson and Boswell also stayed here once, you know. Like us, they also did a wee bit of writing.
Day 3: Invermoriston to Drumnadrochit
We had been warned that the ascent out of Invermoriston would be a test, and indeed it is, especially for Adrian. Peter, on the other hand, has been bagging virtual Munroes on the gym stepper for weeks, and so he is able to pull quickly into an unassailable lead. Soon we find ourselves, once more in woodland, high above Loch Ness. We stop briefly at the Stone Cave shelter for some more silly photo opportunities. The original idea had been for a self-photo of both of us sitting together in the cave, but this endeavour proved impracticable, not to mention potentially indecent. Picture the scene: Big Daddy and Giant Haystax squeezed into a phone box, the coin falls to the floor, just as the pips go. On second thoughts, don't picture that, please.
| | |
| --- | --- |
| | |
More gorgeous waterfalls around Alltsigh, as we climb out of the woodland again. The path switches back to and fro, the vegetation becomes smaller and scarcer. We meet two other walkers, friendly enough chaps, perhaps father and son?, just as we hit the highest part of our walk. Breathtaking panoramic views of Loch Ness and the mountains beyond. The walkers tell us they have hiked here all the way from Skye. Then they tell us, rather incongruously, that they were gardening yesterday. Is everyone we meet in the Great Glen a downright liar? We resolve to avoid them, as usual. Adrian hasn't learned from his first day folly and soon realises he is thirsty and has run out of water again. Nae probs, you can aye fill up the water bottle from a mountain spring; perfectly delicious; but what is that creepy crawly thing doing at the bottom of the bottle?
| | |
| --- | --- |
| | |
The walk turns into a bit of a trudge, with nothing much to see except the back of each other's head. A brief snow shower falls lightly upon us as we start to lose height. Soon we are both dwarves, and struggling to see over the grass. We disappear into the undergrowth*
* That is not what I meant!
This is the famous Loch Ness, and worth a pause to appreciate. Most magnificent of all is this montage photo from Peter's camera. Its not the scenery so much, but the fact that he was able to remember which buttons to press, so far from home and the Instruction Manual.

The path pulls away from the Glen, we find ourselves firstly in some farmland, then we cross a blasted heath, parallel to a mean single-track road. Road walking is a weary business. Indeed, now that we have lost sight of the loch, vague feelings of disorientation and fatigue also start to kick in. With legs crying out in pain and concern rising over the imminent steep descent, we find diversion for a while in a competition for this year's grottiest limericks. Each limerick has to include as many as possible of the place names we have come across during the walk.
There was a young man from Drumnadrochit
Who did, err, was, umm, oh fuckit....
| | |
| --- | --- |
| | |
Loch Ness Backpackers in East Lewiston is our second hostel accommodation on this trip. We arrive long before anyone else and proceed to bagsy two bunks in an otherwise vacant multi-bed dorm. This will be nice and quiet, we think, naively.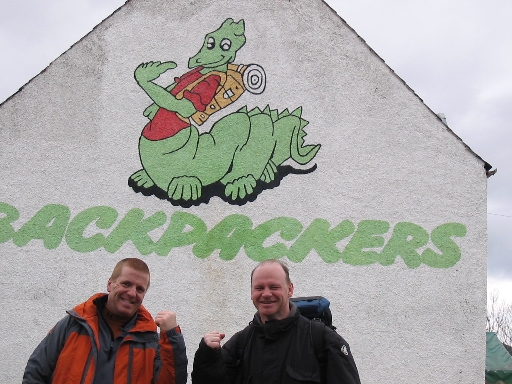 However, we really do need a drink, so we head up to the village, looking forward to some fun and entertainment.
| | |
| --- | --- |
| | |
| | |
| --- | --- |
| | This can only be topped by the floral model of Castle Urquhart at the Village Green, which is quite honestly, well, totally crap. |
| | |
| --- | --- |
| | |
| | |
| --- | --- |
| | |
We succeed in capturing the flashing sequence of the Belisha beacons at Drumnadrochit's zebra crossing on video. It is remarkably difficult to photograph a Belisha Beacon in its lit state. Just you try it, next time you have, err, an hour or two to kill.
We photograph some local traffic signage and also the various notices of upcoming community events. We are going mad. We start knocking gently on the closed doors of the pubs, for someone to come and put us out of our misery. At 5 pm, we are finally admitted. Tasty meal, even tastier waitress. Now in a much better mood, we walk up to the Benleva Hotel, which is not a bad wee place, mainly because it is now open. Local youth are having fun there playing poker, we savour the real ales for a while and improvise our own little pop trivia quiz, before heading back to the Hostel.
Luckily our 12 bed dorm is deserted, so we choose a bunk each and go to sleep. About 2 o'clock in the morning 10 Malayan hillwalkers come into the room and sleep in the other beds. When we wake up at about 7 they have all gone, and the room is deserted again. Sounds rum I know, but this really did happen. I wonder where they all came from, and where they went?!
Day 4 - Inverness
We are up and about much, much earlier than we wanted to be, but anything is better than staying any longer in Drum. We catch an early country bus into Inverness, politely declining the unnerving attention of a mental wifie sitting in front of us, who seems to be listening in very carefully on our conversation. Breakfast in Inverness, a brisk final walk up to the Castle. We photograph ourselves unabashedly one last time at the official 'End of the GGW' sign, before bidding our farewells.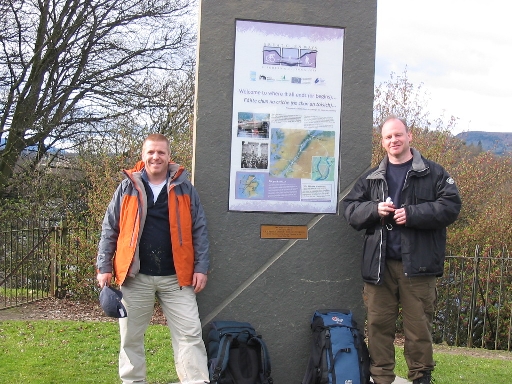 It has been another great walk along the Great Glen. Adrian takes the high road, Peter takes the low road, and that's basically it for another year. Bowls of mustard and hot water required. Oh, and something to soak the feet in as well.
_