| | | |
| --- | --- | --- |
| | 2006: Camino Fisterre | |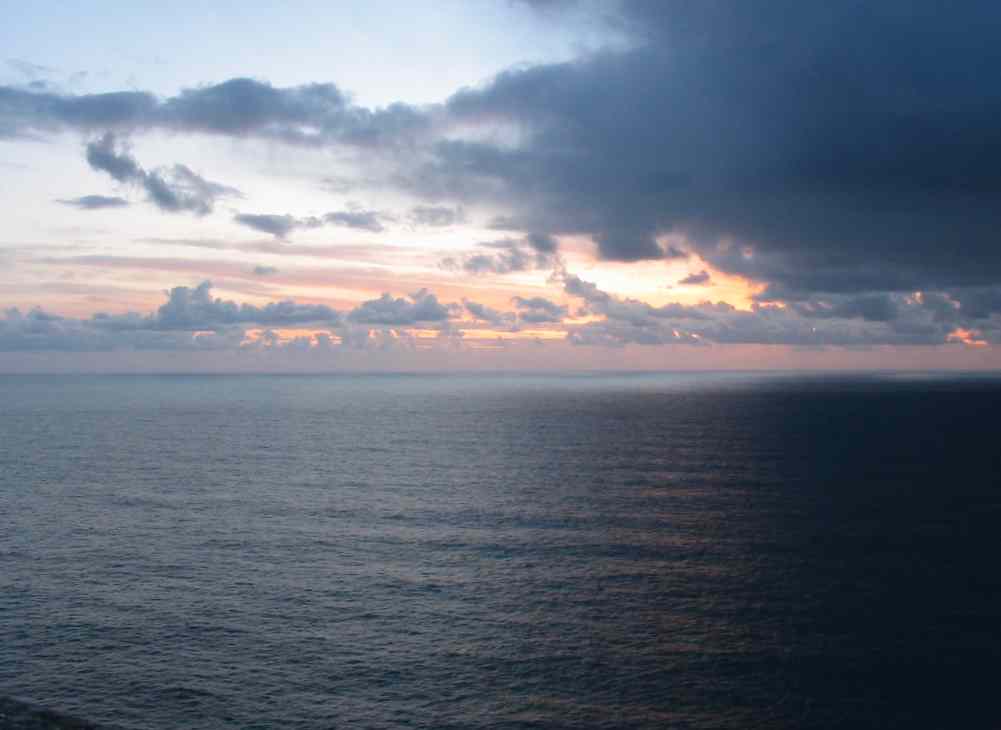 The Preparation
A couple of things dominated the final days before lift-off: trying to get hold of a bona fida credencial with which to bless our pilgrimage, and trying to get hold of a weather forecast that gave anything other than monsoon and flood for the five days. Credencials are really intended for serious pilgrims taking a 3-month sabbatical to walk the entire Way of St. John, not for auld dogs flying in with Ryan's Air, and were surprisingly difficult to blag. Good old Irish Fraternity of St James, who stepped in when their Anglo colleagues were proving difficult. Forecast, though, was a lost cause. In the end in was actually sunny on the Sunday, but we still had Friday and Saturday to get through.....
Day 1: Aeropuerto - Santiago
Since our respective employers did not see fit to grant us a 3-month sabbatical, we decided to make a virtue of necessity and fly directly to Santiago de Compostella with Ryanair and spend the next few days walking steadily away from it. To keep up appearances, we resolve to join the famous Camino Frances on foot as it passes the airport and march triumphantly into town, some two hours after arriving in Spain. Thus, our walk starting point is officially decribed in our Credencial as Sao Paio, rather than Santiago Bus Station, which sounds less cool.
We meet at the airport, and St Adrian tries out his spanking new Spanish, asking for dos cervesa. A wonderful moment when waitress brings 2 bowls of lentil and octopus soup instead. Already the mis-translation to end all! However, it seems that this is a local tradition, and such arrives often with orders of beer. Can you imagine this on a pub crawl in Aberdeen in December? Bloody Wonderful!
Here we are, at the start of Our Camino, about half a mile from the airport. It is raining.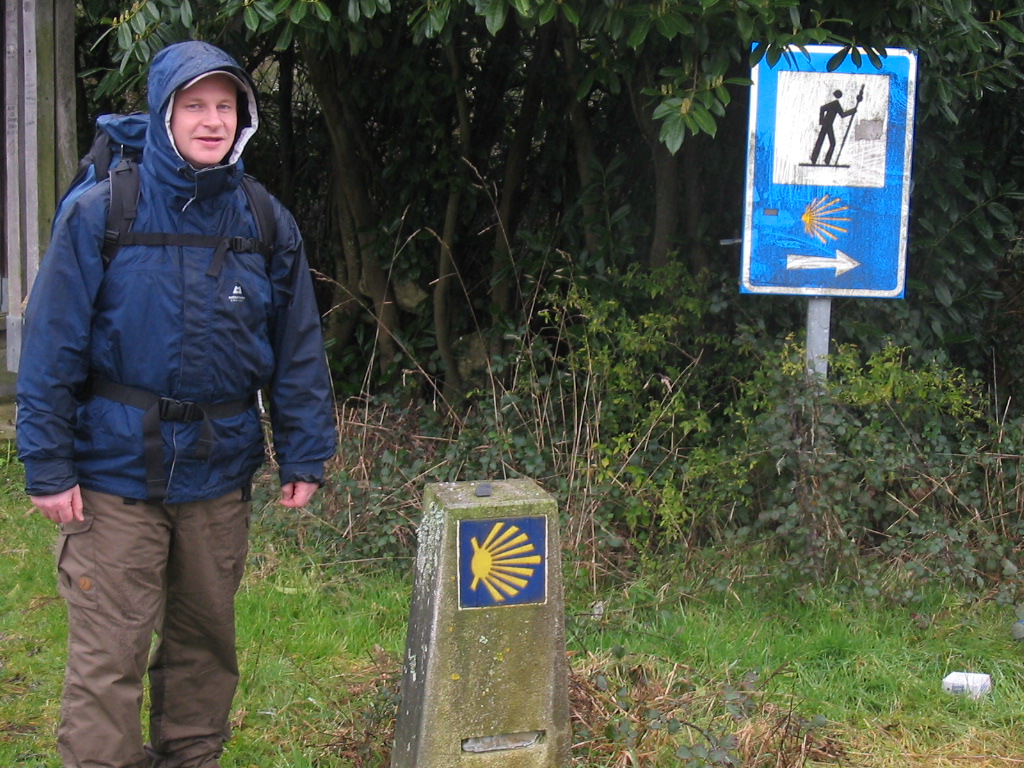 We are accompanied on our 10 km walk into Santiago by a young French Canadian fruit-picking pilgrim, who has walked here 800 km from France. I have forgotten his name, so I will call him Saint-Jean-Pied-de-Port. Amazingly, he does not set upon us in a fit of pious outrage; in fact, he seems strangely beatific, either through sacred revelation or soft drugs. But he does impress on us the need to carry a big stick, as we make our first unpleasant encounter with Galician stray dogs. Think briefly about washing hands and bottoms at stream at Labacolla, as tradition demands, but decide against. Rather shame-facedly, we give St. Jean the slip at Monte de Gozo, pick up our own sticks right away (those stray dogs were big!) and make our way to Santiago.
Estrella is a wonderful little pension in very centre of Santiago. Very warm welcome of the landlord (whose name I have forgotten and will henceforth call St Christopher) more than makes up for pervading smell of cat-pee on the landing. Santiago Cathedral, unforgiving beauty, thousand-year old shrine so perfect and so cold that souls of believers and non believers cower and shrivel in its presence. It is still raining. We give a mad, sad professor in multicoloured robes exactly one minute to deliver his oration on University history, before we escape to seek out a pub.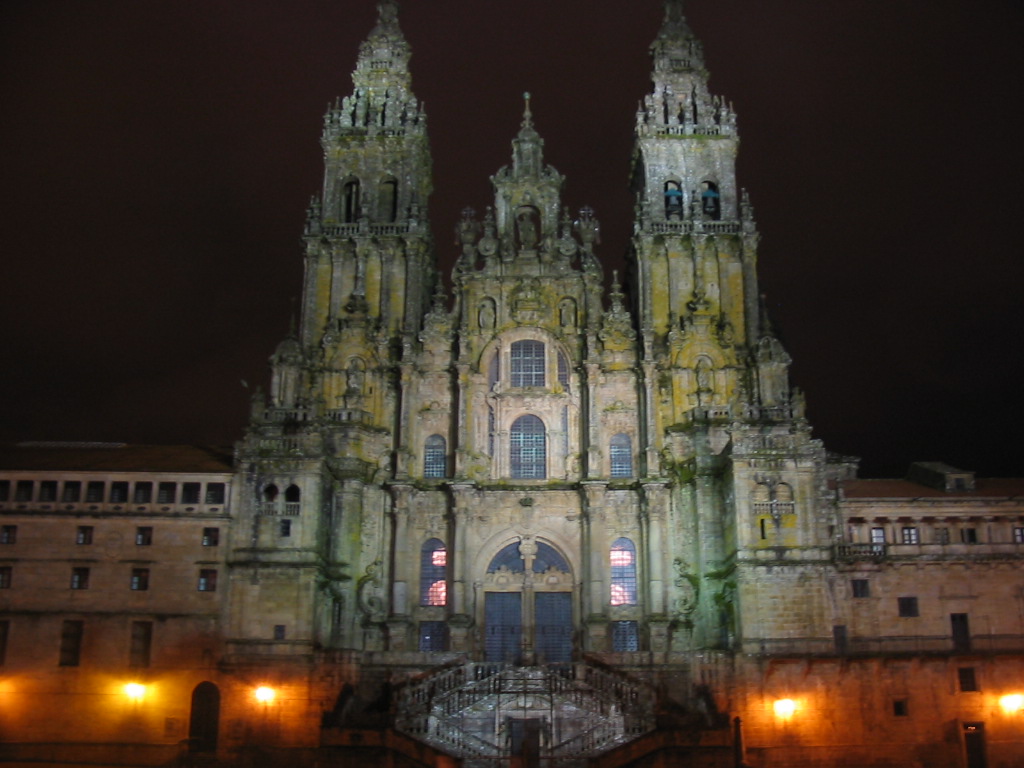 Day 2: Santiago - Negreira
In the morning we sadly take leave of Estrella, while packing another half dozen complimentary pens into our pockets. Santiago seems much more congenial, as people go about their daily lives. Cathedral spires look more aesthetically pleasing and less scary in the daylight. We breakfast in charming bar with amusingly well-endowed pump and order local specialty, which is best translated as chocolate broth, start to boak after only second spoonful.
We then make for the Pilgrims Office, where we get a stamp in our credencials (sounds more painful than I remember). In the historic foyer, we come upon assorted staffs left there by grateful pilgrims. St Adrian nicks one and scarpers.
Here St Peter is enjoying a farewell feel-up from two of Galicia's sexiest grandmothers, while, not to be outdone, St Adrian seeks attention from one of Santiago's honorary citizens.
Glancing over our shoulder as we leave Santiago, we begin to appreciate what a wondrous, blissful apparition it must be for genuine pilgrims, who have crossed hundreds of miles of mountains, plains and streams, with only this final destination in their thoughts and dreams. Mind you, even East Kilbride can have that effect on you sometimes, especially after all those bloody roundabouts. Anyway, we are quite happy to turn our backs on Santiago, and stride out towards our own spiritual goal: Finisterre.
Can't remember exactly where this snap was taken place, but do recall acute dismay that the first pub we came across was so resolutely shut. Had to make do with a Swingers' Bar instead.
St Adrian sitting outside roadside tavern, Meson o Cruzeiro, near Aguapesada, concentrating on carving initials in his aforementioned nicked staff. We finally succeeded in getting a pint in this pub, having already eaten up our sandwiches and cans of beer sitting in an abandoned bus shelter. Fun, fun.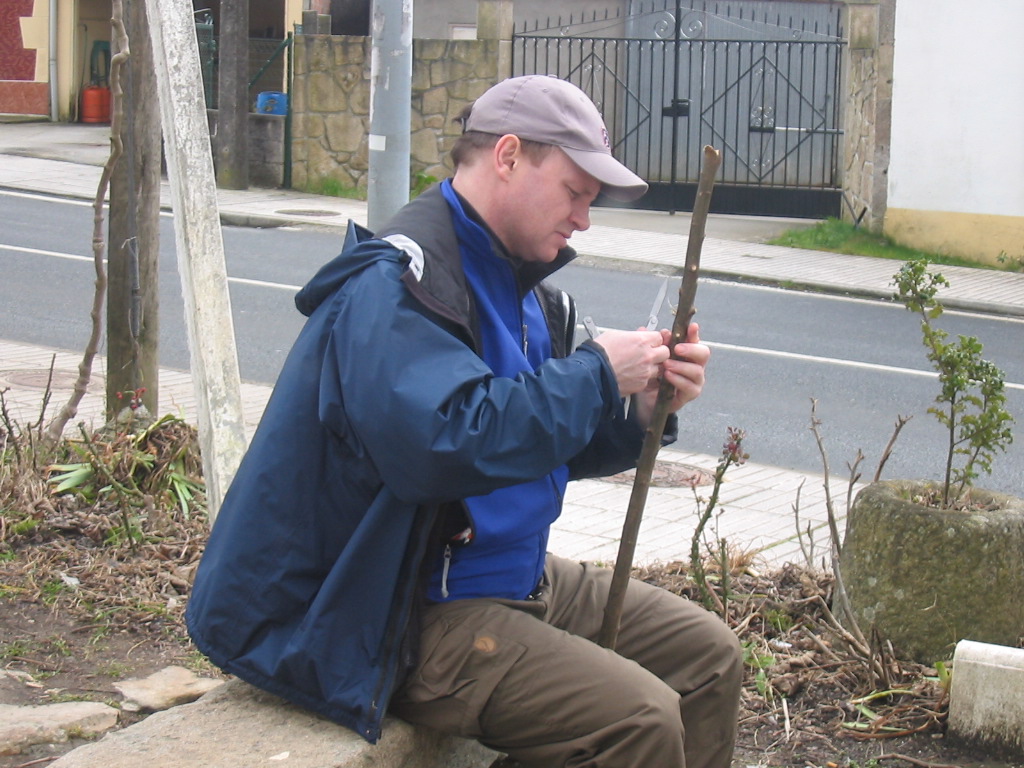 The medieval bridge at Aguapesada. An exceeding bonny scene, spoilt by two right eedgits playing the fool.
Pontemaceira, an impressive bridge and important crossing of the Rio Tambre. This is where we first meet the English guy, whose name is forgotten, and who must forever be known as St. George. We spend the rest of day crossing paths, but, as Camino protocol dictates, time waits for no man, and we certainly don't hang about waiting for St George.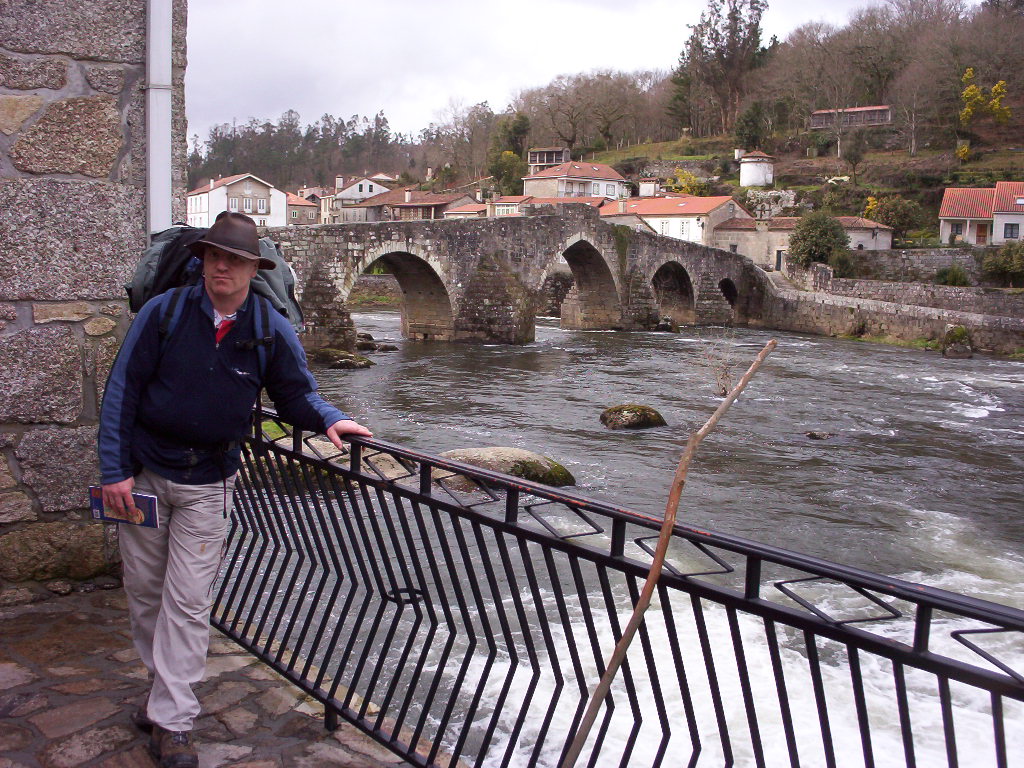 Finally, after a long, trudging, day we reach our first scheduled stopover, Negreira, in the early evening. Negreira is a quite dreary little backwater, the most interesting thing we come across being this unusual monument to the unknown emigrant.
After a night out in the town, together with St George, who has caught us up by this stage, it is easy to imagine why people would want to emigrate.
Hostel at Negreira
The new hostel at Negreira, our first on this trip, is empty and cold when we arrive. But it is at least open, so we make ourselves as comfortable as we can. During the night, the already crap weather deteriorates further. In the small hours winds and rain lash the hostel, and it seems as if the roof is about to lift off. It is truly terrible weather.
Day 3: Negreira - Olveiroa
Morning comes and we wait in vain for the tempest to blow itself out. In the end, we strike out regardless into a biblical scene of howling wind and sweeping rain, and are soaked to the skin within 10 minutes. This walk is thoroughly miserable. After an exhausting first 7 or 8 km we finally make it to the nearest pub in Zas, order beer and coffee and leave big puddles on the floor.
Miraculously, as we sit and sup, it briefly stops raining and so we hit the road again, with a soggy spring in our squelchy step. Here we see St Adrian performing as Hank Marvin, after St Peter comments, with wild optimism, that the sun must be coming out because Shadows can be seen.
They can't. It didn't. The rain returned and it poured. Through it all I think that the view opened out magnificently and wetly as we traversed Monte Aro, highest point of our walk.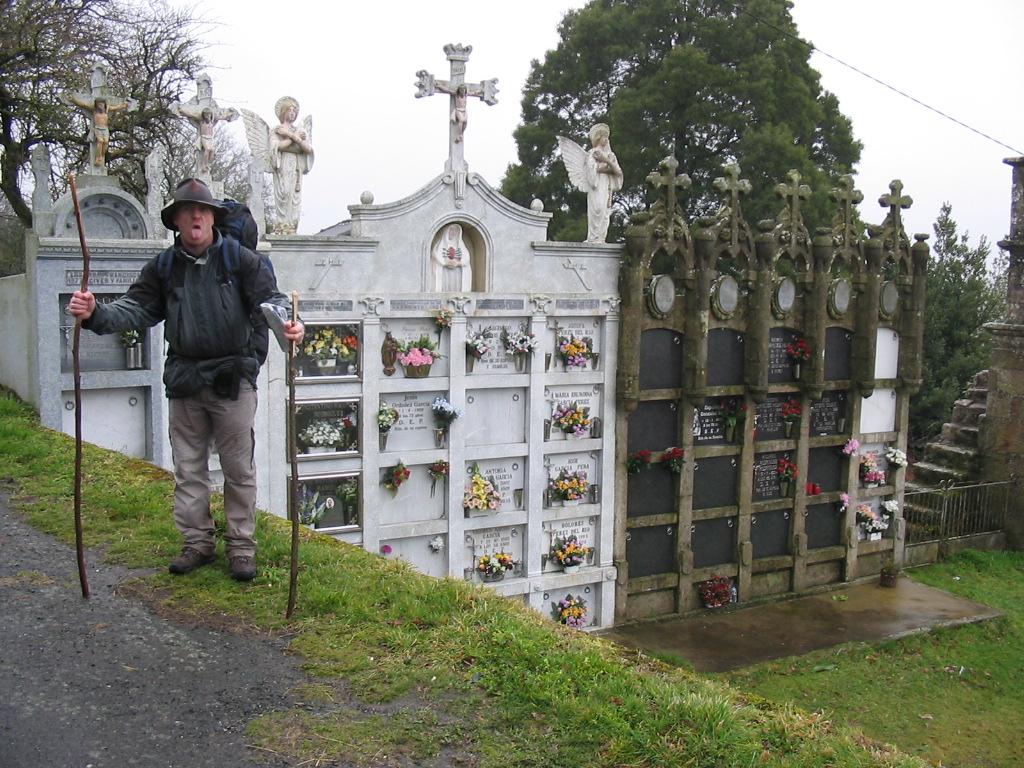 The sheer tastelessness of this wayside cemetery
doesn't really come out in the photo.
The rest of this day's walk is kind-of vague: we are being whipped continually by a wicked wind, lashing rain, and have got wet, sore feet, so few photo opportunities arise. An abiding memory is spending 30 minutes thawing and warming up in a late pub stop, only to walk out once more in the monsoon and be soaking wet, wind whipping freezing clothing, dour and miserable, within 50 yards of the door. Norway has nothing on this place. Wild and wet and windy and miserable. Oh, we had a great day!
Hostel at Olveiroa
We arrive at Olveiroa in a state of utter dolefulness. As in Negreira, the hostel is open, all very rustic and pretty, but completely empty, and cold as the grave. Wet is not the word for the condition we were in. Every single piece of clothing we have with us, in and out of the rucksack, is soaked. And there is only one pitiful radiator upon which we vainly try to dry everything off. St Adrian is reduced to his impersonation of Bob Dylan during yon dodgy early 70's phase. Just when it seems things couldn't get any more miserable, St George turns up.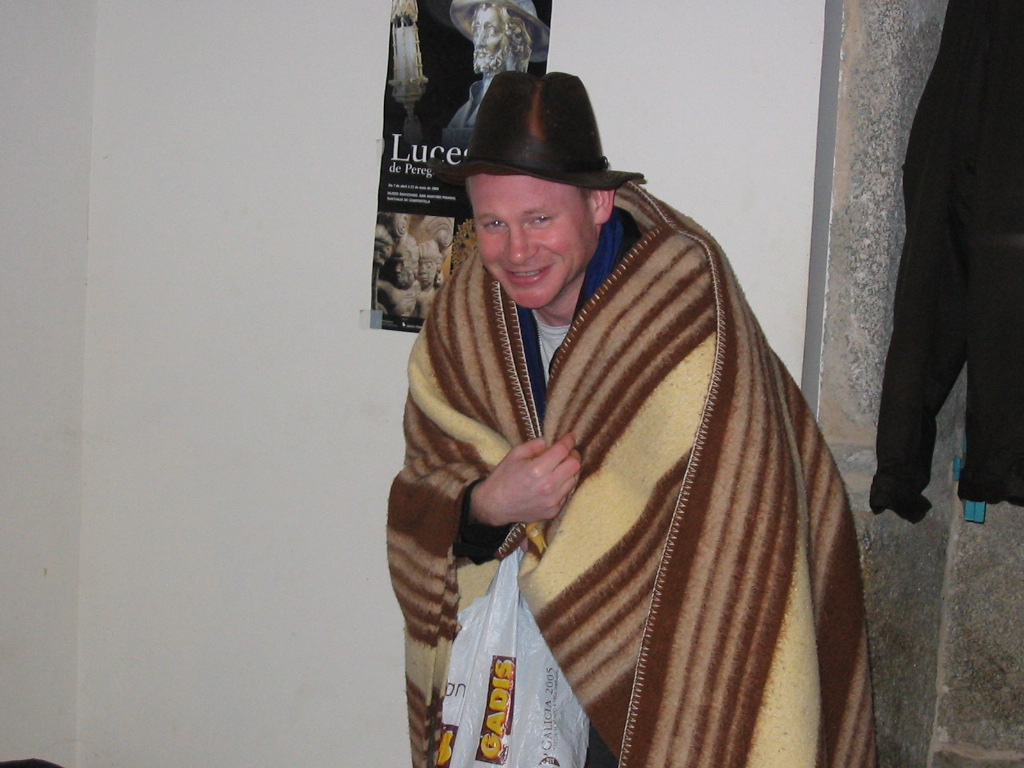 This was rain that forced bubbles to exude from St Peter's boots. Or from his feet perhaps? hard to tell really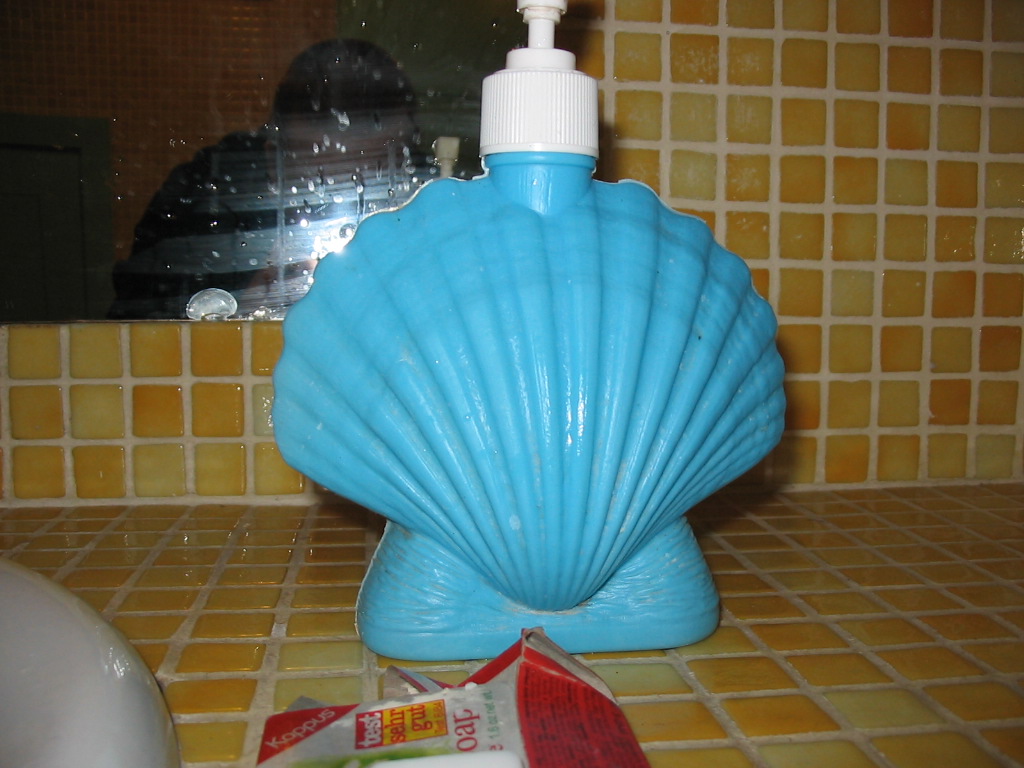 Kitsch threshold almost breached by this
tasteful shell-shaped soap dispenser
Adrian endeavouring to light a fire, with conspicuous lack of success. Teeth chattering under our rough blankets, we suddenly hear from upon high an angel, answering under the name of St. Purificacion, or as we come to affectionately call her, Puri. Puri, the hostel keeper, not only opens up the kitchen for us, she also brings us a pot of steaming broth. St Peter even ventures into the monsoon to fetch a six-pack of beer from a local tavern. State of humanity returns. Delirium. Heaven.
Half-Time Interlude: Highlights of Galician Architecture
Time now to pause and reflect upon the architectual heritage of this most beautiful part of the world.
| | |
| --- | --- |
| This charming cottage built of original stone and wood dates from several centuries ago. Note how the wood has carefully been given a broken and splintered effect, while the tiles are beautifully mottled through a combination of age, mould and moss. The barbed wire sets of the whole ensemble to an idyllic effect. | A more modern dwelling, with clear lines and edges and no concessions to mere attractiveness. The harsh colours clash dramatically with any beauty of the surrounding countryside, and an air of mystery is achieved by shutting and bolting every window. Courageous architecture in contrast to nature or beauty. |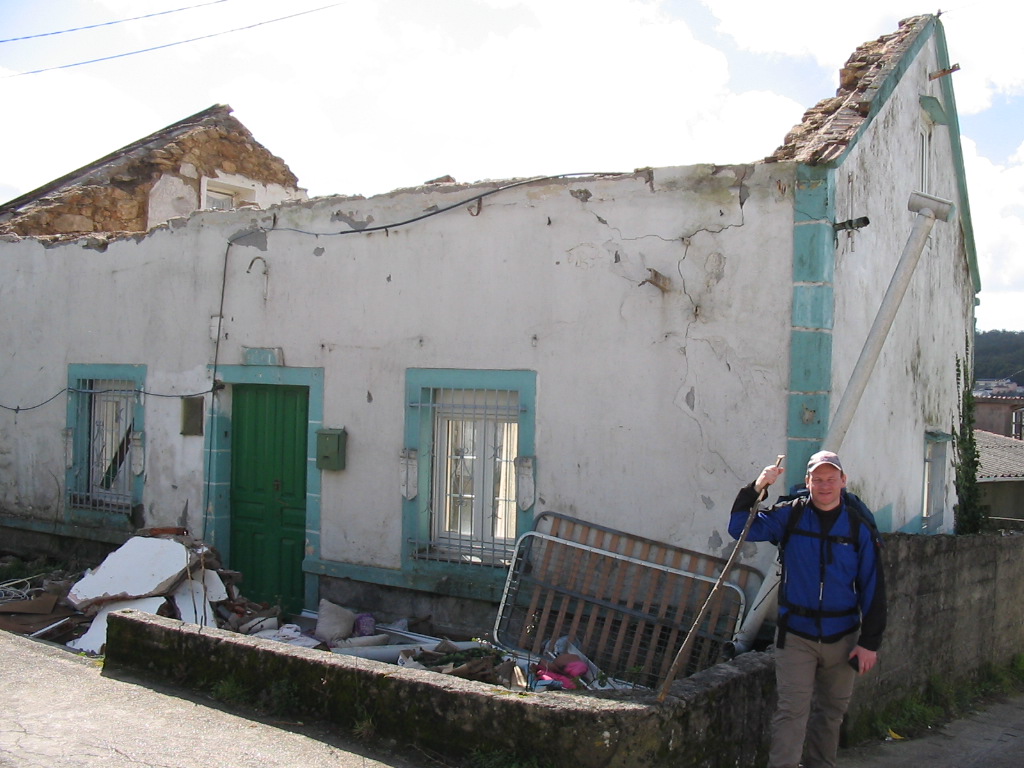 A softtop coupe in the country cottage lexicon. Plasterwork has been gently pulled back in places to reveal the inner structure. This cottage retains its full, original features, mostly in junked up piles in the front garden. Green door adds a sense of fun.
| | |
| --- | --- |
| Strong lines, bold colour and dramatic features set out a very individual tone, demonstrating severe independence from any outside influence, such as beauty, colour, nature, light, attractiveness, tone, style, love or charm. Security has been enhanced by the removal of doors, or indeed any mechanism of making an entry or exit. | Bus shelter very much in the modern style once more. Basic concepts such as a roof or walls have been challenged by the architect, who has taken care of detail right down to the very seats being unuseable. Weeds and grime add a natural effect, offset by piles of trash. A strong statement. |
Day 4: Olveiroa - Fisterra - Faro
Wake, open the shutters and blink unbelievingly at the scrubbed-clean scenery around Olveiroa. It is not raining! Very beautiful, and dry and woes of yesterday already forgotten. The worst of the weather has been weathered. It is a crisp, cold morning as we rise up over the Montes de Buxantes to enjoy sensational views across the still wispy valley
Say our farewells – again – to St George who has decided to go on to Muxia rather than Fisterra, as we intend.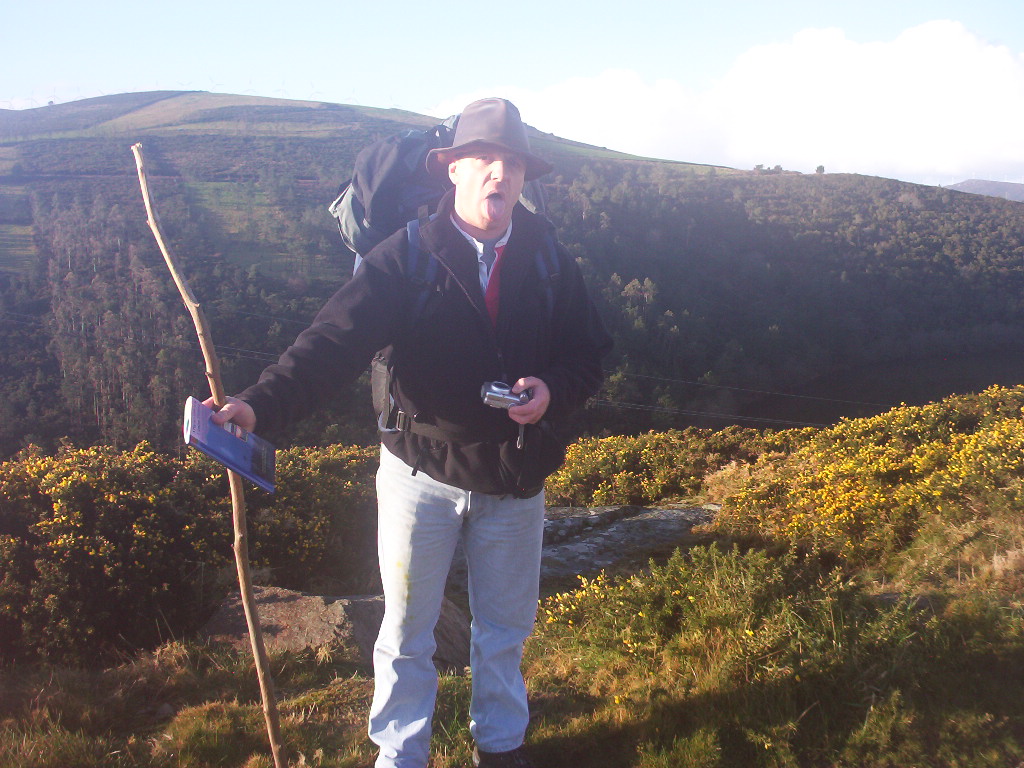 The views between Olveiroa and Hospital are some of the most pleasing on the eye that we encounter in Galicia. So it remains a mystery as to why St Adrian decided to take this particular shot.
This new bridge near Logoso, of somewhat incongruous design, gives an opportunity for some more silliness, using St Peter's camera's self-timer.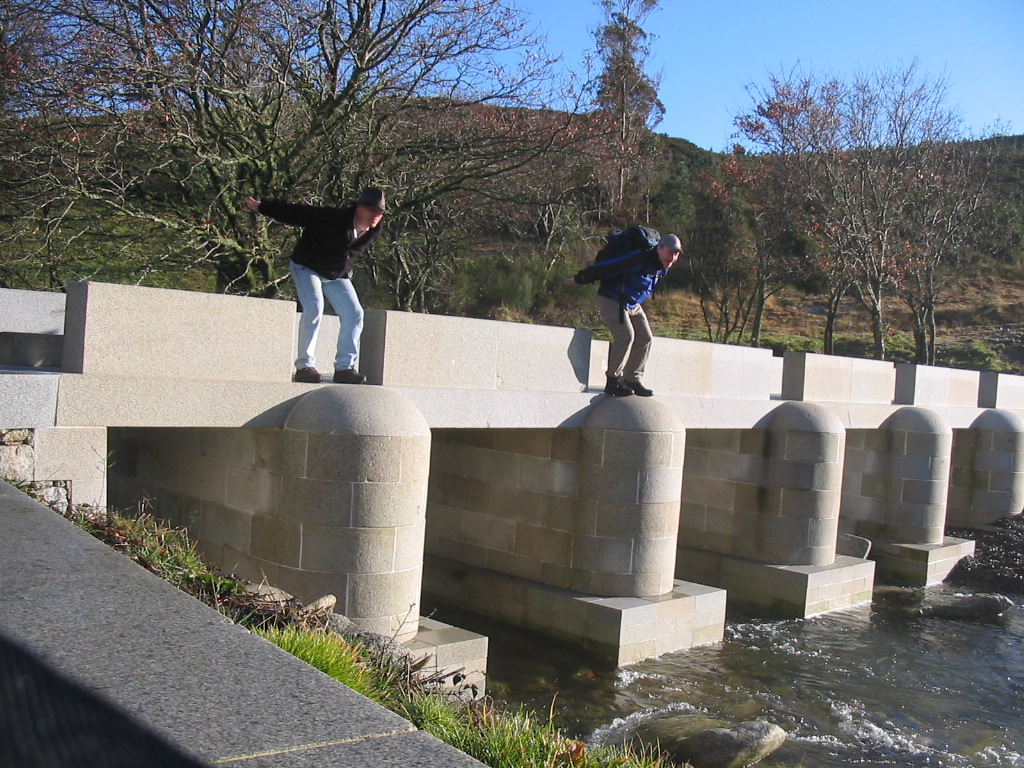 Interesting experimental photography at the carbide workers local in Hospital, where we partake of Portuguese Super Bock Stout for breakfast before heading across the moors. From the state of the road markings, we were not the only ones to visit this place.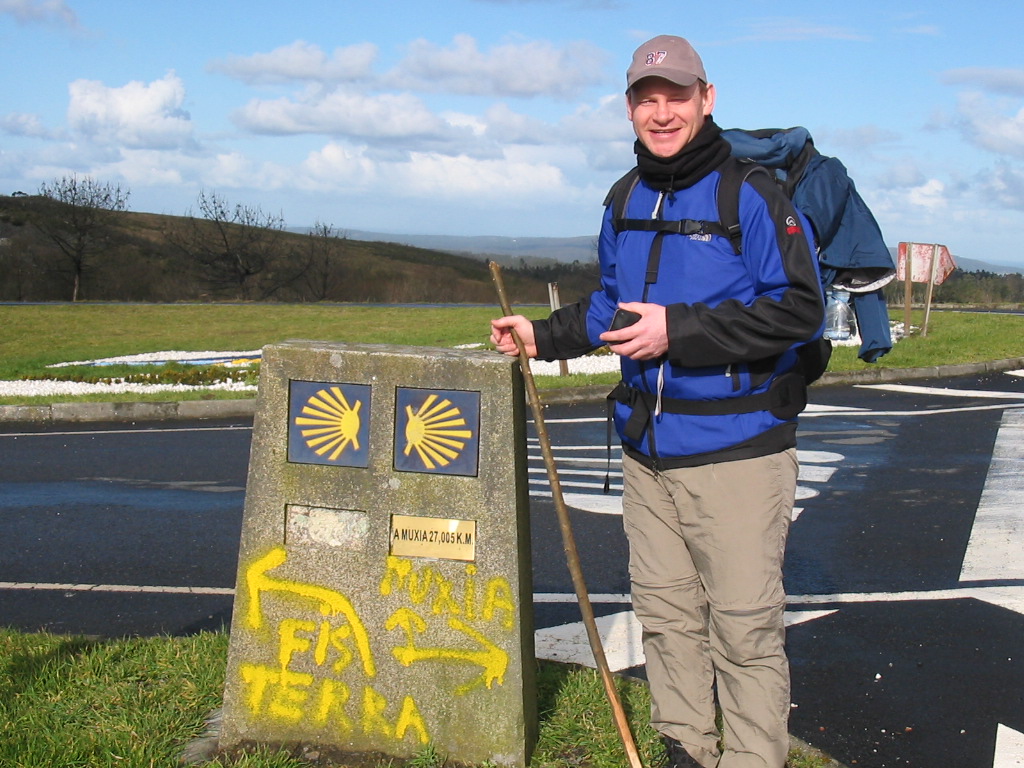 Parting of the ways. More classy signposts. Just about this point, we first catch sight of the Atlantic in the distance.
The scenery changes abruptly after Hospital, and one enters a weird, empty, fecund brushland, without any real habitation for over 12 km. This is Miracle Land, and many are attributed to the Church of Ermita de Nostra Senora das Neves....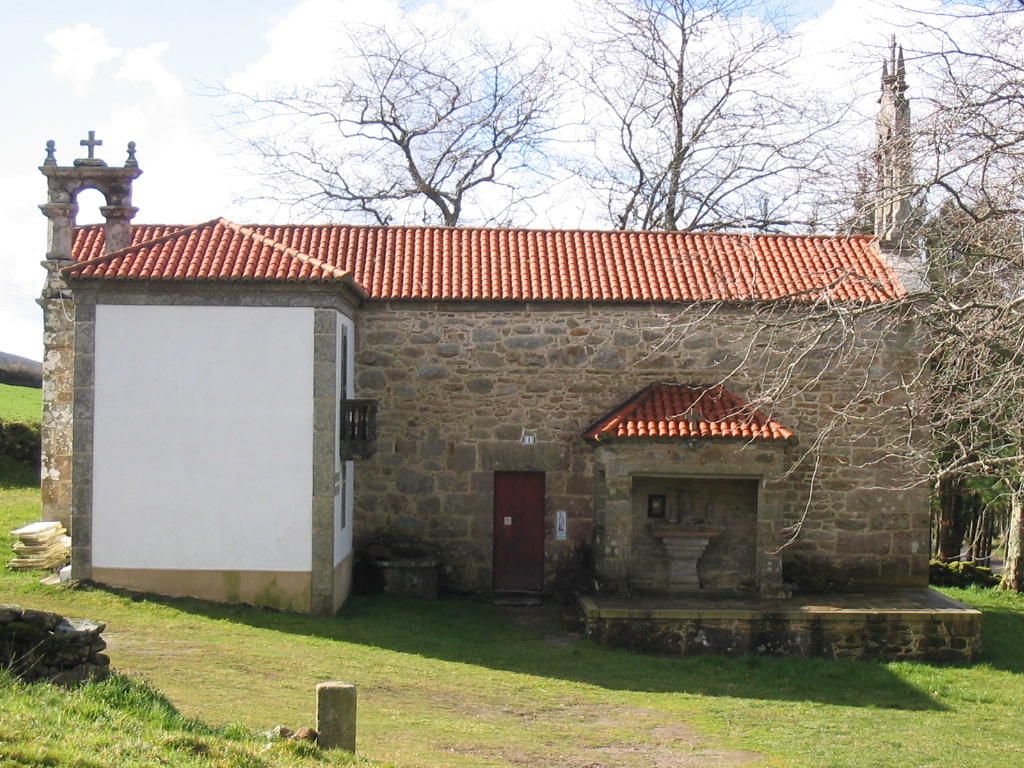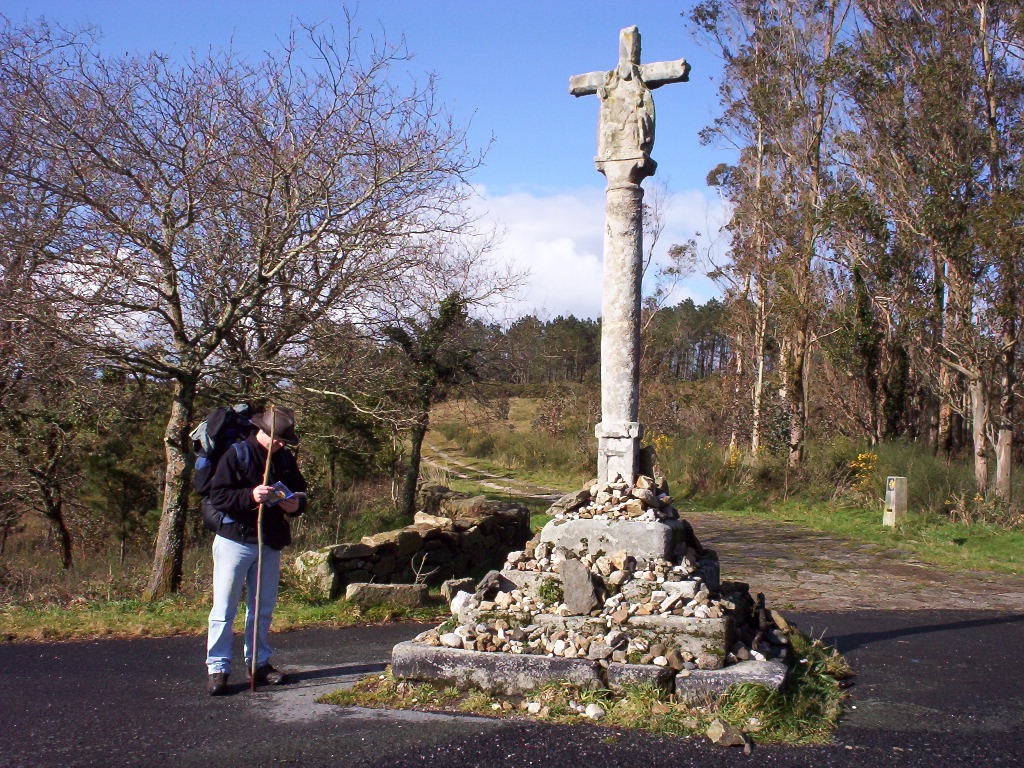 ...and even more here, in the stream next to the chapel.
Making painfully slow progress on the road to Cée. But at least the weather is holding up.
Cape Finisterre, our goal, seems tantalisingly close, but in fact there are still some 10 km to go, and time is not on our side. We have to get to Fisterre to watch the sun set at the End of the World. It is what we came for, but it's getting late...
Another classic self-timer photo, capturing the exact moment when St Peter's blister moved by itself. A really horrible sensation. In all seriousness, this was a moment when it seemed impossible that we would make it to the end of the path. It was on the very last downhill step - literally - of three days walking, and a huge slithery, slippy pain suffused across my sole, not to mention my soul. Took a 20 minute stop with full Second Skin plasters and everything, but I really don't think I could have taken another step downhill after that. So remarkably lucky that it happened on the last one, really, with only the small matter of another 3 km uphill to go.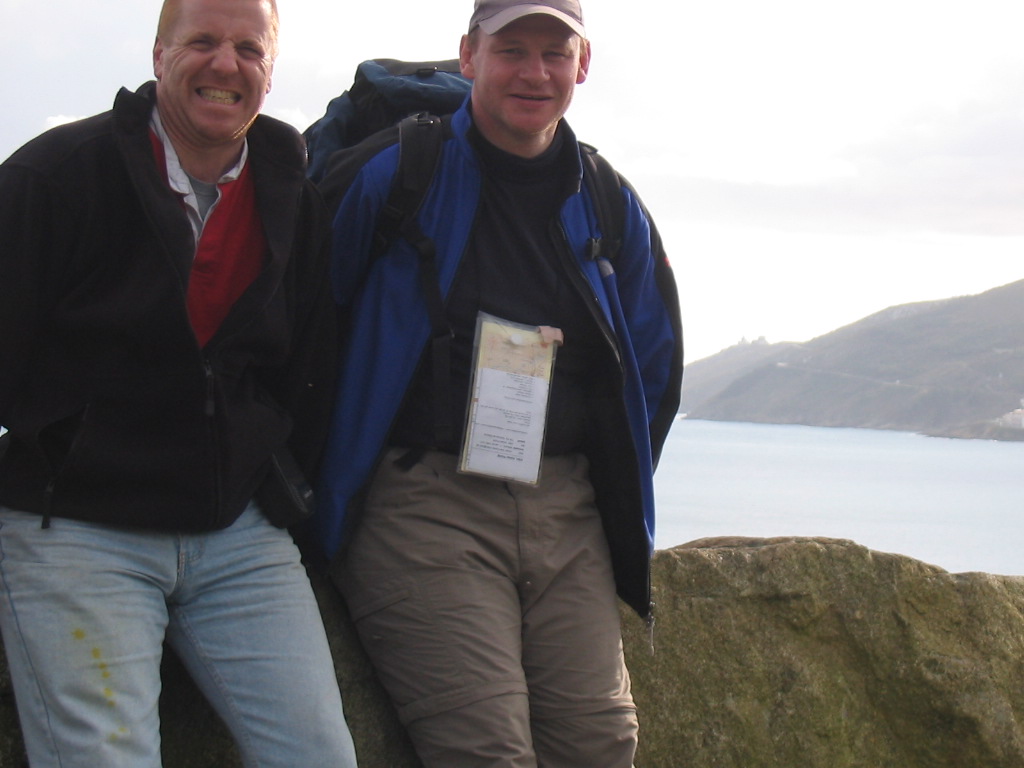 Cée and Corcubion, a welcome sight for sore feet. Oh, we do like to be beside the Cée side. St Adrian takes short cut across the sand at Cée. There is a strong urge to soak tortured feet in the brine, but we have at least 3 Ks still to go, so we resist temptation and do next best thing, and have a beer in a seafront café.
A magical find on Fisterra beach: a perfect Jacob's shell with a starfish inside. Feel suitably uplifted, exactly what is needed before final ascent. Note the way St Adrian's skin tone changes, chameleon-like, to assume exact shade of shell and starfish.
The climb up to Faro
The final climb from Finisterre town up to the lighthouse will go down in annals of Stupid Things One Does to One's Body Without any Truly Compelling Reason. It was a killer march, interminably long and completed in utter silence, without the slightest humour: mind over matter. The sun was plummetting in the sky, and we were racing against time as well as distance, if we were not to walk all this way and miss watching the sun set at the end of the world by 10 minutes. No second chance here. This final section was our very own personal Calvary, as we coaxed and pulled each other up the final yards to reach kilometer 0, the End of the World, just as the sun set. Cursed bubbly Aussie couple already on their way down, they had walked to here from León and were scoffing over the fact that we had walked in from the Airport
First glimpse of the lighthouse, but will we make it before sunset?
Getting closer. We might actually make it. Every step a searing drive of pain.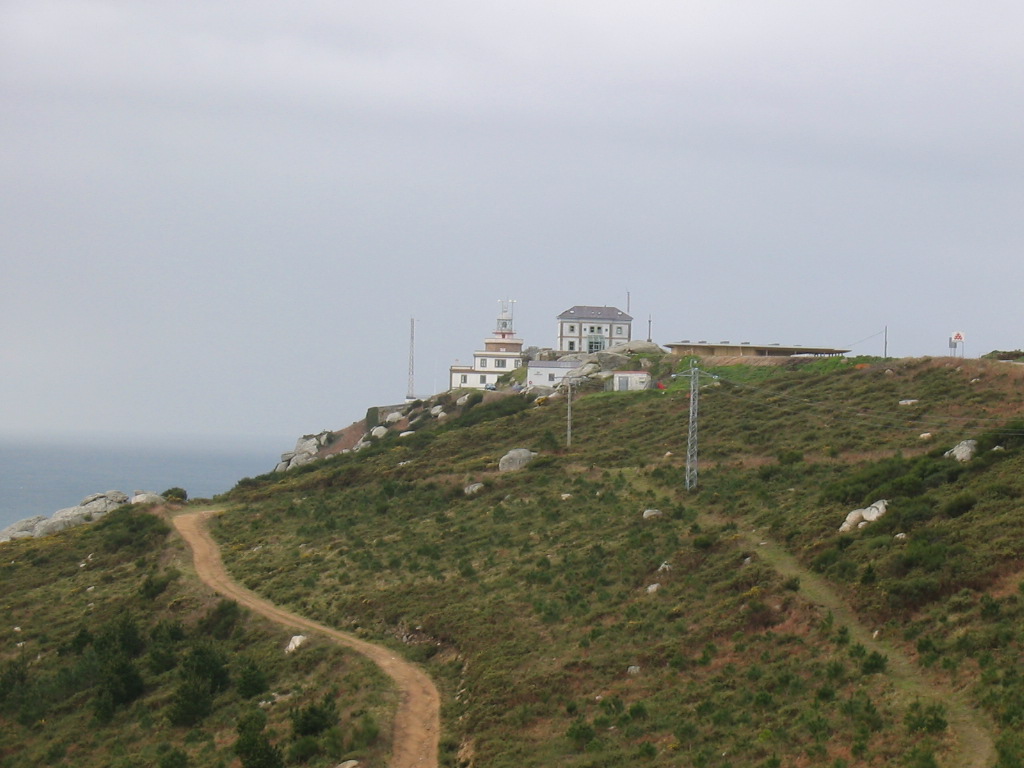 Made it! As we finally arrive on the destination courtyard St Peter
refuses to walk another single step. St Adrian has to check out
which of the three walls is best to watch the desending sun, because
St Peter cannot make the 10 steps that this would entail. This one
was really close!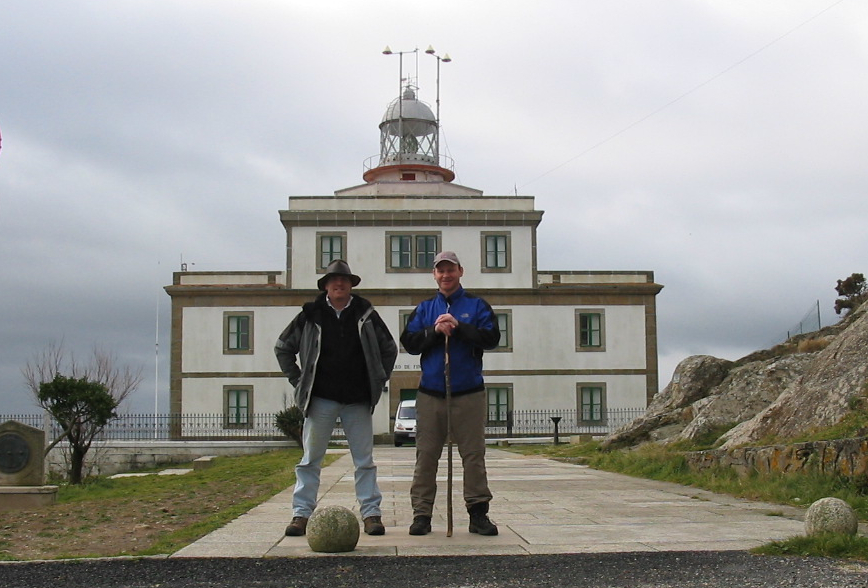 Our pride is big enough to make a grown man shit a cannonball.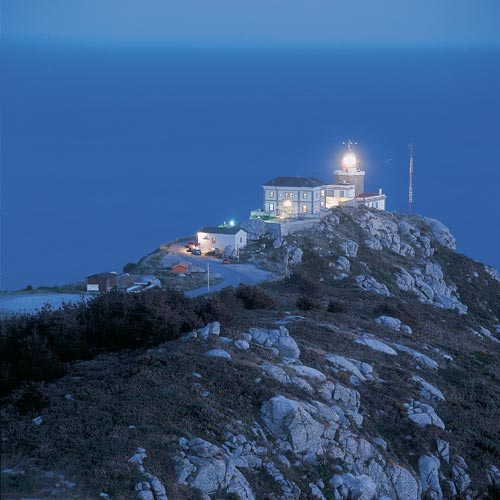 Sunset at the End of the World
To stay over in Finisterre lighthouse was truly amazing. The storm returned during the night, on opening the shutters we vaguely apprehend sheets of rain, lit up for a split second by a 6000W torch. We blink ourselves, yawn and return immediately to comatose, wonderful sleep.
Sunrise at the End of the World
Day 5: Fisterre - Santiago
Time to leave Finisterre behind, but it seems our rucksacks have got other things in mind. Even rucksacks are human, with emotions and sometimes uncontrollable urges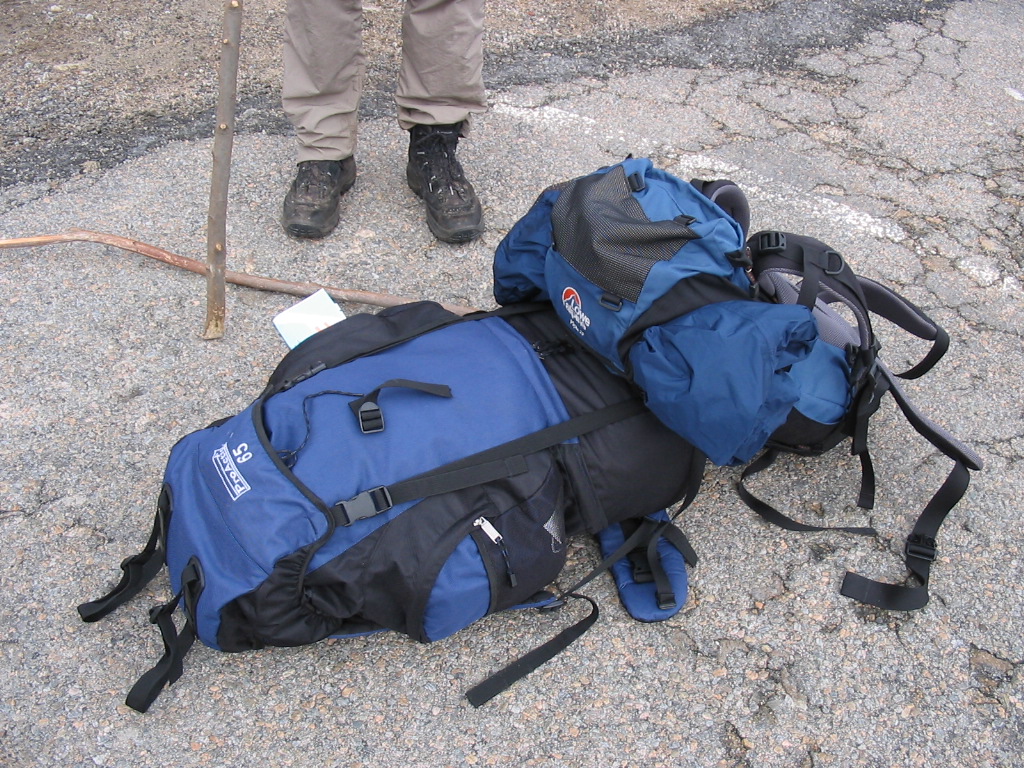 It is ancient tradition that successful pilgrims here burn all of their clothes to signify the end of their Auld Life. Modesty forbids such a dramatic step, so instead we decide to burn a single item of clothing, but our sweat-impregnated socks prove totally fire-resistant, so forced to give up again.
St Peter seems here to be wanting to go back up the hill again, but this is surely taking the reverse pilgrimage idea too far.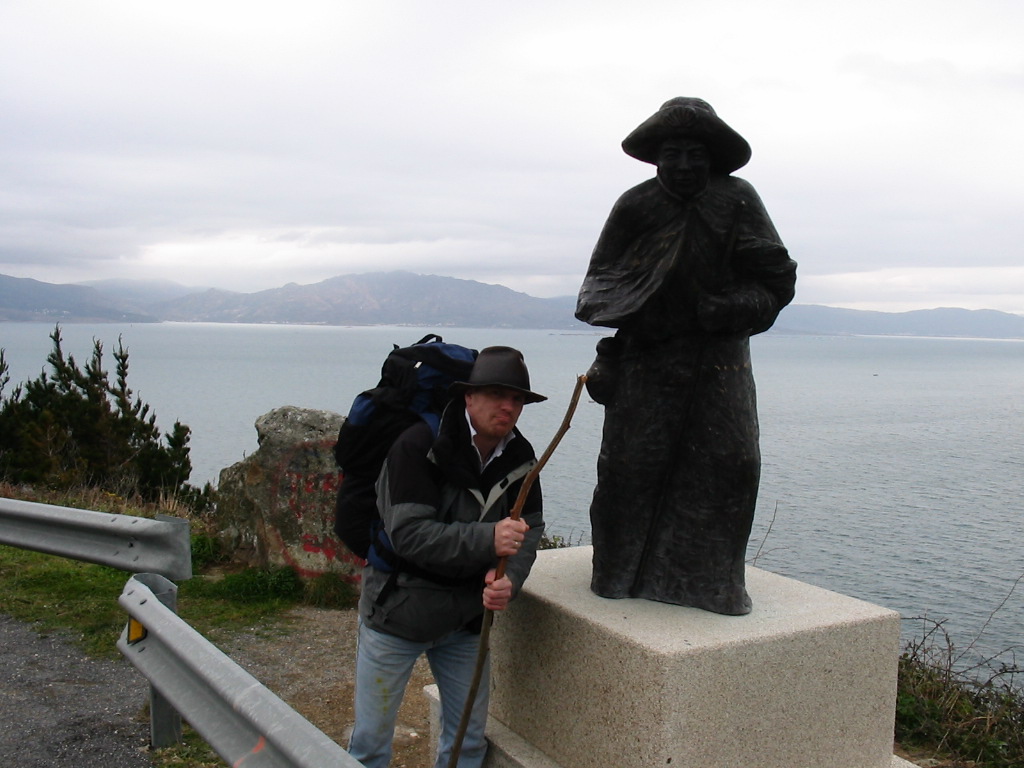 Instead of burning socks, we decide to symbolically end our 100 km pilgrimage with a wee Robin Hood – Little John type battle at the end of Finisterre pier, before finally tossing our staves into the Atlantic.
Day 6: Messing about in Santiago
A walk wouldn't be a walk without a final-day museum trip. This time, our visit to the Pilgrimage Museum in Santiago lasts less than half an hour. Finally, after years of trying, we succeed in being thrown out of a museum. We had committed the venal sin of visiting the forbidden 2nd floor. It's a fair cop.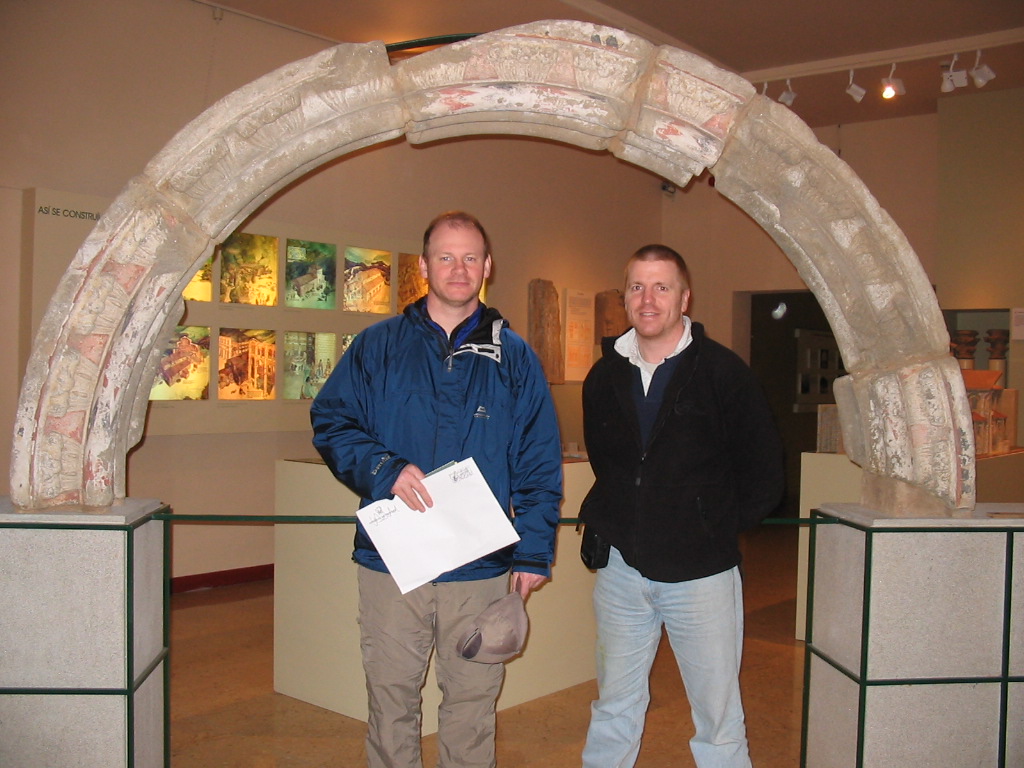 Official Santiago Police Department mug shots following the Pilgrimage Museum incident.
Finally, its time for the airport bus and a return to the real world.