| | | |
| --- | --- | --- |
| | 2004: Luxemburg | |
Moen, Ich mochte petit du jour und zwei Mousel, sil vous plais.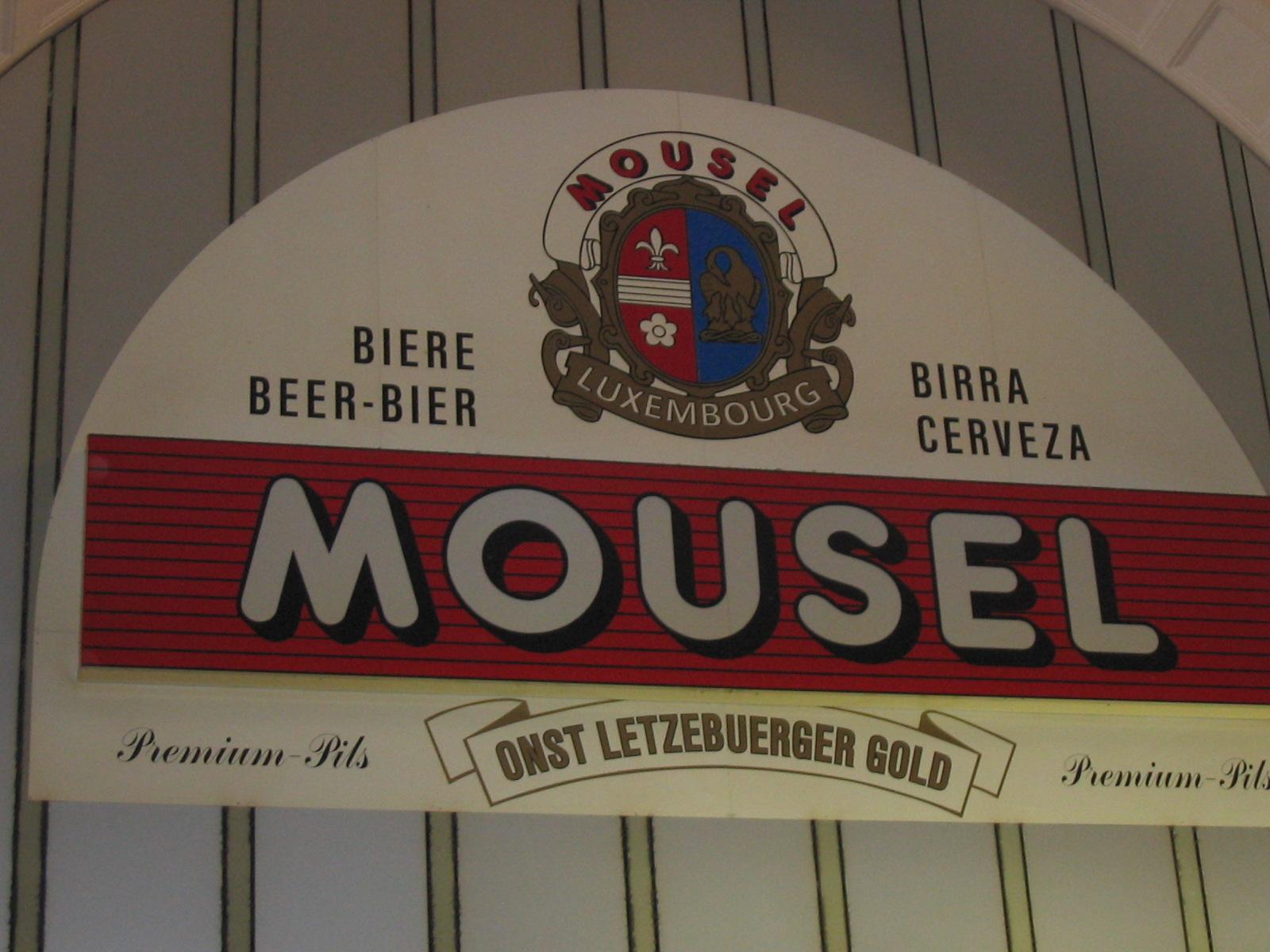 Saturday 20th March
Car to Stanstead
Plane to Frankfurt Hahn
Car to Echternach en Bach
Walk across the bridge (150 metres) to Echternach, border guards conspicuous by their absence, no-one seems to care.
Stop for first drink in Café du Parking.
Tighten our belts, walk through the Gorges du Loup to Berdorf. Some stiff climbing combined with no sweatshirt over my forearms results in internal rivulets flowing down to amass at my jacket cuffs, which become somewhat unpleasant somewhat rapidly. The first rivulets of many over the next few days!
Very gorgeous and wild. Indiana Jones hat entirely in character.
Walk to Berdorf, despite the help of the local signage.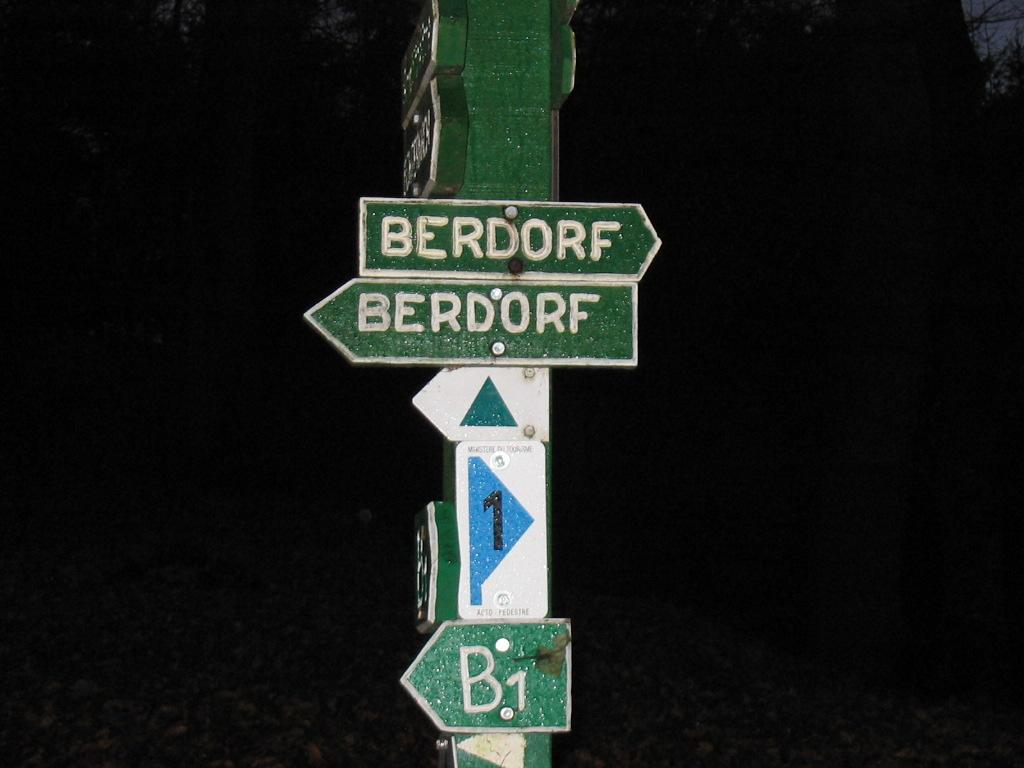 Spend night at Hotel Lenert in Berdorf.
Pork Schneitzel, lots of beer and skittles. Discover that Mousel slips down a treat.
Sunday 21st
Bit of a struggle to get coffee. After trying most of Berdorf, end up back at Hotel Lenert who only reluctantly come up with a (paid for!) breakfast despite Adrian's entreaties to the Portugese cleaner.
Walk to Grundhof, given very reluctant second coffee but refused actual breakfast in wonderfully snobby hotel. Never before been made to feel so smelly and unwelcome. Adrian sets the tone by stripping down to fundamentals and proudly announcing to all in restaurant, "I don't think that there is a single piece of my T-shirt that isn't soaked through!" Perspired all over other couple's breakfast. Very satisfactory.
Walk to Beaufort, down the Rue de Chateau to rather disappointing Chateau (closed).
Then up again to a tourist office (closed); then down once more, before leaving. Fed up of Rue de Chateau by now. Leave and decide never to return to Beaufort ever.
Walk to Berens, one house town, literally, although, bizzarely, it is number 60!. Crossroads, can't possibly go wrong here.
Wrong turn, by about 135 degrees. Walk about 10 km before we notice. When we finally see a signpost takes about 5 minutes to find it on map. We are completely off the page we were supposed to be on. Another two minutes of gaping disbelief.
Walk to Haffel where we have more beer, and a council of war to rearrange the next two days. Only option is to walk North East to return to Beaufort. Depressing moment when we have to walk up the Rue de Chateau once more. Getting funny looks from the locals by now.
Any plan to walk East to West has now gone for a Burton, although we do end up seeing Belgium in the distance on Tuesday.
Eat ostrich in Pizza Bar.
Early to bed, although we both simultaneously have surreal dream that we spend the night playing darts and skittles with group of Portugese in Portugese bar in tiny village of Beaufort in Central North Luxembourg, with lots of SuperBock involved.

Monday 22nd
Another struggle to get breakfast. End up leaving deserted hotel with money for room left under an ashtray. Finally get breakfast in Patisserie, which is very nice, but would be nicer to get one of the breakfasts we pay for.
Bus to Ettelbruck.
Train to Wiltz.
Walk up to the castle, where we get a map and go to the Brewery. Turns out to be a museum of antique brewery equipment, and doesn't even sell beer.
Sense of disbelief that we failed to organize piss up in Brewery.
Make impusive decision to go to Paradiso. This is a tiny station platform beside a derelict house and a sewage works, and is 2km in the wrong direction, but we like the name, and the idea of walking to Paradise. Also, I thought of idea for text message, and don't want to waste opportunity.
Start off by ordering a quick toastie in a restaurant which takes an hour to arrive. Try to find right route out of Wiltz and fail repeatedly. Walk about 1km out but on wrong road and have to return again. End up walking up and down street which is, sadly but inevitably, named Rue de Chateau. Thus begins our "Rue de Chateau" complex.
In desperation, Adrian takes to photographing the town map on his digital camera, but I assure him it will never work.
Paradise Lost!
Finally get the right road, and walk to Paradise. This 2km detour has now taken nearly 3 hours.
Photos at Paradiso Station.
Unfortunate moment now when train actually comes. Paradiso is request stop in middle of nowhere, and we very embarassed at being there but not requesting train to stop. Pull down hat and try to hide. Train slows down, but then speeds up and goes away, after conductor gives us funny look.
Cut across country to get back onto route to Esch-sur-Sure. This is wildly optimistic thing to attempt after last 24 hours, but remarkably - still sober after our dry brewery trip - we hit all the right paths. Drink stop in Somewhere, just after we had given up hope of finding inn open. Boring talk with British man about USB ports, whom we suspect is a spy.
Very steep descent into Esch-sur-Sure, which is such an indescribably beautiful little village, tucked into the meander of a river, surrounded by a horseshoe of steep hillside, that it shouldn't be allowed.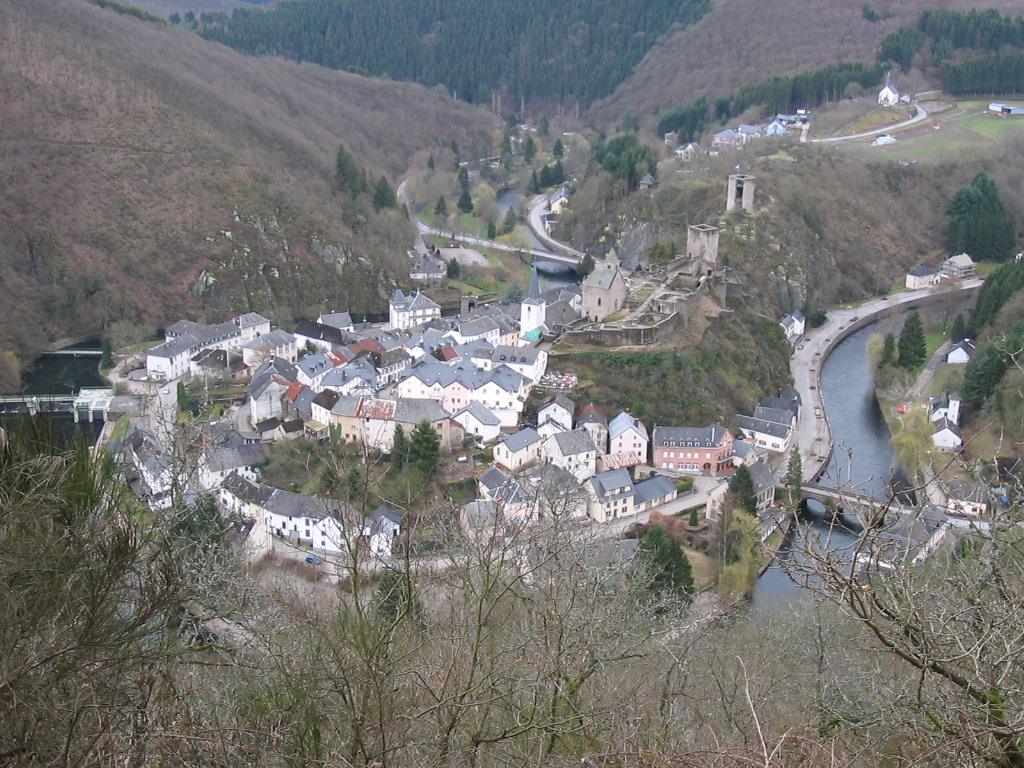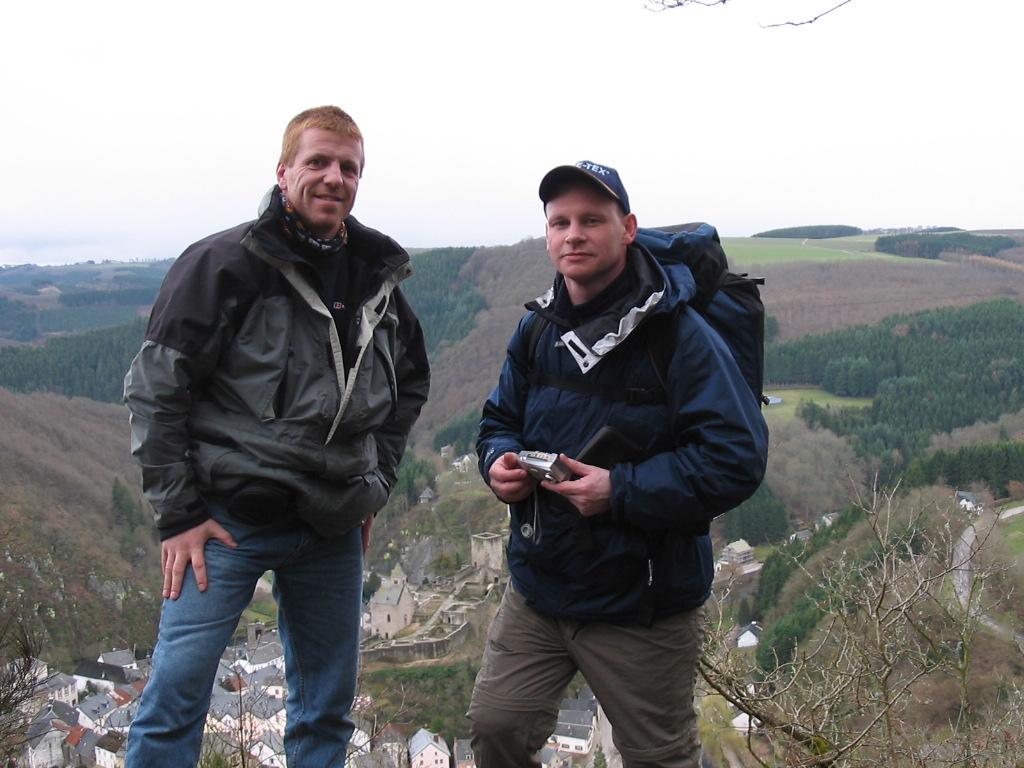 Save 10 Euros by taking cheap room in hotel, then spend nearly 50 Euros on Gourmet meal. Beef this time, utterly wonderful food.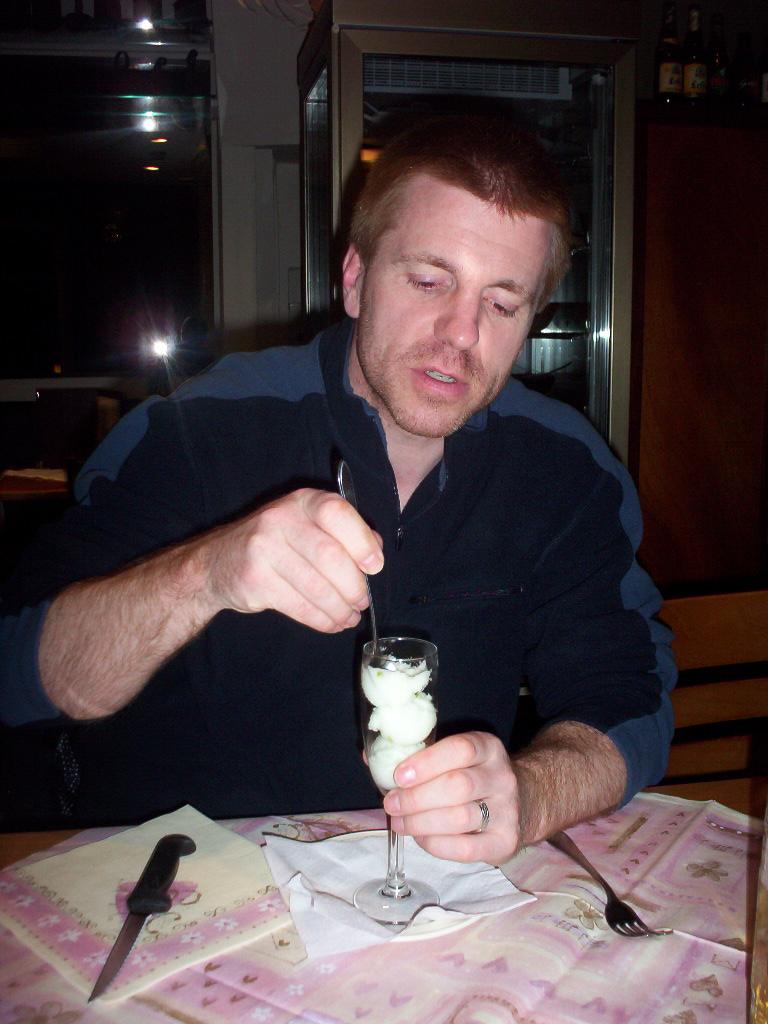 Climb around castle ruins. Moonlight. Esch so perfect and beautiful that I still believe it must be a movie set or something and cannot be real life.
Good to see all those night classes in arty-farty photography weren't a complete waste of money, then.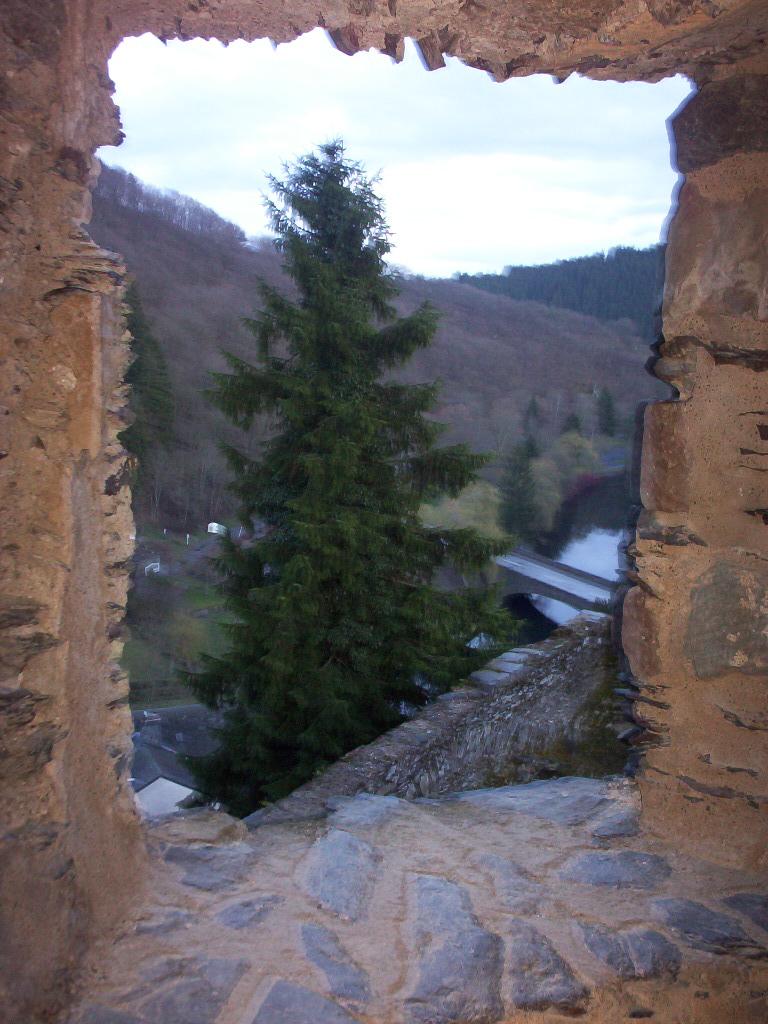 Tuesday 23rd
Breakfast in hotel is self-service. Wifie busy, so we make our own coffee and boil our own eggs, don't get discount though. Extremely expensive bill, so lucky we saved those Euros by staying in scabby room.
Walk down the Sure to see the dam, which is damned guid.
Walk to Kaundorf, which has tourist office (closed) but no inn, which is a big blow. Map has little icon looking like a bouncy animal on a spring, and many jokes about this being the highlight of Kaundorf. Unbelievably, this is exactly what the icon refers to, and it was indeed the highlight of the town, so Kaundorf a pretty big disappointment as disappointments go.
Back to Esch, weiner schnitzel und bier et framboise under a row of antique erotic postcards. Got postcards for family, but different ones.
Bus to Luxembourg. Oddly, 5 minutes before bus arrives, about 30 single men appear out of woodwork from all over Esch (which only contains about 30 houses all told) and bus is packed with trendy guys - all hair gel and leather jackets - for a night out. Wasn't expecting this on 2 o'clock bus from Esch to Lux!
Stay in Hotel Italia, on Rue d'Antwerp, off Place de Paris, in Luxembourg. Now, there is a place with an identity crisis!
Night in Luxembourg: viaducts onto battlement bit, walk around gardens, elevator to higher bit.
Bier here and there, goose legs in French bar in town.
End up in Sams Bar playing the Euro Quiz on machine. Get high score, and enter it under the name of "Ploppy Pants."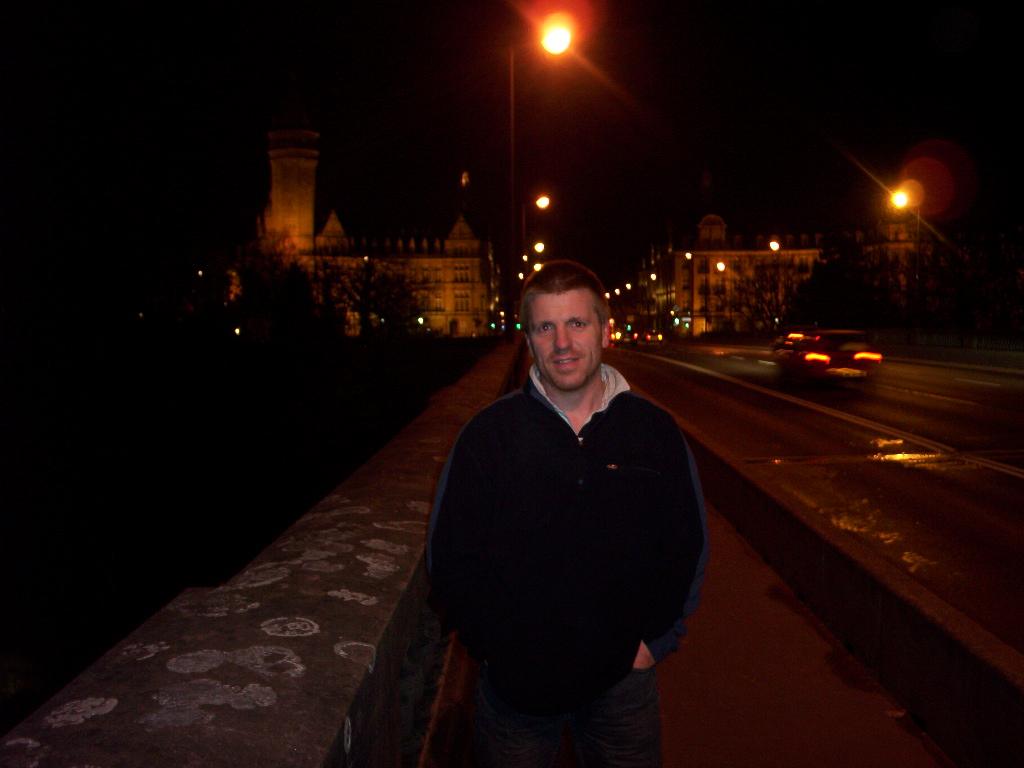 Wednesday 24th
Actually served breakfast in hotel, paid for, first time this holiday.
Walk into Lux.
Notre Dam Cathedral. Once again, common sense and good taste prevail.
National Museum of History very dull, but utterly wonderful elevator. Spend most of time playing on this, embarassed at being caught by museum staff who give us funny looks. Ended up by pressing all the buttons then leaving. Seemed funny at the time, but back at work the next day there is a sense of surreal disbelief that at 38 years of age I pressed all the buttons in the elevator and ran away at the National History Museum in the Grand Duchy of Luxembourg. There's life in the auld daug yet!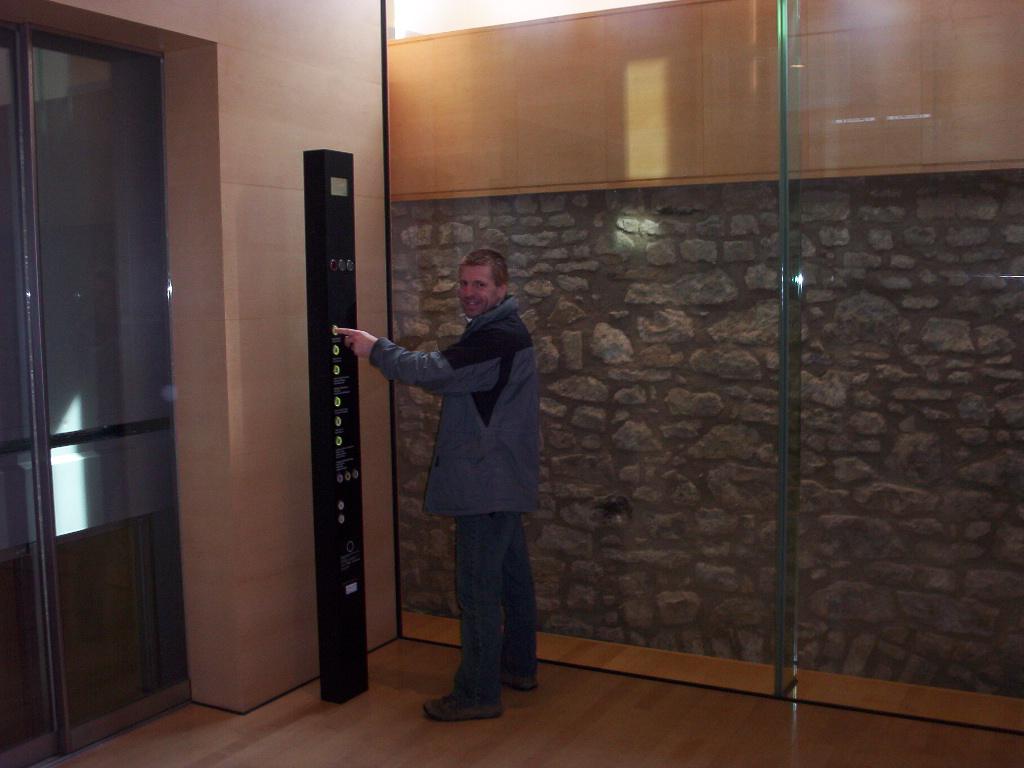 This one is just a bit of a mystery.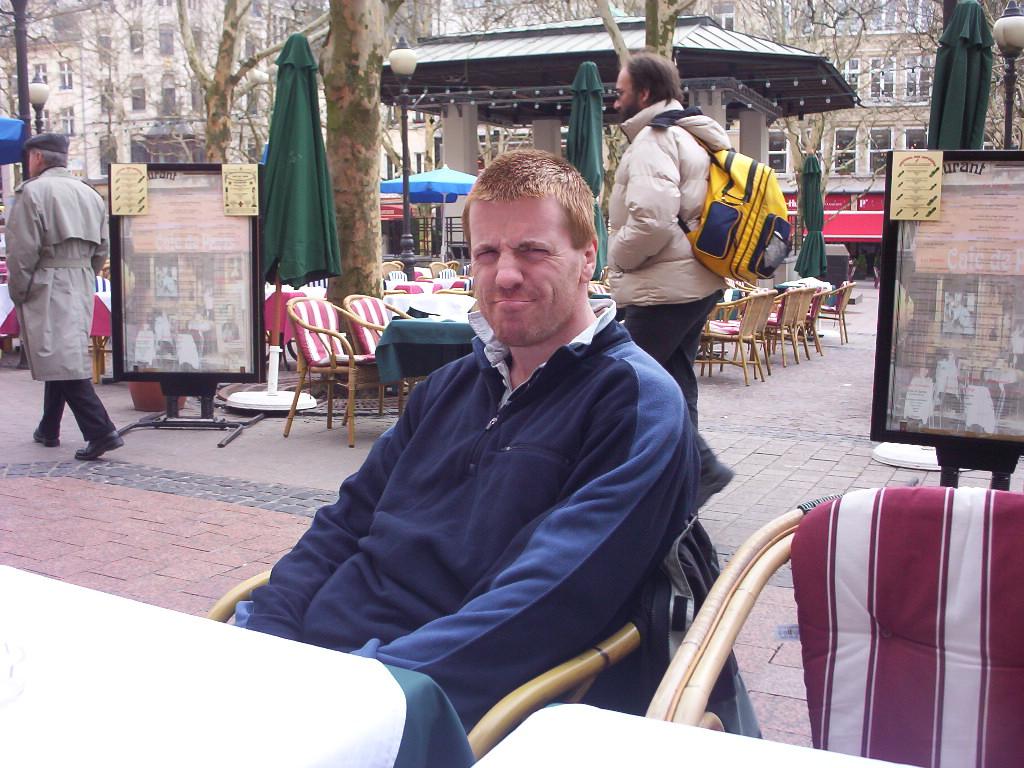 Beer, espresso and spaghetti carbonara in central Lux.
Bus back to Echternacht. Brief moment of crisis when we think it might be going to Beaufort again, but just a misread signpost.
Final beer in Café du Parking again.
Car to Hahn, and final final beer in place just outside airport.
Plane, train and automobile home.