| | | |
| --- | --- | --- |
| | 2003: Ireland | |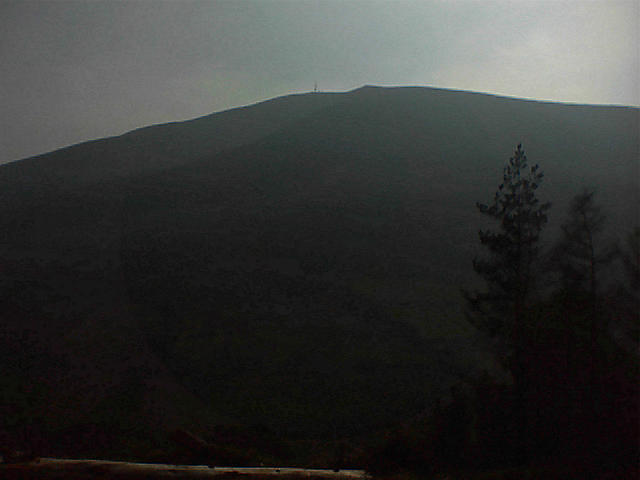 Err, well, OK, must admit here that this one is being written 3 years after the event, so perhaps the memory is not as fresh. Also, using photos that Adrian memorably described as being from, "a digital camera that must have come from a Lucky Bag," so perhaps the lack of clarity will be visual as much as verbal.
3 days walking in the far West, followed by 2 days in Dublin, the highlight being the County Hurling match. I'll start off by describing the photos, then adding anecdotes of the taxi-driver and the wonderful pub meal that was bought for us specially. Oh, and the unexpected pint of Guinness in the three house village, pub included. And meeting the lifelong friends in the pub in Dublin. Its all flooding back now.
The first walk we did in Ireland was on a waymarked trail called Slieve Felim, we started off in Limerick ("Gun City" - there's surely an anecdote there, remember that taxi-driver and his growing concern, as we joked that my walking sticks in their case were in fact a sawn-off shotgun, especially when we instructed him to drive down that lonely country lane...).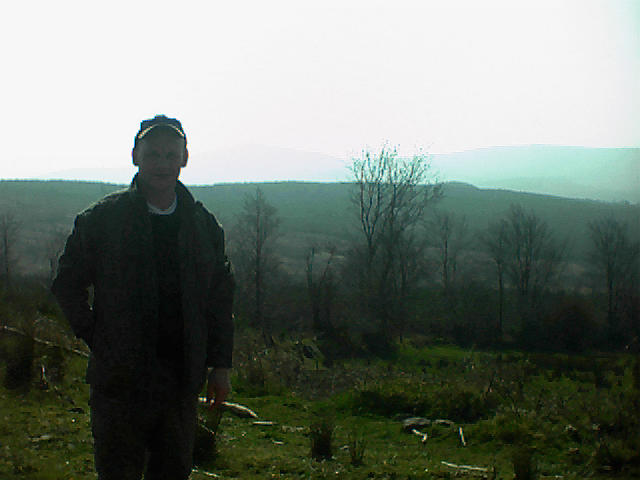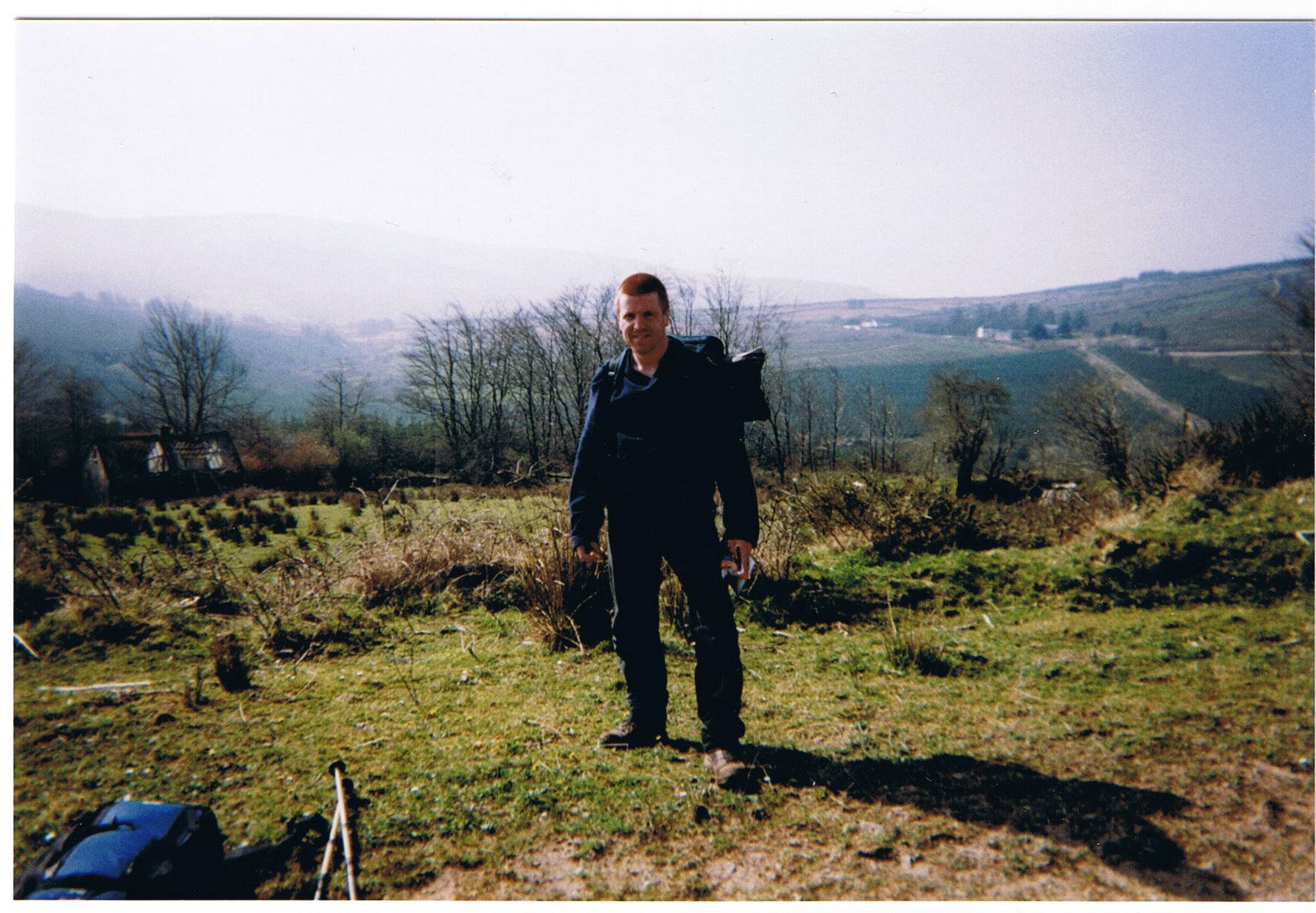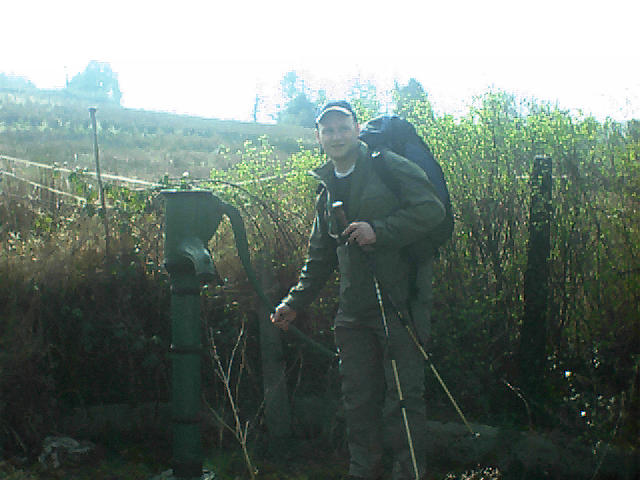 We proceeded to walk over Keeper Hill...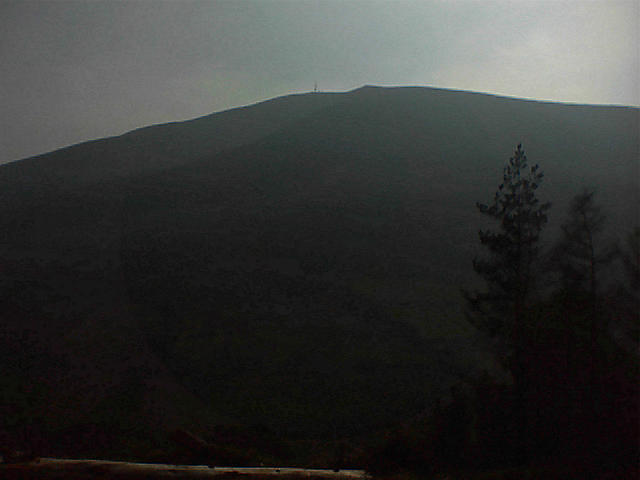 ...it was a long, hard day's walking. The terrain here in the West is beautiful in a rugged sense. Bare and raw with hard slate underfoot. Long hiking paths heading off over rugged hills, with miles of isolated country and very sparse outposts of civilisation to break it all up. One advantage of all of this is that this is rural Ireland, and even the sparsest outpost flows with Guinness, or does it?
We reach Toor, a tiny village around lunchtime, hot and thirsty. Its really tiny, about 3 or 4 houses, but needless to say even here there is a small Catholic Church, with a Madonna in the front garden, beautifully tended and manicured. We search in vain for an inn, but it ain't in the Church, and beyond the houses there is absolutely nothing. So in the end we sit in a small public garden at a picnic table and rest our weary feet. Its pleasant after the hard trail, but oh, a Guinness would slip down sweet right now.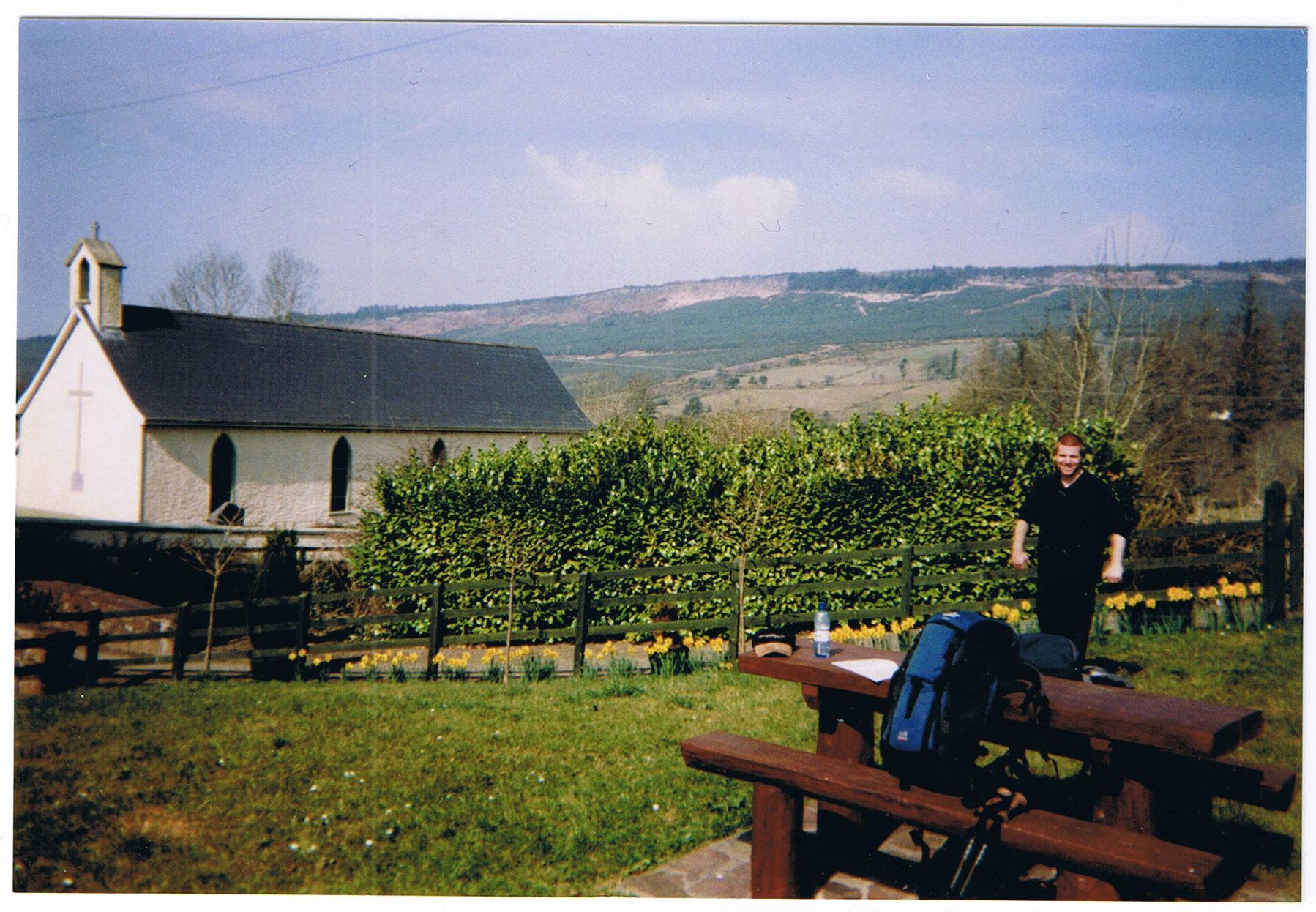 We finish our cereal bars, and finish our water bottles. We need to fill up before we head off onto the trail once more, with dreams of grain and hops still flowing around our heads. A lady walks down towards the church, with a wheelbarrow, and we ask her if there is a tap where we can fill up our water bottles. She pauses, and says that she really isn't sure if she knows. She seems to be gardening, and gardners need water, so I perist, and say just anything to fill up our bottles. "Why," she says, "I really don't know. Why don't you ask at the pub?"
The world swirls around me. All those visions of grain and hops seemed to build up and colour my vision. I can hear my voice say, "Pub. There's a Pub?" Turns out that one of the three houses houses a pub in the back, instead of having a living room. This is Ireland, a village that boasts a church, how could it possibly be otherwise? In future years we were to visit a town in Norway with many houses and streets, and with a supermarket and a fishmongers, and no pub, but that is Norway, and this is Ireland.
30 seconds later we sit on barstools while a lovely older man, the spitting image of my grandfather from years before, slowly pours out a Guinness from a barrel situated about 50 inches from the pump. It takes about a day and a half to pour, and is probably the best pint of beer I have had in my life. Oh Glorious Pub.
Only in Ireland.
The road was long and hard, and the map showed nothing for mile upon dusty mile, except for the handball alley. Only the handball alley offered any chance of rest, shelter and – God willing – a drink, for the next 10 miles. We wondered as we drew closer what exactly the handball alley would be like. Just a small tavern, with a alley out the back?, or a full 10-lane complex with flashing lights and an American sports bar? Perhaps only a cafe with bottled Guinness, which would be a lowering of the standards on this trip! My God, surely it would not be closed ?! Anyway, what exactly does, "closed," mean, in rural Ireland ?!
As we drew close, we began to see the handball alley itself.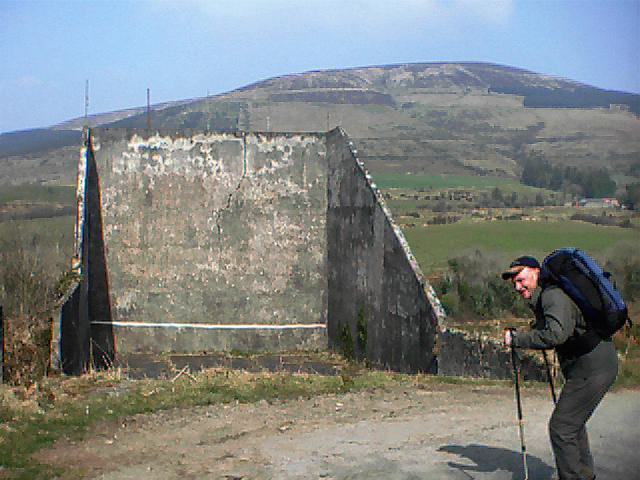 This handball alley is on a hillwalker's trail, literally miles from anywhere – absolutely miles from absolutely anywhere. Even here and now, at home 3 years hence, it is a complete mystery to me why it is what it is and where it is, and who on Earth would ever play handball at this alley. And another thing, why is it on the map? Are hillwalkers supposed to bring raquets and stop off for a game en route?
And so on to that day's destination, Silvermines, Co. Tipperary.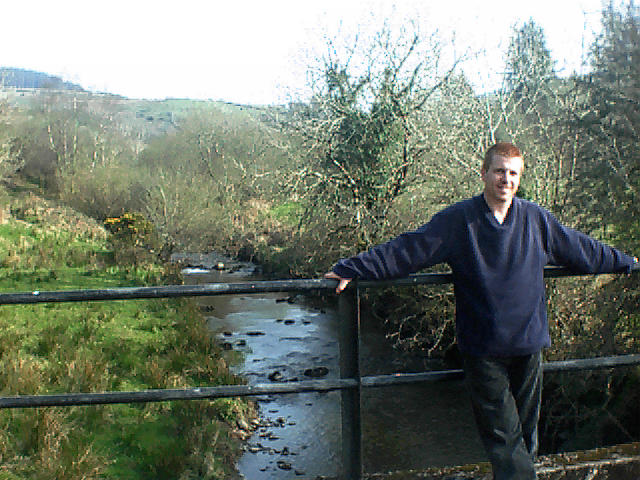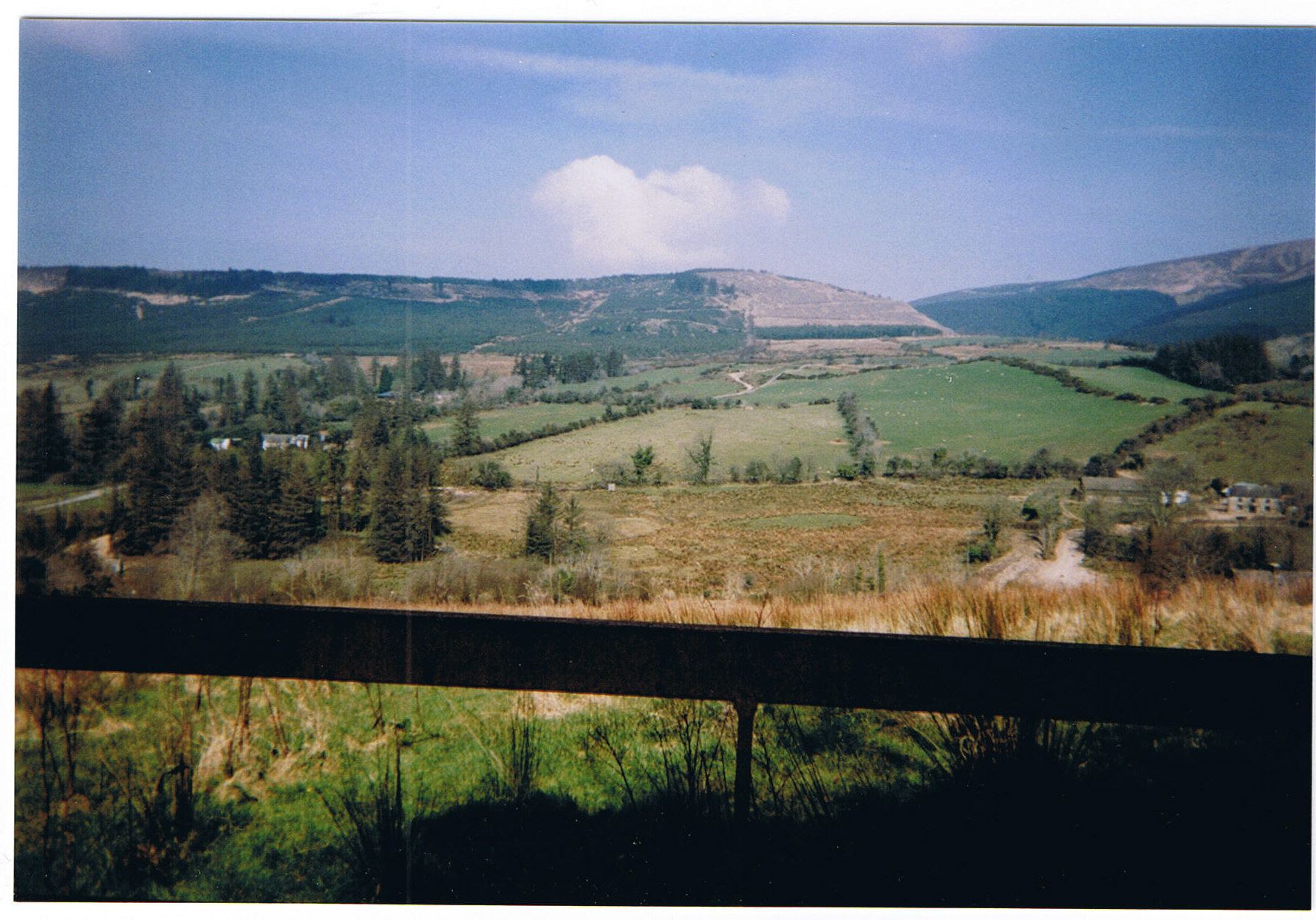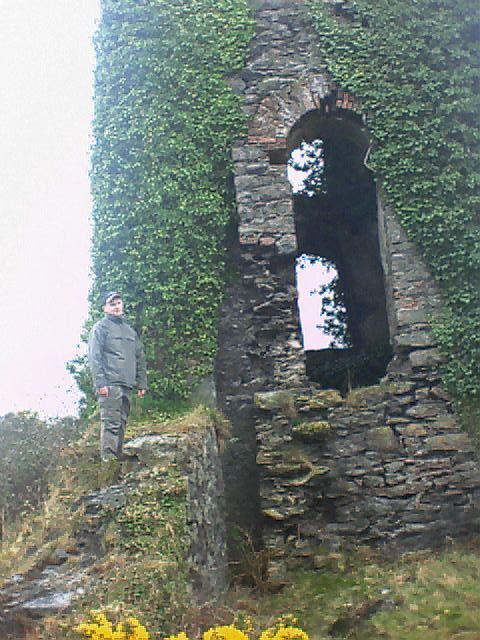 You might care to recall the landlady at the B&B there, with her towering rounds of sandwiches and tanks of tea.  She was so nice to us, I half-expected her to come up at bedtime to tuck us up tightly with a cup of Horlicks. Or at least insist we each marry one of her beautiful spinster daughters.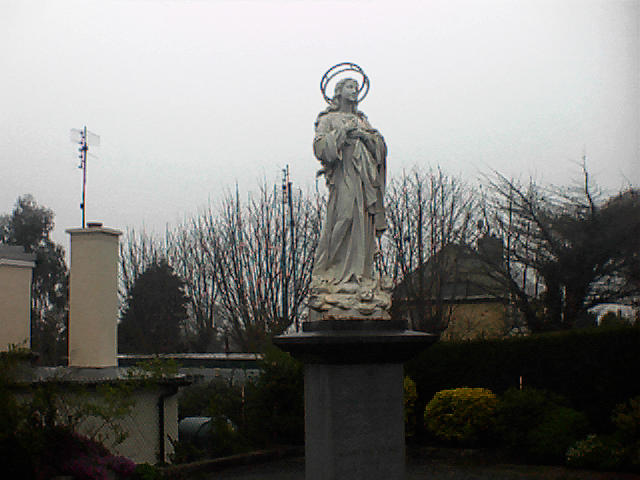 A glorious statue, only such a shame there is not an accompanying night photo. This statue of the Madonna, which during daylight hours could almost be considered quite tasteful, has a halo which lights up in the dark in a vivid neon pink. Beautiful, rural, home-crafted, religious tack, of the first order.
The second walk, along the Grand canal, started at Armstrong Bridge (?) to Tullamore, internationally famed for its Dew, but actually a dump, as I recall.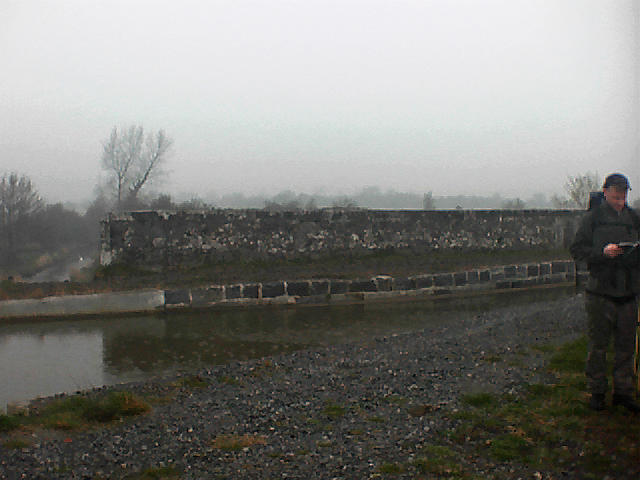 Adrian is mapreading by the canal path here, but I don't know why. The road ran alongside the canal for 17 miles. The miles bit was a blow, because we had initially thought it was 17 kilometres, and meandered slowly through the morning, not really getting on the road until lunchtime was almost upon us, on that basis. As the lunchtime pub got closer only very slowly, we realized our mistake. Today was the day it rained. The rain held off for the other days, but today it poured, streamed, bucketed all day. It was long and dark and wet.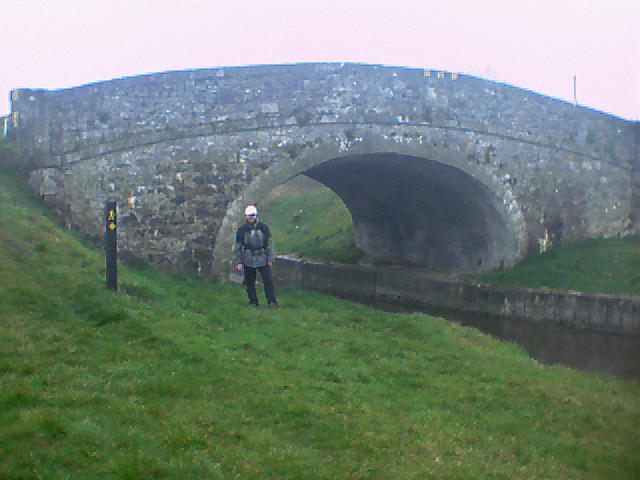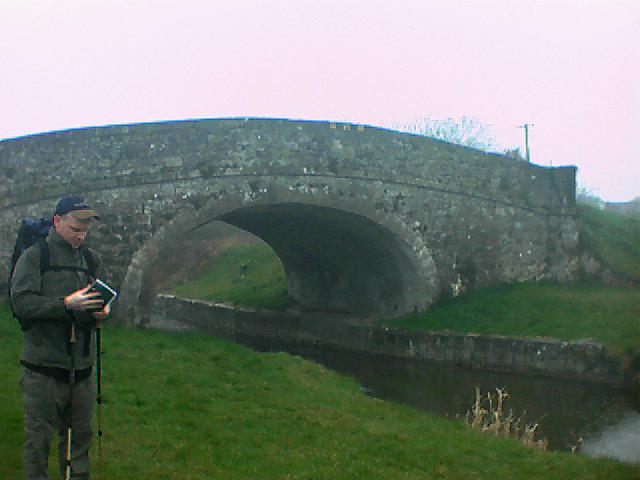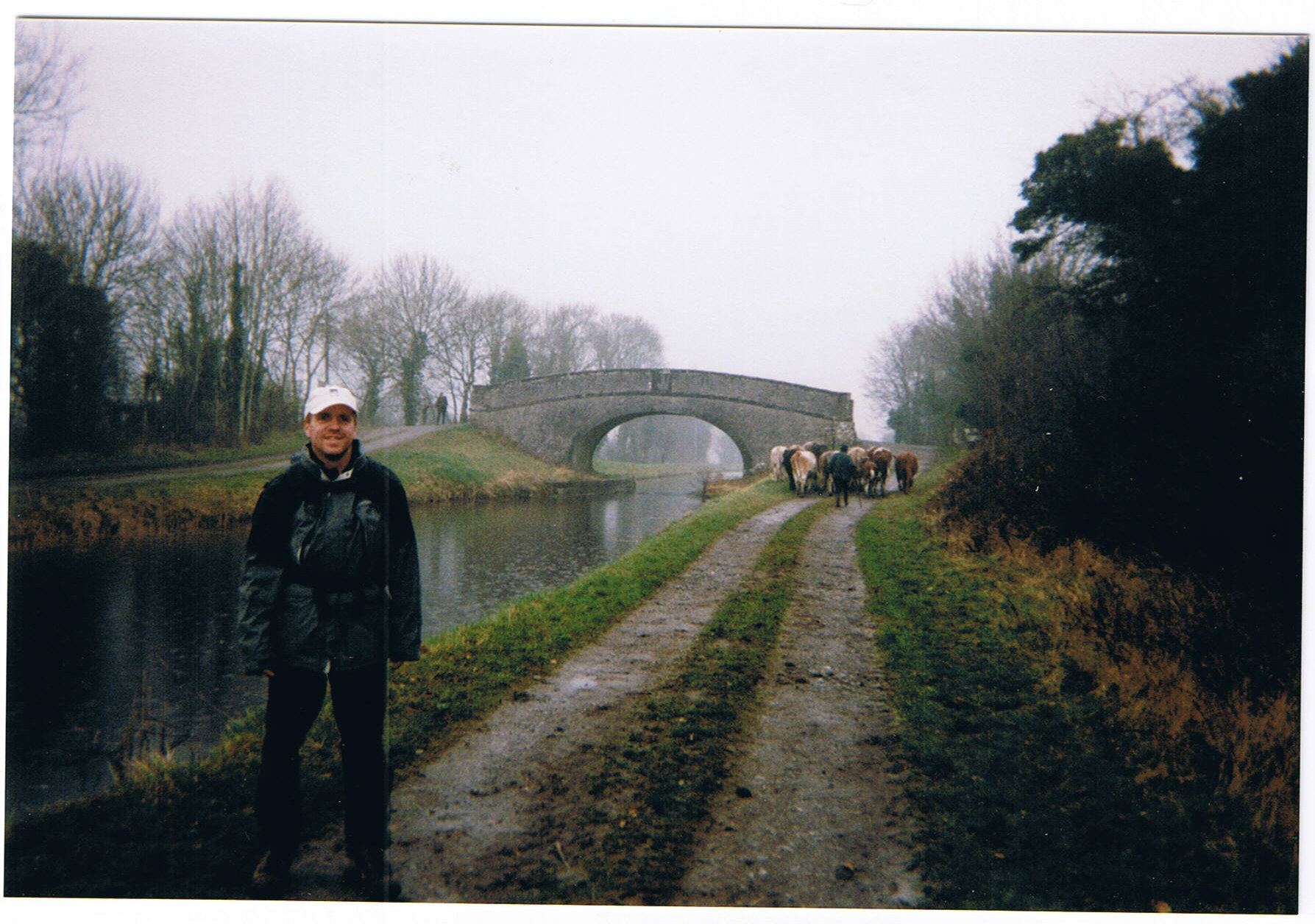 We got to the lunchtime pub at about 3pm. It was open, obviously as this was rural Ireland, and there were two guys in there drinking Guinness, obviously, as this was rural Ireland. We dripped on the mat, then walked in and ordered two Guinness, obviously, as this was rural Ireland. We asked if they served food, and got the odd reply of, well what sort of food would you like? We kind of mumbled, well, anything, sandwiches would be cool, what kind did they have?, and again got the odd reply of, well, what sort would you like? We mentioned ham and cheese and shrugged and got the Guinness.
There was a pause, and in 10 minutes we saw the landlady return through the soaking wet day with a Tescos bag, and 5 minutes later we got our sandwiches. The pub had had no food, but when we asked, the landlady found out what we wanted, then slipped out the back, through the pouring rain, to Tescos to buy the right stuff so that she could serve up and give it to us. Can you just imagine the response if you suggested to a Centre London landlady that she do that?
We talked about the hurling game in Dublin we were planning, and mentioned that we had never seen a game before. The two guys pulled down the video screen and got out a video of an old All-Ireland cup game, and we sat and watched the game, sharing the craic with these two strangers, supping Guinness and munching on the sandwiches bought specially for us from Tescos. Wonderful.
Only in Ireland.
Back on the road, and the day wore on, and we got wetter and more tired faster and closer to our destination only so slowly.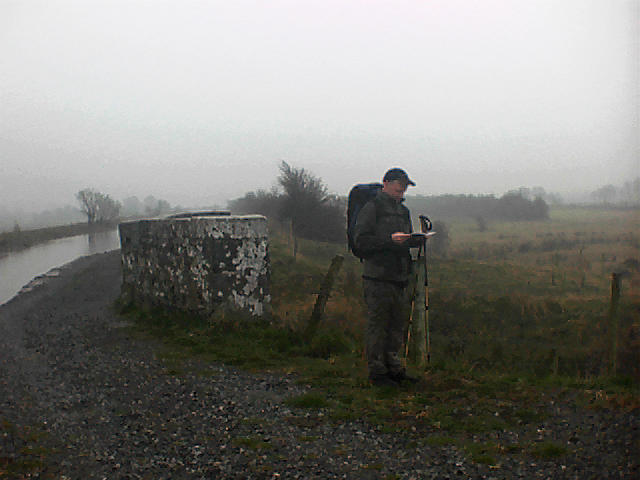 The final 2-3 miles was a drag, pushing tired and blistered feet through the rain towards the lights of home. After a while we grew delerious, and survived only through an impromptu karaoke session as we ran through our repertoire of Abba, Grease, Sweet and other music of taste and delectation. A bizarre memory.
Dublin was also a bit of a disappointment, as I recall. The Hurling match and our wee session with the pub cronies were probably the highlights.  Might be worth a mention that we stayed in the Brewery hostel. I recall waking up, confused, in a bunk underneath a slightly stale Antipodean backpacker of indiscriminate gender, with ambient snoring and farting levels just this side of the maximum tolerable dose.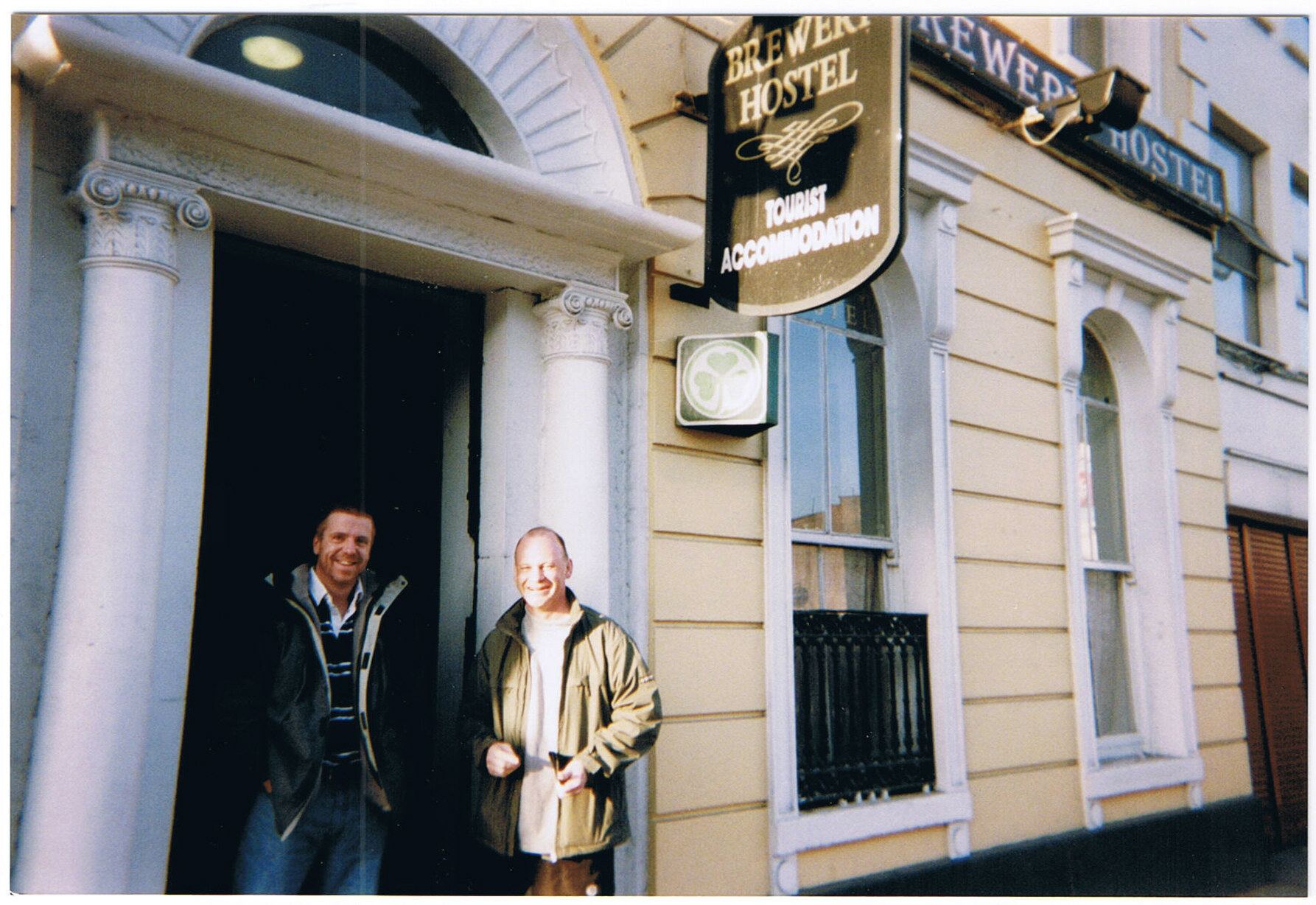 Still, at least we end up in a lovely old pub. In fact I think we got it from a pub book , and it might indeed be the lovliest and oldest pub in Ireland, or the somethingest pub in somewhere anyway. We sit near this group of four, two couples who are obviously lifelong friends, and, this being Ireland, we are all talking together within minutes. Its the Irish craic, very recommended. The two guys are drunk and funny. Old sportsmen like us, but their sport was hurling, which means that they are certifiably insane, as only the certifiably insane play that sport. One shows us his left hand which has four fingers but only two knuckles. The other two have been smashed out. Hurling players do have gloves available, but most don't wear them as the are considered sissy. Imagine wearing gloves when you know that someone is going to try and whack your hand with a long stick. Pooh!
The two women are not quite as drunk, but not far off. They are planning their summer holiday which they are to take together, talking of old stories of family history. They start talking of their plans for meeting up over the next week, and we look to leave. At some point Adrian and I mention that we have known each other for about 25 years, and this is treated with great respect. "But you must be long standing friends also," we say. "Oh no," comes the reply, "we only met this afternoon."
Only in Ireland.
Hurling. Its just mad, just suicidal, what else can I say? As someone who played muddy rugby with pleasure for years, buried in the front row, its just mad. A hard ball, similar to a hockey ball, is knocked around the park, either held with a hand or hit with a stick. When opponents get close the ball is bashed up in the air, and where it lands a group of players simultaneously try to catch it, knock it with a hand, and bash it with a stick. I don't fancy catching baseballs with a barehand, the idea of deeply staved fingers if you miss is scary. But to try and do it while at the same time another guy is trying to bash the ball with a big stick is just crazy.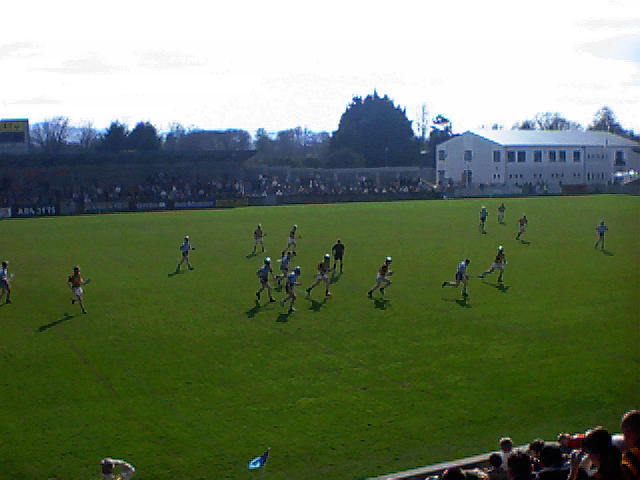 The players wear no protection: no shinguards, gumshields, gloves, helmets, and all hurling players are missing teeth and knuckles, not to mention marbles. It is an insane sport.
Only in Ireland.