| | | |
| --- | --- | --- |
| | 2001: The Mosel Valley | |
Just found these photos in an album, many years after the event, so scanned them in and here they are. This was the first of the walks for Adrian and me, little did we suspect what it would turn into! And all because, Mr RyanAir wanted to skin us for £1.99! And what can I remember about the event itself?!
Day 0
Flight for Peter from Stansted into Hahn. His flight arrives very late, so there is little to do but partake of a quiet pint in the Airport Diner (conveniently situated about a mile and a half from the terminal) and then hike it to the Airport hotel, another couple of kilometres up a very dark road. Weather is cold, a smirr of light snow is in the air.
Day 1
Luckily, we are able to utilise a minibus service from the hotel into Traben-Trarbach (no relation of Jimmy) on the river Mosel.
Taking only a few moments to recover from the acutely emetic minibus ride, we immediately tackle the stiff climb out of the river valley and make it up to the impressive Grevenberg castle ruins, from where a breathtaking view over the town and Mosel valley to the north, and across the Hunsrück plateau in the south, enfolds. Some good opportunities for silly photo ops.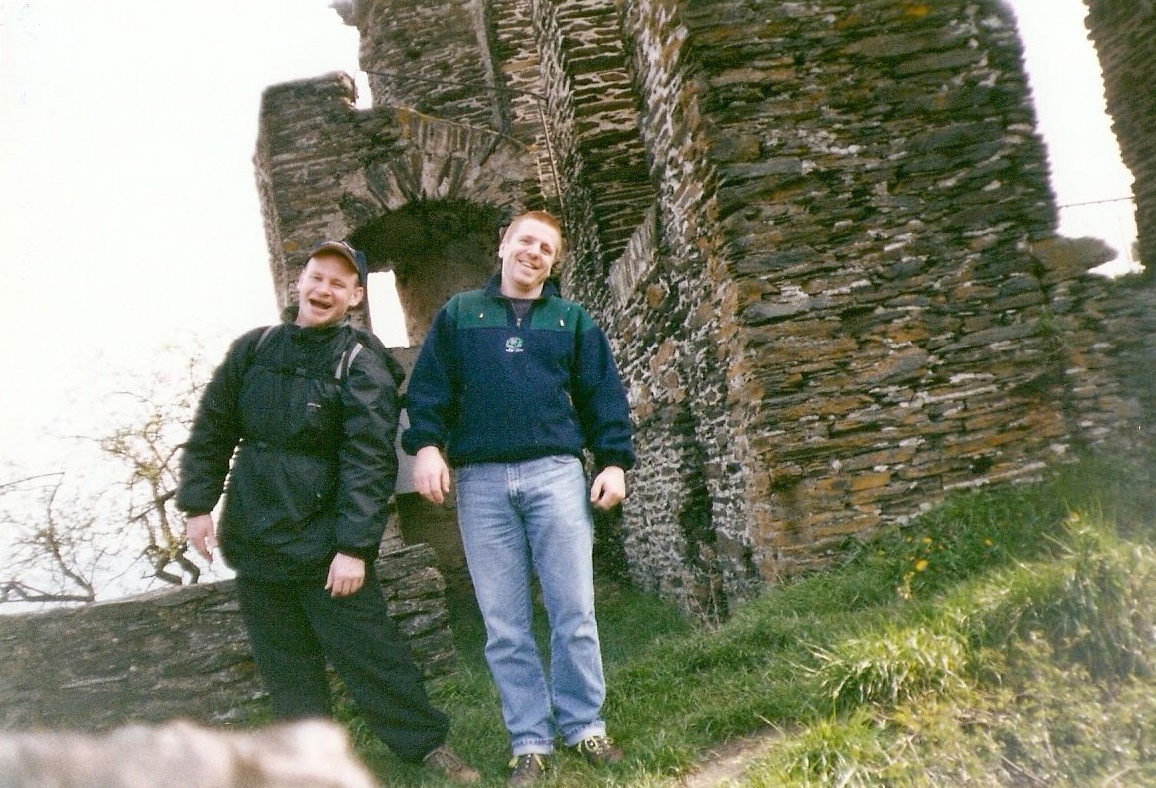 At the highest point of our walk on this day, we visit the Graach battlements, built in the late 18th century by the Prussian and Austrian troops in their war against the French revolutionary army. At least we think we have visited them – they are not signposted or otherwise marked, so what we have seen could just be some scabby rabbit holes.
After a tough day's walking, mostly out of sight of the Mosel, the river suddenly comes back into view again, as we stand high above Bernkastel-Kues, vineyards as far as the eye can see. Very dramatic. We start our descent, which proves altogether rather painful; we curse the meandering concreted paths which lead pedestrians down through the vineyards. Most vexing of all, as we plod wearily on from painful step to painful step, is being overtaken by sprightly 80 year old vineyard workers who have run up and down these slopes every day since 1918, and who barely bother sneering at us as they dash past. Embarrassing.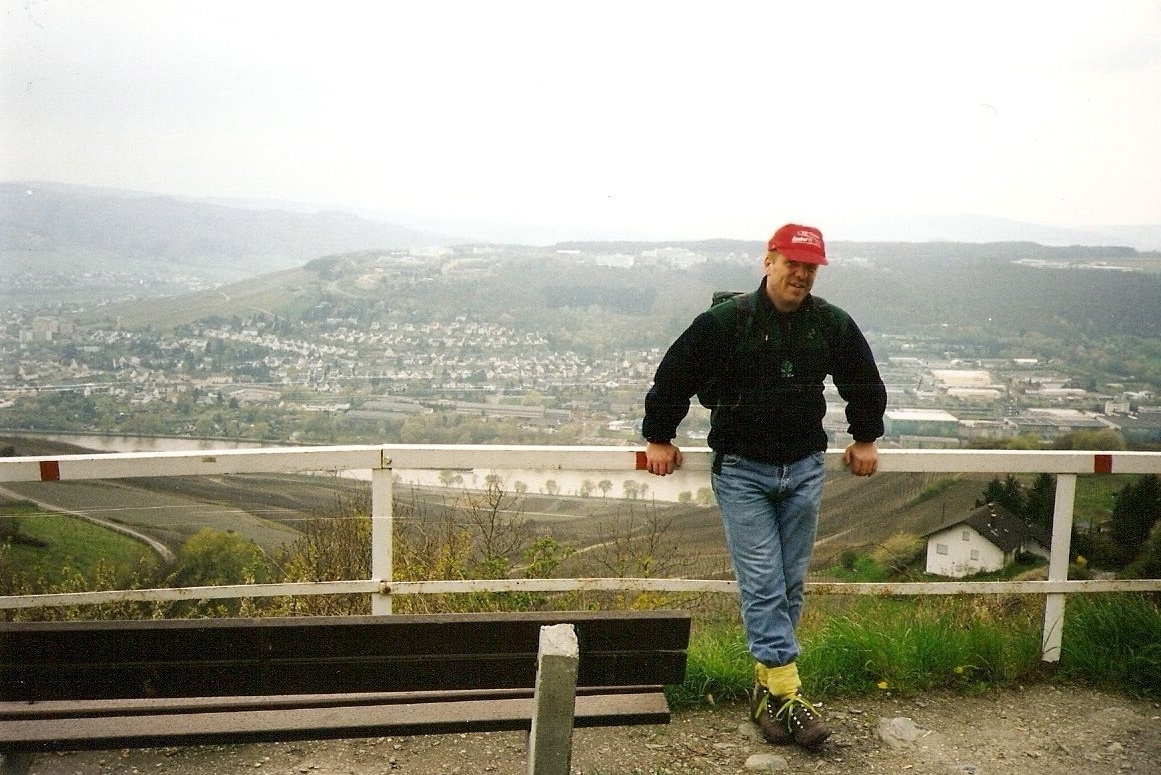 Shying away from the big city lights of Bernkastel-Kues, we are booked into the Josefshof B&B in neighbouring Graach, which proves rather hard to find, much to our chagrin, in the state we are in.
Our evening meal in the Gasthaus is fine, but Graach does not cater much for beer drinkers, and so our evening's recreation is somewhat curtailed.
Day 2
It is a lovely, sunny, almost balmy day for mid-March. We take sail, with the river cruiser, from Graach, the boat takes us downstream to the village of Kröv. Kröv, like all middle Mosel villages, is famous for its local wine, especially for the appellation "Kröver Nacktarsch", which, yes, does indeed mean Naked Arse. An amusing illustration appears on the wine label. We are left pondering this, and decide not hang about in the village, in case our worst fears are confirmed.
The afternoon passes as we leave Napoleon's former military bastion Mont Royal on our right and follow little used footpaths high above the river. We take a short rest in the Höllenthal or Hell's valley. In the distance we can already see our evening destination, Burg Arras, but the walk is becoming altogether arduous as knees start to give out. The final ascent up to the castle itself is extremely hard-going, but what a wonderful castle.
Built between 860 and 890, it held out successfully against attacking hordes of Normans (Normans!) and all varieties of aggressors ever since. We appear to be the only guests. Our room is very cool, ok, the beds a bit lumpy for the price, but we have this tiny window looking out over the ramparts towards a veritable sea of forests. We tour the castle and have fun in the tower, as well as in the museum and arms room. Nice dinner, venison.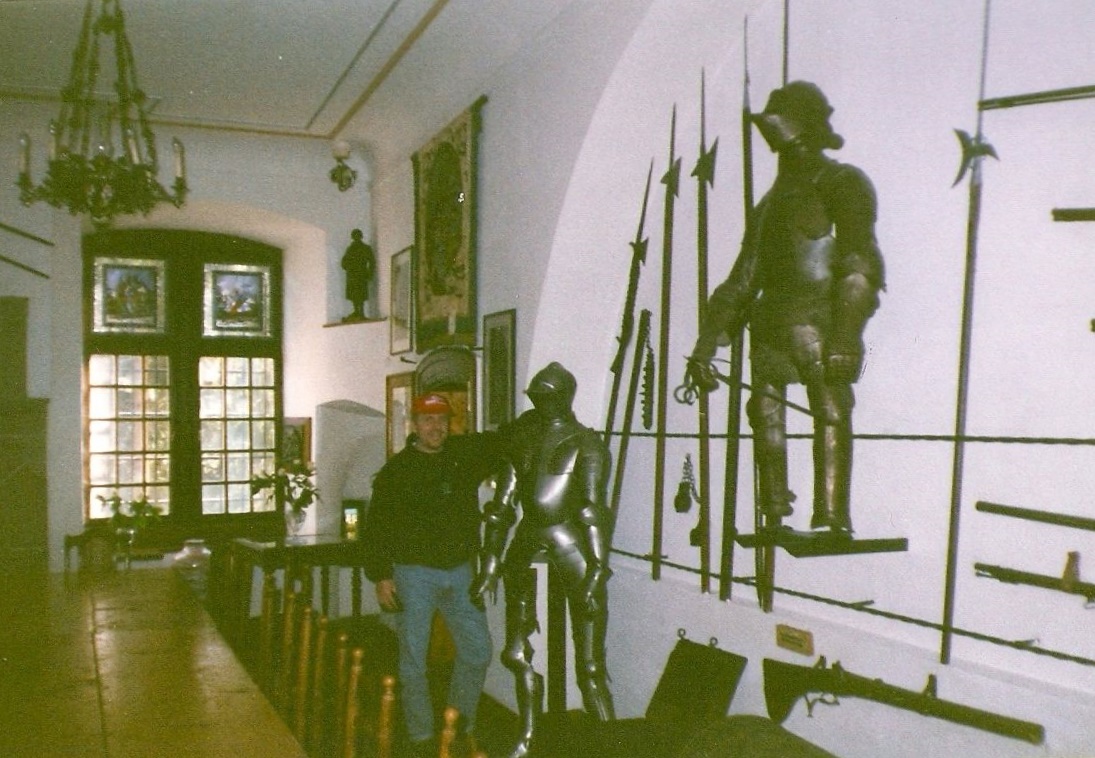 Day 3
| | |
| --- | --- |
| | Adrian's knees are by now in pretty poor shape, the descent from the Burg Arras does the rest. We limp into Alf, which is another one of these places which seems to have been named by a particularly jovial court jester, but is genuinely a little riverside Mosel village. From here, we get the rope ferry over the Mosel to the village of Bullay, from where a train transports us in no time at all to Koblenz, from where we get another train along the Lahn river to Limburg. The final 1 ½ kilometres from the railway station to Ennerich prove insurmountable – we call Elke to pick us up. |
Day 4
Amazingly, a bath and a sleep in his own bed works wonders on Adrian's shattered joints. We spend a day in Frankfurt city centre doing nothing in particular before Pete makes his own way up to Hahn airport. There he spends the evening and early hours contemplating why he didn't just pay to fly from the real Frankfurt airport, as opposed to the wee pretendy one, which is in truth much closer to Luxembourg.